Wednesday's A.M. Hot Clicks: Lisa-Marie Jaftha; Alex Trebek gets flipped off
There have been many Jeopardy contestants who have wanted to flip off Alex Trebek in the 33 years he's been hosting the show and someone finally did.
Middle finger for $1,000
There have been many Jeopardy contestants who have wanted to flip off Alex Trebek in the 33 years he's been hosting the show but nobody has had the stones to do it. Until last night that is, when Stanford junior Viraj Mehta gave Trebek the one-finger salute while describing how he eats pizza. It was subtle but it happened. Can't wait for Trebek to clap back, hopefully with a rap verse or two.
Meat pie controversy of the day
In perhaps the dumbest sports controversy of 2017, Sutton United goalkeeper Wayne Shaw ate a pie on the sideline during a FA Cup game. Shaw had learned of a prop bet (with 8:1 odds) that he'd ben seen eating a pie on camera and decided to have a little fun. Did I mention Shaw is 45-years-old and weighs 325 pounds? Anyhow, the team didn't find it funny and forced him to resign. The whole ordeal had Piers Morgan very upset. The lesson, as always, is don't eat pie during a sporting contest.
College basketball's 30 best throwback uniforms
Any list that has Rasheed Wallace pictured in the top slot is okay with me.
Lovely Lady of the Day
Lisa-Marie Jaftha 2017: Anguilla | Body Paint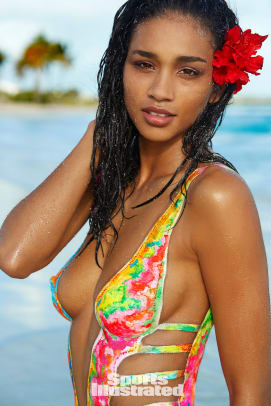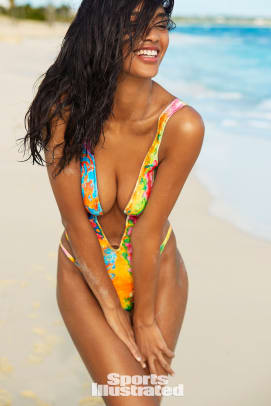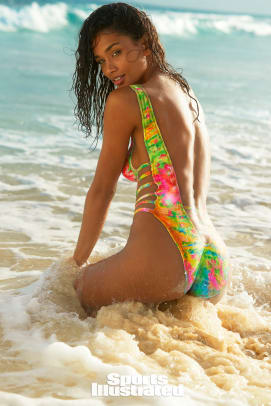 The swimsuit Lisa-Marie Jaftha is wearing in this photo is not a swimsuit at all, but actually body paint. Crazy, right? If you like what you see, vote for Lisa is the SI Swimsuit 2017 Model Search competition (click for full-size gallery).
Lance Stephenson needs a lesson on attribution
Michael Jordan would not be happy about this.
One glowing moment
Remember Fox's glowing puck for NHL games? Here's a good story on how it came to be.
Beware of runaway tire
A 50-year-old Brazilian was nailed in the head by a runaway tire and I can't believe he didn't suffer any serious injuries.
Welcome to New Orleans
Pass!
Goodnews for cat owners
Odds & ends
Bartolo Colon has aged a bit in his 20 MLB seasons ... There's a used jersey scandal brewing in the Ontario Hockey League ... An 18-year-old chess grandmaster gets kicked off Iran's national team for not wearing a headscarf ...Nick Saban met Mark Zuckerberg (a.k.a. - The Facebook Guy) ... The ending of last night's Rangers-Canadiens game was kind of nuts ... Everyone is falling for this new Gmail scam. Consider yourself warned ... The best movie & TV toys at Toy Fair 2017.
Everyone hates Cal
Pool trick shots with Dude Perfect
Big Sexy is back
Dog vs. cookie
I feel this little guy's pain
La La Land in 8-Bit
Email andy_gray@simail.com with any feedback or ping me on Twitter. Click here for previous editions of Hot Clicks. Visit our Extra Mustard Page throughout each day for more offbeat sports stories and the latest Cheerleader of the Week gallery. Also check out the SwimDaily Page for the latest updates and Instagram pictures of models who have appeared in our issues.