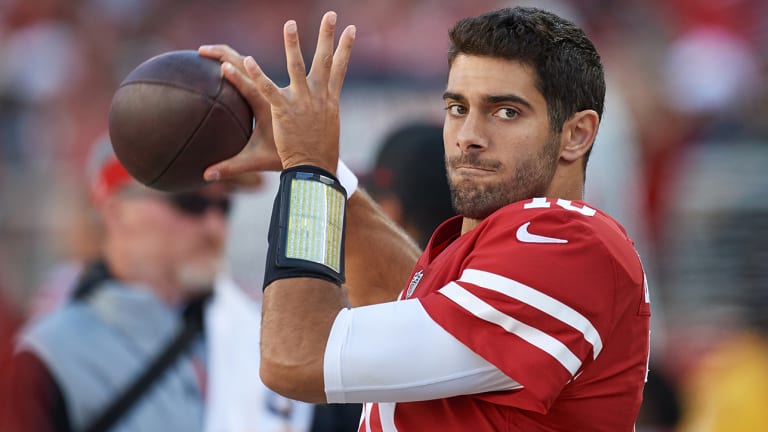 1. It's not just the President of the United States who enjoys the company of an adult film star. Athletes have always loved spending time with XXX actresses as well.
Niners quarterback Jimmy Garoppolo is the latest example of an athlete mixing it up with an adult film star. He took actress Kiara Mia on a date on Wednesday night.
Why am I writing about this? Because you have to respect Garappolo's boldness. In this day and age of athletes going to great lengths to protect their "brand," Garappolo basically said, "screw it" and took a porn star on a date to a popular Beverly Hills restaurant. He didn't even try to get a table in a back room or a dark corner. He was right there for all—specifically, TMZ—to see. Good for you, Jimmy. Live your life and do your thing.
The other reason I'm writing about this is because the end of the TMZ video is hilarious because all Jimmy G wants to do is get in the back of his car as quickly as possible while the cameraman is screaming ridiculous LeBron James questions at him.
2. This week's SI Media Podcast features two interviews. The show gets started with the manager of the first-place Philadelphia Phillies, Gabe Kapler. Kapler discusses how working in the media at FOX Sports/FS1 has helped him deal with the media during his first year as a manager. He also talks whether the Philly media has been what he's expected, people wanting him fired after Opening Day, how he handles bad press, what he's told his players about using social media, what his typical day is like, whether he's pro or con bat flips, the one thing he'd like to see eliminated from MLB and many other topics.
Following Kapler, Chris Long of the Eagles and Kyle Long of the Bears join the show to discuss a new commercial they're starring in, whether they want to get into media after football, being rivals and plenty more. You can listen to the podcast below or download it on iTunes.
3. ESPN announced today that the broadcast team for the first game of their opening week Monday Night Football doubleheader (Jets at Lions) will be Beth Mowins on play-by-play, Brian Griese handling analyst duties nad Laura Rutlidge working the sidelines. The new MNF team of Joe Tesstiore, Jason Witten, Booger McFarland and Lisa Salters will call the second game of the doubleheader, Rams at Raiders.
4. Another day, another controversy at New York's popular all-sports talk radio station WFAN. Longtime middday host Joe Beningo has been named in an extremely salacious sexual harassment lawsuit by a former WFAN sales executive. This is front page news in the Big Apple.
5. In case you missed it on Wednesday, I wrote about Major League Baseball's Mike Trout problem when it comes to his marketability and popularity. My column was the result of comments made by commissioner Rob Manfred on Trout not participating in marketing opportunities. The Angels and Trout both released statements on Wednesday to address Manfred's remarks.
6. Magic Johnson told Jimmy Kimmel all about the night he recruited LeBron James to join the Lakers. 
7. I never ever write in this space that someone should be fired, but North Carolina football head coach, CTE-denier and overall wack job Larry Fedora should not be coaching college kids.
Traina Thoughts is the best of the Internet, plus musings by SI.com writer, Jimmy Traina. Get the link to a new Traina's Thoughts each day by following on Twitter and liking on Facebook. Catch up on previous editions of Traina Thoughts right here.And make sure to listen to and subscribe to the SI Media Podcast hosted by Jimmy Traina.
IN CLOSING: Danica Patrick should sue the writers of her ESPYs monologue last night. Brutal.