Fantasy football Player Projections: Breaking down week 2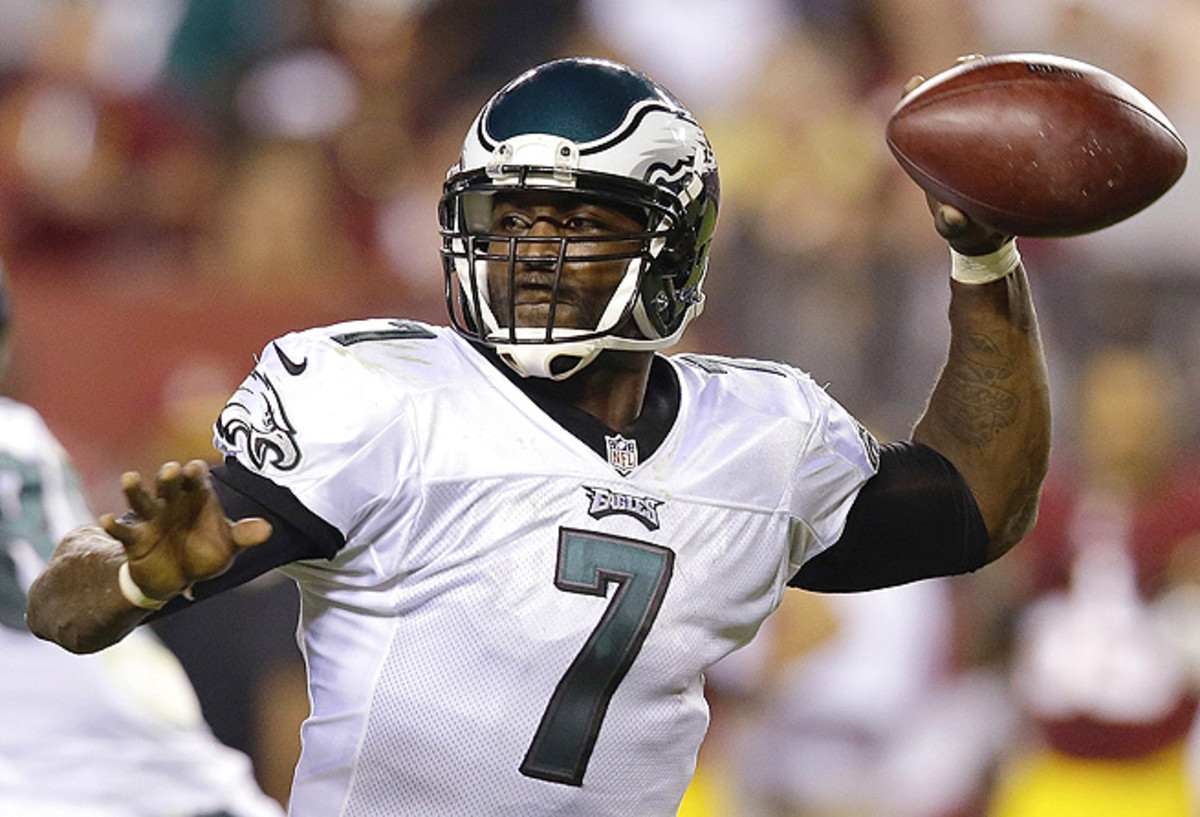 Fantasy Player Projections: Week 2
View by Position
View by Matchup
vs.
vs.
vs.
vs.
vs.
vs.
vs.
vs.
vs.
vs.
vs.
vs.
vs.
vs.
vs.
vs.
Quarterbacks
1

Michael

Vick

PASS YDS297

PASS TD2

INT1

RUSH YDS43

RUSH TD1

Well Vick certainly looked like a nice fit in Chip Kelly's offense, huh? If he stays healthy, the sky's the limit.

2

Aaron

Rodgers

PASS YDS343

PASS TD3

INT0

RUSH YDS11

RUSH TD0

It really doesn't matter how good the defense is, Rodgers more often than not does his thing. That will be the case again on Sunday.

3

Drew

Brees

PASS YDS330

PASS TD3

INT0

RUSH YDS0

RUSH TD0

No one throws for 10-plus YPA with the ease that Brees does. He picked up 357 yards on 35 attempts with touchdowns to Marques Colston and Jimmy Graham last week. He'll light up the Buccaneers on Sunday.
To see the full list, click here
Running Backs
1

Maurice

Jones-Drew

RUSH YDS101

RUSH TD1

REC YDS32

REC TD1

We've seen this script before. Jacksonville has terrible offense. MJD doesn't show up in a game or two early. MJD figures it out and has a great year. Don't worry about him.

2

Arian

Foster

RUSH YDS84

RUSH TD1

REC YDS48

REC TD1

Ben Tate was a more efficient runner last week, but Foster still had 24 touches, including six catches on eight targets. He'll be the bellcow as long as he's healthy, but coach Gary Kubiak has said he wants a more equal distribution this week.

3

Doug

Martin

RUSH YDS121

RUSH TD1

REC YDS47

REC TD0

The Jets shut down Martin, allowing just 65 yards on 24 carries. I fully expect him to bounce back this week against a softer New Orleans defense that surrendered 77 yards to Steven Jackson on 11 carries, though most of that was on one run.
To see the full list, click here
Wide Receivers
1

Larry

Fitzgerald

REC YDS103

REC TD2

So that's what life is like with a real quarterback, huh. Fitz had eight catches for 80 yards and two touchdowns. He's back.

2

Calvin

Johnson

REC YDS130

REC TD1

It's not often that the Lions score 34 points and Johnson has just four catches for 30 yards. Something tells me he'll make up for that this week.

3

Andre

Johnson

REC YDS119

REC TD1

Johnson was a monster on Monday, with 12 receptions for 146 yards. He had 16 targets, something his owners can get used to for the rest of the season.
To see the full list, click here
Tight Ends
1

Jimmy

Graham

REC YDS104

REC TD2

Graham caught just four passes for 45 yards, but he saved his day with a touchdown. It'll be a more Graham-like performance this week.

2

Jared

Cook

REC YDS107

REC TD1

All of Cook's tools were on display against the Cardinals. He's a top-five tight end in the making.

3

Greg

Olsen

REC YDS78

REC TD1

Olsen led the Panthers with 10 targets and caught five passes for 56 yards. He'll find the end zone for the first time this season on Sunday.
To see the full list, click here
Kickers
1

Mason

Crosby

PAT4

FG3

With the Packers running up the score to nearly 40, it'll be a great day to own Crosby.

2

Justin

Tucker

PAT1

FG4

A strong Cleveland defense will mean good news for Tucker owners. Look for him to convert all four of his field goal attempts.

3

Matt

Bryant

PAT3

FG3

I expect the Falcons offense to get back on track this week, and that'll mean a big day for Bryant.
To see the full list, click here
Defenses
1

PTS ALLOWED13

SACKS2

INT2

TD1

The takeaway machine in Chicago kept right on churning, with the Bears registering three takeaways against the Bengals. The song will remain the same this week.

2

PTS ALLOWED20

SACKS1

INT2

TD1

Colin Kaepernick had his way with the Packers again last week, but they'll be able to bounce back against a Washington team trying to find itself.

3

PTS ALLOWED13

SACKS4

INT3

TD0

Houston saved the day for its fantasy owners with the Brian Cushing pick-six in the second half. The Texans won't allow 28 points every week, especially not on Sunday.
To see the full list, click here