Fantasy football 2014 draft strategies: Targeting great offenses
One thing we know about all fantasy football drafts is that there will be an element of unpredictability. All it takes is one or two rogue picks to send your draft hurtling in a direction that you did not expect. That's why you have to head into any draft with a few strategies upon which you can rely. This week, we'll take a look at certain strategies that can help you hoist the fantasy hardware in December. Some will pertain to specific draft slots, while others will apply regardless of where you fall in your draft. second installment falls into the latter category, discussing how targeting offenses is just as crucial as targeting players. Click here to read the first installment on the best course of action for owners with late first-round picks.
FANTASY FOOTBALL POSITION RANKINGS AND PROJECTIONS:
Whether you're talking about real-life or fantasy football, environment matters. That is especially true for the positions that matter to fantasy owners. A running back can't do anything if his line doesn't open up holes. A receiver isn't going to catch very many passes if his quarterback can't get him the ball with any consistency. Despite these seemingly obvious facts, owners all too often overlook team environment and context on draft day.
2014 Fantasy Football Mock Draft 1.0: 12-team, standard scoring
Last year, one running back with an average draft position nearly outside the top 100 broke into the top five at the position. This same running back entered 2013 with just 2,430 career rushing yards and 22 total touchdowns in four seasons.
From a fantasy standpoint, his best year was when he scored 10.6 points per game in 2009, ranking No. 23 among running backs. He had essentially been written off as a bust for both real-life and fantasy purposes. And then, seemingly without warning, he posted career highs across the board, racking up 1,038 rushing yards, 548 receiving yards and 13 total touchdowns.
Fantasy football 2014 draft primer: AFC breakouts
This running back who vaulted into fantasy stardom last year was Knowshon Moreno. The only facet of his game that really changed from the previous four seasons was environment and opportunity. Last season, Moreno owned the backfield for an offense that was arguably the best in league history. With Peyton Manning putting up the greatest statistical season ever for a quarterback, Moreno often saw nickel and dime defenses that attempted futilely to slow down Manning and the Denver passing game. Moreno was able to take advantage in a way that simply would not have been possible had he been playing for, say, the Raiders last season.
Moreno got a one-year, $3-million deal with the Dolphins during the offseason, a significant offensive downgrade from the Broncos. As such, a guy who just one season ago was a top-five running back in standard-scoring fantasy leagues is now outside the top-40 backs in ADP. Environment matters.
So what exactly does that mean for the purposes of this column? Fantasy owners should target offenses just as much as they target individual players.
POSITION PRIMERS:
QB | RB | WR | TE | K | DST
Last year's first-round running-back busts included C.J. Spiller, Doug Martin, Ray Rice, Trent Richardson and Arian Foster. All of them, except for Richardson, played for a team that was 22nd or worse in points per game last year. Only Foster was on a team that most fantasy owners would have expected to feature a strong offense in the 2013 season.
Fantasy football 2014 draft primer: NFC breakouts
Just like environment can create an opportunity, as it did for Moreno last year, it can take opportunity away. Looking for the league's best offenses in advance of your draft can help you zero in on players likely to turn a profit in fantasy leagues.
Few things are certain in the volatile world of the NFL, but we can say with a high degree of certainty that the Broncos, Packers, Bears, Saints, Eagles, Cowboys and Patriots will be among the highest-scoring teams in the league. By targeting these seven teams, fantasy owners can further insulate themselves against the busts that frequently ruin seasons. Even if two of these teams fall short of the offensive expectations, the other five should be able to carry through any owner who targeted players from these seven squads.
Fantasy football debate: Is Harvin or White the better bargain on draft day?
​For the sake of this exercise, let's add the 49ers, Falcons, Lions, Cardinals, Chargers and Bengals, six teams that all figure to have plenty of fantasy weapons this year. If you go into your draft targeting these 13 teams -- and these 13 teams alone -- you can build a strong fantasy roster, regardless of your draft pick.
Let's take a look at how this strategy could play out in the first 10 rounds whether you're drafting early in the first round, in the middle, or late in a 12-team league The following teams will reflect the best available selection from these 13 teams using current ADP data at Fantasy Football Calculator
Draft picks 1-4
| | |
| --- | --- |
| First round | LeSean McCoy |
| Second round | Jordy Nelson |
| Third round | Alshon Jeffery |
| Fourth round | Wes Welker |
| Fifth round | Shane Vereen |
| Sixth round | Nick Foles |
| Seventh round | Pierre Thomas |
| Eighth round | Carlos Hyde |
| Ninth round | Devonta Freeman |
| 10th round | Zach Ertz |
Draft picks 5-8
| | |
| --- | --- |
| First round | Eddie Lacy |
| Second round | Drew Brees |
| Third round | Reggie Bush |
| Fourth round | Wes Welker |
| Fifth round | Michael Floyd |
| Sixth round | Emmanuel Sanders |
| Seventh round | Steven Jackson |
| Eighth round | Carlos Hyde |
| Ninth round | Jeremy Hill |
| 10th round | Ladarius Green |
Draft picks 9-12
| | |
| --- | --- |
| First round | Dez Bryant |
| Second round | Brandon Marshall |
| Third round | Reggie Bush |
| Fourth round | Ryan Mathews |
| Fifth round | Vernon Davis |
| Sixth round | Jeremy Maclin |
| Seventh round | Terrance Williams |
| Eighth round | Steven Jackson |
| Ninth round | Tony Romo |
| 10th round | Jeremy Hill |
There are plenty of other ways to fill your roster with players from these 13 teams no matter where you are picking in your draft. You can still incorporate other draft strategies (waiting on a quarterback, loading up on running backs, zero-RB theory, etc.) into this one, as well. The point here is to emphasize the obvious point that players in good offenses will have more chances to score and amass big yardage totals.
This strategy also offers you a lot of flexibility. You don't have to be a complete zealot and stick to just the 13 teams listed. If you have the fourth pick and want to grab Adrian Peterson, go for it. If the later rounds present you an opportunity to grab a tight end like Dennis Pitta or Greg Olsen, have at it. And, of course, you can substitute in your own teams. The 13 teams highlighted here didn't include Washington, Seattle, Indianapolis or Minnesota, all of which have fantasy assets of their own.
In short, you want to be invested in the league's best offenses. The best way to do that is to target them as a whole, rather than specific players on those teams. You can take a lot of the guesswork out of projecting busts by trying to identify the teams likely to feature the most prolific offenses in 2014, then doing whatever you can to load up on players from those teams.
2014 Fantasy Football Sleepers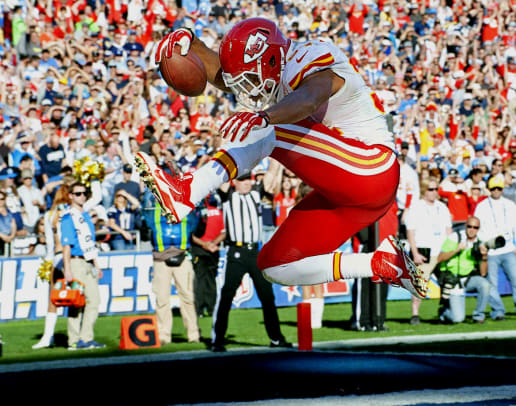 Fantasy football draft strategies:
Part 1: The best course of action for late first-round draft picks