Blue Jays-Rangers brawl will likely trigger multiple suspensions
The fallout from the massive brawl between the Toronto Blue Jays and Texas Rangers will likely include plenty of suspensions and fines for players on both sides.
Get all of Jay Jaffe's columns as soon as they're published. Download the new Sports Illustrated app (iOS or Android) and personalize your experience by following your favorite teams and SI writers.
Sometime this week, Major League Baseball is expected to hand out several fines and a few suspensions for Sunday's brawl between the Rangers and Blue Jays. Most of them are likely to be relatively minor, but Rangers second baseman Rougned Odor, who slugged Blue Jays outfielder Jose Bautista with a right cross, is in line for the most significant suspension handed to a position player in at least a few years.
Before digging into this, it's worth noting: Nobody was in the right in this melee. While each of the major principals involved in the brawl will no doubt be lauded within his own clubhouse for sticking up for his teammates, none of them covered themselves in glory or did anything that was apart from the culture of retribution and toxic masculinity that pervades such displays. Fortunately, nobody got seriously injured, which makes it a bit easier to admit to appreciating the sheer spectacle of such idiocy and the grandly stupid tradition from which it hails, but that's not to condone anyone's actions here, because at just about every turn, the outcome could have been much worse.
In cased you missed it, here's the full sequence of the brouhaha:
Whether or not Sunday's brawl had any link to last October's Division Series finale, when Bautista emphatically flipped his bat after clubbing a decisive three-run homer, is secondary. The incident began when rookie Matt Bush—who had made his major league debut on Friday night, nearly 12 full years after being chosen as the No. 1 overall pick in the draft—plunked Bautista in the left elbow with the first pitch of the eighth inning, and a 96-mph fastball at that. To hit intentionally the leadoff batter in the late innings of a one-run game is pure foolishness, though it's telling that Bush—who wasn't even a member of the Rangers' organization during last year's postseason—spoke of "hoping that we could pull it off" in that series and said, "I don't have any comment on that" when asked afterward about hitting Bautista.
Quite conceivably, Joe Garagiola Jr., MLB's senior vice president for standards and on-field operations, will interpret Bush's actions and words as an intentional plunking and suspend him for multiple games. Last September, Nationals closer Jonathan Papelbon drew a three-game suspension and an undisclosed fine for intentionally hitting Baltimore's Manny Machado, who had homered earlier in the game. (That's not to be confused with Papelbon's seven-game suspension for grabbing his crotch in September 2014, or his team-issued four-game suspension late last season for his dugout brawl with Bryce Harper.) On Friday, the Reds' Ross Ohlendorf was suspended three games for hitting the Pirates' David Freese after both benches had been warned due to a previous exchange of hit batsmen. That penalty is probably what Blue Jays reliever Jesse Chavez can expect after he retaliated against the Rangers in the bottom of the eighth inning by plunking Prince Fielder with his first pitch, which came after both benches had been warned by home plate ump Dan Iassogna following bush hitting Bautista.
As with Reds manager Bryan Price, Toronto coach DeMarlo Hale, who was the acting manager at the time, is in line for an automatic one-game suspension for Chavez's post-warning drilling. Hale was acting as manager because John Gibbons had been ejected in the third inning for arguing balls and strikes. Gibbons is likely facing a suspension himself because he returned to the field of play during the brawl, a no-no after being ejected. Harper was rung up for such an action just last week, joining an on-field celebration after a walk-off home run and delivering some choice words to the umpire who tossed him; he served his one-game suspension on Saturday.
The Blue Jays' Kevin Pillar and Josh Donaldson could also be in line for fines and perhaps short suspensions, as both were clearly mixing it up with several Rangers. Here's a partial clip:
Donaldson was ejected, but Pillar, arguably the more animated of the two, was not. It would be a surprise if either got more than a game worth of forced vacation.
The real interest is how long Odor will be suspended for clocking Bautista. When Toronto's Justin Smoak hit a grounder to third, Bautista made a late slide into second base, which was eventually deemed to be illegal and resulted in Smoak being ruled out as part of a double play, even though Odor's throw to first was wild. Odor's punch wasn't your typical baseball brawl slap, either. MLB Network's Brian Kenny, who as an amateur boxer trained alongside Mike Tyson at the legendary Cus D'Amato's gym in the Catskills, said via Twitter, "Either Odor has boxed, or he is just world-class at everything." You can see a close-up of the blow—and the slide that instigated it—here:
In terms of recent precedents for on-field fighting, the Dallas Morning News' Gerry Fraley noted that since the start of the 2011 season, the longest penalties handed down to position players by MLB—as opposed to pitchers, whose suspensions are lengthened due to their between-appearance inactivity—have gone to the Padres' Carlos Quentin (eight games in 2013) and the Brewers' Martin Maldonado (five games in 2014). Quentin, after being hit by a Zack Greinke pitch, charged the mound and broke Greinke's collarbone; Greinke wound up missing a month. Maldonado left the bench and gave the Pirates' Travis Snider a black eye via a sucker punch in a 2014 donnybrook that stemmed from Carlos Gomez's overlong admiration of a fly ball that didn't even leave the yard. Gomez, who threw punches and swung his helmet in that fight, himself was suspended for three games.
• Subscribe to get the best of Sports Illustrated delivered right to your inbox
Odor's punch was not entirely unprovoked, given that slides such as Bautista's have caused serious injuries. While not as egregious as Chase Utley's leg-breaking slide into Ruben Tejada in last October's Dodgers-Mets Division Series, it was exactly the kind of slide that the so-called "Utley Rule" is designed to prevent. Meanwhile, Justin Verlander and former major leaguers Eric Byrnes (now an analyst at MLB Network), Torii Hunter and Eduardo Perez (now an ESPN analyst) all theorized that Odor's low throw carried the intent of hitting Bautista in the head, though Verlander noted via Twitter, "You know you're taught to throw low to prevent a guy from coming in high." It's worth pointing out that Odor received the throw from Beltre near his ankles and was in a crouch when he began his throw, though he elevated his arm and stood more upright as Bautista came in late.
It's possible that MLB could interpret Odor's throw as having the intent to injure, which might push Odor's suspension toward that of Quentin's, but it's not as though Bautista actually got hurt (besides his pride and a sore jaw) or was blameless with his slide. After Odor shoved Bautista in the chest, Bautista drew his right arm back in preparation for a punch or at least some form of self-defense. Depending upon Garagiola's interpretation, that could lead to Bautista getting his own short suspension. Still, it's a stretch to imagine that it would be on the scale of what Odor will get.
Notorious Basebrawls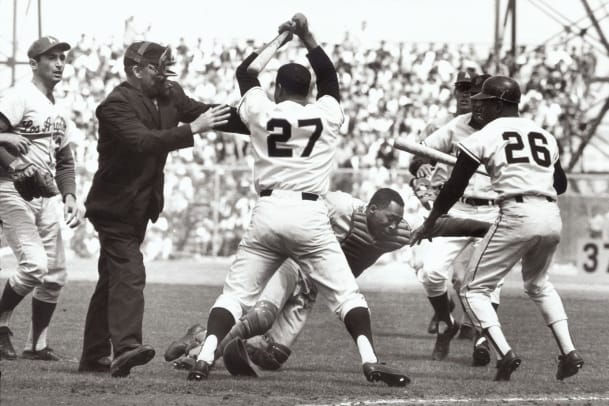 Thus, the best guess here is that Odor is in line for a suspension of five to eight games, with the initial punishment likely to be toward the longer end but with room left for a reduction via appeal. The two teams involved won't face each other again during the regular season, though if they meet up again in October, you can expect more sparks—and maybe punches—to fly.