The Cooperstown Casebook: The Hall of Fame's Origins, And How Third Base Got Put In A Corner
The late Chicago Cubs star is an example of the sometimes flawed view that Hall of Fame voters have had of the men who handled the hot corner for more than a century.
The following is an excerpt from Chapter 4 of The Cooperstown Casebook: Who's in the Baseball Hall of Fame, Who Should Be In, and Who Should Pack Their Plaques, by Jay Jaffe, an SI.com baseball writer. It is published by Thomas Dunne Books, a division of St, Martin's Press. To order a copy, click here and to read more about the book go to cooperstowncasebook.com.
On Dec. 5, 2011, around 10 a.m. Central Time, Jane Forbes Clark ascended to the podium in the media room of the Hilton Anatole Hotel in Dallas, Texas. As the chairwoman of the board of directors for the National Baseball Hall of Fame and Museum—an institution founded by her grandfather back in 1936—the honor of announcing the results of the previous day's Golden Era Committee vote fell to her.
Comprised of Hall of Famers, major league executives, and media members, the 16-member committee was charged with reconsidering the credentials of eight former players and two executives whose greatest contributions to the game took place during the 1947 to '72 period. Each candidate had been bypassed for election multiple times; some had endured the annual cycle of hope and disappointment 15 years in a row via the BBWAA ballot, exhausting their eligibility on that front before their cases were taken up by the Veterans Committee. The Golden Era Committee had been created as one of three VC successors, along with the Pre-Integration Era (1871 to 1946) and Expansion Era (1973 to '89) Committees, to be voted on triennially (the process was overhauled again in 2016).
Hundreds of reporters, on hand for MLB's annual Winter Meetings, settled into their chairs as Clark rattled off the names of committee members, then announced that just one of the 10 candidates had received the 75% of the vote necessary for election: Ron Santo. Delivered on an upbeat note, her words were meant to confer baseball's highest honor, but they hit the floor of the Hilton Anatole with a resounding thud. The room fell silent for four seconds, a pause that felt like an eternity, before the polite applause began, as those gathered struggled to digest the sad irony of what had transpired. "You could feel the weight of it," said one media member.
Santo, a Chicago Cubs great, had died almost precisely a year before the Hall corrected one of its most glaring oversights. He had spent 15 years in the majors (1960 to '74), mostly as a star third baseman for the Cubs, then 15 years on the BBWAA ballot (1980, then '85–98, after a rule change restored his eligibility), and nearly a decade being bypassed by various forms of the Veterans Committee (2003, '05, '07 and '09) before finally gaining election. Unfortunately, the beloved Chicago icon had passed away at the age of 70 due to complications from bladder cancer and a body worn out from battling diabetes, which had shortened his career and eventually cost him both legs from the knees down. Rarely had claims of baseball immortality collided with the reality of human mortality so violently.
Alas, the BBWAA and VC voters have rarely gotten it right when it comes to third basemen. Through the 2017 election cycle, fewer major league third basemen are enshrined (13) than at any other position except relievers. Through eight decades of Hall history, at no other position have voters' inconsistent standards and the messy, inefficient process been so readily apparent. Few players have borne the brunt of their missteps as directly as the late great Cub.
The Cooperstown Casebook
by Jay Jaffe
Buy Now
The idea for the National Baseball Hall of Fame and Museum hatched in 1934, when local businessmen who wanted to give tourists a reason to flock to Cooperstown crossed paths with league officials who wanted to honor the greatest players in baseball history. A resort village on the shore of Otsego Lake in central New York state, Cooperstown had been hit hard by the one-two punch of the Great Depression and Prohibition, since the region's economy was built on growing the hops needed to produce beer. And since 1905, the town had held a special significance in baseball lore, as the site where future Civil War General Abner Doubleday had (allegedly) invented baseball in a local cow pasture.
That the location for baseball's origin is by legend a cow pasture is fitting, for the reality is pure bulls---. Doubleday was at West Point in 1839, and the only documentation connecting him to baseball is an 1871 letter in which he requested that his superiors supply baseball equipment for a regiment of African American soldiers in Texas. His status as the game's recognized inventor was conferred upon him posthumously by the Mills Commission, a group of early baseball movers and shakers who convened in 1905 for the purpose of putting in the fix by claiming that the sport was a uniquely American invention, not evolved from the British game of rounders.
The commission's conclusion in favor of Doubleday rested on the otherwise unsubstantiated report of a 71-year-old mining engineer named Abner Graves, who via a newspaper article in the Akron Beacon Journal claimed to have been present when Doubleday drew up diagrams of the field and revised the rules of a variant called Town Ball. It was a difficult proposition to swallow given that Graves had been born in 1834—and thus would have been five years old at the time.
Ultimately, that baseball's supposed origins stem from a pile of b.s. matters little—it makes great fertilizer, and out of this particular mound grew the National Pastime. So, back to 1934: Representing the forces of Cooperstown was Stephen Carlton Clark, whose grandfather Edward Clark was the brains behind the Singer Sewing Machine Company, and whose granddaughter Jane Forbes Clark we've already met. As the chairman of the Clark Foundation, Stephen Clark had seized upon the idea of a baseball museum, fueled by his $5 purchase of an old baseball from a nearby attic—said to have belonged to Graves, and thusly dubbed "the Doubleday Baseball"—and by the enthusiasm of employee Alexander Cleland. Having drawn considerable interest with the display of their artifact, the two men took their idea to Ford C. Frick, president of the National League, in search of further donations to display in the nascent National Baseball Museum, to which Clark had appointed Cleland as secretary.
JAWS and the 2017 Hall of Fame ballot: An introduction to JAWS
As it turned out, organized baseball had for years wanted to do something to recognize the game's all-time greats and to celebrate its alleged origins in Cooperstown, particularly as the 100th anniversary of its alleged founding approached in 1939. Frick convinced American League president Will Harridge and commissioner Kenesaw Mountain Landis to get on board, and in mid-1935 plans for the Baseball Hall of Fame were announced, with the newly formed institution appointing the BBWAA (founded in 1908, and at that point still spelling Base Ball as two words, undoubtedly as a warning that they were in no rush to embrace new ideas) with electing the best players from the 20th century up to that point. An Old-Timers Committee (OTC), consisting of former players, writers, managers and officials who had firsthand familiarity with 19th-century baseball, was charged with electing players from that century. The intent was to elect 10 players from the 20th century and five from the 19th by the time the Hall of Fame building opened in 1939.
In December 1935, the wizened scribes of the BBWAA announced a field of 33 candidates, and soon afterward, 226 members cast ballots under Cleland's guidelines: "those worthy of Hall of Fame election should be selected from the ranks for ability, character, and their general contribution to base ball [sic] in all respects." Each voter was allowed to list as many as 10 names on his ballot, and 75% of the vote was necessary for a candidate to be elected. At that point in time, no rules were in place regarding a player's career length or retirement status. Even players banned for life such as Hal Chase and Shoeless Joe Jackson weren't excluded; it would take until 1991 before that prohibition was formally established.
In February 1936, the first five inductees were announced: Ty Cobb, Babe Ruth, Honus Wagner, Christy Mathewson and Walter Johnson. Alas, the 78 grizzled (and somewhat addled) men on the OTC pitched a shutout—a harbinger of all-too-frequent things to come—with nobody getting more than 50.6% of the vote. In part, that was because it wasn't clear whether write-in candidates were allowed, or how to handle players such as Cy Young whose careers straddled the two centuries; he received 49.1% from the BBWAA and 41.7% from the OTC. Some voters labored under the impression that they were charged with selecting an All-Star team with one player at each position. Their ballots were returned, but some of those voters declared that they wanted them accepted as-is. The institution was off to a flying start.
Born in Seattle on Feb. 25, 1940, Ron Santo grew up in the shadow of Sicks Stadium, home of the Pacific Coast League's Seattle Rainiers, and was caught in the ballpark's pull. He worked at Sicks as a batboy, a groundskeeper and a clubhouse attendant during his summers and played three sports in high school, emerging as a baseball star during his senior year. He signed with the Cubs for a $20,000 bonus out of high school in 1959, spurning higher offers—the Reds were said to have offered $80,000—because he had his eye on playing in Wrigley Field alongside Ernie Banks, their slugging shortstop.
During a routine physical before reporting to spring training in 1959, Santo was diagnosed with type 1 diabetes, which he kept secret, out of fear that the team would drop him, particularly after he learned that no one with the disease had ever played in the majors. The Cubs recalled him from the minors in late June of 1960, amid a nine-game losing streak that had sunk them to the bottom of the NL standings. Replacing the Don Zimmer/Frank Thomas combination at the hot corner, he collected three hits and five RBIs in a June 26 doubleheader against the Pirates. Manager Lou Boudreau started Santo in 94 of the team's final 96 games, and he made a respectable showing for a 20-year-old, hitting .251/.311/.409 with nine homers. While the Cubs finished 60–94, they had found a cornerstone.
Santo improved to .284/.362/.479 with 23 homers in 1961, his first full season in the majors, but he struggled in '62 (.227/.302/.358), in part because he was still learning how to juggle his insulin injections with the odd hours of a baseball career, all while trying to conceal his condition from his teammates. He finally got the hang of it (though not until 1971 would he reveal it publicly), and rebounded to .297/.339/.481 with 25 homers in '63, making his first All-Star team.
That 1963 season kicked off a stellar 11-year run that encompassed his All-Star appearances and included five straight Gold Gloves (1964 to '68). He clouted at least 25 homers a year for eight straight years—ranking in the top 10 in the first seven—while generally batting cleanup. Pitchers accorded Santo a healthy respect, pitching around him when they could, and he was disciplined enough to draw at least 80 walks in seven straight seasons, leading the league four times. Twice he led in on-base percentage and seven times he was in the top 10. He was durable, too, averaging 159 games a year over that 11-year stretch despite playing his home games at lights-free Wrigley Field during the day, often under stifling heat. His 364 consecutive games—from April 19, 1964 through May 31, 1966—set a record at the position; his 164 games in '65, when the Cubs played two extra games due to ties, remains a record.
From 1964 to '67, Santo ranked among the best hitters in baseball. In a low-offense era, his .302/.395/.531 line translated to a 156 OPS+, tied with Hank Aaron for fifth in the majors among batters with 2,000 plate appearances. Based on batting average alone Santo stood out, for only 10 players maintained a .300 mark over that four-year span, and only Frank Robinson had a higher OBP. From 1963 to '69, his 53.8 WAR was surpassed only by Willie Mays (55.4) and Aaron (54.9).
The JAWS 75 for 75: Ranking the Hall of Fame's top players
As good as Santo was, he couldn't elevate the Cubs to the postseason, not even with three future Hall of Famers as teammates, namely Banks (bound for first base and the downslope of his career as of 1962), leftfielder Billy Williams and staff ace Fergie Jenkins, who didn't find his footing until 1967. The team hadn't won a pennant since 1945 or a World Series since '08. From 1947 to '66, they finished at or above .500 just twice, and bottomed out to 59–103 in '66 under future Hall of Fame manager Leo Durocher before things began to turn, with an 87-74 record in '67 and an 84-78 mark in '68.
With two new expansion teams and the split of each league into East and West divisions in 1969, the Cubs' odds at making the playoffs almost doubled. They led the newly formed NL East by 4½ games as September dawned, but skidded to a 9–18 finish. The Mets blew past them on a 24–8 tear, winning the division by eight games. Though the Cubs would finish above .500 in each of the next three years, twice in second place, that was as close to the postseason as Santo ever got.
The Cubs tried to deal Santo to the Angels in December 1973, but he became the first player to exercise his 10-and-5 rights. Secured via the Collective Bargaining Agreement between the Marvin Miller–led players union and the owners, the clause allowed a player with 10 years of major league service, including the last five with his current team, to refuse a trade. At 33 and coming off an All-Star season, Santo didn't want to move to the West Coast, so the Cubs arranged a trade to the crosstown White Sox. The hitch was that the Sox already had a solid third baseman in Bill Melton, so Santo shifted to second base, where he had minimal experience. The move was disastrous; he hit .221/.293/.299 in 1974, played the new position poorly enough that he spent more time as a designated hitter and retired at season's end, despite being just 34, with one more year under contract. "You're going to give me back $130,000 for not playing?" asked White Sox owner John Allyn. "No player has ever walked away from that kind of money."
Santo finished his career with a .277/.362/.464 line (125 OPS+) and 342 homers in his 15 years, with nine All-Star appearances (four as a starter). At the time he reached the ballot, he ranked sixth in hits (2,254) among players who spent most of their careers at third base, as well as second to Mathews in homers, third in total bases (3,779) and fourth in RBIs (1,331). His five Gold Gloves were tied with Ken Boyer and Doug Rader for second all-time behind Brooks Robinson, who had retired in 1977 with 16; though hardly the be-all and end-all of fielding prowess, those awards do provide a record of how players' defense is perceived, and for Santo, that should have been a plus.
​
Sure, Santo lacked the longevity of Robinson, who rapped out 2,848 hits in 23 seasons, albeit with a far less imposing .267/.322/.401 line. Santo also lacked the postseason experience of Robinson, who had played in six postseasons and four World Series with the powerhouse Orioles, winning MVP honors in 1970. Robinson had the 1964 AL MVP on his mantel, too, while Santo topped out at fourth in the NL MVP voting in 1967. This wasn't a head-to-head election, however; Robinson wasn't eligible yet, which should only have helped Santo's cause.
That said, the marquee newcomer on the 1980 ballot was 3,000-hit-club member Al Kaline, who shared headline billing with Duke Snider (who had missed by 16 votes the previous year) in the Associated Press report trumpeting the ballot's release. Santo, former NL MVP Orlando Cepeda, and Kaline's longtime Tigers teammate Norm Cash were relegated to the next tier of players mentioned from among the 62-candidate slate, a poorly vetted mess that made for the largest ballot since 1962.
With Kaline a lock and Snider receiving a vigorous endorsement from Mays, who had been elected the year before, the odds of the BBWAA electing a third candidate that year were low, having happened just once since 1955 (1972, with Sandy Koufax, Yogi Berra and Early Wynn). While Kaline and Snider breezed in, and holdovers Don Drysdale, Gil Hodges and Hoyt Wilhelm topped 50%, 18 other candidates received more votes than Santo, whose 15 votes made for a 3.9% share. Under a rule put in place in 1979, that meant he was ineligible for future elections.
At the Hall of Fame board of directors' request, the rule was revised after the 1980 election such that a player had to receive 5% in one of the previous two elections, though that was too late to save Santo. The 1982 death of Boyer, a Santo contemporary who had starred with the Cardinals, spurred St. Louis–based writer Bob Broeg to challenge the rule; Boyer had fallen off after receiving just under 5% in both 1978 and '79. In a compromise, the rule was changed back to its '79 form—one year with less than 5% meant done—but 150 players who had received less than 5% in the previous five elections were reviewed again by the BBWAA screening committee, with Boyer, Santo, and nine others restored for eligibility on the 1985 ballot.
It helped, in that Santo's 13.4% that year kept his candidacy alive, and his support slowly grew. Joining the Cubs as a broadcaster in 1990 increased his visibility; he rose to 31.6% in 1992, and topped out at 43.1% in '98, his final year of eligibility.
By this point, the BBWAA had elected both Robinson and Schmidt, a three-time NL MVP who clubbed 548 homers from 1972 to '89 with the Phillies, leading the NL eight times. Both were elected in their first year of eligibility, in 1983 and '95, respectively. In 1999, they granted first-ballot entry to George Brett, a former AL MVP who won three batting titles and tallied 3,154 hits and 317 homers for the Royals from 1973 to '93. Meanwhile, in 1983 the VC voted in George Kell, a 10-time All-Star in 15 years (1943 to '57) with five AL teams; an outstanding contact hitter who won a batting title in 1949, and finished above .300 in eight straight years, his superficially snazzy .306/.367/.414 boiled down to a modest 112 OPS+. The election of those men brought the number of Hall of Fame third basemen to nine.
That number was unchanged when the 2003 VC election came around. It was the fewest at any position, but there was enough to use for the purposes of sketching out a general standard for election. The Baseball Prospectus version of Wins Above Replacement Player had been introduced mere months before the election, in October 2002, though the JAWS system was still just a twinkle in its inventor's eye. Both WAR and JAWS have taken advantage of more than a decade's worth of refinement since, but either their primitive form or their more modern one would have reflected the strength of Santo's candidacy relative to the enshrined third basemen:
| | | |
| --- | --- | --- |
| Category | Average HOF 3B C. 2003 | Santo |
| Plate appearances | 8,847 | 9,397 |
| Hits | 2,289 | 2,254 |
| Home Runs | 227 | 342 |
| AVG/OBP/SLG | .292/.359/.455 | .277/.362/.464 |
| OPS+ | 124 | 125 |
| Total Zone Defense | 73 | 20 |
| Career WAR | 65.3 | 70.6 |
| Peak WAR | 41.8 | 53.8 |
| JAWS | 53.6 | 62.2 |
Via the traditional numbers, Santo measured up on the offensive side despite a relatively low batting average; his outstanding plate discipline and power kept his OPS+ right around the group average, and while he ranked eighth among the 10 players in fielding, he had spent far less time at easier positions (mainly first base, designated hitter and the outfield) than others. In terms of Defensive WAR (dWAR), which incorporates the player's value relative to average at each position plus the positional adjustment, converted from runs to wins, Santo (8.8) ranks fifth behind Robinson (35.0), Schmidt (17.6), Collins (16.7) and Baker (9.8). All of that—as well as his extra playing time relative to the group average—is reflected in Santo's career WAR, peak WAR and JAWS. Among the group, he ranks fifth, third and fourth in those three categories, strong enough to support the conclusion that to that point, he was one of the top five third basemen in history.
The new voting body didn't see things that way. After surviving a nominating process involving 200 candidates, Santo was included on the 2003 VC ballot as part of a 25-player slate. From among the 81 ballots received, nobody attained that threshold; Gil Hodges led with 61.7%, followed by Tony Oliva (59.3%) and Santo (56.8%). The story was similar in 2005 as Santo shared the lead with 65.0% and in '07 when he led the pack with 69.5% but still came up short.
"I thought it was going to be harder to deal with, but it wasn't," Santo told reporters when the 2007 results were announced. "I'm just kind of fed up with it. I figure, 'Hey, it's not in the cards.' But I don't want to go through this every two years. It's ridiculous."
By that point, the number of enshrined third basemen had increased, as Paul Molitor and Wade Boggs, both with over 3,000 hits, had been first-ballot honorees in 2004 and '05. Their addition raised the JAWS standard—hardly uncommon as new players are elected—from 53.6 to 55.7, but Santo was still a healthy 6.5 points above.
With the new VC having struck out on three pitches, the Hall changed things again. For 2009, they took the vote away from those frickin' Spinkers and the spinkin' Frickers, trimming the electorate to the living Hall of Famers and limiting the ballot to 10 players from the 1943 to '87 period. Santo again topped the voting, but his 60.9% wasn't enough. In a separate election covering pre-1943 players, voted on by 12 Hall members and members of the media, second baseman Joe Gordon was elected, the only major league player honored by the VC from 2002 to '11.
"Everybody felt this was my year," said Santo after the 2009 announcement. "I thought it was gonna happen, and when it didn't. . . . What really upset me was nobody got in again." He spoke of his chances at enshrinement in the past tense, and said he didn't want to go in posthumously. "[Induction] wasn't going to change my life," he said. "I'm OK. But I know I've earned it."
In the summer of 2010, the Hall of Fame announced another change, splitting candidates into three historical eras of unequal size, the Expansion Era (1973 to '89), Golden Era (1947 to '72), and Pre-Integration Era (1871 to '1946) Committees, to be considered in that order. Santo didn't live to see his name come up again. He lapsed into a coma on Dec. 1, 2010, and died the next day.
When his election was announced a year later, emotions were particularly raw among Cubs fans, with some suggesting that his family boycott the ceremony. The news was bittersweet even to peers such as Brooks Robinson, who was on the committee. "I always thought he was a terrific player, both offensively and defensively and deserved to be in," he said. "It's just sad that he wasn't alive to see it." Even so, Santo's family found a measure of closure, with his widow, Vicki, calling the election "a thrilling, thrilling day for us."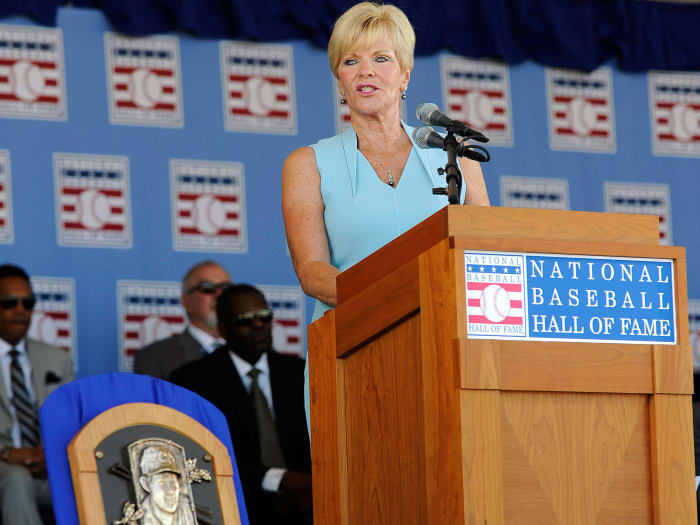 If election to the Hall of Fame is an honor, it is one that holds far less value to the dead than the living. We'd all like to believe our best work will outlive us, that our accomplishments will be recognized after we're gone. Even if that's the case, wouldn't it be nice if we could stick around for the celebration? To echo Frank Baker, better to have a rose bud when alive than a rose garden after you're gone.
The three decades that the voters spent kicking Santo's candidacy around denied him his moment of validation, the phone call from the Hall. He was deprived of being introduced to a crowd as "Hall of Famer Ron Santo" and then basking in the cheers on his behalf, whether at Wrigley Field or at Cooperstown.
Santo should have heard those cheers. Even without breaking out the advanced metrics, he clearly had the numbers for Cooperstown all along. His JAWS ranking, now seventh with the completion of Chipper Jones's career and a late push by Adrian Beltre, only underscores that. With some homework by the writers, and some consistency in the voting rules, he might have lived to see his election. An unintended effect of the restoration of his eligibility in 1985 was that it prevented him from reaching the VC when it was still a small committee; he'd have been eligible in 1999 instead of 2003, when the living Hall of Famers who suddenly had the right to vote could use their resentment of his heel-clicking to drag their own heels on recognizing him.
On the subject of timing, it's also worth considering that had Santo played for the Cubs a decade or so later, he would have benefited from the additional exposure that came with Chicago superstation WGN carrying their games nationwide on cable TV, starring on the field instead of in the booth. Banks, Williams and Jenkins may have not needed such exposure to get elected, but it couldn't have hurt 2005 enshrinee Ryne Sandberg, a 10-time All-Star and nine-time Gold Glove winner who spent 15 years with the team (1982 to '94 and 1996 to '97), put together very Santo-like numbers (.285/.344/.452 with 2,386 hits, 282 homers, a 114 OPS+ and 57.2 JAWS) at a key defensive position and retired (for the second time) at age 38.
Even with the closure of a plaque in Cooperstown, the tragedy is that the timing was never right for Santo, who like any player with an obviously Hall-caliber résumé deserved to be honored in his lifetime. While it's too late for him, let's hope that's not the case for the similarly worthy players whom I'll discuss over the course of this book.