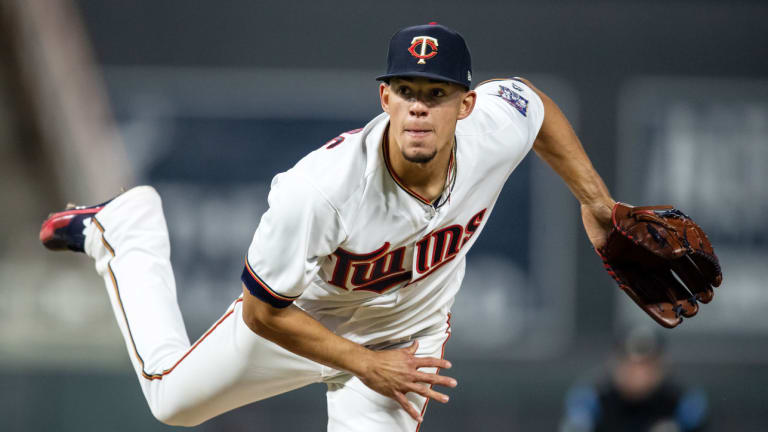 Twins Starter Jose Berríos Looks Like an Ace. What's Behind His Transformation?
The Twins drafted Jose Berríos expecting him to be a future ace. Now, he looks like it. So what changed?
Look around the MLB landscape and you won't find many people—from fans to players to managers to front office executives—surprised by Jose Berríos' success in the early part of this season. Berríos was always supposed to be an ace, and there's no shame in taking a few seasons to figure it out, especially when they are your age-22 and age-23 campaigns.
The baseball-loving world may have been expecting this from Berríos, but that doesn't mean his ascent should go unexamined. Berríos was expected to become a frontline starter after the Twins used the 32nd overall pick in the amateur draft on him almost six years ago. Still, why now? Why after 39 starts and 204 innings spread across two seasons is everything clicking for Berríos? Why did he enter this season with a career 5.07 ERA, 4.52 FIP and 1.41 WHIP, only to post a 2.18 ERA, 1.66 FIP and 0.63 WHIP with 24 strikeouts against one walk in his first 20 2/3 innings this year?
Whenever a pitcher improves his performance this dramatically, it typically owes to one or a combination of the following four factors: mechanics, repertoire, velocity or command. Even a pitcher as talented as Berríos doesn't magically "get better." He makes a change in one or more of those four factors, and that leads to the improved performance. So, which of the four is at play here?
It's not the mechanics; Berríos hasn't changed a thing there. When in the windup, he has always set up at a slight angle with his body turned about halfway toward the third-base dugout. His motion has always been quick and compact, with his left heel coming about even with the edge of the first-base side of the rubber, his hands going over his head, a leg kick with his knee reaching his chest, and a stride toward the glove side of home plate.
Here's Berríos in the windup in 2017.
And here he is in 2018.
The song remains the same when Berríos is in the stretch. Over the first two years of his career, he staggered his feet, with his left foot just a touch closer to first base than his right. Just like when he was in the windup, he had the high leg kick and strode toward the glove side of home plate.
His feet are a squared up a bit more this season, but that's an insignificant difference; his mechanics are identical.
We can rule out mechanics. What about repertoire? That, too, is a losing argument. Berríos hasn't added a pitch to his arsenal and he hasn't altered his pitch mix. Here's his pitch usage rates from last year, courtesy of Statcast.
Here's where his pitch mix stands through his first three starts this year.
That's about as close as is realistically possible to being identical from season to season. We can cross another explanation off the list.
No matter the pitcher, increased velocity is always the least likely driver of a breakout. While it matters, gaining an extra tick or two won't change the profile of a pitcher. On top of that, most pitchers are who they are in terms of velocity once they reach the majors, especially ones, like Berríos, who throw in the mid-to-high-90s. How much higher could they realistically go? Indeed, Berríos already impressive velocity hasn't changed this season.
That leaves command, and it is the explanation. Remember earlier when I mentioned that Berríos had just one walk against 24 strikeouts this season? That's the sign of a totally different pitcher. Berríos had a 7.8% walk rate last year, and entering this season had a career mark of 9.3%. One walk against 75 batters faced translates to a 1.3% walk rate. Before this season, Berríos had three starts with zero walks. He already has two this year.
Pitching ahead is one of the pillars of success on the mound, and, along with fastball command, forms the very foundation of what it means to be a pitcher. Nothing else matters if you fall behind often and can't command your fastball. Berríos threw a first-pitch strike just 59.1% of the time last year, which tied him for 43rd in the majors. As should be expected, he was a completely different pitcher when he fell behind. After 1-0 counts last season, hitters slashed .246/.361/.379 against Berríos. After 0–1 counts, they hit .204/.256/.339. When the count moved to 2-0, hitters jumped to a .284/.473/.433 slash line. After a 1–1 count, the worst-case scenario after throwing a first-pitch strike, hitters managed to hit just .216/.295/.300 against Berríos. Clearly, the best thing Berríos could do for himself was throw more first-pitch strikes. That's exactly what he's doing this year.
Berríos's first-pitch strike rate is up to 66.7%, which, in the early going this year, has him tied for 22nd in the majors. Over a full season, throwing first-pitch strikes two-thirds of the time would typically have a pitcher in the top five in the league. It doesn't guarantee an ace-level performance, but it's a great start. Last year's top five included Clayton Kershaw, Jose Quintana and Chris Sale, while Luis Severino, Max Scherzer, Aaron Nola and Corey Kluber were also among the top 15. When Berríos has gotten ahead with a first-pitch strike this season, he has held hitters to a .098/.119/.171 slash line.
One of the primary reasons that pitchers with all the talent in the world take a few seasons before putting it all together is because they lack the command necessary to dominate. Berríos is just the latest example. Now that he apparently has it, he looks primed to assume his rightful position not only atop the Twins rotation, but among the best young stars on the mound in the game today.