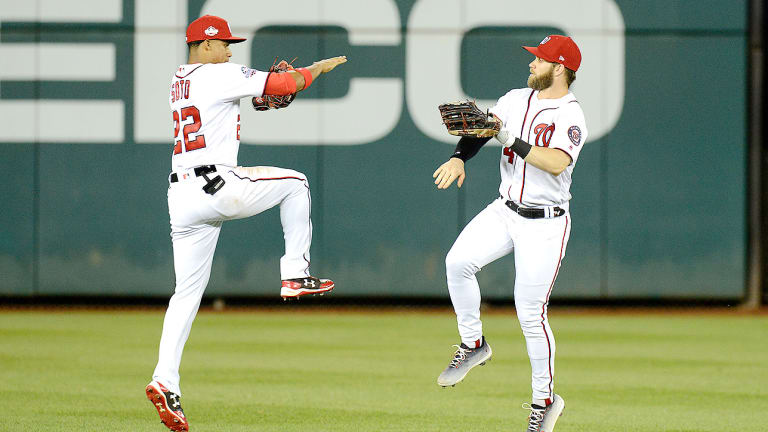 MLB DFS Plays for May 25
One team stands out on the mound and at the plate for Friday's MLB DFS contests.
Friday night's DFS slate is loaded with elite starting pitchers, with Max Scherzer, Corey Kluber, Luis Severino, Noah Syndergaard and James Paxton all scheduled to take the mound. There are a lot of strong secondary options behind them, as well, so offense might be hard to come by. There are a few stacks to key in on, though, that could provide valuable returns. Consider using the picks below and plugging them into our MLB Lineup Optimizer to help fill out the rest of your lineup.
Starting Pitchers
Max Scherzer, at Marlins (FD: $12,000, DK: $14,000)
Scherzer has won the Cy Young Award in both of the last two seasons and three times overall in his career. With the way he's been pitching this year, he looks well on his way to winning it once again. He does a tremendous job keeping runners off base with a 0.85 WHIP, which would be his fourth-straight season with a WHIP of 0.97 or lower. He also has an insane 17.2% swinging-strike rate that has led to a career-high 14.3 K/9. What might be just as impressive is that he has only issued 16 walks in 65 2/3 innings. He's a great option regardless of who he is facing, but especially against a Marlins team that has scored the fewest runs (167) in baseball.
Sean Manaea, vs. Diamondbacks (FD: $8,300, DK: $8,600)
Manaea started out the season by allowing two runs or fewer in each of his first six starts, highlighted by a no-hitter against the Red Sox. His last four starts haven't gone nearly as well, with Manaea surrendering 16 runs—15 earned—in 22 2/3 innings. One of the main reasons for his recent struggles has been a regression in his BABIP allowed, which was .148 in those first six starts, but .301 in the subsequent four outings. However, this might be just the matchup he needs to get back on track. The Diamondbacks have scored the second-fewest runs (180) in the league and they sorely miss A.J. Pollock, who is on the disabled list with a fractured thumb.
What's Behind the Incredible Success of Cardinals Starting Pitcher Miles Mikolas?
Clayton Richard, at Dodgers (FD: $7,100, DK: $6,400)
Richard's 4.87 ERA and 1.39 WHIP don't exactly instill confidence. A lot of that damage came early in the season, thought, and he has allowed just seven runs in 23 1/3 innings across his last three starts. He didn't give up a home run in any of those games and showed excellent control by issuing one walk compared with 20 strikeouts. He's actually on pace to set a career-high this season with a 7.7 K/9. The Dodgers have the fourth-worst OPS against left-handed pitchers (.664) in baseball, making Richard a viable option in tournament play.
Offensive Stacks
Washington Nationals vs. Jose Ureña, Miami Marlins
Stadium – Marlins Park
Ureña is 0-7 in 10 starts this season, but his numbers aren't nearly as bad as his record indicates. He has a 4.55 ERA, but a respectable 3.71 FIP and 1.22 WHIP. However, his 40.9% hard-hit rate allowed and 8.6% swinging-strike rate are a bit concerning. He's already allowed at least four runs in a start four times this season and has recorded five strikeouts or fewer seven times. The Nationals are dealing with plenty of injuries, but they still have some potent left-handed hitters including Bryce Harper, Juan Soto and Matt Adams. Ureña's wOBA against lefties is 64 points higher than it is against righties.
Texas Rangers vs. Eric Skoglund, Kansas City Royals
Stadium – Globe Life Park in Arlington
Skoglund is struggling out of the gate, allowing at least four runs in five of his eight starts. The end result has been an unsightly 6.15 ERA, although his FIP is better at 4.69. His .304 BABIP allowed isn't all that high, and he doesn't miss many bats with a 6.9 K/9, which is not good for his value moving forward. The Rangers are missing some key bats, but they have still averaged 5.5 runs per game across their last 10 contests.
Why Can't Jake Arrieta Strike Anybody Out Anymore?
Colorado Rockies vs. Sal Romano, Cincinnati Reds
Stadium – Coors Field
The Rockies offense hasn't been great this season, but that's mainly because of their .654 OPS on the road. They continue to hit well in Coors Field with a .751 OPS. Romano has had major control issues this season, posting a 4.5 BB/9 and only throwing a first-pitch strike to 52.9% of the batters that he has faced. The end result is a 5.62 ERA, 5.40 FIP and 1.55 WHIP across 10 starts. He doesn't record many strikeouts, either, with just a 6.2 K/9.
Cleveland Indians vs. Dallas Keuchel, Houston Astros
Stadium – Progressive Field
If you are playing in a tournament, it can pay off to take a risk on players who may have low ownership rates, but still have upside. Keuchel doesn't stick out as someone to stack against with a 3.43 ERA and 1.14 WHIP, but he does have a 4.24 FIP and has never been a big strikeout pitcher. The Indians have a couple of things working to their advantage Friday, as they not only have the third-highest OPS at home (.821) in baseball, but they also have the fourth-highest OPS against left-handed pitchers (.793). They tagged Keuchel for four runs over five innings last week and could be a sneaky stack that provides value.