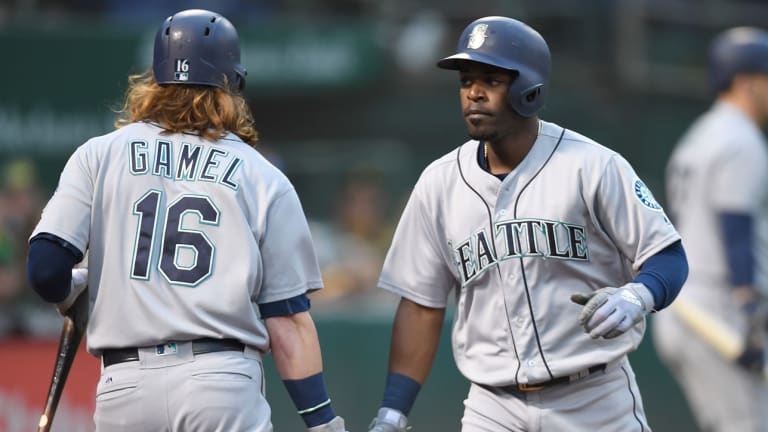 The Mariners Have Been Very Lucky, But They May Also Be Pretty Good
The Mariners have been very lucky by most metrics, but a strong bullpen and a group of consistent hitters could carry them to sustained success.
The Mariners have had plenty of bad news over the last two weeks. Between the dismissal of their biggest star, Robinson Canó, thanks to an 80-game suspension for violating the joint drug agreement, the loss of Dee Gordon with a toe injury, and hit-by-pitch incidents that have kept both Nelson Cruz and Mitch Haniger out of the line-up recently, there's been enough to justify expecting a collapse. But while all the letters to spell catastrophe might be present, they haven't formed the word just yet—far from it. Instead, the last two weeks have actually been quite good for the Mariners. They've gone 9–5, with an overall record of just under .600 that's only three games behind the division-leading Astros.  
Their bullpen has been among baseball's strongest in that time, second in the major leagues with an ERA of 1.89. No rotation has pitched more innings in the past two weeks, but none has walked fewer batters. Guillermo Heredia, Jean Segura and Ben Gamel are all enjoying hot streaks. In short, just about everything's been looking good. The question, then, is how long it can continue looking this way.
This has been a very, very lucky team. That's felt baldly obvious lately, with six of their last seven wins coming in one-run games, but it's been a theme all year. They have a run differential of just eight—worse than most teams with .500 records, let alone nearly .600. (The Astros, meanwhile, are only a few games ahead of the Mariners but have a run differential of 116.) By Baseball Prospectus' third-order wins, which uses a team's statistics and strength of schedule to estimate how many games they should have won, Seattle is supposed to be fourth in their division right now instead of fourth in the American League. All of that indicates that things might be due to come crashing down soon, and the fact there's not an awful lot of depth there, with no meaningful support in sight from a weak farm system, doesn't help. Still, though: If the Mariners are built something like a house of cards, they're one that's refusing to fall.
While they've certainly benefited from some good fortune, that sort of thing can only carry a team so far. Seattle's needed luck to be quite this good, sure, but they've also been good, period. There was no winter makeover for the pitching staff—the only real additions here were Juan Nicasio and Wade LeBlanc—but they've dramatically improved from last year, and much of that change has been bolstered by names that you wouldn't expect. Sure, last year's few highlights have stayed bright, with closer Edwin Díaz tied for baseball's lead in saves and starter James Paxton racking up even more strikeouts than he did in 2017. But there's also lefty James Pazos, who's majorly cut down on his walks to become an effective bullpen piece, and Marco Gonzales, who looks like a new pitcher after developing a cutter and using his sinker more. LeBlanc's recent move out of the bullpen has gone remarkably well, and the rotation as a whole has been strong enough that the continued decline of Felix Hernández hasn't been as much of a blow as you might think.
The development of the pitching staff has been the biggest change from last year's sub-.500 team, but a crew of position players has held a key part here, too. Haniger has broken out, quietly posting one of the best performances at the plate in the American League as he's started hitting for real power. Heredia has literally doubled his OPS+ from last season, going from well below average (78) to well above it (156) as he's developed the ability to work a walk and begun hitting more fly balls than grounders for the first time in his career. The loss of Canó here is certainly painful, but it doesn't have to be fatal; so far, it hasn't been.
The numbers show that Seattle has been boosted by a whole lot of unlikely outcomes so far, and it's doubtful that those can hold up at this rate. Their division is tough, and they're not built to absorb much more in the way of bad news. But if they find a way to hang around, it won't be the first time this year that they've taken the road less expected.