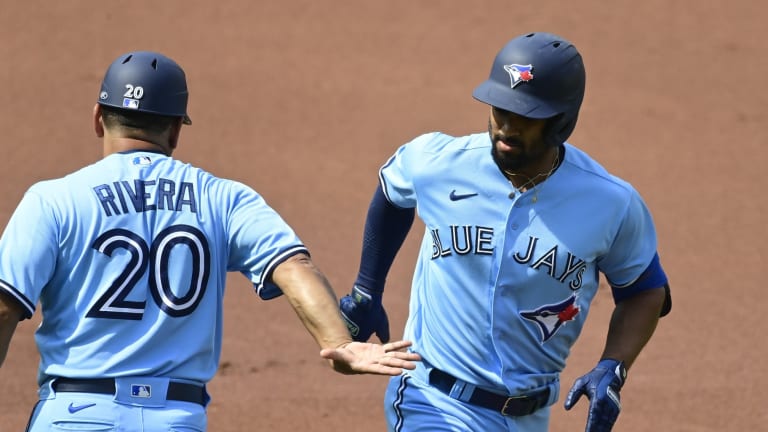 Blue Jays Offense Rallies Past Manoah Ejection to Snap Losing Skid
After losing their starting pitcher, the Blue Jays put up six runs in the ninth to snap a five-game losing skid, beating Baltimore 10-7.
After losing their starting pitcher, the Blue Jays put up six runs in the ninth to snap a five-game losing skid, beating Baltimore 10-7.
After watching six Baltimore Orioles home runs sail over the wall, Toronto bared down in the ninth inning. 
The Blue jays chased Orioles closer Paul Fry and brought the score within two runs. Tyler Wells entered to face Bo Bichette and the Blue Jays shortstop stole the show. 
The 23-year-old refused to quit, fouling off seven straight pitches, before dropping a bloop single into right field that tied the game 7-7. Vladimir Guerrero Jr. took care of the rest, smoking a two-RBI double to give Toronto the lead, as the Jays won 10-7. 
"I think breaking the losing streak is big," second baseman Marcus Semien said. "Being down three with two outs in the ninth, with two strikes, and winning the game, you don't see that every day.
Semien added two more home runs in the game, bringing his season total to 18. 
The late rally helped snap a five-game losing streak, but a messy fourth inning made things very interesting. Toronto starter Alek Manoah, fresh off allowing back-to-back home runs, drilled Baltimore Orioles third baseman Maikel Franco in the shoulder with a 94 mile-per-hour sinker. 
Franco spun around immediately and exchanged words with Manoah. "But why? You know why," Franco appeared to say to Manoah.
The big right-hander marched towards the plate and jawed back at Franco. Both the benches and the bullpens cleared in what began as a relatively uneventful scrum, until Blue Jays manager Charlie Montoyo got into a heated argument with Orioles manager Brandon Hyde. 
Guerrero Jr. lifted Freddy Galvis away from the pile as the dust-up settled, but then the umpires got together for a meeting. Manoah prepared to face the next batter before crew chief Jerry Meals walked over and told Manoah he'd been ejected from the game.
"What's it for?" an exasperated Manoah asked Meals before storming into the dugout and tossing his hat on the bench. 
"He told me it was bad timing," Manoah said after the game.
The right-hander said he shook off a slider from Reese McGuire, knowing that Franco saw a lot of sliders in his earlier at-bats, and the fastball inside just got away from him.  
"I was kind of just confused at his reaction and things like that," Manoah said of the altercation with Franco.
"[I] was kind of just questioning, 'What's going on? What's wrong? Those were my hand gestures as I was walking towards him. I was kind of trying to figure out what was going on, didn't understand the frustration there."
Manoah served up four Oriole home runs and two consecutive bombs before Franco came to bat, so the timing of the incident likely led umpires to believe the hit-by-pitch was intentional. 
"They thought he threw at the guy on purpose," Montoyo said. "It was that simple."
It's no easy task to rally for a win after seeing your starter ejected before finishing four innings, but Toronto showed some real heart to push past early adversity.  
After Friday's loss, Montoyo and Robbie Ray made it clear this team isn't in panic mode. In Saturday's game, that philosophy came to light as Toronto's offense came clutch -- it just took a full nine innings to get the job done. 
Further Reading:
Blue Jays acquire reliever Jacob Barnes from Mets
Blue Jays offense no-shows in Charm City opener
Watch: Jared Hoying talks about re-discovering love of baseball