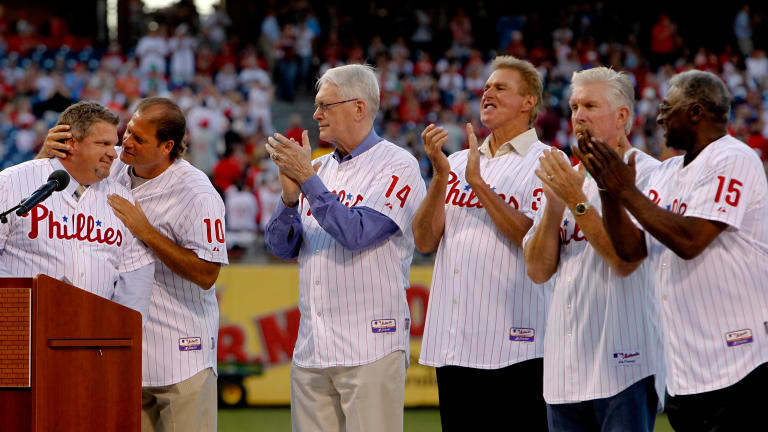 This Day in Phillies History: October 16
The Philadelphia Phillies part ways with Robin Roberts, and the team participates in two World Series ten years apart.
On this day in 1961, Philadelphia Phillies all-time great Robin Roberts was purchased by the New York Yankees from Philadelphia for slightly more than the $20,000 league waiver price.
This ended Roberts 14-year career with the Phillies, going 234-199 in 472 starts, pitching to the likes of a 3.46 ERA, and fanning 1,871 batters in 3739.1 IP. 
However, the future Hall of Famer Roberts would not appear in a regular season game with New York, and was instead released in May. But on the same day, Roberts was picked up by the Baltimore Orioles, spending three seasons with them until July 1965.
Speaking of the Orioles, they won their fourth straight game against the Phillies on this day in 1983 to capture the World Series title in five games. Scott McGregor pitched a five-hit complete game in the 5-0 victory at Veterans Stadium, and Eddie Murray hit two home runs.
Also on this day, Game 1 of the 1993 World Series took place at the SkyDome in Toronto. Despite the Phillies jumping to an early lead thanks to RBI singles from John Kruk and Darren Daulton, Philadelphia was unable to hold on to the lead.
Curt Schilling surrendered two homeruns in back to back innings to Blue Jays John Olerud and Devon White. Schilling pitched 6.1 innings, allowed seven runs (six earned) on eight hits, and struck out just three. 
Al Leiter picked up the win for Toronto, pitching 2.2 scoreless innings with two strikeouts. The Blue Jays won Game 1 of the 1993 World Series by a score of 8-5.
More From SI's Inside The Phillies:
---
Make sure to follow Inside the Phillies on Facebook and Twitter!