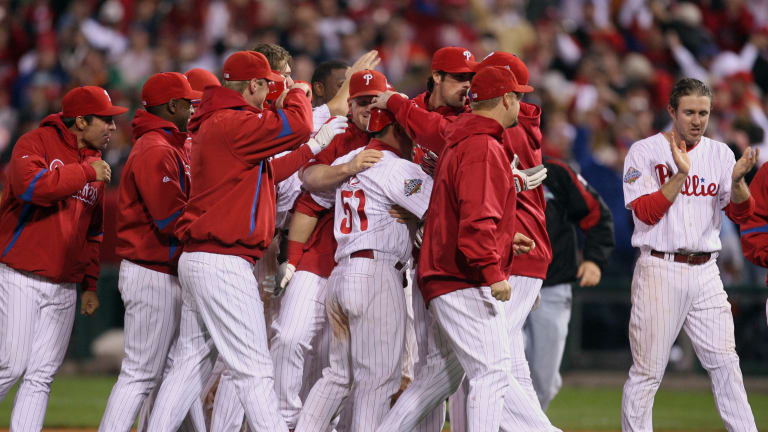 This Day in Phillies History: October 25
Philadelphia Phillies catcher Carlos Ruiz walked off the team to victory on this day in 2008.
On this day in 2008, Philadelphia Phillies catcher Carlos "Chooch" Ruiz hit a walk-off RBI-single in the bottom of the ninth in Game 3 of the World Series to put Philadelphia up 2-1 in the series.
The game was tied 4-4, and Ruiz already had himself a game after he went deep in the second inning off of Tampa Bay Rays starter Matt Garza.
Then it was time for Chooch to play hero with the bases loaded and no outs, and after the Rays decided to intentionally walk both Shane Victorino and Greg Dobbs to get to Ruiz. 
And Ruiz took it personally, hitting a narrow groundball to third base that allowed Eric Bruntlett to score from third and give the Phillies the Game 3 victory.
Jamie Moyer also pitched a solid game for the Phillies. He went 6.1 innings, allowing three runs on five hits, and striking out five. Chad Durbin, Scott Eyre, and J.C. Romero all pitched scoreless outings out of the bullpen.
In the sixth, Chase Utley and Ryan Howard hit back-to-back solo homeruns to put Philadelphia ahead 4-1. Obviously, the Rays would eventually tie it, but Chooch decided extra innings were not needed.
Side notes: Tim McGraw, son of Tug McGraw, honored Tugger before the game by spreading some of his ashes on the pitcher's mound. Hall-of-Famer Steve Carlton threw out the first pitch. And oh yeah, a young Taylor Swift sang the National Anthem.
Pretty iconic, if you ask me.
More From SI's Inside The Phillies:
---
Make sure to follow Inside the Phillies on Facebook and Twitter!