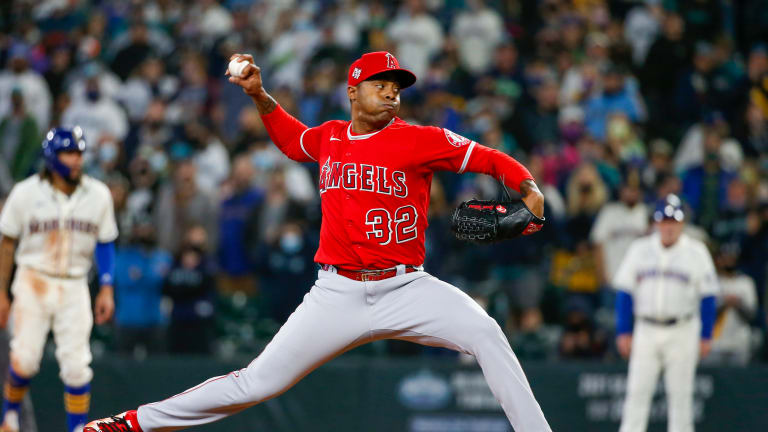 Could Raisel Iglesias Help Strengthen the Phillies Bullpen in 2022?
Dominant closer, Raisel Iglesias, is a free agent this offseason. Should the Philadelphia Phillies set their sights on saving their bullpen despite the high price?
The Philadelphia Phillies have had one of the least reliable bullpens in all of baseball over the last few seasons, and that was no different in 2021. As the Phillies enter the offseason, they will sit back and determine what areas of the team need the most help, and it is clear that the very top of that list should be the bullpen.
If Phillies President of Baseball Operations Dave Dombrowski chooses to make a big move for his bullpen, he should look no further than free agent closer, Raisel Iglesias.
When evaluating relief pitchers, especially closers, the first two things to look at are strikeout rates and WHIP. Iglesias just so happens to be dominant in both categories and is coming off of his greatest season yet.
In 2021 with the Los Angeles Angels, Iglesias put together 34 saves with a 2.57 ERA while striking out 103 batters in 70 innings pitched. Most impressively his strikeouts per nine innings was 13.2 this season and he did all that while putting up a WHIP of just 0.929.
WHIP stands for walks and hits per inning pitched. Basically, it is a statistic to show how many baserunners a pitcher allows per inning. A WHIP of 0.929 means Iglesias allows less than one baserunner in every inning he pitches. 
Commonly, guys who are high in strikeouts walk a lot of batters because of control issues, but Iglesias was the exact opposite. He finished the season with a strikeout percentage of 37.7% and a walk percentage of only 4.4%, these would land him in the top two percent and four percent of each respective category amongst qualified pitchers.
Iglesias has a killer fastball that sits between 96 and 97 mph but can get as high as 99 mph. The rest of his arsenal is made up of a sharp slider, a hard changeup, and the occasional sinker. He uses the fastball more against lefties, and the front-door slider against right-handed hitters.
The most impressive part of Iglesias' arsenal is that all of his pitches are so devastating that he doesn't have or need a signature strikeout pitch. Batters have to step up to the plate not knowing whether they will see a fastball up in the zone, a change-up low and away, or a slider that breaks last second into the strike zone. He is at a major advantage over hitters for that reason, and he has the numbers to support it.
Bringing Iglesias in as the ninth inning guy would help manager Joe Girardi make easier decisions for innings 6-8 and put way less pressure on starters and relievers alike. Iglesias will likely be the hottest bullpen commodity in the league this offseason, so he will absolutely cost a pretty penny. However, Dombrowski is known to spend big bucks, flirt with the luxury tax, and get the necessary pieces to compete for a World Series championship.
It is worth noting that Iglesias currently has the highest projected market value of all free agent relief pitchers, sitting at approximately 15.5 million dollars in average annual value, according to spotrac.com. 
It will of course take more than just one acquisition, but rest assured that if the Phillies are able to land Iglesias, they will be one step closer to ending the playoff drought and contending for a title. 
More From SI's Inside The Phillies:
---
Make sure to follow Inside the Phillies on Facebook and Twitter!