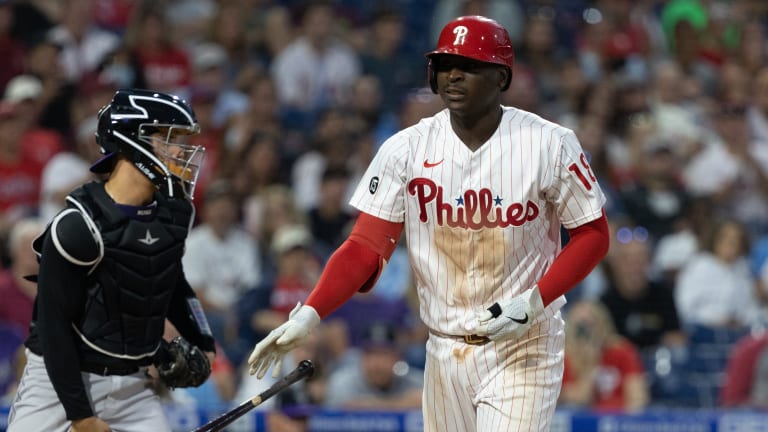 Phillies Season in Review: Didi Gregorius
We begin our 2021 season in review series with Philadelphia Phillies shortstop Didi Gregorius.
Inside the Phillies is starting a new series in which we take a look at each player's performance this season. We are starting with Philadelphia Phillies shortstop Didi Gregorius. 
Coming into the season, Gregorius was seen as player that could have easily replicated his showing in 2020, in which he slashed .284/.339/.488 during the shortened season. The Phillies believed in this possibility too, and that is why they handed him a 2 yr/$28M contract in Jan. 2021. 
Continuing to produce offensively to the level he did in 2020 in 2021 would have sufficed and could've helped Philadelphia reach the postseason. 
Instead, he reverted back to a form similar to his 2019 season which was a down year. In fact, he was even worse this season, by a fairly large margin.
It suffices to say that the 2021 season was not one that Gregorius will look back on fondly, and neither will his team. Playing one of the most important positions on the diamond, Gregorius hit for a .209/.270/.370 slashline with just 13 homeruns. 
His performance, or lack thereof, warranted a platoon at shortstop following the All-Star break. It was not an ideal situation for a team hoping to break a playoff drought spanning a decade. 
Gregorius with his -0.8 WAR was one of the least valuable players in all of the National League. His WAR for 2021 was also the lowest of his career by far, as the shortstop has always been at, or above, replacement level. 
Of course, some of it can be attributed to his missed time with pseudogout in his elbow which caused him to miss time, as well as prolong pain. However, one thing is clear: A change must be made at shortstop in 2022.
His offensive woes could have been slightly overlooked if his defense was Gold Glove-worthy, but even his glove was a liability in the field. He committed 18 errors on the season, fifth most in all of the MLB. 
The shortstop proved in 2021 that his best days may be behind him, but that is okay as there is still a place for him in this league and potentially on Philadelphia's roster: As a bench player. 
Gregorius' lackluster 2021 was one of a number of reasons why the Phillies ended the season as an 82-win team. But, he was far from the only blame. 
More From SI's Inside The Phillies:
---
Make sure to follow Inside the Phillies on Facebook and Twitter!