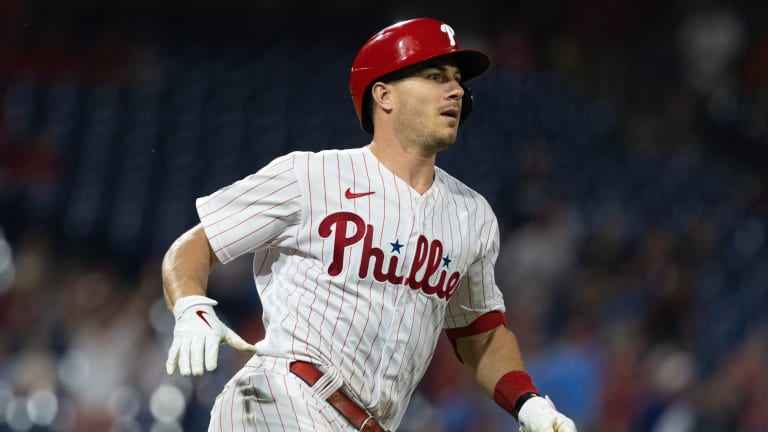 Phillies Season in Review: J.T. Realmuto
Inside the Phillies continues their season in review series with Philadelphia Phillies catcher J.T. Realmuto.
Going into the 2020 offseason Realmuto wasn't guaranteed to be back behind home plate for the Philadelphia Phillies. But after signing a five-year, $115.5 million contract, Realmuto was not only returning, but would be around for the foreseeable future.
In 2020, Realmuto had a below-average season where he hit for .266, had a slugging percentage of .491 and had a WAR of 1.3. Some could argue that there were factors that could play into him having one of his worst seasons in multiple categories. 
Regardless of those factors, the trend for Realmuto carried into the 2021 season, where he played 87 more games than the previous year due to the return to a traditional 162 game season. Realmuto's average went down to .263, his slugging percentage shrank to .439. 
Even though the season was an overall rough one for Realmuto, there were still several times throughout the season where he accelerated.
Realmuto started off the season strong, in April, hitting for .329, with a slugging percentage of .507 and an OPS of .840. 
The month of May saw Realmuto get time on the field but also sit out multiple games due to injuries to his hand, a leg contusion, and time on the COVID-19 protocol list.
In June, Realmuto got back to a full healthy month and continued to contribute to the Philadelphia offense, netting three homeruns and 10 RBIs.
Realmuto's performance in the first half of the season netted him a spot on the National League's All-Star Team, making it the third time in his career he has been at the Midsummer Classic. Another highlight for Realmuto in the month of July was when he hit a two-run walk-off homerun against his former club, the Miami Marlins. 
Following the All-Star break, the Phillies and Realmuto had one thing on their mind which was securing first place in the NL East. In August, Realmuto's offense didn't slow down as he was hitting for .291 and brought in 16 runs. However, Realmuto went on the injury list twice during the month of August, the first time for a concussion after getting hit in the mask four times, then suffering a calf injury.
The last month of play saw Realmuto stay afloat but still not performing to the level expected. His batting average had declined again, hitting its lowest point since July. 
Even though Realmuto and Philadelphia failed to make it to the playoffs, it's clear that they're getting closer. With years left on his contract, Realmuto has time to bounce back from his previous two seasons. 
More From SI's Inside The Phillies:
---
Make sure to follow Inside the Phillies on Facebook and Twitter!