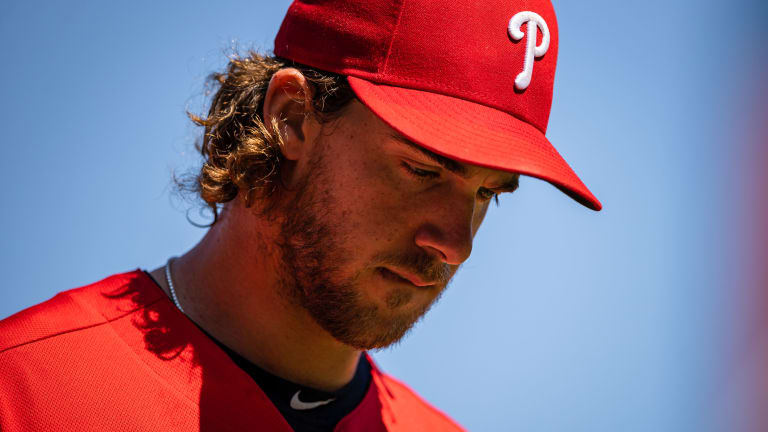 Should the Phillies Move on From Aaron Nola?
Aaron Nola had one of the most inconsistent seasons of his career with the Philadelphia Phillies in 2021, but does that mean he should be traded?.
There's been discourse amongst Philadelphia Phillies fans for awhile now that Aaron Nola, their former first round MLB draft pick, should be traded.
But honestly, a trade involving Nola would only further hurt the Phillies and their chances of chasing the postseason. It would leave a gaping hole in the starting rotation that they are in no position to fill this offseason.
Philadelphia has quite a to-do list to tackle this offseason if they wish to improve the team and put them in a position to contend next season, and Nola is far from being at the top of their list of concerns.
Sure, if President of Baseball Operations Dave Dombrowski and the Phillies were to consider a trade, it would make the most sense to trade Nola now while he still possesses value and receive some younger, quality additions in return.
However, shortstop, third base, centerfield, relief pitching, and another starting pitcher (who would not be replacing Nola) are more of a priority for the Phillies than shipping Nola out of town due to one poor, inconsistent season.
Plus, there are a multitude of free agents available at the Phillies' desired positions this offseason. It means that ultimately, trading Nola would likely be a waste. He's also signed thru 2022 on a 4 yr/$45M deal, with a 2023 team option, and we know how reluctant the Phillies are in losing money. It is also an incredible bargain considering the rate of starting pitching on the open market.
Of course, there is no guarantee, but Nola is likely to have a bounce-back year in 2022. We've seen what he's capable of during the course of his career, pitching to the likes of a 3.68 ERA, 67-49 W-L in 171 starts, 24.3 WAR, 1.158 WHIP, 1,145 strikeouts in 1023.1 IP, and an All-Star Game selection in 2018.
It's been a long, drawn-out debate on whether or not Nola is an "ace," and for a majority of his tenure with the Phillies, he was their ace. Perhaps his role with the club is changing, especially after Zack Wheeler pitched to Cy Young-worthy levels this past season, but that does not mean Nola should be traded. 
The amount of money it would take to acquire another pitcher of Nola's caliber this offseason will be exorbitant. This team and front office led by Dombrowski are here to win. They do not want to waste J.T. Realmuto, Wheeler, or Bryce Harper's prime.
Trading Nola now after a down year is throwing in the white flag. It just won't happen. However, they will bank on the more likely scenario that Nola makes a comeback next season. 
He can still serve the Phillies starting rotation well, whether it be as the second or third starter. The ceiling for success he's established during his career was his 2018 season, in which he went 17-6 in 33 starts, posted a 2.37 ERA, 3.01 FIP, 0.975 WHIP, and 224 strikeouts in 212.1 IP.
Nola may never replicate his 2018 numbers again, but regaining his command and confidence for next season is a must if he wishes to pitch consistent, quality starts for Philadelphia in 2022. 
Publisher Kade Kistner contributed to this article.
More From SI's Inside The Phillies:
---
Make sure to follow Inside the Phillies on Facebook and Twitter!