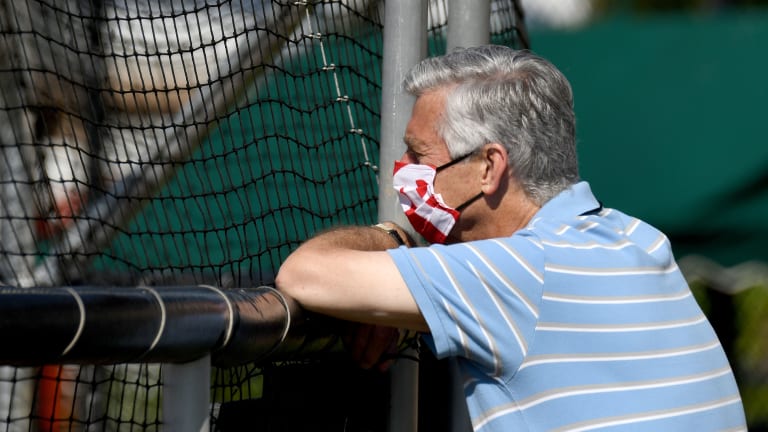 Phillies Trade Scenarios: Who Might Dombrowski Move This Offseason?
The Philadelphia Phillies must improve their squad this offseason through both free agency and trade, so what players might they be interested in?
Going into 2021, the Phillies thought they'd found their third baseman of the future in Alec Bohm and had solidified shortstop into 2022 with Didi Gregorius, but now both positions are question marks.
On top of dismal performances from Bohm and Gregorius, the likely departure of Andrew McCutchen and lack of development from prospects Mickey Moniak, Adam Haseley, and Scott Kingery mean the outfield is a priority as well.
There's no doubt about it: The Phillies have an abundance of holes to fill for 2022.
These gaps cannot all be plugged through free agency. Money is a resource which the Phillies do not lack, but John Middleton's reluctance to exceed the luxury tax has been widely apparent since 2019.
Therefore, the Phillies must improve through trade. With new President of Baseball Operations Dave Dombrowski at the helm, the Phillies have become increasingly more committed to their current window of opportunity.
In the past, Dombrowski has not been hesitant to move high performing prospects for older, more established talent, but the Phillies do not have the minor league assets that Dombrowski formerly possessed with the Boston Red Sox or Detroit Tigers. The Phillies have also signaled that they are unwilling to move top prospect Mick Abel, thus further complicating the picture.
Dombrowski and General Manager Sam Fuld must delve deeper into the Phillies system. The emergence of prospects like Bryson Stott, Rafael Marchan and Jhailyn Ortiz present ample opportunity to revamp the Phillies roster for 2022.
Scenario #1: Phillies trade SS Bryson Stott, RF Jhailyn Ortiz and CF Mickey Moniak to the Minnesota Twins in exchange for CF Byron Buxton and 3B Josh Donaldson
After making the playoffs three of the last four seasons, the Twins finished with 73 wins in 2021. Their window of contention isn't closed by any means, but Thad Levine and the Twins front office may consider a retool as opposed to a rebuild.
It wouldn't be a surprise if the Twins attempt to replace aging talent Josh Donaldson and Michael Pineda with younger, more controllable players this offseason. Donaldson is under contract for three more years and is owed $59.5 million through his age 38 season. Though still productive, the Twins might prefer to build for the future than retain an aging third baseman on a large salary.
Meanwhile, the Phillies have already shown excessive interest in Byron Buxton. Dan Hayes of The Athletic reported following the 2021 trade deadline that "the Philadelphia Phillies were by far [Buxton's] strongest suitor."
The 27-year-old center fielder is set to be a free agent next offseason. Buxton has played with the Twins for seven years, but hasn't managed an entirely healthy season once, substantially diminishing his value.
The Phillies were unable to complete a deal for Buxton in July due to the Twins steep asking price. Now the Twins may be more inclined to move Buxton for emerging talent like Bryson Stott. Donaldson has also depreciated in value with age and a large contract.
Moving Stott, however, would require a package to instantly improve the Phillies. The young shortstop has continued to impress in the Arizona Fall League after a torrid 2021 between minor league affiliates Jersey Shore, Reading, and Lehigh Valley.
Buxton and Donaldson might get the job done, as they would immediately boost the Phillies to NL East contenders, substituting two of the weakest points in the Phillies lineup during 2021 for two of the strongest.
Another potential roadblock for the Phillies could be moving budding prospect Jhailyn Ortiz for an expiring contract in Buxton. Ortiz struggled mightily in 2018 and 2019 then burst onto the scene in 2021 with 23 homers in 391 plate appearances between Reading and Jersey Shore.
That impasse could be avoided by signing Buxton to an extension following a trade, not dissimilar to Mookie Betts' extension with the Dodgers in 2020.
It has also been noted that Buxton has declined extension offers around seven-year, $70-80 million from the Twins on multiple occasions, signaling that the relationship between player and team may be coming to an end.
Scenario #2: Phillies trade C Rafael Marchan to the Cincinnati Reds in exchange for INF Mike Moustakas
Mike Moustakas struggled mightily in 2021. He missed nearly three months with plantar fasciitis in his right foot and when healthy, he slashed just .208/.282/.372. However, his BABIP of .239 indicated he suffered from some bad luck.
The 33-year-old third baseman has quite a lot of time and money left on his contract. Two years and a third year club option separate him from free agency while Moustakas' positions are blocked by slugger Eugenio Suarez and Rookie of the Year candidate Jonathan India. Moustakas' value has never been lower, especially to the Reds who will presumably bench or platoon him to begin 2022.
Likely to decline eight year veteran Tucker Barnhart's $7.5 million club option for 2022, the Reds are in need of a backup catcher. Former first round draft pick Tyler Stephenson is their backstop of the future, but every MLB club needs a steady backup catcher and that is a role that Marchan can fill with ease.
Scenario #3: Phillies trade SS Bryson Stott, RHP Adonis Medina and Cash Considerations to the Kansas City Royals in exchange for 2B Whit Merrifield and RHP Scott Barlow
The Royals are in full rebuild mode. Their star player Whit Merrifield has one season left on his contract with a club option for 2024. Having been the face of the franchise since stars Moustakas and Eric Hosmer left following the 2015 World Series, the Royals may be less inclined to part with their 32-year-old phenom.
Though Merrifield has spent much of his time with the Royals at second base, he's also started 63 games in center field where he's accrued four defensive runs saved. Merrifield has experience out of the leadoff spot as well, and his blazing speed makes him a seductive pick to bat first, but his low OBP might slot him lower in the Phillies lineup.
While the Royals intend to have minor league star Bobby Witt play shortstop going forward, their plans are less certain at third and second base should they trade Merrifield. It's been said that Stott may not be able to stick at shortstop long-term, so second or third could be a better fit for him with the Royals.
Scott Barlow was a force out of the bullpen in 2021. Through 74.1 IP, he pitched to a 2.42 ERA with a FIP of 2.63. His contract takes him through 2024, so some extra pieces would be necessary to sway Royals general manager Dayton Moore.
Sending some cash to the Royals may prove especially effective as Merrifield is only owed under $3 million in 2022 and the Royals are an especially small market team.
Scenario #4: Phillies trade C Logan O'Hoppe to the Arizona Diamondbacks in exchange for LF David Peralta
Like nearly every other club in MLB, the Diamondbacks lack a definitive backup catcher for 2022 and beyond. They've found their starting catcher of the future in Carson Kelly, but stopgap Stephen Vogt is a free agent this year.
Therefore, the rebuilding Diamondbacks might show some interest in a player like Logan O'Hoppe. He's shown that he can be a legitimate hitter as well as a backstop. In 438 minor league plate appearances at three levels in 2021, O'Hoppe slashed .270/.331/.458, which is impressive for a catcher.
While O'Hoppe's worth has only increased in 2021, Peralta's has decreased. A career low OPS of .728 coupled with a career low BABIP suggests that he may be a smart pick to rebound in 2022.
Even considering a weak 2021, Peralta is a proven left fielder over eight major league seasons. With a Gold Glove and an OPS of .806 for his career, he's established himself as a solid talent. Yet, his contract is expiring.
With one year remaining for $7.5 million, Peralta has little value to the Diamondbacks who are expected to be uncompetitive in 2022 after winning a pitiful 52 games last year.
Peralta would certainly not be the left fielder of the future for the Phillies, but as a replacement for McCutchen, he would do just fine.
More From SI's Inside The Phillies:
---
Make sure to follow Inside the Phillies on Facebook and Twitter!