Publish date:
Athletes, others retiring with 'no regrets' seems implausible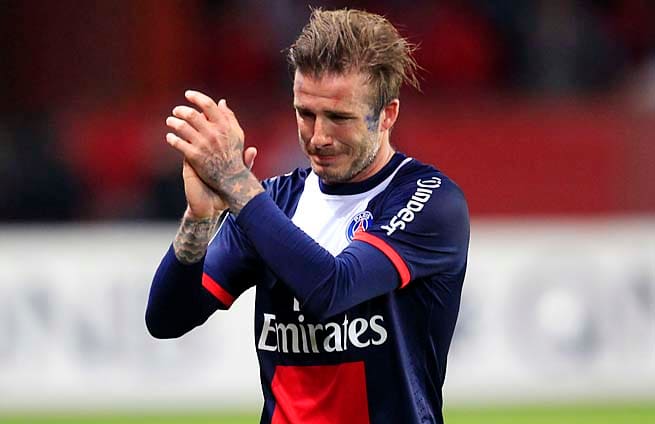 Before he retired on Saturday, David Beckham said what everyone says at the end of anything -- a job, a career, a life -- and that is: "I have not one regret at all." His former manager at Manchester United, Alex Ferguson, also retired over the weekend. Fergie had, to no one's surprise, "no regrets" after 26 years on the job.
It's regrettable, and implausible, that so few people ever confess to having any regrets. And those who do, like Frank Sinatra, have "too few to mention." Perhaps this blithe self-confidence is what makes them exceptional athletes and artists in the first place. I wouldn't know.
Over a long career in sports, I've nurtured a growing list of regrets, far too many to mention. That line at the bottom of most invitations -- Regrets Only -- will be the title of my memoir.
Consider that historic moment when Muhammad Ali, hand shaking from Parkinson's and adrenaline, brought the world's TV viewers to tears by lighting the torch to open the 1996 Olympics. I spurned a seat in the stadium that night to watch from my Atlanta hotel room because the bus ride would be kind of long and the security lines a bit ... inconvenient. Regret, in this case, proved instantaneous. It set in the moment Ali made his surprise appearance on my TV and has only grown in the years since.
WAHL: Beckham considering MLS ownership
But there are so many more regrets, including the meal of hot chocolate and nachos I ate during the ski jumping competition at the 2002 Winter Olympics in Park City, Utah. Same goes for the ham-and-cheese croissant I wolfed down just before scuba diving off the Big Island in Hawaii, an experience so traumatic that I have not been scuba diving, visited the Aloha State or eaten a ham-and-cheese croissant in nearly two decades.
I regret picking the Toronto Blue Jays to win the 2013 World Series. I regret not buying Apple stock at $7 a share in 2002. I regret having Indiana go all the way in my brackets.
Every six months, while wearing a dressing gown in the examination room of my dermatologist, I regret not marinating in 100 SPF sun block all the years I covered spring training. Sitting on aluminum bleachers, white face turned to the sun, was in hindsight not smart. In hindsight, I should have been wearing a sombrero.
More than what I didn't wear, I regret almost everything that I did wear from 1989 to 2001, especially -- but by no means limited to -- the stone-washed jorts.
I regret laughing at the announcement in the Cincinnati Reds press box that some schmuck had left his house keys in the men's room and he could claim them in the front row. (Unable to key into my apartment very late that night in New York, I slept fitfully on an office couch, and woke to the scrick-screek of the Time & Life Building's bi-millennial window-washing.)
A month before Ali lit the Olympic flame in that summer of 1996, during an epic rain delay at Wimbledon, my colleague Ian Thomsen announced that he was abandoning the press box for an Elvis Costello show at London's Shepherd's Bush Empire. Did I want to join him?
Regrettably, I said, "No. What if play resumes?" Hours later, while Ian was listening to "Oliver's Army," I was listening to the Centre Court public address announce that the rain was not going to relent and the matches would not return until the following day.
And on and on and on it goes. When New York Times op-ed columnist and Middle East authority Tom Friedman said to me, "I enjoy your golf writing," I have always regretted that I did not instantly reply: "I enjoy your Gulf writing."
I regret that I spent so much time worrying before embarking on trips into the unknown -- Greenland, Antarctica, the Arctic Circle -- when hindsight showed there was no reason whatsoever for concern.
I regret for many years being too nervous, scared, stressed out, ambitious, dumb or deadline-driven to fully appreciate that a kid who couldn't hit, field, run or throw was sitting in the dugout at Yankee Stadium anyway.
I regret anything I've ever written that hurt somebody just because I thought it was important or funny or -- more likely -- because I didn't consider the possibility that the subject in question was an actual human being with the ability to read.
Woody Allen said his only regret in life is that he's not someone else.
I regret that I didn't think of that line first.