Bulls mentally drained, concerned with Derrick Rose's knee injury
The saga of Derrick Rose's legs has begun a new chapter, and this time around there's a stranger sense of mystery.
CHICAGO -- The saga of Derrick Rose's legs has begun a new chapter, and this time around there's an even stranger sense of mystery. There's nothing visceral, no replay searing into the imagination, no writhing on the baseline or sickening grimace. Nobody within Bulls organization seems to know when or how it happened, nor does Rose, whose MRI on Tuesday sent a shock around the league.
Since the news broke Tuesday night, here's all we know. The concrete: another meniscus tear, another Bulls season in total flux. A flat 98-86 loss to the Charlotte Hornets at home on Wednesday, and a team mentally and emotionally taxed by the past 24 hours.
Derrick Rose's knee injury casts further uncertainty on Bulls' future
​In the abstract, there's a long-standing truth inching closer and closer to reality: the thought that Rose's stars might now be fully crossed. With a third surgery on the horizon, that notion, which the Bulls, and the city of Chicago have spent close to three years trying to avoid, carries with it a new gravitas. 
"We're concerned about him," said head coach Tom Thibodeau after Wednesday's game. "With that being said, we still need to get the job done, because the games are going to keep coming. We're going to have to figure it out and improve."
• MORE NBA: Garnett in Minnesota | Warriors' rise | Harden emerges as MVP
Rose did not report to the United Center for the game, staying out of the public eye with the details of his surgery still cloudy. As his teammates struggled down the stretch against Charlotte, the effects of his latest extended absence were tangible. The veteran tandem of Aaron Brooks and Kirk Hinrich, filling in at point guard, combined for 20 points on 8-of-21 shooting. Chicago worked it inside, playing through PauGasol and Joakim Noah, but could never quite open the Hornets up. The Bulls made just three of 17 three-pointers and shot 65 percent from the line.
The Bulls have been here before, departing quietly from the playoffs three straight years without their star, different players filling in admirably but unable to make up the difference. Though Rose drew plenty of criticism for his shot selection and turnovers this year, his ability to simply bend defenses and draw attention can't be undersold. After a night that hearkened back to the struggles of the past, Noah called the team "a little bit drained" mentally.
The nature of these crises, particularly three times around, often leads us to assume the worst. The frustration and uncertainty cut even deeper in Rose's hometown, where fans had clung to each flash of the old Derrick, and where the lottery balls said he never should have landed at all. Back then, the story felt too good to be true, and now, perhaps that's the case.
Jimmy Butler, who spoke with Rose both Tuesday night and Wednesday morning, called his teammate "high-spirited." Reports have indicated the tear may not be quite as serious, leaving open a foggy possibility for Rose's swiftest comeback to date. When asked about his teammate potentially returning before season's end, Butler ruled nothing out.
• MORE NBA: Butler on SI cover | MGK finds his voice | Power Rankings
"I think we're all optimistic about it," he said. "We want him back, and I'm sure he'll try to get back as soon as possible."
Behind the scenes of Jimmy Butler's rise to the brink of NBA stardom
​Players trickled slowly out of the locker room after the game, keeping comments short but maintaining unified support. An "angry" Noah was audibly frustrated. 
"[Derrick] doesn't deserve it," he said. "It's just really disappointing."
Until the team reveals the plan for Rose's surgery, it's wait and see. Chicago's aspirations, for the long-term, not just the post-season, stand diminished, yet still shrouded by the doctors' timetable. This time, for now, the mystery is the only comfort left to cling to.
GALLERY: Photos of Derrick Rose in high school
Derrick Rose in High School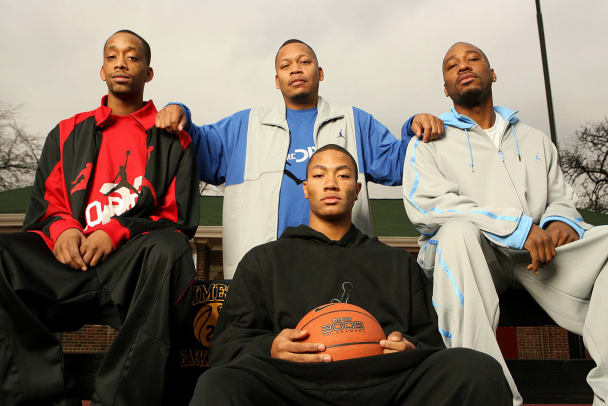 ​