Doc Rivers discusses Jordan, Garnett, and 2010 NBA Finals in Boston visit
Clippers coach Doc Rivers returned to Boston for a charity event and discussed Mark Cuban, DeAndre Jordan, and the 2010 NBA Finals. 
BOSTON—For Doc Rivers, there will always be money in the Staples Center.
Rivers, the current head coach and President of Basketball Operations for the Los Angeles Clippers, was coaching the Boston Celtics in February of 2010 when he thought his team was not playing to its potential.
"I actually thought we were losing hope," said Rivers. "So this was one of those things that wasn't pre-planned, it was instinctive."
In an effort to motivate his players to return to the Staples Center, Rivers decided he would take $100 from each player and hide the money in the visitor's locker room.
"It was just a gut move," said Rivers. "I thought the Lakers would be in the NBA Finals, and the only way to play them again was to get there with them."
• MORE NBA: Clippers earn high marks in off-season grades
If his Celtics made it to the Finals, the money—which added up to $2,600—would be returned.
"I started asking for money from all the players," explained Rivers. "Getting money from Kevin Garnett was like pulling a tooth. I said, 'Just give me a hundred dollars! That's all I want!' Then finally I told him what I was doing, and Kevin wanted to pay for everyone, saying, 'I'll pay for him, I'll pay for him, I'll pay for him.' Then I made them all get all out of the locker room, and I lifted [assistant coach] Kevin Eastman up and we found this one spot where we thought security would never go. When we played the first game of the Finals there, the players got off the bus and went straight in the locker room. We were lucky that it was there.
"But the funniest call during that was when [Gregg Popovich] called me and asked, 'Is there money in the San Antonio locker room?'"
Rivers, who now calls the Staples Center his home, returned to the TD Garden in Boston on Wednesday to serve as a chair for the Action for Boston Community Development's "Hoop Dreams" charity event. Rivers helped start the event five years ago, and is proud of the projected $100,000 raised in one night that will directly help the inner-city youth.
"I never left this community," said Rivers. "Just because I moved didn't mean I was going to give up on this charity. Boston is going to be a part of me for the rest of my life. My kids identify as Celtics, and my wife does, too. That's who we are. I was here for nine years and I made a lot of special relationships and I wanted to get involved. We did a couple smaller events in the beginning, and then we came up with 'Hoop Dreams.'"
Rivers admitted he had only two regrets from his time in Boston.
"We had a better start in 2009 than we did in 2008," said Rivers. "I didn't think anyone could beat us. But Kevin Garnett going down changed everything. Kevin was never the same in 2009 after his injury. He was still good, but he was never the same. Injuries are part of it, but we could have had a real run, and that was taken away."
NBA players entering pressure-filled contract years in 2015–16 season
​Rivers's second piece of anguish occurred during his departure.
"If you remember, it took me like six weeks to make a decision to leave," said Rivers. "It was way too long. If I made any mistake, it was that I couldn't make up my mind. I knew that I didn't want to go through a rebuilding process. I'd already done that twice. My decision was between walking away or if I still wanted to coach.
"Leaving the Celtics was a good situation for me. The Clippers allowed me to be able to run an organization. That's something I had never done, and didn't know if I could. I've grown as a person because of it."
Rivers also watched  DeAndre Jordan endure a growing process, and he is pleased he will start at center for the Clippers this upcoming season.
"DeAndre thought about leaving, but right away, he knew he wanted to come back," said Rivers. "He even Snapchatted my youngest son Spencer. He had told two or three people he'd made a mistake [after signing the offer sheet with Dallas], but the Snapchat said, 'Tell your dad to call me.'"
Despite verbally committing to the Dallas Mavericks on July 3, the deal could not be made official for another week. In the interim, Jordan dealt with second thoughts about leaving Los Angeles.
"Once he wanted to come back, we had to figure it out," said Rivers. "That was the day with the emojis [on July 9]. We were just sitting in his house, his mom was making food, and we were watching the Summer League games. I didn't know about any of that emoji stuff, or that Blake had one with a chair blocking the door, but at the end of the day, DJ changed his mind."
• MORE NBA: Jordan's chance to be a Clipper for life
Mavericks' owner Mark Cuban was furious over Jordan's decision, largely because Jordan never once called or texted to explain his change of heart.
"I kept hearing all summer, 'Mark Cuban doesn't like you,'" said Rivers. "I could care less about that. My only care is about DJ, and he's a good kid. After all the complaints afterward, it was the same thing with me. DJ didn't call me when he [verbally committed with Dallas], his agent called me. That's the way the business works. He would have called me eventually. It was the same way when Ray [Allen] left the Celtics. Ray's agent called me.
"Cuban said he deserved a call, but he didn't deserve a call or an apology. He doesn't deserve either one. It's funny how much I hear, 'Boy, Mark Cuban is mad at you.' Listen, my job isn't to make Mark Cuban happy. My job is to make him miserable. This is why it's a competition. So the fact DJ stayed with us, and I always say, 'Stayed' and not 'came back' because he never left, was great. The kid had a right to get this right. It's the biggest decision of his life, and he was able to change it before it was a career mistake."
The Clippers exited the playoffs after a second round collapse to the Houston Rockets. Rivers knew his team's victory in a ferocious seven game series over the San Antonio Spurs was going to have consequences.
"That was the hardest series," said Rivers. "And the bad part about that series was that the winner lost. Pop and I laughed about it before the seventh game, and he said, 'The winner may end up being the loser.' And that's what happened.
"Chris [Paul] got hurt, and we ran out of gas. But, in the long run, it was one of the most special series I've ever been in. It was so well-played. The focus was on basketball, and that is very special. And if we do win the championship this year, it will be because of that series."
Before the Clippers win the championship, they need to fight their way through a dangerous Western Conference. Defending champion Golden State still offers a loaded roster, and the Spurs added two exceptionally talented big men this summer in LaMarcusAldridge and David West. Rivers's moves included trading for Lance Stephenson and signing old friend Paul Pierce.
"Paul thrives in pressure situations," said Rivers. "The most important thing is that he's been there and he's done it. When he tells guys what they need to do, they'll listen. He was the MVP of the Finals."
Top 100 NBA Players of 2016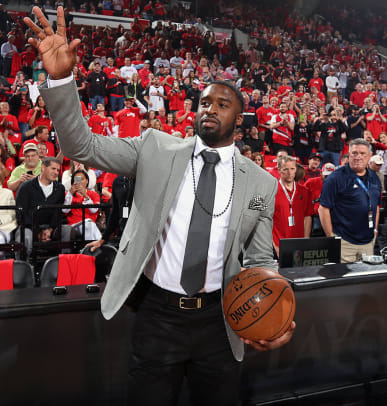 ​
Rivers explained that his relationship with Pierce, which started in 2004, began on a very sour note.
"Me and Paul butted heads a ton during my first year there," admitted Rivers. "Late in the [2004–05] season, I spoke to him in front of the team in the locker room. I said to Paul, 'I'm not changing on my beliefs in the way I think you should play. I'm not changing. So one of two things is going to happen—I'm going to get fired, or you're going to change, because I'm not changing."
Fast forward three years later to 2008, when the Celtics defeated Detroit in the Eastern Conference finals, and Pierce rushed through teammates and opponents to embrace Rivers after the game.
"Paul was crying when he grabbed me," said Rivers. "And he said, 'You told me that you weren't going to change, and you believed in me, and I love you because you never stopped believing in me.' That's a moment I'll never forget."
Rivers also grew exceptionally close to Garnett. Rumors swirled that Garnett was headed to the Clippers before last season's trade deadline, but Rivers believes Garnett found a better home in Minnesota.
"We talked about coming [to L.A.] when he was about to get moved from Brooklyn, but honestly, I backed down right when I saw he had a chance to go to Minnesota," said Rivers. "I said to him, 'Listen, if you want to come to L.A., you always have a spot here, but going back home is perfect.'
"Kevin is the most unselfish superstar to ever live. You could make a case for Tim Duncan, but they both do it in such different ways. Kevin is loud and then Tim is quiet, but they both are so only about the team. Both of them could have scored thousands more points. We always called Kevin the 'Kevin Stopper.' Kevin stopped himself more than anybody. If Michael Jordan made five shots in a row, he'd want to go for six, seven, and eight. If Kevin did that, he'd say, 'I shot five times in a row, I need to move the ball.' I'd said, 'No, Kevin, we're moving it to you!' But that's Kevin."
A story that will forever remain in Rivers's mind occurred on a Celtics flight in 2010. Glen "Big Baby" Davis defeated all of his teammates in arm wrestling contests before the flight, and the only man left to conquer on the plane was Garnett. Flying at an altitude of 35,000 feet, the team crowded around to watch the spectacle.
"I thought someone was going to get hurt," said Rivers. "The whole team was in the back of the plane, and I thought Kevin was going to get hurt. 'Big Baby' is huge, and he weighs a hundred more pounds than Kevin. He ran through everyone else in a second, just bam, bam. I knew Kevin would try to win, and I remember telling the coaches, 'I don't like this at all.' I kept saying to the team, 'Hey guys, let's be careful here.'
"If I could get anything on camera, this would be it. It was the most amazing display of will power and mind power. Kevin stared him in the eye and looked at him. He wouldn't stop. You could see 'Baby' go from wanting to win to literally seeing him break down mentally. Kevin made Baby give in. Kevin was just staring at him, saying 'I'm not moving. You're not going to move me.' Then bam, Kevin won."
Garnett shouted, "I'm the alpha male! I'm the alpha dog!"
"And Kevin used the F-word during his celebration," said a smiling Rivers. "He uses it as a noun, adjective, and verb. That's his word. Like Tom Brady has said, it's a pretty good word."
James Harden, the NBA's unlikely MVP
Rivers shared a close relationship in Boston with Danny Ainge, the Celtics' President of Basketball Operations. One deal, however, that Rivers would like back is the 2011 trade that dealt Kendrick Perkins to Oklahoma City and brought Jeff Green to Boston.
"We wanted James Harden," said Rivers. "We actually, early on, thought that was a possibility, but we soon found out it wasn't. I didn't want the trade because it was going to change the complexion of our team. Perk was Kevin's defender. I always thought, once you moved Perk, people wouldn't look at us the same, and that is exactly what happened.
"But Jeff was younger and so much more talented, so I got it. At the end of the day, I gave Danny my blessing. I was against it because I wanted Perk, but I understood the move."
Though the Clippers are currently the hot franchise in L.A., Rivers still sees enough purple-and-gold to make his stomach churn. His mind never drifts too far from the Celtics' Game 7 defeat at the hands of the Lakers in the 2010 Finals.
"I think of the Game 7 loss far more than I think of when we won the championship," explained Rivers. "I think about it a lot, especially whenever I'm around those guys. My mom passed away, and [Rajon] Rondo came to the funeral. And we're sitting there, and Game 7 popped up. We didn't even mention [winning the 2008 championship]. Paul and I talk about it, Thibs [Tom Thibodeau]  and I talk about it probably more than anyone because I talk with him the most. We're perfectionists, and that loss still stings."
Rivers knows exactly what went awry in the final moments of that 83–79 loss.
"The whole second half was a different half," said Rivers. "The first half was physical, and all of a sudden, there were a lot of fouls called and it became a finesse game. The biggest point that people miss in that game is Rasheed [Wallace] cramped up, Kevin gets [his fifth] foul, and Paul gets that stinger. Those were all at the same time. The three minutes when Paul was off the floor was when the Lakers made their run. And we didn't have Perk. But listen, they made shots. And the two big shots were Fisher's three and Artest's three. And what bugs me about both is they should have been defended. We didn't defend them."
Rivers's Celtics never returned to the NBA Finals, as LeBron James began his domination of the Eastern Conference with the Miami Heat. When asked to compare James and Michael Jordan, Rivers still prefers No. 23 from the Chicago Bulls.
"I'm an MJ guy," admitted Rivers. "I played against Michael, so that is why I feel that way. But they are completely different, and they're not even the same type of player. LeBron should be compared more to Magic than Michael. LeBron is more of a Magic type player than a Michael type of player."
As for a game of one-on-one between James and Dominique Wilkins, Rivers doesn't see "King James" stopping his former Hawks teammate.
"I wouldn't want to play Dominique one-on-one," said Rivers. "Dominique actually could defend, and if you played him one-on-one, he would. And you were not going to stop Dominique from scoring."
Rivers recalled Wilkins' uncanny ability to know every player's stats during the middle of a game.
"Dominique always knew," said Rivers. "I don't even know numbers now. Right after a game, when people ask me the score, I only know if we won or lost. That's all you should know. But Dominique always knew exactly what he had, and he knew what you had, too.
"I had a couple triple-doubles in my career, and there was one game when I was going to come out, but Dominique said, 'Stop! You only need one more rebound!' I said to him, 'Nique, how do you know my numbers?'"
As a player and coach, Rivers's ability to build relationships always set him apart from his peers. He was challenged in the past by headstrong players, such as Rondo, and coaching his son, Austin, this past season with the Clippers presented a new set of circumstances.
"Coaching Austin was easy," said Rivers. "I just coach him. I want him to be great, but I want Chris Paul to be great, too. All my players are my kids. I know that sounds trivial, but I talk to Perk all the time, I talk to Tony Allen all the time, and I talk to Rondo all the time.
"With Rondo, there were far more ups, but you read more about the downs. He's one of the smarter kids I've ever been around, and it's amazing how much we talk now. We've kept a tremendously close relationship. It's funny, when he went to Dallas—and just knowing Rondo—my gut said that may not work. It didn't. I wish it didn't end the way it did. That was ugly, so I want him to do well this year."
Once matters cross into basketball, Rivers explained, then everything becomes much simpler.
"Coaching Austin was never a goal of mine," said Rivers. "It turned out to be a good move for us, he played great for us. My wife is brutal on coaches, including me. Danny [Ainge] tells a funny story from a game in Orlando. Whenever I took Tony Allen out—​and that was her favorite player—​my wife would stand up and yell, 'Rivers! What are you doing?' And that's from my wife. But it's worked so far with Austin, it's been very good."
After a tumultuous off-season, Rivers is most excited about getting back to business this season. The team Rivers has assembled could very well be the most talented roster he has ever coached.
"But we have to get along," said Rivers. "I'm not talking about the whole DJ-Chris thing, which was overblown, but we have to get along as a group. We have a lot of personalities on our team, starting with me as a coach right down to Paul and Lance. Collectively, individually, we're as good as anybody, but we haven't proven that we can function as a team. If we do that, we're going to be hard to beat. So our goal is for people to sacrifice. If we do it right it, I think we're going to special, and I can't wait to get started."
Justin Barrasso can be reached at JBarrasso@gmail.com. Follow him on Twitter @JustinBarrasso.