Class In Session: The NBA's next generation prepares to get schooled
Kobe Bryant headlines three superstars taking on a new role this season—mentor. Here's how Kobe, Dwyane Wade and Kevin Garnett are training the NBA's next generation of stars.
​This story appears in the Oct. 26, 2015, issue of Sports Illustrated. To subscribe, click here.
The black Chevy Suburban sloshed through the wet side streets of Honolulu's Mo'ili'ili neighborhood, turning into one traffic snag after another and providing the 19-year-old passenger in the middle row ample time to choose his words. What do I say? D'Angelo Russell wondered. What do I ask? I want to be myself, but I also don't want to mess anything up.
Three summers ago Russell watched the U.S. Olympic basketball team practice in Las Vegas, and afterward the players walked over to the fans—all except Kobe Bryant, who sank into a chair apart from the crowd. "That's Kobe," a few spectators muttered. "He's a jerk." Maybe they were right. Maybe he was a jerk. Or maybe, Russell suggested, he was just tired.
Since that day in Vegas, Bryant has torn his left Achilles tendon, broken a bone in his left knee and ravaged his right rotator cuff, season-ending injuries all. Meanwhile Russell has graduated from Montverde Academy in Florida, spent a year threading no-look passes at Ohio State, become the second pick of the 2015 draft and wound up on the same team as Bryant, in the same SUV, on the way to the same Waikiki Beach hotel. "I try to act tough like, 'Oh, it's Kobe, whatever,'" Russell says. But during the Lakers' six-hour flight to Honolulu for training camp, the wiry point guard kept turning his head toward the back of the plane, and in three-man drills at Stan Sheriff Center his eyes kept wandering toward the wing: Yeah, there's Kobe. He tried to shrug.
• Behind Enemy Lines: Scout takes on all 30 teams | Preseason Power Rankings
70 reasons to watch the NBA this year
Russell was seven months old when Bryant arrived in Honolulu for his first Lakers camp, which happened to be Byron Scott's last as a player. "What do you want to accomplish?" Scott asked the rookie. "I want to be the best player in the league," Bryant replied, his left wrist still bandaged because he'd broken it in a pickup game at Venice Beach. He was cocky but curious. He asked a hundred questions, of teammates but also of opponents. He once asked Michael Jordan at a stoppage about the release angle on his fadeaway. He noticed, from the way Jordan crinkled his brow, that he'd earned a sliver of respect. Nearly two decades later Bryant sat next to Russell in the middle row of the Suburban, waiting for the kid to ask a question of his own.
"He asked me if I was nervous when I started," Bryant says. "He asked that because he doesn't want to be one of those players you forget about in 10 years. He wanted to know, Why does that happen? How can I make sure that doesn't happen to me?" Like an unplugged uncle, Bryant is at a stage where you can ask him almost anything—from the release angle on his fadeaway to the secret of life—and he will talk for 10 minutes. Russell didn't need to sweat the question. Anything goes.
"I told him, 'If you love the game, then you've already won,'" Bryant says. "'You can't be beat. Because the reality is, a lot of guys don't love it. When I came here in 1996, I had the butterflies, and then when I got around everybody, it was like, Oh, I'm fine. Some of these guys don't love the game. I thought they did. They don't. It's a job for them. And when something is a job, you can have success for a week, two weeks, a month, maybe a year, maybe even two. Then you'll fall. It's inevitable. But if you love it, you can't be stopped. Because when you love something, you'll always come back to it. You'll always keep asking questions, and finding answers, and getting in the gym.
"Some people try to balance that love with other interests, but there's no such thing as balance, my man. Either you want to be one of the greats, and you understand the sacrifices that come with it and deal with them, or you don't want to deal with them and you want to be in the middle of the pack. Michael never worked a day in his life. He loved it. Same with Magic. He loved it. You play well, the attention is going to come, the endorsements are going to come. You play bad, the critiques are going to come, the naysayers are going to come. Don't worry about that. Just stay focused on the love."
Over the past two years, when Bryant was not rehabbing his many broken parts, he was searching for his second love. He started a business, called Kobe Inc., and purchased an office building in Newport Beach, Calif. He hired four employees, including two former executives from Gatorade and Nike, and presided over weekly staff meetings. But the company's purpose remained hazy. "I read, I studied, I dabbled," Bryant says. "At first I thought, What's the biggest industry I can get in to generate the most revenue? That was a huge mistake."
One day Bryant was brainstorming in the office with Simon Sinek, an author and motivational speaker he admires. "Off the top of your head," Sinek asked, "what is the most fun thing you've ever done?" Sinek was treated to an even more elaborate answer than Russell.
"The first person I thought of was Jeanne Mastriano, my great speaking-arts teacher at Lower Merion [High in Pennsylvania]," Bryant says. "Senior year, English class, we had an assignment to invent a story and tell it to the kindergartners. I forgot about the assignment. So the day comes, we're all walking down to kindergarten, and I was like, What are we doing? Then it dawned on me. Oh s---, I have to think of a story. So I came up with one on the fly about a kid who never cleaned his room—because my bedroom was a mess that morning. The kid's mom was always on him. Then one night all the socks and shoes and toys on the floor came to life and turned into monsters, and they scared the daylights out of the kid." For months afterward the kindergartners giggled when they saw him, and the parents thanked him for instilling order in their homes. That was it, Kobe told Sinek. That was the most fun thing.
"What I love," Bryant says, "is storytelling. I love the idea of creative content—whether it's mythology or animation, written or film—that can inspire people and give them something tangible they can use in their own lives. I call it creative education. The best way to teach isn't by preaching to somebody. It's by sharing stories. I'm trying to build my whole business off that concept."
In February, Bryant released a documentary called Kobe Bryant's Muse, which aired on Showtime and earned a bronze Clio Sports Award. Last month, as Bryant flew home to Orange County from a speaking engagement at Nike's headquarters outside Portland, a tsunami advisory was issued for Newport Beach. Bryant was petrified, but not because he would have to fly into the storm. "I have to get my damn Clio!" he told his companions. When he landed, he drove straight to the office and fetched the award, taking it home for safekeeping. "That trophy means more to me than any trophy I've ever won," Bryant says.
He sounds, in those moments, ready to retire from basketball. He's won five NBA titles, been to 17 All-Star Games, scored more points than Jordan. But then here comes Russell, a darting, probing reminder of the one thing he hasn't accomplished. If Bryant bailed tomorrow, he would leave without a successor to carry his mantle and extol his influence, as much a part of an athlete's legacy as his ring count. There would be no young headliner in purple and gold to defend Bryant against the tired but inevitable charge that he was lacking as a teammate and leader. There would be no one to talk about him the way he talks about Mrs. Mastriano. Bryant is a renowned student of the game, but Russell represents what might be his last chance to teach, which is why the stakes for this season are high, even if the Lakers' odds of making the playoffs remain low.
Bryant wants to leave an imprint on the next generation, and in his defense, he hasn't had many opportunities. Over his first 17 years in the league the Lakers picked in the lottery only once, selecting oddball center Andrew Bynum 10th in 2005. In the spring of 2014 they chose power forward Julius Randle seventh, and when he broke his leg on opening night, it was Bryant who hovered over him and whispered in his ear. "I could feel his presence," Randle says. "And then later he sent me the text that got me out of the somber mood I was in. His encouragement was what helped me come back."
Randle is important to the Lakers' future, but Russell is critical, and Bryant has spent considerable time pondering how he can relate to a sidekick so young. "I've thought about that all summer," Bryant says, "because this is a generation that I've completely missed. What music do they listen to? What are they interested in? I don't really know." Bryant, for his part, enjoys visiting the sets of television shows in his spare time and watching the different ways actors transform into their characters. "Have you ever done anything like that?" he asks Russell.
"I've been to the ESPN car wash," the rookie replies.
There is a lot of work to do, and not much time to do it. Bryant is 37, in the last year of his contract and maybe the last year of his career. His future will probably be determined by his health. But Russell, and whatever satisfaction Bryant derives from grooming him, will play a role. "The student is always a teacher," Bryant says, "and the teacher is always a student." He is not the type of tutor who will hand out stickers and straight A's. He will follow the same instincts that guided him with those Lower Merion kindergartners. "What I'm going to do," Bryant says, "is share my story."
• BALLARD: Kobe's saga | Pacific Division preview | MANNIX: Open Floor
Russell knows much of it already. "Favorite Kobe Bryant memory?" he says. "Utah series, '97, when he shot the air balls." Never mind that Russell was one year old when the Lakers' precocious rookie unleashed those four fruitless heaves in crunch time of an elimination-game loss to the Jazz. "I love that moment because of how he reacted afterward, how he drove down to UCLA and looked at the [students there] and wondered, Did I make the wrong decision?" Russell says. "That's when he really took off. He kept shooting. I'm sure I'll have the same kind of moment, when I wonder if I should have stayed in college, if I should have stayed the man for a little longer. I'll keep shooting too."
Russell had a brutal summer league. His body was sore and his stroke was off, and when the team ran wind sprints, shooting guard Jordan Clarkson lapped him. "That can't happen," Lakers general manager Mitch Kupchak told the bonus baby. Russell promptly moved to L.A., and when Kupchak looked out his office window every day, he saw Russell's legs churning on the practice court.
Behind his starstruck facade, Russell possesses an edge Bryant can appreciate. He publicly lobbied the Lakers to draft him, begging for the pressure—and the punishment. "So many people feed you that b.s.," Russell says. "Kobe is going to give you the real thing. He's not going to make anything easy, and I don't want it easy. He's not some soft, nice guy, so why would he pass his torch to some soft, nice guy who doesn't have that killer in him, that dog in him? I know I got it in me."
Lakers resist nostalgia and embrace the future with D'Angelo Russell
Russell is from Louisville, and his high school coach, Doug Bibby, was Rajon Rondo's high school coach. Russell yearned for Rondo's approval, perhaps too desperately. "Every time he came around, I never performed like I would have if he wasn't there," Russell says. "I put a lot of pressure on myself. Also, Rondo isn't that much of a people person. Kobe is." In 2015, that may be true. "I had a big transition when I started to understand that my teammates viewed me like some damn machine who didn't feel anything and was oblivious to pressure," Bryant says. "They found that very unrelatable. I had to explain that I had the same fears, flaws, vulnerabilities, so they could relate to me." He is referring to former Lakers such as Lamar Odom and Luke Walton, Shannon Brown and Ronny Turiaf, who came to treasure Bryant for reasons that transcend assists.
"People who have very limited knowledge of sports always say, 'Passing the ball makes everyone better,'" says Bryant. "No. That's not it. That's not making them better. That's giving them an opportunity to be successful. If you want to make them better, you don't just hand them the ball. You inspire them to be the best version of themselves, and I do that by sharing things which are very personal to me, things I've struggled with, and letting them relate that to their own journey."
With Russell, Bryant started a different way. "He doesn't like my shoes," Russell mentioned after the first day of training camp. "He said the material is cheap and won't support my feet." The rookie immediately changed kicks but still reported a bruised right foot two days later. Despite the injury, he refused to skip a practice. Maybe he would have done the same thing back at Ohio State—or maybe he knew that Bryant hoisted jumpers last season the morning of his shoulder surgery ("It doesn't really hurt that bad," he told incredulous staffers) and that Bryant was working out in the gym at the Hilton Hawaiian Village at 5 a.m. "All that stuff filters down," says Kupchak, who played in Washington with Wes Unseld and still cringes when he recalls the agony Unseld endured to keep hitting the glass.
In this Age of Calipari, when the best prospects are rarely older than 19, influential veterans have become vital. "These kids have no idea what being a professional is all about," Kupchak says. "How would they know? They're blank slates. Maybe something is scribbled on there, but it's not in indelible ink." Russell isn't a locomotive like Derrick Rose, nor is he a sniper like Steph Curry. He is a methodical playmaker, in the mold of James Harden, who must use his 6'5" frame to reach his spots. Bryant, one of the finest shot creators in NBA history, pulls him aside to demonstrate tricks. Russell already offers a hilarious impersonation of a Bryant fadeaway, with no fewer than six pump fakes.
Kupchak wants to buy the Kobe-as-mentor story line, but he knows better than to count on it. "He does want to teach," Kupchak says. "He is aware of the legacy issues. And he's so much more patient than he used to be. But he's still such an instinctive competitor, at some point that patience runs out and those instincts kick in: I gave them their chance, and it's time to take over because I can do it better than anybody else." It was only 10 months ago that Bryant stormed out of a practice, sniping at Kupchak, "These motherf------ ain't doing s--- for me." As tough as Russell may be, a repeat performance would shake any teenager's confidence.
"It's much more like juggling eggs," Bryant says. "You have to handle them with care because you don't want them to fall and crack." Traditionally, he is not a man who juggles eggs. He is a man who tempers steel. "I know one gear, and I'm not very balanced in my life, which isn't the healthiest way to be," Bryant continues. "Some people like that approach and some people don't, and that's where the split happens, the hero/villain split. You need to have a villain, an antagonist, and for a long time I've been this black mamba character. It's how people needed to know me. But when I go full bore into my second act, I think they will know me for something else."
Kobe Bryant, storyteller, motivator, instructor. His vision for his company is still coming into focus, but he'd like to create biographical portraits of luminaries, probably in digital or video form. He may discover that few tales are as rich as his own. "No," Bryant protests. "I guarantee if I dig into your story—Why do you do what you do? What was your seed? What were the trials that led you to where you are?—I'll pull something that's pretty f------ powerful. Pretty f------ powerful."
But that's for another year. The most relevant story in this Lakers season is D'Angelo Russell's. Someday he will be asked about the transformative experience of his young career, being Kobe Bryant's rook. His response will have implications for both. He has to love it.
The Kid and Kat
After the Timberwolves selected Karl-Anthony Towns with the first pick in the 2015 draft, after they treated him to a round at Hazeltine National (where he nearly drove the 452-yard 10th, cutting the dogleg) and after they created a home in the new practice facility for his imaginary friend (a custom sculpture of Karlito lives in the communications office, under lock and key), the 19-year-old man-child politely issued one more request. "The old jerseys," he said, "with the trees around the neck."
He wanted T-Wolves throwbacks, only the team doesn't make those anymore, and Mitchell & Ness charges $200 apiece. The price does not seem prohibitive for someone who earns nearly $5 million a year until you realize that Towns remains—how to put this politely—a cheapskate. A prolific coupon clipper as a kid in Piscataway, N.J., he still refuses to buy a car, instead walking from his apartment in downtown Minneapolis to local restaurants. "Isn't that the No. 1 pick?" passersby mutter incredulously.
They won't have to wonder much longer because Minnesota agreed to foot the bill for the retro jerseys, stitched with Towns's name and number 32, so he'll be in uniform on and off the court. "To add the shorts," Towns pressed, "would I get charged?"
• GOLLIVER: SI's annual entertainment rankings| Northwest Division preview
Resisting his charm, as the T-Wolves are discovering, is futile. Towns is a 6'11", 244-pound prodigy who was attending shoe-sponsored camps when he was eight and guarding Kevin Durant in the summer when he was 16. But he also taught himself to play piano, golf and Ultimate Frisbee. He lists Len Bias as his favorite athlete, never mind that Bias died almost a decade before he was born. "I've got a Bias jersey too," Towns mentions with a wink.
Kat, as he is known, winks often and smiles constantly, whether he just chucked an air ball or drilled an 18-foot fadeaway. "I was raised to smile," he says. "I'm a smiling kind of guy. I like to joke around, be lighthearted, not take things too seriously." His joyful countenance bears little resemblance to the former wunderkind who has been tabbed to mentor him, the one who bangs his head against the basket stanchion before games, who releases primal screams at the sight of loose balls and who made that jersey with the foliage on the collar so desirable in the first place.
On the day Kevin Garnett returned to Minnesota last season, acquired from the Nets in February, he told general manager Milt Newton, "I want to be known as the best teammate ever." Garnett, who molded Rajon Rondo and Kendrick Perkins in Boston, was joining a locker room with three vaunted swingmen under 23: Andrew Wiggins, Zach LaVine and Shabazz Muhammad. Flip Saunders predicted Garnett would flush their cellphones down the toilet. Instead, he disarmed the young Timberwolves, cordially introducing himself to each one. "You heard about how intimidating he was," says LaVine, Minnesota's first-round pick in 2014. "It wasn't like that at all."
Then practice started, and Garnett narrated every action with the voice of God, a baritone so booming you can hear the expletives through closed doors. "Is he serious?" one player asked assistant coach Sidney Lowe. "Is he really like this every day?" Lowe, who coached Garnett during his first tour in the Twin Cities, stifled a laugh. "Every day," he replied.
Four months later the T-Wolves drafted a genial giant out of Kentucky who leads fast breaks, tosses alley-oops and throws down double-pump reverse dunks, a boundless skill set few big men have possessed since the 6'11" Garnett emerged from Farragut Career Academy in Chicago 20 years ago. Garnett pulled Towns aside after his predraft workout at Target Center and again at the Las Vegas Summer League. Conversations with KG are rarely casual. When he speaks, he leans forward, head bobbing and eyes bulging. He touches your arm to punctuate his points. He is a yeller, but it is important not to confuse volume for anger. Garnett is relentlessly supportive of young players, buying them suits so they don't look like they're in college anymore, and taking their 4 a.m. phone calls because he never seems to sleep.
So what exactly is he teaching Towns? "Everything," the rookie says. Moving faster to triple-threat position on offense, getting lower on defense, keeping his balance, attacking his man, protecting the weak side, identifying the back screen and communicating until he goes hoarse. Interim coach Sam Mitchell often turns practice over to Garnett for five-minute stretches. "We talk!" he hollered on the first day of training camp, while tugging Towns's jersey. "Bigs always talk to each other! Feel me? We always on the same line!" During a recent scrimmage Karl Towns Sr. watched his son trade body blows in the post with center Gorgui Dieng. "He's not backing down," Towns Sr. said. "He's listening to KG."
In Boston, Rondo and Perkins took on Garnett's seething persona, but there is no way to predict how the happy-go-lucky Towns will respond. "They're such a study in contrast," says one NBA general manager. "It's going to be a very interesting marriage." The differences are superficial, and in Garnett's estimation, insignificant. "Don't take the smile for a weakness," he warns. "[Karl] plays with another type of engine." Towns exhibits, through the ferocious way he patrols the paint and runs the floor, plenty of what Timberwolves coaches call the inner thing. "The place KG and I really meet is in the passion we have for the craft," Towns says.
They share at least one mannerism, too. Both players talk to themselves, and while no one in his right mind would ever mock Garnett for it, Kentucky coaches felt free to ridicule Towns. "He's talking to his imaginary friend!" former Wildcats assistant Barry Rohrssen cracked at a practice last season. Karlito was born, and Towns, perhaps sensing a future marketing opportunity, was delighted. No word on whether Garnett has an imaginary friend—the Little Ticket?—but in a recent photo shoot with Towns he suggested a twist on their default expressions. Kat scowled, KG beamed. Then Garnett threw the rook in what was supposed to be a playful headlock. "Dude!" Towns yelped. Garnett loosened his grip.
• GOLLIVER: Saunders lived a life of basketball | VAULT: Life on the Flip Side
Young squads like to add veteran influences, but the Timberwolves have taken that strategy to an extreme. They now employ an elder statesman for each position group—Garnett, 39; point guard Andre Miller, 39; wing Tayshaun Prince, 35—so every prospect has a guide. The T-Wolves are a team of freshmen and senior citizens. It's hard to find anybody in his prime. They recall the Thunder, circa 2009, so it was appropriate that their first preseason opponent at the Target Center was Oklahoma City. Garnett sat on the end of the bench during player introductions, head already lacquered with sweat, staring at the floor. His entire body seemed to be vibrating. He never looked up, wordlessly raising his right fist every time a teammate was introduced, waiting for a pound. When LaVine was announced, he ran straight to the court, unintentionally bypassing Garnett. Towns would not make the same mistake. He would not leave KG hanging.
The best seat in an NBA arena this season, unless you are accompanied by a small child, is the one next to the Minnesota bench. Here is a brief sampling of the Garnett sound track from the Oklahoma City game, which, it bears repeating, did not actually count. To point guard Lorenzo Brown: "You're by yourself, Zo! To your right, Zo! Yeah, Zo!" To Dieng: "Sit down, G! Two-man game, G! Good job, G!" To Towns: "Hurry up, Kat! Get back, Kat! Stop the ball, Kat!" To a referee, after a questionable foul: "We're all in preseason form!" After a Thunder air ball: "That's a terrible shot!" After a Thunder dunk: "Oh, no! Oh, s---!" He never shuts up, writhing when the Timberwolves allowed a bucket and howling when they forced a brick. At one point an amused T-Wolves veteran turned to a reporter and joked, "KG is crazy." Perhaps, but they'd better listen to him. The day Garnett retires, he is expected to become part owner of the franchise, a highly animated boss.
Near the end of the second quarter something happened that got him even more excited. Brown clanked a free throw and Towns corralled the offensive rebound. Instead of retreating for a jumper or rising for a jump hook, both of which are staples in his arsenal, the rookie hurtled toward the rim and jackhammered a vicious dunk over 6'10" Mitch McGary. Garnett leaped from his chair, stomping his feet and snapping his towel. The Big Kat and the Big Ticket, an odd but promising pair, locked eyes and screamed.
Photos: Classic shots of Kevin Garnett
Rare Photos of Kevin Garnett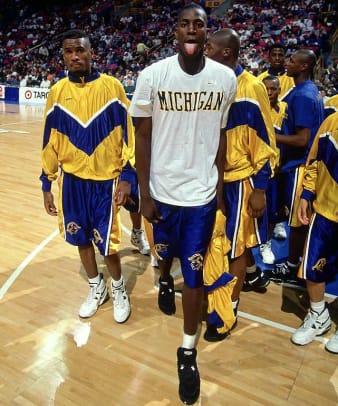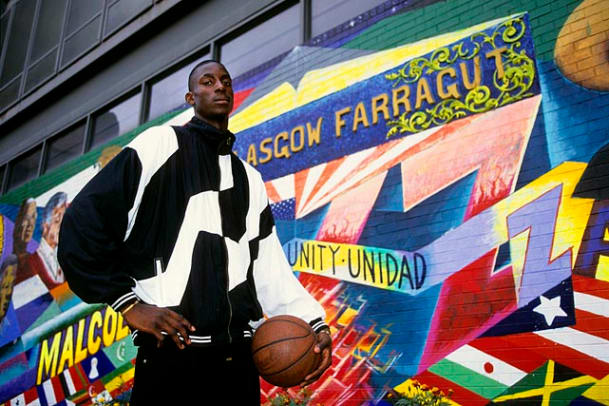 Justise is Served
Dwyane Wade was in his first season with the Heat, auditioning as a point guard, and Baron Davis was in his fifth with the Hornets, ensconced as one. They met during a stoppage in play, an awkward time for an introduction, but a surprisingly common one. "There was a possession where I came down and set up a pick-and-roll," Wade recalls. "I took the ball down pretty far, and at the next break Baron pulled me aside. He told me, 'You know, you should think about setting that up higher on the court where you have more room to operate, more angles, and you can take advantage of your speed. When you get low like that, you can only go one way, and the defense can bottle you up.'" Wade wondered if he was the victim of a rookie prank. But the punch line never came. "The whole conversation blew my mind," Wade says. "Here we are, in the middle of competing against each other, and this guy is trying to help me."
Wade thinks of that exchange often, because it inspired him to master the high pick-and-roll, a set that's become lifeblood for playmakers everywhere. But he also thinks about it for another reason. "One thing you learn early on in this league is that people share," Wade says. "They reach out, and over time you reach out as well. We all become teachers because, like it or not, the game will go on way beyond us." Modern stars are often lampooned for their incessant hobnobbing, but Wade describes similar brushes with Kobe Bryant, Kevin Garnett and Jason Kidd, not exactly new-age softies. "Part of the job," Wade says, "is passing down what you know."
It is a Friday afternoon in mid-October, and Wade is crouched on the right block, forearm pressed into Justise Winslow's kidneys. Heat practice is over, except for Winslow, a 19-year-old rookie backing down a legend. The brawny southpaw takes two dribbles toward the middle and rises for a lefty jump hook. Wade asks him to do it again. Two dribbles, jump hook. Wade wants to see it again. Two dribbles, jump hook. And again. Two dribbles, jump hook. Wade believes this can be Winslow's go-to move, the foundation for his entire post arsenal, but he barely looks at the shot. He is preoccupied with the shoulders. "When I started going into the post, I would try to bang and bang, leading with my shoulder," Wade says. "That's a foul. I had to learn to use my hips. That's what we're talking about now, ways to use your strength without your shoulders. Once he gets that, I'll give him something else."
Twelve years into his career Wade can relate to Baron Davis. He and Winslow are teammates, but in a larger sense they are competitors, or they will be. Wade is just 33, and he averaged 21.5 points last season, but injuries kept him out of 20 games, and the Heat gave him a one-year contract extension last summer. If all goes as planned, the 6'7" Winslow will eventually succeed him. So why would Wade help hasten the process? "His time is going to come," Wade laughs, "and you can't stop it. You can try to keep it off for as long as you're out there, but when it's time, it's time, and at the end of the day I want the best for this organization. I want to watch him for years to come and think of all the things we did this season. He doesn't have to be the player I am, but if we have any similarities, let's make him great at those."
Heat coaches marvel at how much Wade and Winslow have in common: physical wings with the strength to post up guards and the speed to drive past forwards. After leading Duke to the national title, Winslow fell to 10th in the draft because of concerns about his shot, reminiscent of the doubts that accompanied Wade from Marquette when the Heat chose him fifth in 2003. He smoothed out his midrange stroke and three years later captured the first of his three titles. "What if people had brushed me to the side early on?" Wade says. "But they stayed confident in me." When Winslow arrived in Miami, Wade promptly invited him to his house for lunch.
• JENKINS: Chris Bosh is happy and healthy | Southeast Division preview
Wade, who is raising four kids and wrote a book about fatherhood, has many philosophies on nurturing young men. Some translate from living room to locker room. Others don't. "I think it helps to understand that kids today are different and you can't talk to them the way I was talked to," Wade says. "You have to be able to push guys without them feeling like you're pushing guys. I try to tell them, 'This isn't for me. This is for you. I'm not going to force it. But I'm here for you when you're ready to come to me.'" Few blue-chippers have taken him up on it. The last time the Heat picked in the lottery, they chose Michael Beasley, a flaky power forward, in 2008. Beasley needed guidance, but he didn't play Wade's position, and after two disappointing seasons he was gone.
"Certain times you worry about how your body is feeling, how your game is doing, and then you've got these younger guys who are not as mature," Wade says. "But this is a team, and no matter if you're 37 like Birdman [Chris Andersen] or 19 like Justise, we need everybody." Maybe Winslow will someday take Wade's job. Or maybe he'll help him win his fourth ring. Or maybe he'll do both, a deal Wade would gladly strike. For now, Winslow will come off the bench with a contender, benefiting from time and tutelage Wade never enjoyed.
As Wade conducted his jump hook tutorial on a practice court at AmericanAirlines Arena, associate head coach David Fizdale fed bounce passes to Winslow and listened. "Dwyane's not just showing him how to beast," Fizdale says. "He's making him understand why you do what you do. He's asking, 'Why are you posting up? Probably because you're bigger than the guy guarding you. So what will that guy do in response? Probably try to strip you. And what do you do if they switch a bigger guy onto you? Probably face up and use your speed.'"
Winslow, thoughtful and serious, nodded silently. "I'm not trying to be a pest and bother him," he says. But after they finished, Winslow asked the video staff for cut-ups of his post moves spliced with Wade's. He is partial to footage from Game 4 of the '06 Finals. "That will make it real," he says. "I'm not necessarily trying to be the No. 1 guy or the top scorer. I'm trying to grow into that role, and 10 years from now I'll have a rookie and help somebody else learn, and it all keeps going."