Kevin Garnett's influence on NBA evident in bond with Kendrick Perkins
Kevin Garnett leaves the NBA after 21 seasons, but his impact on the game is more than what he did on the court. He challenged and drove younger players to play just like him.
His gruff voice crackled through the speaker. It's the only phone interview request that Kevin Garnett granted during his 21st NBA season. Later-stage Garnett has developed the media presence of a mangy house cat; mostly disregarding unfamiliar folk trying to tickle his opinionated thoughts while he primarily cuddles up to cozy storylines. Kobe Bryant and Tim Duncan's retirements warranted responses, but why should a 40-year-old, world champion, league MVP get tangled in discussing the minutiae of each game, each practice?
He frequently changed his cell phone number to avoid unprompted calls. He enjoyed prolonged soaks in the shower to escape postgame media availability. This, however, was a special exception. "Anything for Perk, man," Garnett says in April of his final NBA season after announcing his retirement Friday.
In 2007, 22-year-old Kendrick Perkins repeatedly slammed his 6' 10", 270 pound frame against Garnett. The clash on the block—elbows and muscle and ear-searing trash talk—endured all evening during the Celtics' visit to Minnesota that Feb. 11, Garnett's Hall of Fame resume be damned. "Perk wasn't afraid of no one," says former Celtics guard Mike James. "He always made the comment," says then-Celtics coach Doc Rivers, "'You may be great, but not tonight.'" Somewhere between their box outs and rim runs, a competitive hatred brewed. "We didn't really like each other," Garnett says. "We had a little history."
• The top five moments of Kevin Garnett's career | Ranking his most memorable ejections
After Minnesota narrowly emerged victorious, the two towering brutes sought each other outside the Target Center locker rooms. They had to be separated. "There wasn't any physical altercation, but there was some verbal altercation between the two," says longtime Celtics assistant Jamie Young. Perkins's barking still rang in Garnett's ears when Minnesota and Boston discussed their blockbuster trade on draft night that June. The Celtics remained firm: Boston would only exchange the promising Al Jefferson and a hoard of other assets if Garnett agreed to a contract extension.
Talks regained steam in July, with Boston having already acquired sharpshooting, All-Star guard Ray Allen. This time, before making his final decision, Garnett phoned Paul Pierce, having harbored a relationship with the Celtics' star from previous All-Star weekends and Team USA events, seeking conscience on if Perkins's character would stand in the way of their championship aspirations. "Kevin was like, 'What's up with Perk? Is he gonna want to fight me when I come to the team?'" Pierce says. "I was like, 'Man, you don't even know how much he look up to you.' Kevin inspired a lot of the kids that you see in the league that came out of high school."
On the other line, Garnett smiled that toothy, often sadistic smile. He always relished battling younger players, channeling the competition as fuel. "When you're older and the big dog, you got little pups and stuff wanting to come at you night in and night out," Garnett says. The true motivation for Perkins's physicality passed Garnett's first test, although the frontcourt duo's first day in Boston was still tense. "He was still trying to feel me out, see if he liked me or not, if I liked him," Perkins says. Unbeknownst to the youngster, Garnett was still evaluating Perkins's potential as a pupil.
"I wanted to make sure that he was worthy. I'm not gonna take anybody that doesn't want to work. I don't like people who complained. I don't like people who don't have a work ethic. I don't do quitters. I wanted to see how he worked on his own," Garnett says. "He was real receptive to it. Then him and I quickly grabbed the chemistry on the court. Perk was just similar to me. We were grinders, kind of physical specimens. Once I got to Boston, in the East Coast, I knew it was gonna be more of a physical game. But he and I communicated and fed off each other really well. I looked for him a lot. We were both decent passers. Him and I, we gelled quicker on the court, as far as basketball, more than anybody else. Just because we was the two bigs and we was responsible for talking, if not calling out defenses as far as strategies, coverages and stuff like that. That was all on us. Doc put that responsibility on us."
Rare Photos of Kevin Garnett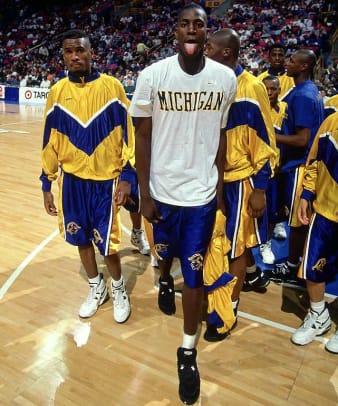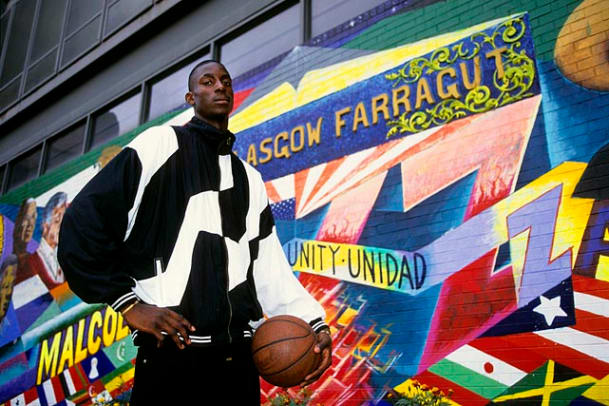 Rivers remembers his defensive anchors constantly buzzing over rotations and close-outs and pick-and-roll coverages in the locker room before games and even while one sat on the bench while the other manned the paint. While many teams implemented a static defense for high ball-screen actions, Boston allowed Garnett and Perkins to evaluate each opponent on their own. "They believed the five and the four held down the fort and they talked it up in shootaround and in practice and it was pretty interesting," Rivers says. During the team's very first practice that fall, Rivers had to whistle live ball action dead on multiple occasions as Perkins matched Garnett's deafening roars at the second unit. "I don't think it took Perk very long at all before he had KG's respect," Celtics general manager Danny Ainge says.
A big brother-little brother relationship quickly spawned. Perkins embraced his apprenticeship. "I just followed him, I observed him, I watched a future Hall of Famer," he says. "I watched how he worked, I watched how he operated, I watched his leadership skills." Perkins mimicked Garnett's moves in the post. He started arriving at the practice facility earlier, changed his eating habits and, in turn, dropped weight. "He started emulating what KG was," says Allen.
They spent every waking basketball second together. "It was like seeing a big brother look out for his little brother, take him out to the backyard, let's go play catch, it looked like that," Pierce says. Garnett had finally found a disciple with the perfect mental makeup to simultaneously match his manic intensity and high performance level. "They both was crazy," says former teammate Marquis Daniels. "They fueled each other's fire." Perkins's omnipresence at the back line of Boston's defense allowed Garnett to jump 12-foot face-ups and switch onto speedy ball-handlers at the perimeter. If he somehow got beat, Perkins was waiting. "I always thought Perk was kind of the man behind the myth there," says longtime Celtics broadcaster Mike Gorman. "[Garnett] had a cop standing right behind him to take care of business if things didn't work out."
• From SI Vault:Garnett makes jump to the NBA | How the Celtics' "Big Three" was formed
With Boston's "Big Three" of Garnett, Pierce and Allen, complemented by Perkins and point guard Rajon Rondo, the Celtics raced out to a 29–3 start in 2007–08 and firmly grasped first place in the Eastern Conference throughout the regular season. After opening round playoff battles with the Atlanta Hawks and Cleveland Cavaliers, the Celtics captured the franchise's 17th championship in six games over their rival Los Angeles Lakers.
As champagne flowed in the TD Garden home locker room, longtime Celtics vice president of media services Jeff Twiss couldn't sway any of the key contributors to complete Boston's mandatory podium availability. Nobody wanted to leave the party. "We got into arguments, we got into fights, we wrestled," Garnett says. "We was young barbarians, man. We was a team full of barbarians. That's how I always like to explain it. We was like 300. It was us against the world straight out. If you ask anybody from that team, we felt like we was straight up warriors and straight up Greek gods and goddesses and all this other s---."
Garnett announced his retirement on Friday, likely to fade into obscurity just as the Timberwolves re-ascend on the broad shoulders of another generationally gifted, young 7-footer. If Kendrick Perkins's development is any indication, Karl-Anthony Towns is destined to defensively stalk the paint for the next decade with a snarl, revving a perpetual motor his teammates will only attempt to equal and Garnett's pawprints covering his fated accolades.