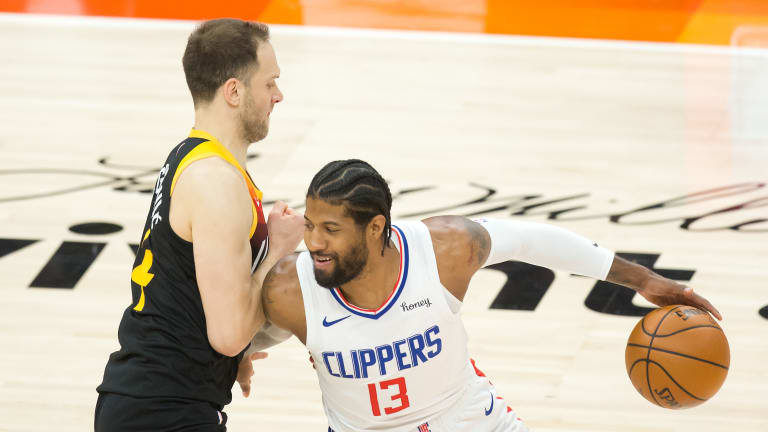 Three Takeaways from the LA Clippers' Game 5 Win Over the Utah Jazz
The LA Clippers delivered an all-time great performance on Wednesday night to take a 3-2 series lead over the Utah Jazz.
The LA Clippers delivered an all-time great performance on Wednesday night to take a 3-2 series lead over the Utah Jazz.
This LA Clippers team is all about the grind.
Tied at two games apiece with the Utah Jazz, LA's path to a win in Game 5 wasn't going to be an easy one. Utah is known to be one of the toughest places to play in the NBA. Their fan base is loud and proud. The Jazz had never lost three games in a row all season long. And Kawhi Leonard, who had arguably been the best postseason performer in the league to that point, would not be available after suffering a knee injury late in Game 4.
To say the odds were stacked against the Clippers going into Wednesday's contest would be an understatement. And yet, they still found a way to pull it off.
Led by an all-time great performance from Paul George, LA rallied from a 10-point deficit and made a huge second-half push to defeat the Jazz, 119-111, and take a commanding 3-2 series lead.
"It was a total team effort," Clippers coach Tyronn Lue said after the game. "I'm proud of our guys. We've been in these situations before, but guys had to step up and be ready to play. And every guy that played tonight contributed and that's the team that we have: Mentally tough, mentally strong and we just keep fighting to the end."
In addition to George's night — something we'll get into shortly — the Clippers also got huge performances from their role players. Marcus Morris Sr. scored a postseason career-high 25 points. Reggie Jackson scored 12 of his 22 points in the fourth quarter. Nicolas Batum recorded four steals and played terrific defense. And Terance Mann, who started in place of the injured Leonard, collected 13 points and the soul of Rudy Gobert.
Let's not waste any time getting into our takeaways.
Paul George Delivers in the Spotlight
There may not be a more scrutinized player in professional basketball than Paul George. The two-way star seems to catch heat for just about anything, and if he were anything less than perfect in Game 5, the (incorrect) narrative about his lack of postseason success would surely be going strong. 
George began his Wednesday by reassuring coach Lue, saying, "T, I got us," before beginning his morning shootaround. After the game, he thanked his coach for trusting and believing in him.
In between those two moments, George went off for 37 points, 16 rebounds, five assists, two blocks and a steal and carried the Clippers to victory in what was arguably the most important game in the history of the franchise. 
"Paul is special," Jackson said after the game. "He's here in the NBA for a reason and what he's done for us throughout the year. You're going to have the naysayers and critics, but that's what you love about this game... He was ready to put the team on his back, to carry extra weight, and he showed up and proved why he's one of the best players in this league."
In a word, George's performance was historic. He became the first player in Clippers history to have at least 35 points, 15 rebounds and five assists in a postseason game, the first player in Clippers history to score 20 or more points in 12 consecutive postseason games and set a personal playoff record by hauling in 16 rebounds.
A calm and sincere George took the podium after the win, where he spoke at length about his preparation for Game 5 and reflected on his time with the Indiana Pacers. 
"I've been in Indiana where I had to lead a franchise," George said. "Now Kawhi is down... That's really the mindset I came out with. It was nothing that I had to prove. I just dug into a place that I've already been in my career, and again, it just came down to trust. Everybody just allowed me to lead and they kept pushing me. They just kept me into a great mental space."
So long as Leonard remains sidelined, it's clear that the Clippers have a leader they can trust in George.
Role Players Rise to the Occasion
As terrific as Paul George was in Game 5, he wasn't the only reason why the LA Clippers were able to pull off the upset. With Leonard out, numerous players stepped up in the face of adversity and delivered stellar performances.
Reggie Jackson sits atop the list. The veteran point guard collected 22 points, three assists, two rebounds and two steals in roughly 37 minutes of action and came up big down the stretch, scoring a game-high 12 points in the fourth quarter. 
This was nothing new for Jackson, who has essentially functioned as LA's third star throughout the playoffs. The 31-year-old has hit tough shot after tough shot, bailing the Clippers out of countless seemingly wasted possessions. His confidence level is at an all-time high.
Marcus Morris Sr. is right there with him. He's consistently stepped up in the absence of both Leonard and George this season, and he did so again in Game 5. His 25 points were a postseason career-high, surpassing his previous high of 24 — which he matched in Game 4.
Defensively, Nicolas Batum has been a menace in this series. Somehow, someway, he always seems to be exactly where the ball is, whether he's crashing the defensive glass and intercepting passes. He's averaging 5.6 boards and 2.2 steals per game against Utah while maintaining a 48% clip from three-point range. 
And then there's Terance Mann, a second-year swingman who plays with the know-how and maturity of a seasoned veteran. The 24-year-old went from being out of the rotation earlier in the series to starting in Game 5, and he made the most of the opportunity. 
"I'm very proud of our guys," Lue said after the game. "To come in and play in a hostile environment, 2-2 in a big playoff moment when your best player is down, it just shows a lot about our team and we've been talking about it all year... When things get tough, we come together and that's the culture I wanted to try to establish here."
Clippers Holding it Down Until Leonard Returns
It's not an easy thing to lose your star player — especially when said player has scored more points in the 2020-21 playoffs than any other in the league. We are, of course, talking about Kawhi Leonard, who is currently without a timetable for his return to the floor.
Considering the circumstances, it would be easy for the Clippers to fold here and call it a season. Instead, Leonard's teammates seem confident that they'll still be competing when he becomes available again.
"We didn't want to let down, let off the gas just because [Leonard's] gone and give ourselves an excuse," Jackson said. "I like the way this team has competed all year, the way we're playing right now... We're going to hold it down until he gets back."
George echoed Jackson's comments about Leonard's return and gave him credit for getting the team in the position it is now.
"Our season is alive because of [Leonard's] shouldering of all the work that he's done, and so we've got to hold it together and continue to keep this boat afloat until he returns," George said.
Leonard may be out for the rest of the series, but based on the way his teammates are talking about him, it sounds as though they're expecting his return to come sooner rather than later.
Related Stories
Sources: Details on Kawhi Leonard's ACL Injury
Paul George Says Game 5 Win is 'The Biggest Game of Our Season'