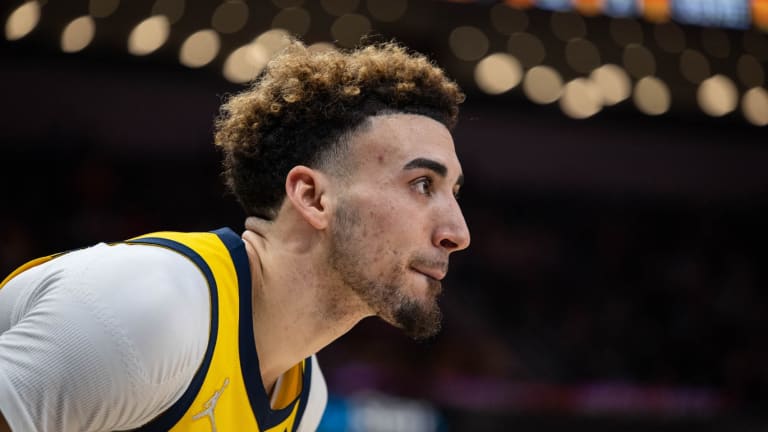 Pacers Knock Off The Rockets In Indy
The Indiana Pacers defeated the Houston Rockets in Indianapolis on Thursday evening.
The Indiana Pacers have been struggling this season, but on Thursday evening in Indianapolis they got back in the win column. 
The Pacers knocked off the Houston Rockets 118-106 to advance to 14-19 in their first 33 games of the 2021-22 NBA season. 
Meanwhile, the Rockets fell to 10-23 in the same amount of games. 
Myles Turner has a massive game with 32 points, ten rebounds and two blocks. 
Caris LeVert also had an impressive game with 24 points, eight rebounds and 11 assists, coming just two rebounds short of a triple-double. 
As for the Rockets, they were led by Christian Wood, who had 22 points and eight rebounds.   
They also got solid production from 2021 second overall pick Jalen Green, who went off for 20 points, veteran Eric Gordon, who had 15 points and five assists and Ja'Sean Tate, who also chipped in with 18 points.  
The Pacers will play their next game on Sunday night against the Chicago Bulls in Illinois at the United Center.  
Related stories on NBA basketball
Enes Kanter And Myles Turner Get The Same 2k Ranking: Myles Turner of the Indiana Pacers got the same rating in NBA 2k22 as Enes Kanter of the Boston Celtics. The two centers getting the same ranking comes as a surprise. Turner is one of the best defenders in the NBA, and while Kanter had a productive season, he is not on the same level as Turner. CLICK HERE.
Opinion: The Pacers Should Look At Harry Giles: The former Duke star was once ranked as the best player in the country in high school by ESPN. After several injuries, he never hit stardom as everyone had anticipated. However, he is still just 23-years-old and could for sure help many NBA teams, including the Pacers. CLICK HERE.
NBA Central Division Notebook: NBA 2k22 gave Steph Curry of the Golden State Warriors the same ranking (96 overall) as Giannis Antetokounmpo of the Milwaukee Bucks. Even though Antetokounmpo just won the NBA Finals MVP, is he actually a better player than Curry? CLICK HERE.