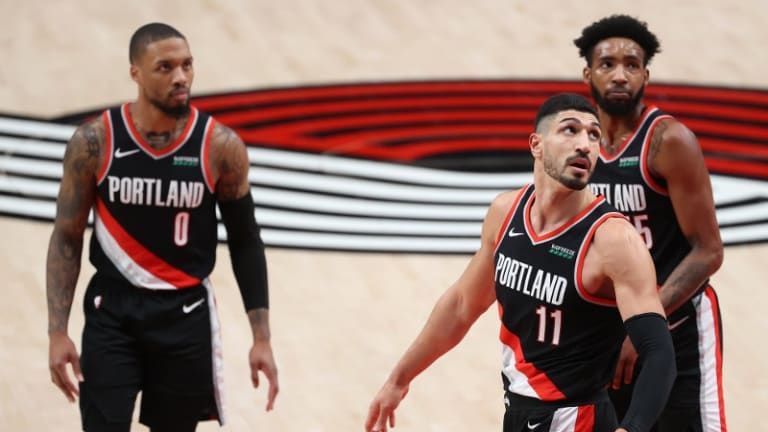 A Coaching Change Isn't Nearly Enough for Trail Blazers
Bringing in a new coach but keeping the same roster largely intact won't take the Blazers where they want to go.
Terry Stotts' departure was a foregone conclusion. Still, it was at least somewhat surprising Portland parted ways with the team's longtime head coach so soon – just less than 24 hours, to be precise – after its season came to another disappointing postseason close.
Now that Stotts is gone and Damian Lillard's personal favorites have emerged as the Trail Blazers' pair of top coaching targets, though, it's incumbent on Neil Olshey to seek even bigger changes – the ones Portland's notoriously conservative general manager has long avoided.
The Blazers' first-round loss to the short-handed Denver Nuggets laid their longest-standing problem ever-bare. Against a team missing not just Jamal Murray but two of its other proven rotation guards, the impact of C.J. McCollum and Norman Powell was matched and, at times, exceeded by the likes of Monte Morris and Austin Rivers.
Olshey doubled down on the Blazers' prioritization of guards at the trade deadline, bringing in Powell to start alongside Lillard and McCollum despite his lack of size and defensive bonafides at small forward. His offensive versatility quickly made Powell a better fit than Gary Trent Jr., but did nothing to address Portland's need for a rangy wing stopper – a reality driven home in Game 6 when Lillard took the task of checking Michael Porter Jr. from Powell after the 6-foot-10 sharpshooter dropped 22 first-quarter points.
Powell's disappointing playoffs notwithstanding, the cash-strapped Blazers will basically have no choice but to re-sign him with Bird Rights this summer once Powell declines his player option for next season. That doesn't mean he must continue playing out of position at small forward, though, as long as Olshey bites the bullet by aggressively shopping McCollum.
The main reason Portland finds itself at such a crossroads is because Olshey refused to even consider trading McCollum when past golden opportunities presented themselves. He was off-limits in 2017 when Paul George requested a trade from the Indiana Pacers, and the same was true in December as James Harden tried his damndest to force his way out of Houston. 
Finding a palatable deal for McCollum – whose three-year, $100 million extension first kicks in next season – will require Olshey and the fan base to adjust their expectations. There just isn't much of a market for an expensive, shoot-first guard about to be on the wrong side of 30 who limits scheme versatility on defense. 
It's not like Portland will be operating from a position of strength this offseason, either. The entire league knows the Blazers are desperate to give Lillard a better chance to win a championship before he reneges on a career-long commitment to Rip City.
But like moving on from Stotts, a well-liked and objectively successful coach, doing the hard thing can still be the right thing – at least if Portland wants to win when it matters most.
It's never been more obvious that Lillard won't hoist the Larry O'Brien Trophy absent a supporting cast that better leverages his strengths and mitigates his weaknesses. McCollum's shoot-first whims and defensive deficiencies prevent him from being a major part of one in the playoffs. 
Enes Kanter, as expected, was actually unplayable against Denver. Going small with Carmelo Anthony on the floor gave Lillard more room to operate, but only pushed Portland's offense further away from ball and player movement. Switching Lillard and McCollum across four and sometimes five positions made defense tough enough on those downsized units; the bull's eye on Anthony's jersey – whether he was attacked by Nikola Jokic or Morris – ensured it was basically impossible.
Derrick Jones Jr. was supposed to add some much-needed athletic and lineup dynamism for Portand. Instead, he was benched weeks before the playoffs, a controversial decision from Stotts that coincided with the Blazers emerging from a nadir to win 10 of their last 12 regular-season games.
Anthony and Kanter are free agents. Jones has a player option he could very well pick up to maximize his earnings, but shouldn't be counted on for rotation minutes next season regardless.
The playoffs are marked more than anything by additional physicality and in-series adjustments. Just like every spring since the Lillard and McCollum era began in earnest five years ago, Portland again proved incapable of matching its opponent's size and making the necessary defensive changes to slow down a high-octane offense.
Stotts indeed bears some culpability for the Blazers' fourth first-round exit in five seasons. But any notion that his coaching was more detrimental to Portland's hopes of advancing than the team's lacking personnel – especially come playoff time – is foolish.
A few years ago, Draymond Green coined the term "16-game player" to describe those who boast the talent, physical capabilities and mental edge to be most effective come the postseason.
How many "16-game players" did the Blazers have in 2020-21? Lillard's singular brilliance easily earns him that distinction, and Powell proved it applies to him over multiple seasons with the Toronto Raptors.
Otherwise, there just isn't any player currently on the roster – even among the starters – who provides more answers and optionality under the playoff microscope than question marks and limitations. 
McCollum's not a switch defender against top-tier competition and doesn't play any bigger than his size on either end. Nurkic isn't quick enough to defend stretch bigs or small-ball fives, and even if he was, lacks the polish needed to consistently exploit mismatches in the post. Even Robert Covington, while fully deserving of the "3-and-D" label, is a below-average point-of-attack defender on the perimeter and prone to bouts of streaky long-range shooting.
Putting Kidd or Billups in the chair that's been sat in by Stotts for nearly a decade won't compensate for the sweeping weaknesses of Portland's roster. The hyper-active defense Kidd favored with the Milwaukee Bucks and helps oversee with the Los Angeles Lakers, actually, would likely make the Blazers' unfixable defensive issues even more obvious.
Olshey's job isn't easy. There's no realistic one-for-one trade involving McCollum that would bring a star playing back to Portland. Paying up for Powell, maybe the best guard in a barren class of free agents, will be tough to swallow. Nurkic made clear how frustrated he is during his season-ending presser, publicly pushing for a lucrative contract extension and bigger role. Anfernee Simons is up for a possible extension, too.
The Blazers' financial constraints – no matter what happens with McCollum – mean the back of the roster and perhaps even bottom of the rotation might be occupied next season by players earning the minimum. If Anthony and Kanter don't find suitors elsewhere, Portland could be tempted to bring them back.
Olshey needs to resist that urge, just as he does the wide-eyed hope that a coaching change will make the difference the Blazers really need. 
Finally, Portland's hand seems forced into the roster upheaval that many across the league and fans throughout Rip City have known was inevitable for years. If Olshey puts it off again, the Blazers will be further from title contention than ever – and in the worst case, stuck with Lillard's hand-picked coach as he regrettably continues his chase for a championship elsewhere.