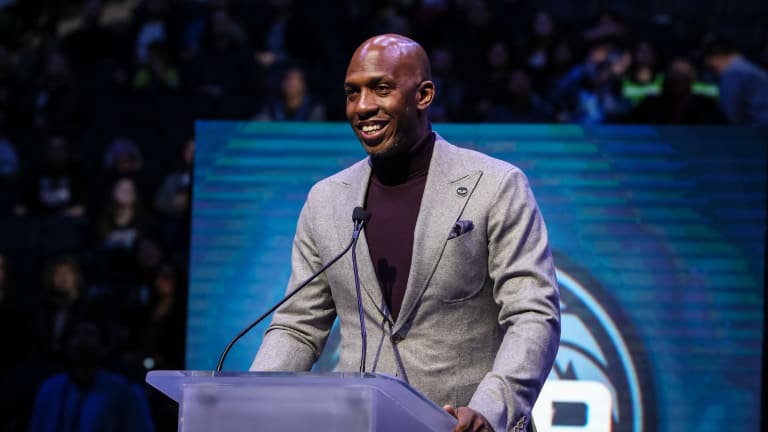 Breaking Down Rumors About Portland's Coaching Search
The Blazers have reportedly cut their list to "seven or eight" coaching candidates. Who might they be and where do they stand?
The Blazers have reportedly cut their list to "seven or eight" coaching candidates. Who might they be and where do they stand?
The Trail Blazers' have been without a head coach for nearly a week. As more teams make changes on the sidelines, coaching rumors continue to swirl and Portland has reportedly trimmed its list to "seven or eight" candidates, here's where the Blazers' search for Terry Stotts' successor stands.
The Favorite
Chauncey Billups has been the frontrunner for the Blazers' job ever since Jason Kidd withdrew from consideration over the weekend. Not only does the 2004 NBA Finals MVP have Damian Lillard's blessing, but Billups has been close with Neil Olshey since their shared time with the LA Clippers in 2011-12.
The Athletic reported on Thursday that Olshey is "widely known to be very interested" in Billups.
A rookie assistant with the Clippers, Billups was listed first in an annual roundup of the league's best coaching prospects by ESPN's Kevin Arnovitz despite his inexperience. Long considered for front-office positions after his playing career ended, Billups has been lauded in LA for his "gravitas" and willingness to learn and listen.
Kidd perhaps took his name out of the running due to swift blowback in Rip City to his history of domestic abuse. Billups was accused of rape in 1997, an incident that led to him settling a civil lawsuit with his alleged victim. Unlike Kidd, Billups initially denied the allegations made against him, one of the many reasons they've remained largely outside the public eye as the five-time All-Star continues to cement himself as NBA royalty.
Ugly as it is, the league at large has decided to overlook the claims of sexual assault against Billups. Whether Olshey and Blazers owner Jody Allen are comfortable doing the same could be the biggest factor in deciding whether Billups – the betting favorite, too – becomes Portland's next head coach.
Gaining Momentum
Like Billups, Mike D'Antoni has been mentioned as a potential candidate for the Blazers job since before it became available. ESPN listed him as a likely interviewee at the time of Stotts' departure, and earlier this week reported Portland was one of several teams "showing interest" in the architect of Seven Seconds or Less.
On Thursday morning, The Athletic reported that D'Antoni, 70, has "serious interest" in taking the reins in Portland.
D'Antoni seems an odd fit on the surface given his well-earned reputation as one of the game's most innovative offensive minds and Olshey's mandate the Blazers' new coach must be able to improve their defense. His Houston Rockets teams never finished below 18th in defensive rating, though, and the 2017-18 Rockets rode a stingy, switching defense to Game 7 of the Western Conference Finals against the juggernaut Golden State Warriors.
Portland, obviously, doesn't possess the roster to regularly switch across five positions, and Olshey made clear during his season-ending presser that the Blazers' next coach will need to make due defensively with mostly incumbent personnel. D'Antoni has always empowered assistant coaches, regularly naming a de facto defensive coordinator.
If his decade-plus track of success in the first chair proves too enticing for the Blazers to pass up, expect D'Antoni to bring a high-valued defensive assistant to Portland with him. 
Reported Candidates
ABC and ESPN commentator Jeff Van Gundy is another likely candidate among the Blazers' handful of remaining options after cutting their list. He's been rumored for marquee coaching jobs for years, and boasts the defensive background Olshey covets. The New York Knicks ranked no lower than sixth in defensive rating during his half-decade stint in Manhattan during the late 1990s. The same is true of Van Gundy's Rockets squads in the mid-2000s.
Michigan Wolverines head coach Juwan Howard has been frequently mentioned, too. The 19-year playing veteran first cut his coaching teeth as an assistant under Erik Spoelstra, spending six seasons with the Miami Heat before returning to his alma mater in 2019. Howard was the unanimous NCAA Coach of the Year in 2020-21 for leading the Wolverines to a No. 1 seed in the NCAA Tournament and their first Big 10 championship in seven years. ESPN reported on Thursday that Howard has little interest in leaving Ann Arbor.
Jerome Allen, an assistant with the Boston Celtics since 2015, is "expected" to be interviewed for the Blazers' vacancy, per Gary Washburn of The Boston Globe. A three-year NBA veteran with a highly decorated overseas playing career, Allen has already interviewed for the Celtics' opening. The 48-year-old began his coaching career at Penn, his alma mater, in 2009 before joining Brad Stevens' staff.
Conspicuously Absent
Though San Antonio Spurs assistant Becky Hammon, for years considered the most likely first female head coach in the NBA, is a local favorite among fans, she's yet to be reported as a potential candidate for Portland. Expect Hammon to interview for multiple head-coaching jobs this summer.
The same goes for Philadelphia 76ers assistant Sam Cassell, who like Kidd and Billups is a former point guard with a storied playing career. He joined the Washington Wizards' bench under the late Flip Saunders the year after he retired in 2009, becoming an assistant with the Clippers five years later before following Doc Rivers to Philadelphia.
Ime Udoka, currently an assistant with the Brooklyn Nets, owns deeper ties to Rip City than any other coach in the league, but hasn't been connected to the Blazers. The 43-year-old attended Portland's Jefferson High School and Portland State University before a journeyman professional career ended with Udoka taking a seat on Gregg Popovich's bench with the Spurs in 2012.