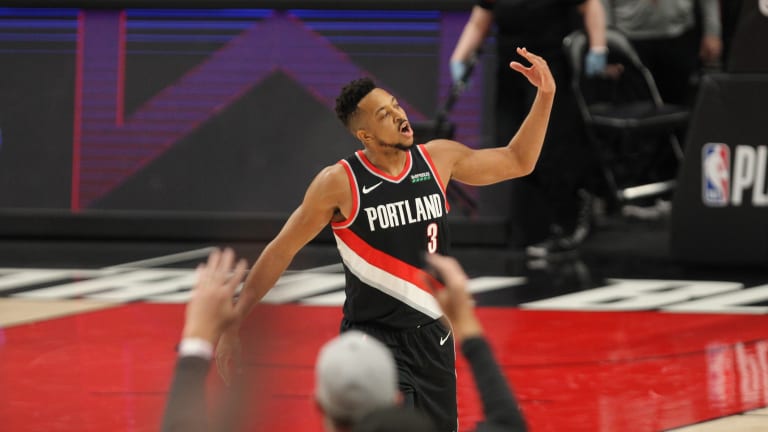 C.J. McCollum on Trade Rumors: 'I Signed Up for This Life'
On the "Pull Up Podcast," C.J. McCollum explains why he understands his name has been floated in trade rumors.
On the "Pull Up Podcast," C.J. McCollum explains why he understands his name has been floated in trade rumors.
C.J. McCollum, for better or worse, knows exactly where he stands as the Trail Blazers face their biggest collective crossroads since LaMarcus Aldridge left town in 2015.
With evidence mounting that Portland's core isn't good enough to compete for a championship and his three-year, $100 million extension kicking in next season, McCollum has increasingly been the subject of trade rumors and proposals since the Blazers were eliminated from the playoffs. Not just from league analysts or opposing fans who hope to see him wearing another uniform, either. Many fans in Rip City have called for McCollum to be dealt, too.
While some professional athletes with his level of career accomplishments would balk at being included in trade talks, McCollum understands that it's simply part and parcel of achieving his lifelong dream.
"I signed up for this life. I signed up to play sports. I'm thankful for it. I've prayed for the opportunity to be in this position since I was a child. I dedicate my life, I dedicate my time and my soul to this," he said on the most recent edition of the Pull Up Podcast. "I'm not offended when people are under the opinion or impression that I should be moved or I should be traded, because as I said, I come from a small city in Canton, Ohio to where kids would love to be in my position, men would love to be in my position. Where they get to play a sport for a living, where they get to take care of their family, take care of their community, give back and inspire people. I take it all in stride and understand that people have a right to their own opinion."
McCollum's more candid remarks echo a recent comment he made on Twitter about trade prognostications and fan criticism being "part of life" for professional athletes.
Just because McCollum understands the calls for him to be traded hardly means he agrees with them, though. In fact, the 29-year-old believes Portland has "a lot of ways" to make the personnel changes that another disappointing season suggests are necessary.
"I think it's a sign that, for one, you've done things the right way, that you do have some value and people do have an interest in you," McCollum said of being included in trade talks. "But for two, we did lose. We went through a tough season. So some people in their minds feel like we need change, and there are a lot of ways in which we can create change with our roster besides potentially trading me."
What those mechanisms for significant roster improvement might be remain to be seen. 
The cash-strapped Blazers will almost surely vault into the luxury if they re-sign Norman Powell, the summer's top priority. They don't have a first-round pick and can't trade one until 2023, and will be limited to offering the tax-payer mid-level exception and bi-annual exception to available free agents – not exactly price tags reserved for team-changing contributors.
Needless to say, Portland doesn't possess many avenues to roster turnover barring trades. No matter how the offseason transpires, though, expect McCollum to keep his head down and focus on what he can control.
"I will continue to work on my game, continue to do what I can to help our team and do what I can to help elevate my play to where I can continue to rise to new levels and new heights," he said.