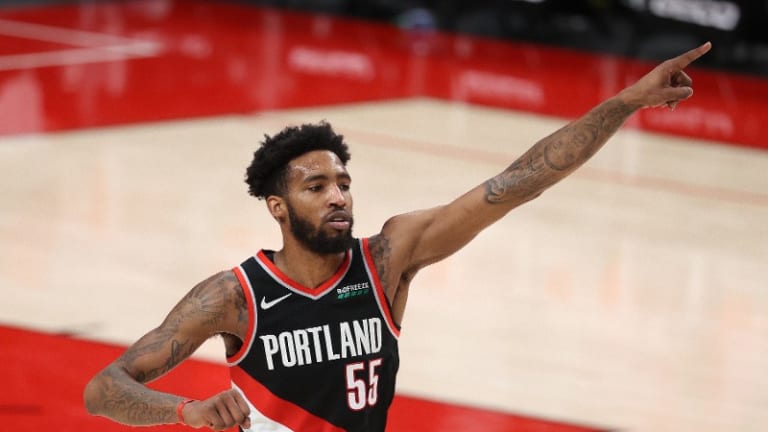 Why Portland's Final Playing Rotation Could Be Revealed Against Boston
Derrick Jones Jr. and Nassir Little have fallen out of favor with Terry Stotts. If they can't get on the floor against Boston, their rotational fates might as well be sealed.
Derrick Jones Jr. and Nassir Little have fallen out of favor with Terry Stotts. If they can't get on the floor against Boston, their rotational fates might as well be sealed.
The abrupt benching of Derrick Jones Jr. was supposedly just a one-time quirk of roster logistics. Nassir Little's new place in Terry Stotts' rotation was initially described as a permanent change, too.
But as the regular season winds down with the Trail Blazers fighting like hell to turn it around before the playoffs, both Jones and Little suddenly find themselves on the outside looking in at regular minutes. And if they don't get off the bench during Sunday's game against the Boston Celtics, it's safe to say Portland's playing rotation – in a state of flux basically since the season tipped off in late December – has finally come into clear focus.
Jones hasn't played in each of the Blazers' last two games, even remaining on the sideline when Terry Stotts emptied his bench for extended garbage time. He notched just a single stint in the first quarter of Portland's two games before then, too. The last game he got legitimate run was in the Blazers' tough loss to the Memphis Grizzlies on April 23rd, playing 13 minutes and 13 seconds off the bench.
The writing seemed on the wall for Jones' place in the rotation just a few days earlier, when Rondae Hollis-Jefferson – then just signed to a second and final 10-day contract – started at power forward versus the Charlotte Hornets. Jones was a DNP-CD that game, a brow-raising development that Stotts downplayed after the game, insisting it suggested nothing about a potentially diminished role for Jones going forward.
Two weeks later, Jones' immediate and long-term future in Rip City has never been more tenuous – especially considering it coincides with Portland playing its best ball since February.
Little's drop in the Blazers' pecking order has been met with less fanfare, but is maybe no less significant given Portland's personnel. He didn't appear against Brooklyn until garbage time, just like in his team's revenge game against the Grizzlies 48 hours earlier. The only reason Little played nearly 17 minutes versus the Indiana Pacers is because the Blazers put them away early. Just two games before then, in Portland's first meeting with Memphis, he didn't get off the pine at all.
Little's current place in the rotation wouldn't be at all surprising if Stotts hadn't recently indicated he'd earned a bigger role. After Little went a perfect 5-of-5 in 24 minutes off the bench against the Detroit Pistons on April 10th, Stotts said he'd continue getting consistent burn at shooting guard – the de facto position at which he'd just put together one of his best performances of the season.
That was only three weeks ago. Little hasn't occupied that role since, instead falling to the very back of Stotts' rotation as the Blazers reached a crossroads.
Clearly, the manner in which Stotts has doled out lineups of late is working. Say what you will about the level of competition, but dominant road wins – let alone three in a row – are always tough to come by in the NBA. As small and deficient defensively as the Blazers' current rotation looks on paper, its two-way success speaks for itself. 
But that hardly means it can be counted on against Boston Sunday afternoon. Jayson Tatum dropped 60 points on Friday night, and Jaylen Brown's physicality and versatility as a scorer makes him a similarly problematic individual matchup for Portland.
No one on the Blazers' roster has the requisite combination of length, strength and initial quickness to keep Tatum in check, but Jones and Little come closest. Norman Powell will probably get the start on Brown, though still lacks the size to bump him off his spots as a driver or from the mid-post. Jones played 15 minutes in Portland's nail-biting loss to Boston on April 13th, while Little got a single seven-minute stint.
The Blazers' starters are ironclad, and Carmelo Anthony and Enes Kanter – for better or, often, worse – are guaranteed regular minutes. Anfernee Simons, looking more comfortable than ever, has played himself into a permanent rotation slot, too. 
Some opponents present big enough challenges to deviate from strategic norms, though. The Celtics, with Tatum verging on full-fledged superstardom and Brown not far behind him, are just such a foe. If Jones and Little remain mostly nailed to the bench on Sunday, it'll be a telling sign that Portland's oft-changing rotation is finally set in stone.