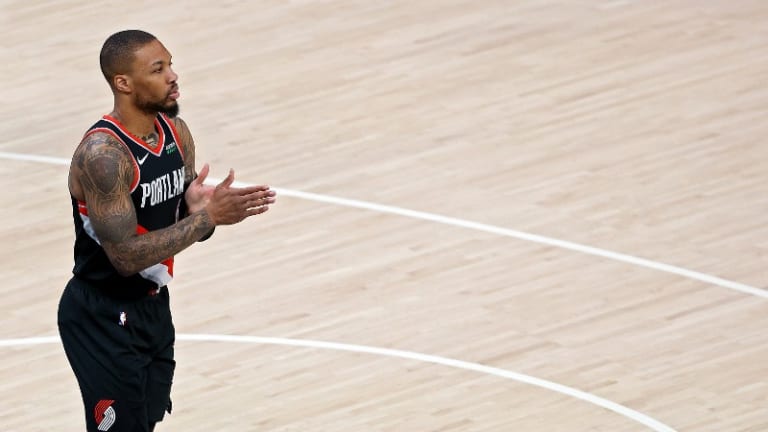 Blazers Blow Out Cavaliers To Finish Road Trip Strong
Damian Lillard and company dominated the Cavaliers, but the Blazers' real test comes Friday.
Damian Lillard and company dominated the Cavaliers, but the Blazers' real test comes Friday.
The Trail Blazers took care of business against an inferior opponent. Their core players even got some much-needed early rest in advance of the most important game of the season, too.
Portland blew out the Cleveland Cavaliers 141-105 at Quicken Loans Arena on Wednesday night, finishing a gut-check road trip 5-1 to help turn its fortunes around. The 36-point win is the Blazers' second-largest this season, behind only a 48-point romp over the Oklahoma City Thunder in March.
Damian Lillard dominated again, exhibiting no wear-and-tear from a scary left foot injury suffered late in Sunday's loss to the Atlanta Hawks. He dropped 32 points and nine assists on 10-of-17 shooting, the MVP-type play that eluded him for most of March before suddenly returning last week to spearhead Portland's trek. 
Lillard scored 14 points on just six shots in the Blazers' decisive third quarter, dominating at the rim and beyond the arc to put Cleveland away early. This filthy step-back three at the buzzer extended Portland's 10-point halftime lead to 22 entering the fourth quarter. Even better? It sent Lillard to the bench for good.
Lillard's effort was especially huge because not only was Portland playing without Norman Powell, nursing a sore right knee, but because C.J. McCollum never found his stroke. He had just 10 points on 3-of-14 shooting, though ended up with five assists and was a team-high +22.
Derrick Jones Jr., out of the Blazers' normal rotation since April 25, got the start in Powell's place, scoring five points – two on a soaring alley-oop jam – and committing three turnovers without taking a three. Who took bigger advantage of Jones' absence? Nassir Little, getting second-shift rotation minutes en route to eight points and two rebounds. He showed off his burgeoning blend of athleticism and touch in the second quarter, with this acrobatic and-1 just moments after hitting a spot-up three.
Enes Kanter and Carmelo Anthony combined for 34 points off the bench for Portland, while Anfernee Simons added 10. All three were uber-efficient from the field, helping the Blazers shoot a scorching 57.6 overall and go 16-of-33 from deep. Jusuf Nurkic made his presence felt on both ends, stuffing the stat sheet with 15 points, 11 rebounds, four assists and three blocks. Needless to say, it was another encouraging performance from the Bosnian Beast on a trip full of them.
It bears mentioning that bottom-dwelling Cleveland, now losers of eight straight, played this game without Darius Garland and several other regulars. Kevin Love didn't exactly put his best foot forward, either, finishing with fine numbers but trudging his way to a laughable -45 plus-minus – 16 points worse than any of his teammates. Even if he was just sending another not-so-subliminal message to the Cavaliers, the Blazers – for whom Love is openly pining to play – couldn't have been very intrigued by what they saw from the Lake Oswego native.
This was a professional win for Portland, basically. It's what good teams do to bad ones, and though hardly a sure sign of things to come, is still something that didn't happen much at all in March. Lillard and Nurkic flashing peak form is always reason for measured optimism about their teams' big-picture prospects, too.
But the real test comes Friday, in the most important game of the season against a franchise rival. Buoyed by fans returning to Moda Center and fortunate to perhaps see LeBron James watching from the sideline, the Blazers will nonetheless face a steep challenge from the Los Angeles Lakers.