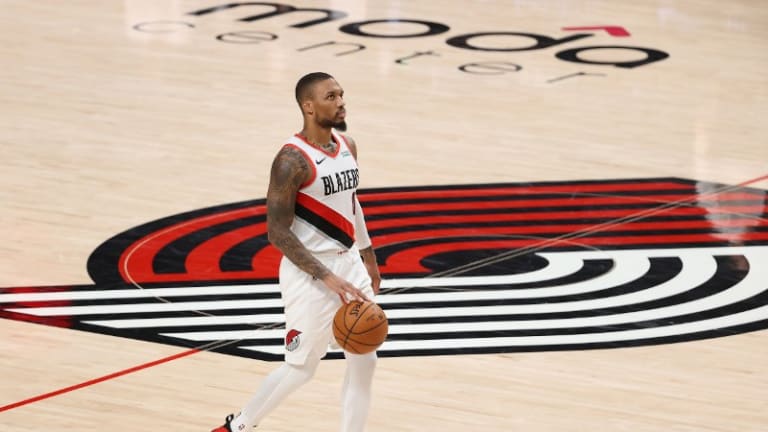 Damian Lillard Comes Alive Late In Blazers' Heart-Stopping Win Over Warriors
Damian Lillard was quiet for most of the game, but came up big – on both ends of the floor – when the Blazers needed him most.
Damian Lillard was quiet for most of the game, but came up big – on both ends of the floor – when the Blazers needed him most.
Notes, analysis, observations and highlights from the Portland Trail Blazers' hotly-contested 108-106 victory over the Golden State Warriors at Moda Center on Wednesday night.
This wasn't Damian Lillard's night until it suddenly was. Guess when Portland's franchise player turned it on? Lillard scored his team's last eight points against the Warriors, beginning with a pull-up triple that tied the game with 2:03 remaining. His biggest shot came with 14 seconds left, when Lillard walked the ball up the floor, burned clock, and stepped back for a 30-footer that put the Blazers up 108-106. But his most important play of the game came on the other end, when Lillard preserved a Portland victory by stepping between Draymond Green and the rim to draw a charge with just 3.3 seconds remaining. Lillard didn't have it going on Wednesday night, but it didn't matter. As the game hung in the balance, he found every way to send the Blazers to one of their best wins of the season.
Remember this game come April and May, by the way. Portland's second-half schedule is one of the toughest in basketball. There's no guarantee the Blazers will sit above the Warriors in the standings come season's end despite the anticipated returns of C.J. McCollum and Jusuf Nurkic. Tie-breakers are always important, but there exists a world in which Portland and Golden State are neck-and-neck to avoid the play-in tournament in the final days of the regular season. Good thing the Blazers eeked out a win on Wednesday, narrowly winning the season series with the Warriors 2-1.
Carmelo Anthony was outstanding for the second game in a row, his hand nearly as hot as it was in Portland's victory over Charlotte on Monday. He had a pep in his step from the opening tip, using a live, bouncy handle to work his way to his spots before pulling up for mid-range jumpers. Anthony also provided the Blazers with their last non-Lillard score, a turnaround 12-footer from center that pulled his team within a point as the fourth-quarter game clock read 2:36. Anthony's most impressive play against the Warriors, though, came in the third quarter, when he drew a double-team, manipulated the defense by calling for a cut, then fired the ball cross-court for an Anfernee Simons triple. Even better? 'Melo exercised the same patience and nuance on Portland's very next trip down, but ended up swishing a jumper after the defense relaxed – the positive outcome he no doubt prefers.
Simons played only a small part in the Blazers' victory, but it was an especially important one considering his struggles coming into the game. He scored five straight points in the second quarter, with a pull-up triple and strong right-handed drive, and made a big play in the fourth quarter when he knocked the ball off Juan Toscano-Anderson's leg in the post, resulting in a Golden State turnover. Player development is never linear; the starts and stops of Simons' growth are hardly surprising. But in a hotly-contested game against a quality opponent, it was encouraging that Simons more than held his own. 
Lillard, shockingly, began this game guarding Curry, and quickly proved as ineffective in that role as his biggest defensive detractors would expect. Lillard shoulders far too big an offensive burden to consistently bring the energy and effort needed to stay attached to Curry from the time the ball crosses halfcourt. Even on possessions Lillard managed to (almost) stick with Curry, his lack of length left the two-time MVP with plenty of room to launch cleanly from three. Portland divvied up the Curry matchup after he went off in the first quarter, but it didn't make a difference until after halftime, when the defense made a more concerted, lasting effort to get the ball out of Curry's hands. He abused whatever defender the Blazers threw at him early, often using the threat of his pull-up jumper to get past the second line of defense for crafty finishes at the rim. It's head-scratching for many reasons that the Blazers came into this game with Lillard – not exactly a stopper, even when he's fully committed – earmarked as Curry's primary defender. Look how casually Lillard defends Curry on the possessions below; that's just never going to be good enough against the best movement shooter of all time. It's a testament to Lillard's brilliance that he had enough left in the tank after chasing Curry for most of the game to come alive when the Blazers needed him most.
Enes Kanter dominated on the offensive glass, of course, making hay all game long but beasting James Wiseman again and again and again when the rookie was on the floor. There could come a time when Wiseman has the requisite size and strength to deal with an elite rebounder like Kanter. But it definitely wasn't on Wednesday, and the tireless nature of Kanter's activity on the offensive glass suggests that Wiseman – whose physicality and intensity were major pre-draft question marks – may be the type of player never prepared to deal with it.
Robert Covington continued his strong play of late, hitting a timely three-pointer, covering up his teammates' defensive mistakes on the backline and even registering his typical three blocks – one of which came on a Kevon Looney dunk attempt. But the second unit's lack of size was a major factor against Golden State, as Steve Kerr's team racked up a whopping 17 offensive rebounds en route to 22 second-chance points. Not all of that came with Covington at center, and he only bears so much culpability for Portland's performance on the glass in small-ball lineups. It's certainly worth mentioning that the Blazers rebounded well when both teams went small in crunch time, too. But Portland asks a lot of Covington, and despite his best efforts, he just couldn't keep Looney off the offensive board when moonlighting as a center on Wednesday night.
Next up: at home vs. Sacramento Kings on Thursday, 7:00 p.m. (PST)