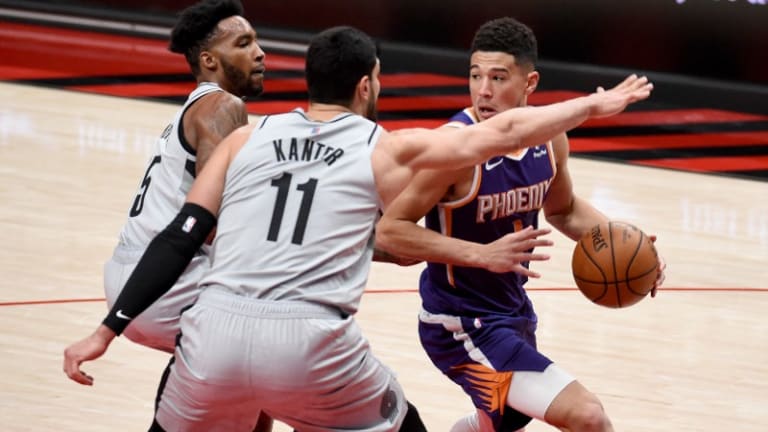 Pregame: Peaking Blazers Meet Laboring Suns On Second Leg Of Back-To-Back
Postseason seeding is still at stake for both Portland and Phoenix in Thursday's crucial matchup.
Postseason seeding is still at stake for both Portland and Phoenix in Thursday's crucial matchup.
Opponent: Phoenix Suns (48-21 overall, 6-4 overall) 
Offensive Rating: 116.0 (seventh)
Defensive Rating: 110.4 (sixth)
Net Rating: +5.6 (fourth)
Where: Phoenix Suns Arena
When: 7:00 p.m. (PST)
Broadcast: ESPN/NBC Sports Northwest
Point Spread: Phoenix -4.5
Moneyline: Phoenix -188, Portland +158
Over/Under: 235
Injuries/Health
Phoenix: Cam Johnson (out), Abdel Nader (out)
Portland: Zach Collins (out), Nassir Little (questionable)
Primer: The Suns, struggling a bit recently, still have a shot to steal the top playoff seed in the West. Chris Paul, Devin Booker and company are just a game-and-a-half back of the Utah Jazz with three to play, their chances buoyed by owning the head-to-head tie-breaker – and the Blazers' convincing victory over Utah on Wednesday during the first leg of an arduous back-to-back.
Phoenix is 1-3 in the last four games. Its two wins before that came in overtime against the lowly Cleveland Cavaliers and on the final possession versus the tanking Oklahoma City Thunder. The Suns just haven't been the same team of late that they were while beating Portland twice in a two-and-a-half week span on either side of the All-Star break. 
One of the main reasons why? Monty Williams just isn't getting the awesome two-way production from his bench that once made Phoenix so tough. Dario Saric spearheaded the Suns' comeback win over the Blazers on March 11, playing the entire fourth quarter while Deandre Ayton watched from the sidelines. He was similarly instrumental to Phoenix's success the previous time these teams met, too, but has been largely mothballed for the better part of three weeks in favor of Frank Kaminsky.
The surprisingly stingy defense that used to be provided by those bench units has abandoned the starters, too. The Suns' defensive rating in the last 10 games is a sky-high 120.0, third-worst in basketball, per NBA.com/stats. Not even Chris Paul's presence has kept Phoenix from hemorrhaging points.
Shooting luck has something to do with that, and so does Jae Crowder missing two weeks before returning to the lineup on May 5. Still, if the Suns aren't defending at an elite level or one just below it, their postseason prospects might be even shakier than doubters have suggested all season.
Phoenix threw everything and everyone at Steph Curry in a loss to the Golden State Warriors on Monday. Williams won't commit quite that much attention to Damian Lillard on Wednesday, especially after watching Andrew Wiggins exploit it to the tune of 38 points on 17-of-24 shooting. The long-armed Mikal Bridges, an All-Defense candidate, has done yeoman's work harassing Lillard this season, too. The Suns have also been as aggressive sending back-line help at Lillard as any Portland opponent, though; his teammates will have ample opportunity to take advantage of a winning numbers game behind the point of attack.
They better, too, because Devin Booker has proven unstoppable against the Blazers this season. Switching across four positions hasn't worked on Booker, but still might be the best of several bad options for Portland defensively if Norman Powell – Booker's likely primary defender – is just as ineffective one-on-one as Derrick Jones Jr., Gary Trent Jr. and more were when the Blazers and Suns faced off earlier this season.
With Booker and Paul fully capable of pulling up for splashed jumpers, Jusuf Nurkic will have a lot more actions to suss through defensively than he did in a dominant performance against the short-handed Jazz. Ayton, better embracing his sheer size and physicality this season, is a capable lob-catcher, mid-range popper and post scorer, too.
Bottom Line: This is a gut-check game of sorts for Phoenix, and the Blazers' legs will be heavy on the second night of a back-to-back. Both teams will be supremely motivated, but picking against Paul and Booker – given the way they've decimated Portland this season – is tough under these circumstances.