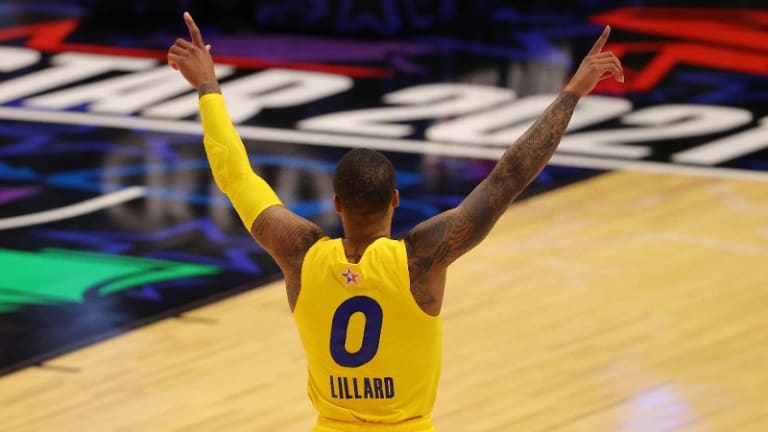 Last year, before tipoff of a season that was his personal best, the toughest of his career and has already led to a coaching change for the Trail Blazers, Damian Lillard left open the possibility of playing in the Tokyo Olympics.
The one development that would definitely prevent him from suiting up for Team USA? Portland winning the NBA Finals, he said hopefully in December.
The Blazers, obviously, fell woefully short of hoisting the Larry O'Brien Trophy, falling to the short-handed Denver Nuggets in the first round of the playoffs. Another disappointing early exit from the postseason, though, at least affords Lillard the opportunity to wear his country's colors for the first time – one he seems increasingly unlikely to pass up.
According to Joe Vardon of The Athletic, though Lillard has yet to commit either way, he has "strong interest" in playing for Team USA in Tokyo.
Lillard is believed to have strong interest in playing, though no final decision has been made.
In March, Lillard was one of 57 American-born NBA players announced as a finalist for the Olympic team. Absent from that group was C.J. McCollum, who later clarified amid Rip City's collective anger on his behalf that he'd taken his name out of the running for Team USA.
Lillard has never played for USA Basketball in an official capacity. He appeared in two exhibition games with Team USA during the 2014 USA National Team Tour, but didn't make the ensuing trip to Spain for the 2014 FIBA World Cup.
Even if USA Basketball had its complete stable of candidates available, it stands to reason Lillard would have a better chance making the final roster this time around than at any other point in his career. After all, he's a better player now than he was five years ago during the last Olympic cycle, and no doubt would've been on the 2019 World Cup team if he hadn't withdrawn from consideration.
But with several marquee players, including LeBron James, already declining invites to USA Basketball training camp and complications of COVID-19 hanging over both preparation for the Olympics and the Games themselves, Lillard is a shoo-in for a final roster if he wants one. The Athletic also reports that Steph Curry is "50-50" on playing for Team USA.
Lillard, even discounting effects of the pandemic, went through a lot in 2020-21: the absences of C.J. McCollum and Jusuf Nurkic; a series of nagging injuries; and most importantly, multiple family tragedies and the grief that accompanied them. No one would blame him for ultimately electing against playing in Tokyo.
But considering Portland's inability to put a championship roster around him, Rip City would no doubt relish the chance to watch Lillard lead Team USA to gold.
The Tokyo Olympics start July 23 and end August 8. USA Basketball training camp tips off in Las Vegas in early July.