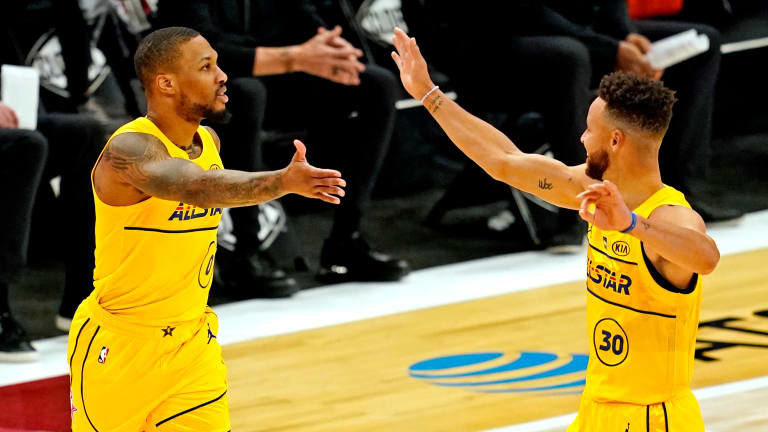 How Does Damian Lillard's New NBA 2K Rating Stack Up?
Damian Lillard's rating comes in one point lower in this year's edition of NBA 2K. How does it stack up to that of other superstars?
Damian Lillard doesn't grace the cover of NBA 2K22 like he did last year's version of the gaming world's basketball best-seller. Luka Doncic has that honor this time around, sharing it with WNBA icon Candace Parker as well as NBA legends Kareem Abdul-Jabbar, Dirk Nowitzki and Kevin Durant, the cover athletes for alternate versions of NBA 2K22.
Following a season in which he almost single-handedly kept the Trail Blazers afloat through multiple injuries to key contributors, finishing seventh in MVP voting and being named All-NBA Second Team, Lillard's 2K rating has taken a slight dip. He began last year's game rated a 95 overall, but comes in one point lower this time around.
Don't shoot the messenger, Rip City. We'll let the developers at 2K try and explain why another superlative season from Lillard caused him to slide in the ratings as opposed to speculating ourselves. 
Blazers fans frustrated by this perceived slight won't be any happier after learning Steph Curry's placement in the 2K22 ratings hierarchy. After opening last year's game even with Lillard at 95, the two-time MVP is back up a point—the same rating as Durant, who just finished staking a forceful claim as the best player in the world during the playoffs and Tokyo Olympics.
Newly-minted NBA Finals MVP Giannis Antetokounmpo is a 96, too.
Whether partisan Portland fans can see why Lillard rates lower than Curry, they at least have to admit that the best player in franchise history isn't quite on the dominant two-way level of Durant and Antetokounmpo. 
As for reigning MVP Nikola Jokic, though? Even after his short-handed Denver Nuggets dispatched of Portland in the first round of the playoffs, many Blazers fans still believed Lillard was the better player. 
Don't tell that to 2K.
That's at least four players—Curry, Durant, Antetokounmpo and Jokic—who boast a higher rating than Lillard, with luminaries like Doncic, LeBron James, Kawhi Leonard and James Harden waiting for theirs to be unveiled.
Will Lillard's 94 rating crack the top-10 in 2K22? Follow 2K on Twitter to find out.