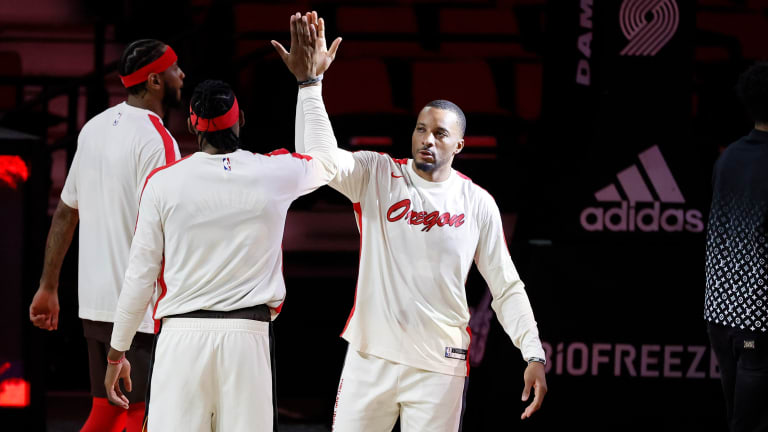 Norman Powell: Championship Is 'Very Attainable' for Blazers
In a wide-ranging interview with Brooke Olzendam, Norman Powell touched on the Blazers' championship aspirations.
Norman Powell, by his own admission, is "not much of a numbers guy." But in talks leading up to and during his time as a free agent this summer, Trail Blazers president of basketball operations Neil Olshey kept repeating one number that clearly left a major impression on Powell—and it wasn't his life-changing guaranteed salary.
Powell re-signed with the Blazers last week on a five-year, $90 million contract, the most crucial development of an otherwise underwhelming player movement period for Portland. Don't tell Powell that the bench additions of Cody Zeller, Tony Snell and Ben McLemore barely move the Blazers' championship window, though.
Inundated with Olshey's favorite talking point about success of Portland's incumbent starters, Powell emerges from free agency confident his team can take the next step without the major roster changes Damian Lillard has deemed necessary.
"Neil's a big numbers guy, and he kept talking about our starting lineup and the net rating that we have, being the fourth-best offense in the NBA," Powell said in an interview with Brooke Olzendam. "And he always kept saying in the meetings and the phone calls leading up to our free agency meeting about keeping that core together, switching things up and finding ways to actually use me and utilize me."
The lineup of Lillard, CJ McCollum, Robert Covington and Jusuf Nurkic, you've surely head by now, finished the 2020-21 season with a +13.4 net rating, per NBA.com/stats. That number ranked eighth-best in the league among all lineups post-trade deadline,  accomplished by elite-level efficiency on both sides of ball.
The Blazers' starters were even better in the playoffs despite a disappointing first-round loss to the undermanned Denver Nuggets, too. Portland's opening quintet posted a +21.7 net rating versus Denver, with offensive and defensive efficiencies that would have topped the league during the regular season.
Olshey made sure to mention that number during his inflammatory season-ending press conference, just like local media who have subsequently reported on the Blazers' plans to run it back with the same core.
It's not just the analytics that have Powell optimistic about Portland's chances next season, though. Under the tutelage of rookie coach Chauncey Billups, he believes the Blazers will take major strides defensively, too.
"I think there's another level we can get to defensively. And I've talked to Chauncey about that, and he's very on the same page with me in how we're gonna change the way we play defense," Powell told Olzendam. "Be more physical, do different things throughout the course of the game, different coverages, different schemes, gettin' up into the ball, forcing and holding guys accountable on that end of the ball, not just offensively. So I'm really excited about that."
Odds are against it all coming together for Portland next season in championship fashion. Frankly, Lillard's probably more likely to demand a trade in 2021-22 than the Blazers are to win the title.
Buoyed by additional continuity, a revamped bench and the two-way concepts of Billups, though, Powell thinks Portland has a chance to bring the Larry O'Brien Trophy back to Rip City for the first time since 1977.
"I think it's very attainable this upcoming season," Powell said of a championship. "We saw through the numbers—I'm not much of a numbers guy—but there was some positives that came out of this team. I think, like I said before, me coming in and trying to figure everything out, Nurk coming back, CJ coming back and just trying to make it all mesh, I thought we did a great job in doing that."
[h/t Brooke Olzendam, Trail Blazers]