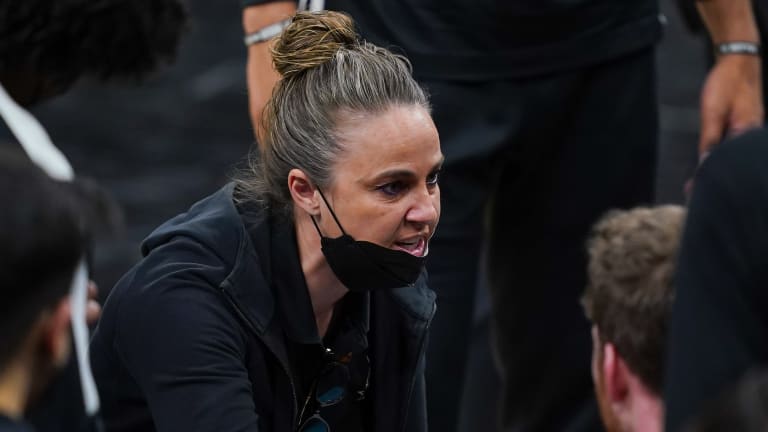 Report: Becky Hammon Among Five 'Initial Candidates' for Blazers Job
Becky Hammon and Dawn Staley are among "initial candidates" for the Blazers' coaching job.
Becky Hammon's name was conspicuously absent from a full week's worth of rumors about the search for the Trail Blazers' next head coach. Not anymore.
Hammon, an assistant with the San Antonio Spurs, is among five "initial candidates" for Portland as the team looks to find Terry Stotts' successor, according to Shams Charania of The Athletic. 
Chauncey Billups and Mike D'Antoni, both of whom have been previously reported as candidates, are also being considered by the Blazers, as are University of South Carolina women's coach Dawn Staley and Spurs executive Brent Barry.
With the Portland Trail Blazers' coaching search underway, San Antonio assistant coach Becky Hammon, South Carolina head coach Dawn Staley, Los Angeles Clippers assistant coach Chauncey Billups, Brooklyn Nets assistant coach Mike D'Antoni and Spurs vice president of basketball operations Brent Barry are among the initial candidates for the job, sources tell The Athletic.
Hammon, per Charania, already has an interview scheduled with the Blazers key decision-makers. She'll also interview for the Orlando Magic's coaching vacancy.
Long presumed as the most likely first female head coach in NBA history, Hammon was hired by the Spurs as an assistant coach in 2014, barely more than a year after her decorated playing career in the WNBA came to a close. She won a title as San Antonio's Summer League coach the following year.
Hammon has since been rumored for head-coaching vacancies across the league on a near-annual basis, even being interviewed for the Milwaukee Bucks' open general manager position in 2017. On December 30, she became the first female acting head coach in league history after Gregg Popovich appointed her to the lead chair upon his ejection from San Antonio's loss to the Los Angeles Lakers.
Staley, another former superstar floor general in the WNBA, actually began her collegiate coaching career before her playing days were finished. She took over as the women's coach at Temple University in 2000, leading the Owls to six NCAA tournament appearances and four Atlantic-10 Conference titles prior to leaving for South Carolina in 2008 – just two years after she retired from the WNBA. 
The Gamecocks have emerged as an annual power in women's college basketball under Staley, winning the NCAA championship in 2016-17 and advancing to the Sweet Sixteen a whopping eight times in 12 seasons.
Barry, like Billups, followed a long playing career by going into NBA media prior to beginning a highly-anticipated tenure in the front office or on the sidelines. He joined San Antonio as president of basketball operations in 2018.
Whispers of Billups – accused of rape in 1997 before settling a civil lawsuit filed against him by his alleged victim – being a favorite in Portland have come since well before the Blazers agreed to part ways with Stotts last week. D'Antoni has been frequently mentioned as a candidate, too, and reportedly has "serious interest" in coming to Rip City.
[Shams Charania, The Athletic]