From scout team to Sundays, Broncos' Moreno hits ground running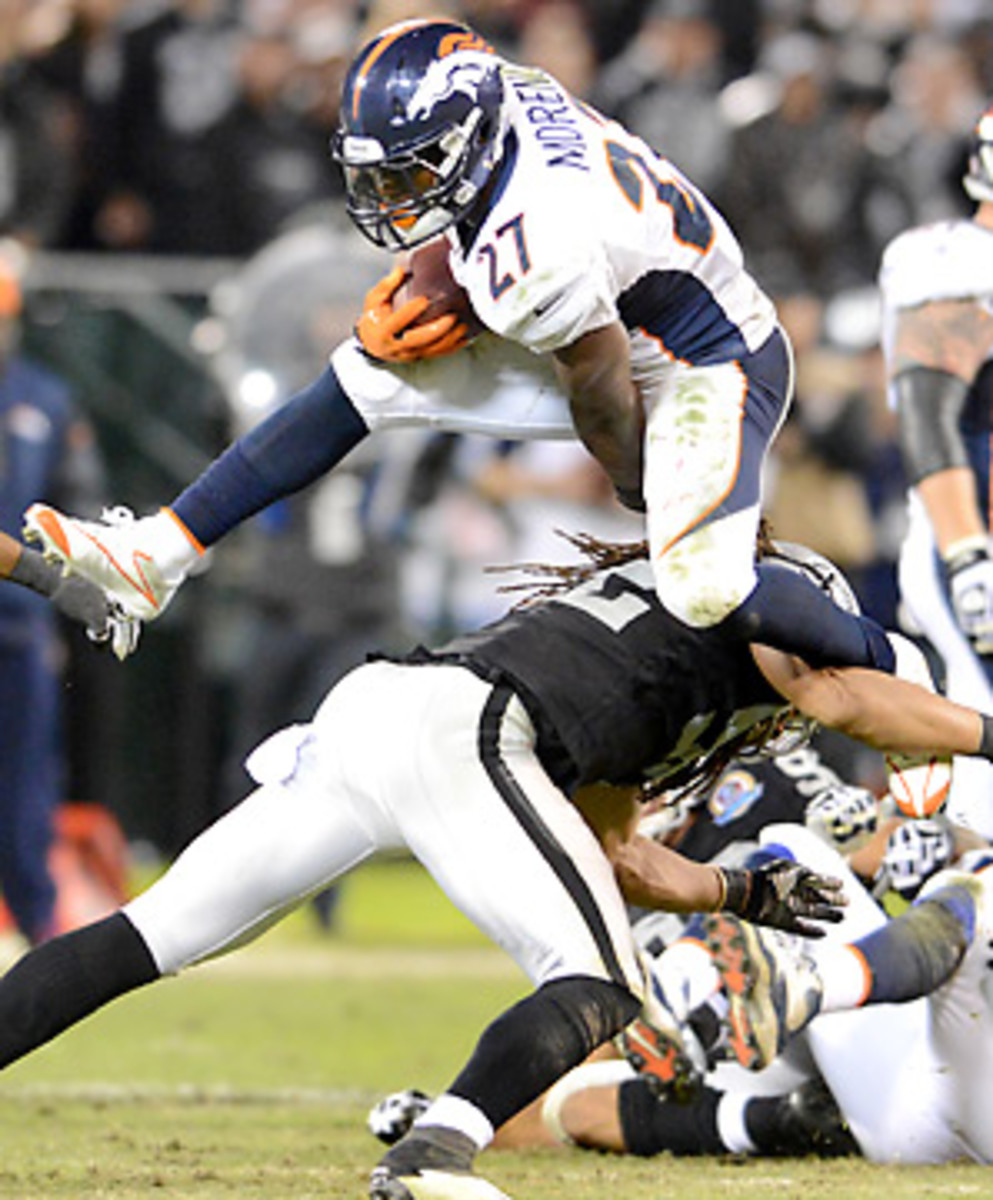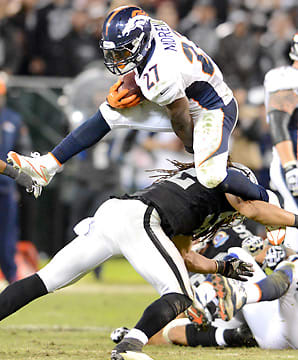 After eight weeks of pretending to be other NFL running backs, Knowshon Moreno of the Denver Broncos is back to feeling like himself again.
Since he became a starter in Week 12, the 5-foot-11, 200-pound Moreno has strung together three strong rushing performances. He carried 20 times for 85 yards against Kansas City, 20 times for 69 yards against the Buccaneers and 32 times for 119 yards and a touchdown against the Raiders. That was Moreno's first 100-yard game in two years, since a 23-carry, 161-yard game in Kansas City on Dec. 5, 2010.
The 2012 season began promisingly for Moreno, who was coming off a torn ACL injury he suffered on Nov. 13, 2011, as he rushed for a touchdown in an opening-game victory over Pittsburgh. But after he carried three times for 2 yards and lost a fumble the next week, in a Monday night loss in Atlanta, coach John Fox benched him.
The Broncos then placed Moreno in the NFL's version of the witness protection program. For the next eight weeks, he spent most of practice time on the scout team, "impersonating" the running back Denver would face next: Houston's Arian Foster, San Diego's Ryan Mathews, Cincinnati's BenJarvus Green-Ellis, et al. On game day, the Broncos would designate Moreno inactive. He would stand on the sideline and play the role of cheerleader.
During that time, Moreno said he did whatever he could to help the team in practice -- "I was just pretty much rolling with the punches" -- and tried to live with dashed hopes.
"I mean, who wouldn't be disappointed?" he said. "Come on, we're all competitors, we all like to be out there competing. That's what we do. That part was disappointing, but at the same time it wasn't my choice."
PETER KING: WEEK 15 PREDICTIONS
Moreno wasn't used to playing second fiddle. In high school, he led Middleton (N.J.) to three state championships and finished as the state's all-time leader in touchdowns and scoring. He earned first-team All-Southeastern Conference honors in each of his two seasons at Georgia, and his 2,734 rushing yards led the SEC.
With Josh McDaniels as the head coach, the Broncos selected Moreno with the 12th overall pick in 2009. Moreno led the team in rushing in both '09 (947 yards) and 2010 (779). But Denver signed Willis McGahee as a free agent on July 31, 2011, and it didn't take long for him to become the featured back in Fox's first season in Denver.
After starting the 2011 season opener against Oakland, Moreno was inactive for Week 2 and did not play the following week. He had carried only 37 times for 179 yards when he suffered his knee injury in a Week 10 game against Kansas City and was placed on the injured reserve list the following day.
It looked like Moreno's career was on the brink -- but not to Moreno. He was determined to come back and regain his old form.
"Injuries happen," Moreno said. "I wasn't worried at all. I knew I was going to have a chance to rehab and do the things I had to do to get back."
An NFL player's career often takes unexpected twists and turns. On Nov. 18, McGahee suffered a torn MCL against San Diego and was placed on I.R. (he could come back this season). Suddenly, Moreno was back in the picture -- and he was prepared.
"Knowing that injuries do happen -- at the same time you don't want to see them happen -- you have to be ready when or if an opportunity comes," Moreno said. "You just want to jump in there and do the best you can. ... And that's what John Fox would always say to me (during his inactive period): 'Just be ready.' And that's what I did. It was the same thing when Willis went down. Just get in there and do what I can to help us out."
The change from McGahee to Moreno in the last three games hasn't caused the Broncos to miss a beat. They have won eight consecutive games -- the longest current winning streak of any team -- and will carry a 10-3 record into Sunday's game at Baltimore against the 9-4 Ravens, a battle of AFC division leaders that could help determine the conference's No. 2 seed in the postseason.
After McGahee got hurt, there was some speculation that the Broncos might go to a committee of Moreno, fourth-year veteran Lance Ball and rookie Ronnie Hillman. But Moreno has received the majority of carries in the last three games; Ball has rushed only once for minus-2 yards and Hillman has rushed 12 times for 62 yards.
Clearly, Moreno is now the main man.
Fox, who saw flashes of Moreno's ability last year, hasn't been surprised by the running back's performance in the last three games.
"We expected it," Fox said, asked about Moreno the day after the victory in Oakland last Thursday night. "We knew the kind of player he was even from looks from last year. He was very patient for his opportunity, and he's making the most of it. I thought he ran the ball very physical, very smart. He protected well, so all in all I think he had a winning performance."
It usually takes a player a full year to recover from a torn ACL. It has been 13 months since Moreno's injury and, even though he said he isn't having trouble cutting or accelerating, he knows he's not completely back.
"It's getting there, but I'm definitely not 100 [percent] yet," he said. "It's not really bothering me too much when I'm out there playing. There are just some achy pains here and there that come with it. During the offseason, it will be good to start doing more treatment things and getting back to 100 percent."
First, though, there are three more regular season games to be played -- and with quarterback Peyton Manning playing at his typical level after missing all of last season, the Broncos could go deep into the postseason.
"It definitely makes you a better player," said Moreno, 25, when asked about the presence of Manning. "You have to be on your 'A' game with Peyton back there. He knows where you're supposed to be, he knows what your assignments are. So you have to be on your toes and make sure you do everything you're supposed to do."
A few days after Moreno returned to the lineup against Kansas City, Manning told reporters that Moreno had given the Broncos "a real boost."
"Everybody's on this roster for a reason and to serve a purpose," Manning said. "Knowshon played some earlier in the season and then he was doing some scout team, and I know that's a humbling experience for a guy, but even though he wasn't really put to the test during those weeks he obviously was in his playbook and studying his protections. ... I think he'll even, hopefully, be better with more repetitions and getting back in the flow."
When he's not studying, practicing or playing football, Moreno likes to relax by playing chess. His grandfather taught him the game back when he was in high school. "I would play him all the time," Moreno said. "Out of 100 games, I probably won like two." Although he doesn't play in the locker room -- most of his teammates don't know about his affection for chess -- Moreno has matches against some of his neighbors and non-football friends.
"You have to strategize," Moreno said. "You have to be three, or four, or maybe even more, steps ahead of your opponent and thinking about all the situations that can occur. That's what I enjoy about it."
Does his chess playing carry over to the football field?
"Yeah, I think so," he said. "You have to use your eyes and look at players and alignments, and try to figure out what's going to happen next."
After Denver drafted him, Moreno asked to wear jersey No. 27, which the late Darrent Williams had worn. A cornerback, Williams had just completed his second season with the Broncos when he died tragically after he was hit during a drive-by shooting in downtown Denver in the early hours of New Year's Day 2007. The Broncos issued Moreno No. 27 after he talked to Williams' mother, Rosalind, who gave her blessing.
Moreno, whose distinctive first name is a combination of the names of his father, Knowledge, and mother, Varashon, said his motive was to honor Williams' jersey number with his play on the field and his actions off it.
"I have the privilege and the honor to be able to do that," he said, "and that means a lot to me."
And now that he is back to being himself again, Moreno will mean a lot to the Broncos down the stretch run of the season.
FANTASY WEEK 15 PLAYER RANKINGS: HOW DOES MORENO STACK UP?