Jets can't ignore Sanchez's struggles as they look to 2013; mail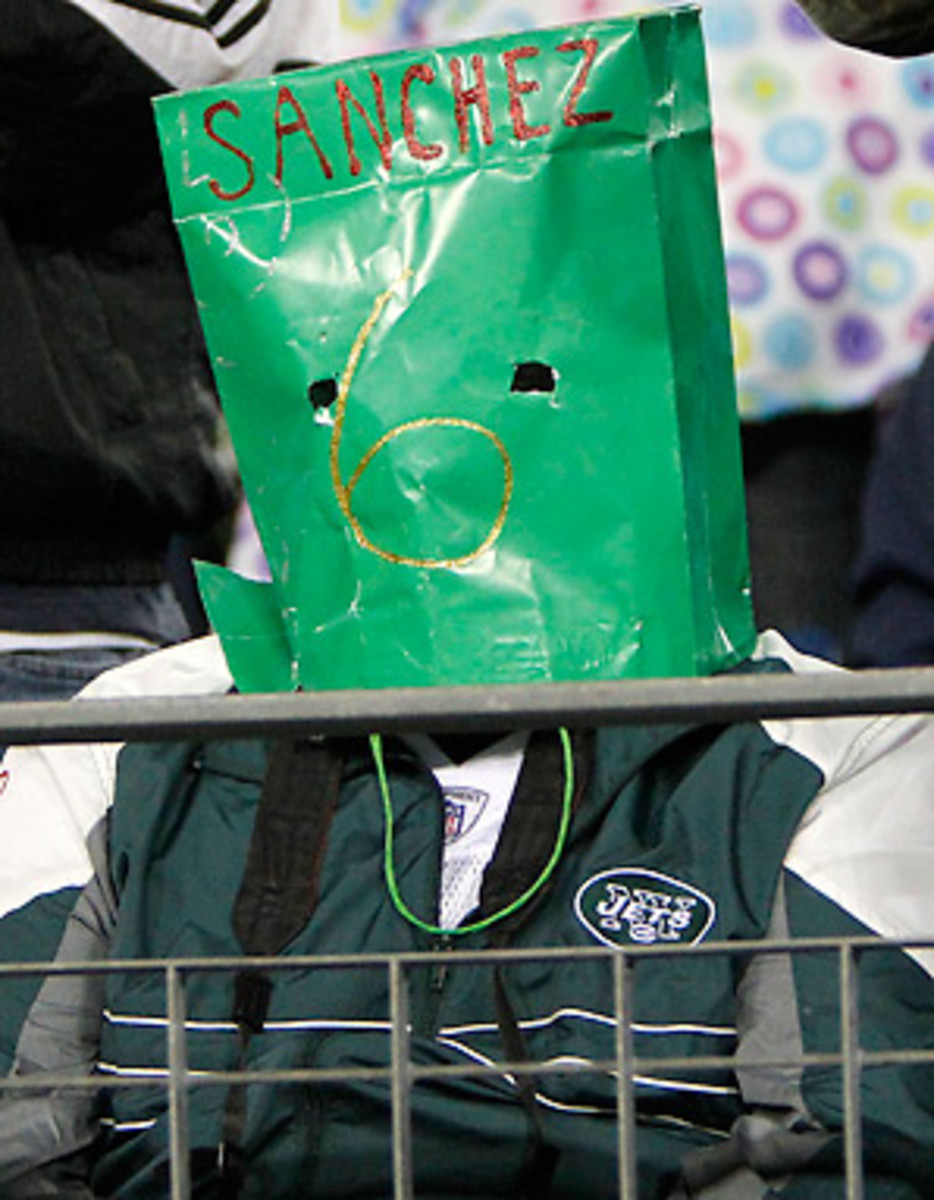 In the wake of the long football weekend's news:
? Sanchez shouldn't be grandfathered in because of his pact. After setting back the art of quarterbacking 50 years in recent months, Mark Sanchez has earned nothing with regards to next season. And I mean nothing, despite an $8.25 million guarantee for 2013. No sane person would say, "Sanchez should be the Jets' starter in 2013.''
The prime rule of general-managing in sports is you don't compound one mistake with another. And whoever is the GM of the Jets in 2013 would be foolish to say blindly that Sanchez is the Jets' starter going forward. He's scary bad right now. Ryan Lindley-bad.
The GM and personnel czar and coach, whoever they be, must let the dust settle, then meet in February and determine if Sanchez should be brought back to compete for the starting job in 2013. That's it -- just to compete, and to be guaranteed nothing. And if the braintrust decides Sanchez is just too toxic, then the franchise has to bite the bullet and take the cap hit. Either wait until June 1, which is a better plan to spread the pain out over two years ($12.4 million in 2013, $4.8 million in 2014), or take the $17.1 million dollar whack all in 2013.
I laugh at those who say, "You can't take that cap hit! It'd kill your team!" Here's the question: Would you rather exist with $109 million to spend without Sanchez on the team, or $121 million with him? I think I'd lean right now to bringing him back with a new offensive staff, if not a new staff in total, with one veteran, one rookie and Greg McElroy to compete starting in spring minicamps. And if it's not working, then cut him June 2 and take the hit. But the only way I'd bring him back is with the clear understanding that he's in an open competition -- and the competition could end before training camp.
JETS NAME MCELROY THEIR WEEK 16 STARTER | TEBOW TIME DONE IN NEW YORK?
? The Jets should use Kirk Cousins as a blueprint and/or inspiration for their 2013 plans. You've heard, I'm sure, that this is a weak year for quarterbacks in the draft. No big stars. Matt Barkley and Geno Smith? Holes in their game.
Let's look at the 2012 draft. The quarterback picked 75th overall, Russell Wilson, and the quarterback picked 102nd overall, Kirk Cousins, both started for playoff contenders on Sunday, on the road, and both played well and won.
Wilson ran for three touchdowns against Buffalo and threw for a fourth, cementing his rookie legacy as one of the best first-year quarterbacks in NFL history. (Look it up. That's not an overstatement.)
In Cleveland, Cousins threw for 329 yards and two touchdowns, including a beautifully thrown ball on the run for a touchdown to Leonard Hankerson, and completed 70 percent of his throws in his first NFL start. What more do you want out of your backup quarterback -- and out of the 102nd pick in the draft -- than to step in and play a high-quality game on the road in a game you need to make the playoffs?
As coach Mike Shanahan said Monday: "Kirk really has handled everything well. The dropback, the play-action, the keep game, the play-pass. I thought he really stepped up and played extremely well with a lot of poise during the game. We ran the keeps well. I think we ran 11 keeps in the game. We ran a number of play-passes and I thought he did a good job of executing the offense."
No longer does a rookie quarterback who has played in a mature college offense need to sit for a year or two. That's why the Jets shouldn't be afraid of drafting one, even in the second or third or fourth round, and thinking of how early he could play.
? The Blair Walsh Project is not much of a project anymore. You can argue about who the All-Pro kicker should be, because there are many deserving ones, but the Vikings rookie has to be in the mix.
He's 29 of 32 in field goals, including 8 of 8 from 50 yards and beyond. He's third in the league in touchback percentage, and lest you think kicking in a dome is an unfair edge, he's had seven home games and seven roadies, and his away percentage of touchbacks is 15 points higher (72 to 57 percent). Earlier this year, Rams rookie Greg Zuerlein was all the rage, with his ridiculously strong leg, but Walsh is way ahead of him in touchback percentage and long field goals.
? On Steven Jackson. The best game I've seen by a running back this season (in the Non-Adrian Peterson Division) was Jackson's 29-carry, 101-yard heavyweight fight against the 49ers">49ers at Candlestick Nov. 11. The fight in Jackson that day, struggling for every inch, is typical of what I've seen during his nine-year career since coming to the Rams out of Oregon State in 2004. I love the way he runs. He gets yards that shouldn't be there. He reminds me of the way Larry Brown used to run a long time ago in Washington -- the definition of a workhorse.
I just thought it should be noted that Jackson passed the 10,000-yard mark Sunday (typically, for his career, in a Rams loss) and now stands 27th on the all-time rushing list. He'll be 30 next opening day, but the way he's running now, I wouldn't be surprised to see him end up somewhere near the top 10, which is 2,277 yards away.
Now for your email:
MIKE NOLAN, TOO. "How about Kyle Shanahan for coach of the week? First-time starter KC1 was as effective and efficient as RGIII in the Redskins' thumping of Cleveland, and all the parts are running like a well-oiled machine.''
-- From Andrew Hamm, of Richmond, Va.
Couldn't agree more. I could also have easily given it to Mike Nolan, the Falcons' defensive coordinator, for shutting out the Giants.
WATT FOR MVP. "Reading what you wrote regarding the kind of season JJ Watt is having, my question is, 'Is he worthy of serious NFL MVP consideration?' I know the media is biased toward offensive players and the league rules have skewed the game drastically toward the QB in terms of team value, but IF JJ Watt isn't worthy of real consideration given the unprecedented combination of stats he is putting up, then what kind of season would a defensive player have to have to be part of the conversation?''
-- From Jon Pierre, of Houston
If any defensive player in recent years were worthy of inclusion in the discussion, it would have to be Watt. When I think of the word "valuable," it's tough for me to think, for instance, that the Patriots without Tom Brady would be impacted less than the Texans without Watt. That's one reason it's been tough for a great defensive player to win the award.
THAT'S LIFE IN THE NFL. "Please help me make sense of this. When a team is so hopelessly outclassed in all facets of the game like my Giants were yesterday, it's tempting to think they just didn't try or that there was a general failure in coaching. I know that's not the case. I know we were missing Ahmad Bradshaw and Prince Amukamara. I also know Atlanta is very talented, was at home, and had the memories of last January's game fresh in their memory. But still... 34-0? How does that happen? I can't help but think we just weren't prepared. I have faith in Coughlin and the team but it just seems too familiar that we choke like this when holding a slim lead in the standings. A loss I can take. A complete embarrassment? That's tough.''
-- From Andy D., of Sterling, Va.
That's the recent history of the Giants, unfortunately. Don't let it crush your spirit, though. Look at some of the bad games in the recent past -- such as 2007 and 2011. Things seemed to work out well those years.
A BAD IDEA, YES. "Love the column, read it every week. I completely support the anti-gun movement, enough is enough. I'm wondering what you thought about the Cowboys having Josh Brent on the sideline; I was shocked to see it over the weekend. I don't care that Jerry Brown's mother wanted the team to support him, I understand that, but do it privately. To have Brent displayed like that is an insult to anyone who has been affected by the careless actions of drunk-driving. Shame on Jerry Jones and the Cowboys organization. Keep up the great work and advocacy.''
-- From Phil Alfieri, of Grimsby, Ontario
The Cowboys, and the NFL, now agree with you. He won't be back on their sideline this year.
WHITHER ALEX SMITH? "All right, a collective group of us said last night, we were wrong: picking Kaepernick over Smith was the correct call. But let's not dismiss Alex so lightly - he resurrected his career under Harbaugh, and did not play his way out of his job. In that light, Alex will start somewhere next year. Which situation is best for him?''
-- From Ben D., of Portland, Ore.
No one is dismissing Smith, certainly not me. I think we have to wait to see who is coaching and GMing the teams in the next few weeks, because there will be upheaval in the ranks of eight or 10 teams in the next month. Certainly Arizona, Kansas City, Jacksonville, Buffalo and the Jets will have to be interested, depending on the price.
UPDATED PLAYOFF SCENARIOS | WHO'S LEADING AWARDS RACES?