Oakland Raiders 2013 Offseason Preview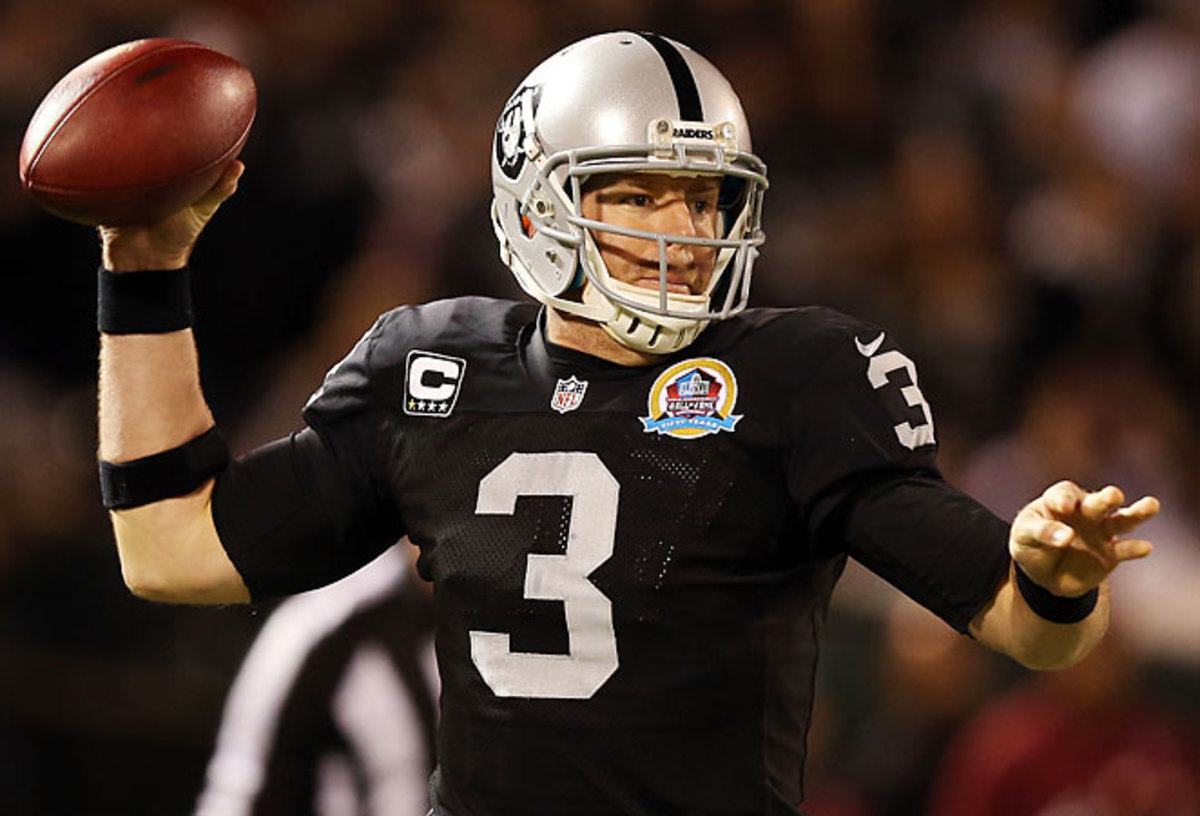 SI.com is laying out offseason road maps for all 32 teams as they start their journey for the Lombardi Trophy -- two teams per day, from the teams that need the most work to contend in 2013 to the ones that are in pretty good shape. See them all.
2012 Record: 4-12 Key Pending Free Agents:Phillip Adams, CB (RFA); Khalif Barnes, OT; Kaelin Burnett, LB (ERFA); Desmond Bryant, DT; Duke Calhoun, WR (ERFA); Cooper Carlisle, G; Andre Carter, DE; Coye Francies, CB (ERFA); Omar Gaither, LB; Matt Giordano, S; Mike Goodson, RB; Derek Hagan, WR; Joselio Hanson, CB; Zach Hurd, T (ERFA); Shane Lechler, P; Matt Leinart, QB; Mike Mitchell, S; Brandon Myers, TE; Alex Parsons, C/G (ERFA); Brandian Ross, CB (ERFA); Richard Seymour, DT; Matt Shaughnessy, DE; Shawntae Spencer, CB; Jeremy Stewart, RB (ERFA); Philip Wheeler, LB. List of Draft Picks (pending compensatory picks): 1 (3), 3 (68), 4 (97), 6 162), 7 (193). Available Cap Space: Approximately -$4.5 million. GM/Coaching Moves: Fired offensive coordinator Greg Knapp and replaced him with Jacksonville assistant head coach/quarterbacks Greg Olson.
2012 Season Recap
The Raiders started the season in a hole. New general manager Reggie McKenzie and first-year coach Dennis Allen inherited a situation in which the franchise was more than $30 million over the salary cap and did not get a draft pick until the fifth round (a compensatory selection later gave them a selection after the third round was completed). Not surprisingly, they had little depth, and with key veterans such as cornerback Ronald Bartell, running back Darren McFadden and defensive lineman Richard Seymour missing significant time because of injuries the team lost eight of its final nine games.
Quarterback Carson Palmer took a lot of heat from fans, but he was among the least of Oakland's worries. He completed 61.1 percent of his passes for 4,018 yards and 22 touchdowns, with 14 interceptions and an 85.3 rating. Palmer did that despite throwing to a receiving corps that was continuously shuffling players in and out of the lineup because of injuries or ineffectiveness. In fact, no wideout had more than 51 catches; the Raiders' last 1,000-yard receiver was, gasp, 2005 (Randy Moss). Brandon Myers, a fourth-year tight end who had never had more than 16 catches in a season, led the team with 79 catches for 806 yards and four touchdowns.
The defense started solidly, hit an awful midseason stretch in which it allowed a minimum of 34 points and a maximum of 55, then finished strong over the final four games, during which it ranked second in total defense, tied for fifth against the run, was sixth against the pass, and was seventh in third-down percentage and ninth in sacks. Still, the unit is likely to undergo a lot of changes during the offseason, beginning with the release of middle linebacker Rolando McClain, the eighth pick of the 2010 draft.
Stat To Feel Good About
69.6. The Raiders were ninth in the league in third-and-1 conversions, at 69.6 percent. They finished just 10.1 percentage points behind New England, the league leader. They were 10 of 15 rushing and 6 of 8 passing.
If It Ain't Broke
Sebastian Janikowski was 31 of 34 on field goals, including 31 of 31 from 49 yards or closer. No other kicker with at least 30 made attempts was perfect from under 50 yards. Not that this should come as a surprise. Janikowski has missed just nine attempts from 49 yards or closer over the past five seasons. (He has 15 misses from beyond that distance during that time.) Along with punter Shane Lechler, an unrestricted free agent, he has been the rock of the Raiders' special teams for more than a decade.
Troubling Stat
25. The total number of sacks the Raiders compiled was particularly troubling because Oakland lacked strong coverage players in the secondary. No one player had more than four sacks.
Must Fix It
There's no quick fix available for two reasons: First, the Raiders have salary-cap problems; and second, pass rush and coverage work hand in hand, and the defense is deficient in both areas. Four of the team's top six defensive backs from last season are unrestricted free agents, and there isn't a true No. 1 corner on the roster. McKenzie should trade the third pick in the draft for more selections, then use a high pick on the best available cornerback. They also need to re-sign Bryant, Carter, Shaughnessy and Wheeler, who can help to fill the void until more pieces can be added in the future.
More On The To-Do List
1. Change the offense. If the plan is to keep running back Darren McFadden, who is in the final year of his contract, then switch back to the power-blocking scheme in which he flourished, rather than maintain the zone-blocking scheme under which he averaged 3.3 yards a carry, the fewest by a Raiders back (minimum 150 carries) in franchise history.
2. Improve the secondary. With a top-five pick, the Raiders have an opportunity to find a quality cornerback high in the draft. They also should find another corner in free agency who at least could play in the nickel. Finally, they should return Michael Huff from corner to safety, his natural position.
3. Sign a wide receiver in free agency. It's embarrassing that Oakland has not had a 1,000-yard wideout since 2005. Palmer needs a dependable pro he can count on, not players who are going to bust routes, or be at 15 yards when they're supposed to be at 12, or who drop balls that hit them between the numbers on the front of their jerseys.
What We'll Be Saying In July
That despite being improved from a personnel standpoint, the Raiders won't make dramatic improvements in the win-loss columns. They have too much work to do and not enough salary-cap space or experienced leaders to make a dramatic change.
McKenzie's background is to build teams through the draft, so don't be surprised if he moves McFadden if a team offers multiple draft picks, including a first or a second. McKenzie knows today's game revolves around quarterback play and passing attacks, and the fact that McFadden has never played a full season because of injuries since entering the league in 2008 will make Oakland hesitate to dole out a big contract extension.
By dealing McFadden and the No. 3 pick, McKenzie could put in place the foundation for seasons to come. But such a move comes with significant risk. Owners aren't known to be patient, and even though Mark Davis knew the Raiders were in a tough spot from the years of overspending his late father, Al Davis, committed in his final years with the franchise, another four-win season might sap what little patience he has left.
SEE ALL OF SI.COM'S OFFSEASON PREVIEWS