Minnesota Vikings 2013 Offseason Preview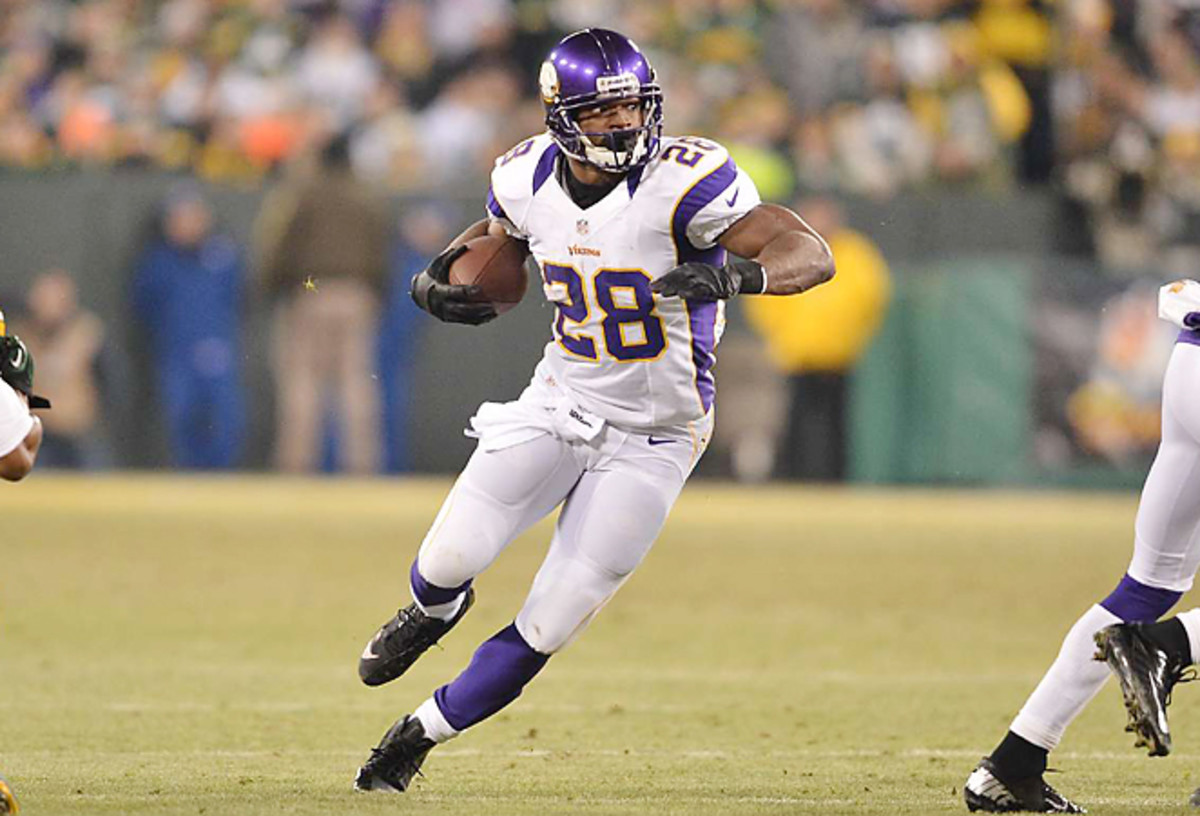 SI.com is laying out offseason road maps for all 32 teams as they start their journey for the Lombardi Trophy -- two teams per day, from the teams that need the most work to contend in 2013 to the ones that are in pretty good shape. See them all.
2012 Record: 10-6 Key Pending Free Agents:Devin Aromashodu, WR; Jasper Brinkley, LB; Jerome Felton, FB; Erin Henderson, LB; Phil Loadholt, OT; Jamarca Sanfor, S; Jerome Simpson, WR List of Draft Picks (pending compensatory picks): 1 (23), 2 (54), 3 (85), 4 (101), 4 (119), 5 (150), 7 (199), 7 (215) Available Cap Space: $12.3 million GM/Coaching moves made (if any): Hired Jeff Howard to replace Cam Turner as assistant to the head coach.
2012 Season Recap
Thanks mainly to an MVP season from running back Adrian Peterson, the Minnesota Vikings orchestrated one of the league's better recent turnarounds, flipping a 3-13 mark in 2011 into a 10-6 record and a playoff berth in 2012.
The Vikings' regular season essentially split into three parts: a surprising start, a mid-year slide and a finishing hot streak. Minnesota opened 4-1, notching wins over Jacksonville, San Francisco, Tennessee and at Detroit. But the Vikings then dropped five of their next seven to fall to 6-6, putting their playoff hopes in serious jeopardy. But they ended the season on an impressive four-game win streak -- Minnesota knocked off Chicago and Green Bay at home, while downing St. Louis and eventual AFC North champ Houston on the road.
However, a thrilling 37-34 victory over the Packers in Week 17 came at a cost. In the process, quarterback Christian Ponder dinged up his shoulder, an injury that forced the Vikings to turn to seldom-used backup Joe Webb in a playoff rematch with Green Bay. Webb struggled mightily, and the Packers cruised to a 24-10 victory.
Stat To Feel Good About
5.4. Minnesota's yards-per-rushing-attempt average in 2012, best in the NFL.
If It Ain't Broke...
Peterson's jaw-dropping 2,097-yard season, which carried a 6.0 yards-per-attempt average, certainly led the way. For as great as Peterson was, however, the Vikings' offensive line deserves a boatload of credit, too.
Rookie left tackle Matt Kalil was everything the Vikings hoped he would be, and more. He, right tackle Phil Loadholt, left guard Charlie Johnson and center John Sullivan all played almost every snap on offense in 2012, giving Minnesota enviable continuity up front. Loadholt, a pending UFA, might be the player Minnesota most needs to re-sign.
Troubling Stat
7.5. The percentage of Christian Ponder's pass attempts that went deeper than 20 yards in the air, lowest in the league.
Must Fix It ...
How much of Minnesota's issues throwing the football fall on Ponder? There's little question that Ponder must continue to grow if the Vikings' offense is to ascend any higher in 2013. Ponder certainly took steps forward from a dismal 2011, but he attempted just 36 passes of 20 yards or longer during the regular season, completing only eight. Plain and simple, Ponder must find a stronger comfort zone when looking downfield.
Minnesota, though, needs to provide him with a few more options, as well -- and that's doubly true if the franchise opts to trade disgruntled wide receiver Percy Harvin. Jarius Wright showed a little promise as a deep threat, but he was the only receiver to make a catch of longer than 50 yards all year.
Considering the cap money the Vikings have at their disposal, taking a run at Dwayne Bowe or Mike Wallace might make sense. Even aging former Packer Greg Jennings at least would provide Ponder another proven target.
More On The To-Do List
1. Find some depth at linebacker. Both starting middle linebacker Jasper Brinkley and starting weakside linebacker Erin Henderson are on the verge of unrestricted free agency. The Vikings should try to upgrade from Brinkley, and Henderson sounds as if he may want to test the market. Even if both guys wind up re-signing, there is not much useable depth here.
2. Give Peterson and Ponder a little help, in the form of new wide receivers. Continuing the discussion from above ... the Vikings had maybe the least intimidating group of receivers in the league when Harvin was out of the lineup. If he forces the Vikings' hand into a trade, a bad situation becomes even worse. Minnesota probably will have to use both the draft and free agency to bulk up its receiver spots -- and it must find at least one or two more home-run threats to pair with Peterson.
3. Upgrade at defensive tackle. Letron Guion was serviceable at best as Minnesota's nose tackle, while 32-year-old Kevin Williams clearly is on the downside of his career. Fred Evans did provide Minnesota some helpful depth, but he doesn't necessarily pass the eye test as a starter, either. So, the Vikings need to start restocking up front on D -- and a deep draft might provide the necessary opportunity to do so.
What We'll Be Saying In July
"How could the Vikings have traded Percy Harvin?"
OK, OK, nothing's set in stone regarding Harvin's future and all we have for the moment is speculation. Still, if Minnesota opts to deal away one of the game's most electrifying players (when healthy), it will put more pressure on any new faces at receiver, plus crank up the need for guys like Wright and Greg Childs to develop in a hurry.
All eyes will be on the quarterback position, to see if Ponder appears ready to take the next step. The defense also will warrant plenty of attention -- the Vikings could have new starters in place at all three levels (line, linebackers, secondary) on that side of the ball.
The reality of Minnesota's situation is this: Despite Peterson's presence, this team likely will slide under the radar in its own division again, as the focus mainly falls on Green Bay and Detroit. That lack of attention worked to the Vikings' benefit last season, but will they be able to sneak up on people again?
SEE ALL OF SI.COM'S OFFSEASON PREVIEWS