St. Louis Rams 2013 Offseason Preview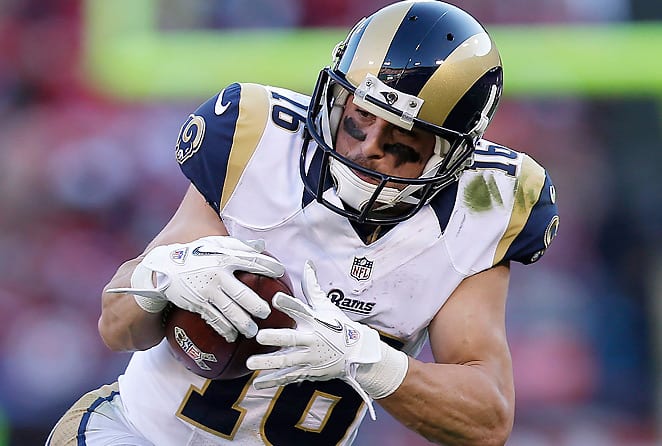 SI.com is laying out offseason road maps for all 32 teams as they start their journey for the Lombardi Trophy -- two teams per day, from the teams that need the most work to contend in 2013 to the ones that are in pretty good shape. See them all.
2012 Record: 7-8-1 Key Pending Free Agents:Steven Jackson, RB); Danny Amendola, WR; William Hayes, DE; Brandon Gibson, WR; Barry Richardson, OT; Craig Dahl, S. List of Draft Picks (pending compensatory picks): 1 (16), 1 (22), 2 (46), 3 (78), 4 (110), 5 (142), 6 (174), 7 (206). Available Cap Space: About $1.5 million over the cap, but some anticipated cap moves to make should put them roughly $10 million under by the time free agency opens on March 12. GM/Coaching Moves: Hired Detroit defensive backs coach Tim Walton as defensive coordinator, filling a role that was jointly handled last season, in the wake of Gregg Williams' one-year league suspension.
2012 Season Recap
After winning just three or fewer games in four of the previous five years, the Rams took a major step to respectability in 2012, finishing a half game under .500 in the first season of the Jeff Fisher-Les Snead era. The Rams played almost everyone tough last season, and yet were still only 3-6-1 and struggling mightily to score points through 10 games. But a 4-2 run to close the season changed the outlook of the season, with St. Louis averaging nearly 24 points over that span, while holding four of six opponents to 17 points or less.
The best news was how the Rams fared in their own division, going 4-1-1 in the NFC West, including a 1-0-1 mark against the eventual conference champion 49ers">49ers, and 1-1 against the 11-5 playoff-qualifying Seahawks. St. Louis had success against San Francisco and Seattle because its young, feisty defense matched the physicality of the 49ers and Seahawks defenses, and Fisher's aggressive approach imbued the Rams with confidence and competitiveness.
Another positive from last season was the resurgence by third-year quarterback Sam Bradford, who shook off the disappointment and injuries of his 2011 to post his best overall performance so far: 21 touchdowns, 3,702 yards, with just 13 interceptions and a 59.5 completion percentage. Bradford didn't have enough weapons at his disposal, but he played well under offensive coordinator Brian Schottenheimer's guidance (his third coordinator in three NFL seasons) and put to rest any concerns that his strong rookie showing in 2010 was a fluke.
Stat To Feel Good About
52. The Rams' sack total on defense. That tied Denver for the league lead, the first time St. Louis has set the pace in that department since tying Jacksonville for top honors in sacks during its Super Bowl season of 1999.
If It Ain't Broke ...
The Rams have something pretty good building on defense, and they figure to return nine starters on that side of the ball in 2013, with the exceptions being trying to upgrade from Rocky McIntosh at strongside linebacker and Craig Dahl at strong safety.
The defensive line in particular has impressive potential, with ends Chris Long and Robert Quinn and tackle Michael Brockers anchoring a formidable unit by the second half of last season. All three are first-round picks, and they played up to their pedigree last year, combining for exactly half (26) of the Rams' 52 sacks.
Troubling Stat
5. The number of Brandon Gibson's team-leading touchdown receptions in 2012.
Must Fix It
The Rams simply have to get more explosive on offense, finding playmakers who can pick up yardage in chunks, help the unit pull its fair share of the weight and not ask too much of a promising young defense. St. Louis didn't have any pass catchers with even 700 receiving yards last season, and only rookie Chris Givens stretched the field with any consistency (averaging 16.6 yards on 42 catches). That's no way to win in today's NFL.
Second-round pick Brian Quick needs to make a significant year-two improvement after a low-impact rookie season, and larger contributions are also needed from second-year running back Isaiah Pead and third-year tight end Lance Kendricks. The Rams need to increase their big-play threat level at receiver, tight end and running back in order to continue to compete with the offenses San Francisco and Seattle have in the NFC West.
The Rams would love to re-sign veteran possession receiver Danny Amendola, especially since he's Bradford's security blanket. But given Amendola's issues staying healthy (20 missed games the past two seasons), St. Louis won't over-pay to do so. It's probably going to be a case of the Rams letting Amendola hit the market to see what his value is, then seeing if they can compete with any offer(s) he elicits.
If St. Louis does lose Amendola, it doesn't mean they're going to be in the chase for a big-name, big-money free agent receiver like Greg Jennings or Dwayne Bowe. That's not in the plan for the Rams, who consider Jennings an injury risk himself after his 2012 season, and like many teams are wary of Bowe's decreased effort level after he earns a big payday. Receiver should get some attention in the draft, but the Rams are high on Quick and Givens, and won't reach for the sake of need. St. Louis added ex-Lions malcontent receiver Titus Young after claiming him off waivers earlier this month, but released him last week in a move that shows they're willing to admit mistakes and keep searching for upgrades.
More On The To-Do List
1. Transition away from a Steven Jackson-centric offense. Jackson has the ability to void his contract and become a free agent, and he's expected to do so before the March 12 deadline. The Rams are fine with that, because there's no way he was going to see the $7 million he was owed this year any way. St. Louis still has a role for Jackson at a significantly reduced salary, but if he gets a better offer elsewhere the Rams aren't going to stretch to keep him. They don't want Jackson to leave, but they won't spend big on a player who hasn't been the difference between winning and losing in recent years and is getting up there in age at a physically demanding position.
If Jackson exits, the Rams could consider drafting a running back to complement 2012 second-round pick Isaiah Pead and Daryl Richardson, both of whom will be counted on for larger roles this season.
2. Find another tight end. It's a two tight-end world in the NFL, and the Rams need to join the crowd. They were happy with the way Kendricks ended his second season, but this is a deep draft at the position, and a playmaker like Stanford's Zach Ertz or Notre Dame's Tyler Eifert would help make Bradford and the offense much more dangerous. In free agency, there could be viable upgrade options as well. Tennessee's Jared Cook once played for Jeff Fisher and might welcome a reunion (if he's not franchised by the Titans). The same could be said for Jets veteran Dustin Keller, who had his best seasons in New York under current Rams offensive coordinator Brian Schottenheimer.
3. Draft or sign a right offensive tackle.Barry Richardson was the starter last season, but he's a free agent and the Rams think they can do better. If one of the premier left tackles in this year's draft fell to them at No. 16 (Central Michigan's Eric Fisher or Oklahoma's Lane Johnson), St. Louis would consider taking him and then shifting Rodger Saffold to right tackle, upgrading both positions with one move.
What We'll Be Saying In July
The Rams had a strong first draft under Snead's direction in 2012, and they're in great position to build on that momentum this spring. St. Louis owns an NFL-high four of the top 78 picks, with two first-rounders (16 and 22) thanks to owning Washington's selection as a result of the blockbuster Robert Griffin III trade.
St. Louis has needs that match up well with the strengths of this year's draft pool. The Rams will be scouting safeties, offensive linemen, tight ends, outside linebackers and receivers, all of which are in relative abundance. If they can identify and acquire three or four starters in their eight-man draft class, the Rams will be well on their way to contending for a playoff berth in 2013.
With the possible exception of Amendola, St. Louis shouldn't suffer any free agency losses that will be deemed too significant. The Rams don't have an abundance of cap room to add to their roster, but they can afford to focus like a laser on improving their offense, because things are fairly well set on the defensive side of the ball, especially in the front seven.
If Bradford gets a few more playmakers to target in the passing game, and benefits from having the same coordinator two consecutive years for the first time in his four-season NFL career, the young and ascending Rams will likely enter training camp as a popular pick to return to the playoffs for the first time since 2004.
SEE ALL OF SI.COM'S OFFSEASON PREVIEWS