Cincinnati Bengals 2013 Offseason Preview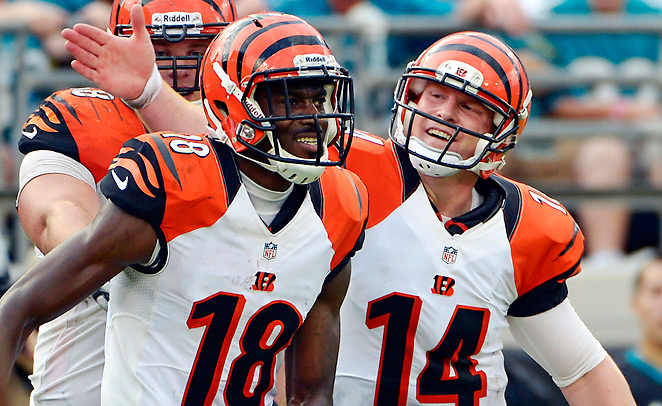 SI.com is laying out offseason road maps for all 32 teams as they start their journey for the Lombardi Trophy -- two teams per day, from the teams that need the most work to contend in 2013 to the ones that are in pretty good shape. See them all.
2012 Record: 10-6 Key Pending Free Agents:Michael Johnson, DE; Andre Smith, OT; Bernard Scott, RT; Andre Hawkins, WR; Rey Maualuga, LB; Manny Lawson, LB; Terence Newman, CB; Adam Jones, CB; Chris Crocker, S List of Draft Picks (pending compensatory picks): 1 (21), 2 (37), 2 (53), 3 (84), 4 (115), 5 (149), 6 (180) Available Cap Space: $53 million GM/Coaching Moves: Promoted Hue Jackson to RB coach; hired Adam Zimmer, son of DC Mike Zimmer, as assistant DB coach.
2012 Season Recap
The Bengals had an opportunity to make a statement against the Ravens in primetime to open the season, but the eventual champions blew out Cincy 44-13. The loss seemed to kill any notion Cincinnati was going to emerge from its unexpected 2011 playoff run as the team to beat in the division. Fortunately for the Bengals, though, their early-season schedule -- loaded with inexperienced quarterbacks -- allowed them to recover and win the next three over Cleveland, Washington and Jacksonville.
That's when things got ugly in the Queen City. The Bengals dropped four straight close games to Miami, Cleveland, Pittsburgh and Denver. They established a clear pattern early in the season -- get off to a fast start and then commit costly mistakes late in games. Cincy's defense, which entered the season with a lot of hype after finishing seventh in total defense in '11, wasn't able to protect leads. Quarterback Andy Dalton established great chemistry with second-year receiver A.J. Green. He just wasn't able to find a reliable second target, and the running game wasn't consistent enough to help.
The Bengals were sitting at 3-5 with the Giants heading to town and seemed out of contention when suddenly they came together on both sides of the ball. Dalton threw TDs to four receivers in a 31-13 confidence-boosting win. The defense hit its stride in the second half of the season and running back Benjarvus Green-Ellis recovered from a slow start. Cincinnati won four of its next five to set up a Week 16 showdown with Pittsburgh for a wild-card berth. Finally, the Bengals got revenge on a division rival that had owned them for years with a dramatic 13-10 win at Heinz Field. Josh Brown hit the game-winning field goal with four seconds left to clinch the franchise's first back-to-back playoff appearances since 1981-82. The Bengals never recovered from a terrible start in their wild-card matchup with Houston, being bounced in the playoffs' first round for the second year in a row.
The biggest criticism of the '11 team was a soft schedule. The Bengals' once again faced several bad teams in 2012, but they did take a major step by beating Baltimore (in Week 17) and Pittsburgh. Although they failed to win a playoff game once again, the Bengals gave their fans reason to be excited about how young their nucleus is. Dalton, 25, threw for 3,669 yards and 27 TDs. Green, 24, had 97 catches for 1,350 yards and 11 TDs. Defensive tackle Geno Atkins, 24, registered 12.5 sacks and was in the discussion for Defensive Player of the Year.
Stat To Feel Good About
6. The Bengals' rank in overall defense in 2012 -- a number that steadily climbed throughout the season after some rough early outings.
If It Ain't Broke ...
Mike Zimmer's defense proved it could win games for the Bengals in 2012. Fortunately, he doesn't seem to be a great interview since he hasn't landed a head coaching job despite being considered a top candidate over the last few offseasons. Give Zimmer credit for developing undervalued players, like undrafted rookie linebacker Vontaze Burfict, who was very good starting 14 games after an epic fall from grace at the end of his college career. Zimmer will have a chance to work with new players in '13 since the team could experience major turnover at linebacker and in the secondary.
Troubling Stat
27.54. The percentage of third- and fourth-down plays Dalton dropped back to pass that resulted in a first down -- second lowest in the NFL, per Pro Football Focus.
Must Fix It
The Bengals need to sign a free-agent wide receiver who threatens defenses down the field. Opponents are going to double-team Green, but with no other vertical options, other defensive backs sit on shorter routes. That's one of the reasons Dalton is ineffective on third down. The top free agents will be overpriced, and the Bengals have drafted well enough in recent years to not have to spend recklessly on a No. 2 receiver. They can go a level down for a veteran with speed, like former Bengal Jerome Simpson. Simpson was a more effective complement to Green when he was in Cincy than anyone the Bengals had last season.
More On The To-Do List
1. Shore up the offensive line. Dalton was sacked 46 times -- third worst in the NFL -- and a big chunk of the blame is on the line.Smith is an excellent right tackle and worth keeping. The franchise tag is an option, although they may use that on Johnson. If Smith cashes in elsewhere, this year's free-agent crop is rich in tackles, so don't be surprised if they draft an offensive lineman early.
2. Draft a linebacker. Cincy likely won't re-sign Maualuga and may not bring back linebackers Lawson or Thomas Howard. They have two second-round picks and could look closely at Manti Te'o or Alec Ogletree if either fall because of off-field problems. We all know the Bengals are comfortable ignoring character issues.
3. Add some punch to the running game. The Bengals ranked 18th in the NFL in rushing and could lose backup Bernard Scott. They'll bring back Green-Ellis, but they need an explosive pass-catching back. Some mock drafters have penciled in Alabama's Eddie Lacy in the first round. But Cincy may get more value by going with North Carolina's Giovanni Bernard, Florida's Mike Gillislee or Clemson's Andre Ellington further down.
What We'll Be Saying In July
The Bengals ended the season on a sour note, and plenty of experts believe they only reached the postseason because of their schedule. But that could be built-in cynicism toward this franchise. The days of cutting corners on scouting seem to be over. Cincinnati has drafted well and has a great young nucleus. The Bengals don't have to overspend on big-ticket free agents this summer and will be able to roll over cap space for next season. The Bengals are actually building a winner the old-fashioned way ... taking baby steps toward the next level.
The Bengals will have a chance to prove they can beat good teams in '13. They face New England, Green Bay, Indianapolis and Minnesota at home in addition to what could be a tougher divisional slate as the Browns mature. Reaching the postseason in consecutive years was an impressive achievement considering the age of the roster. Now the expectations are higher and winning a playoff game is a realistic goal.
SEE ALL OF SI.COM'S OFFSEASON PREVIEWS