More on Tom Brady's amazing deal; mail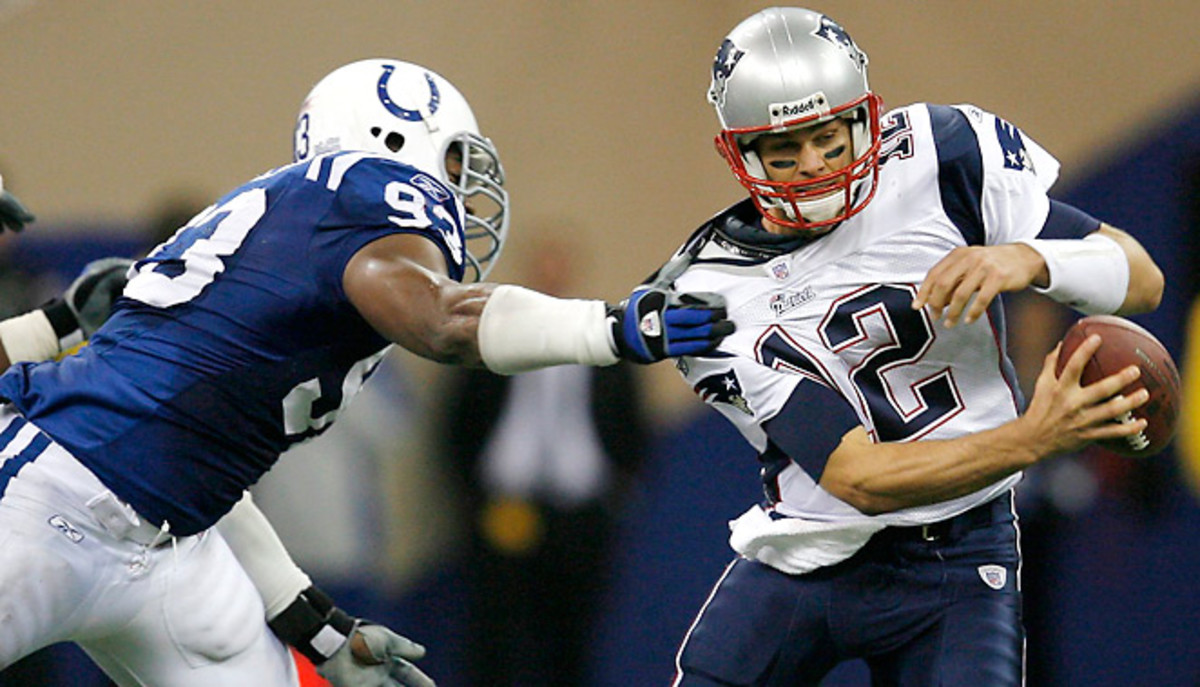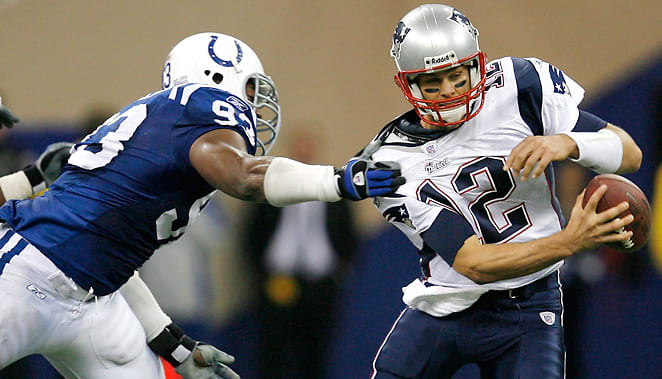 Picking up the pieces from the surprising three-year, $27 million Tom Brady contract extension:
1. How it happened. Credit Patriots owner Robert Kraft and his son, president Jonathan Kraft, for engineering it. The elder Kraft said to his son after the season that the club had to figure out a way to make Brady a Patriot for life, and to be sure he didn't have an unceremonious end to his career, elsewhere, the way so many aging stars have had. And it wouldn't hurt that, in the process, the Patriots could save significantly on the tight salary cap. The Pats thought they'd have a willing partner in Brady, and they were right.
2. The guarantees. Brady had the next two years of his contract, essentially, guaranteed, meaning the Patriots will pay him $33 million in the next two years. The breakdown: $14.5 million a year in salary and roster bonus per year, $500,000 per year in workout bonus, a $3 million signing bonus for the last three years of the deal. Much has been made of the fact that Brady did get a lot more in this deal than just a $27 milion extension; he got all this guaranteed money. So what? It's not like New England's cutting Brady until -- at the absolute earliest -- 2016, unless he suffers a catastrophic injury. There's always mania around the NFL when you discuss guaranteed money, but it's moot to think the Patriots for any reason wouldn't have Brady on their team over the next three years at least, unless of course there is a career-ending injury. And if there is, Brady should be paid anyway.
3. Future money. Brady has signed two long-term renegotiations since he won his three Super Bowls -- in 2005 and 2010. The first was for six years and $60 million, about 30 percent below market for franchise quarterbacks at the time. The Patriots did do one re-working of this contract -- converting $5.3 million of base salary into a bonus for cap purposes in May 2007 -- but did not add any new money to the contract until the last year of it. In that year, the sixth and final year of that first deal, New England added a four-year, $72 million extension, market value for a premier player, that would run through 2014. That's the contract that was extended Monday. Pro Football Talk's Mike Florio speculated Monday that there's no way Brady will ever play the last three years of the deal without a bump in salary. Florio could be right -- in fact, it's likely that he is, if he plays like Tom Brady -- but I don't believe it's certain. History with Brady shows they might adjust his deal. However, they're not likely to revolutionize it.
4. The role of the agent. It's likely you don't know Don Yee. He's been an agent for more than two decades, and a very reputable one. Already, I hear the whispers and the charges that Yee made a bad deal; what in God's name is he doing signing Brady for such a relative pittance? I'll tell you why. Because he's working for Brady, and he does what Brady wants him to do. Will the contract be used against Yee by his peers if they ever compete for a player? Absolutely. But the thing I have admired about Yee is that he doesn't care what other people think. He cares about what his client thinks. And Brady clearly was on board for doing a sub-market deal if it meant the Patriots could be bigger players in free agency than they'd been scheduled to be. If Brady asked Yee to get him every last dime from New England, that's what Yee would have done. But he wanted to do something to help the team, and Yee, working with the Krafts, got it done the way Brady wanted. Regardless what the outside world thinks, Yee did the best job for his player. Which is why Brady has Yee for his representative.
5. Targets. I don't know if Brady has told the Patriots he really wants them to re-sign free agent wideout Wes Welker, through I suspect he has made it known he wants Welker to stay, badly. The most sensible things New England can do, in order, I believe, are: signing free agent defensive end Dwight Freeney, re-signing Welker, re-signing Aqib Talib, pursuing one of the top-shelf receivers, but not for a ransom, re-signing tackle Sebastian Vollmer, and, if the money is low, signing safety Ed Reed. If they get three of those done, it'll be a great free agency season for the Patriots. Why Freeney? Because he desperately wants to contend again, at 33, and show the Colts and the world he's still a premier pass rusher. Which, in flashes, he certainly still can be.
GALLERY: Rare Tom Brady photos
***
A column note: I said I'd be writing about Freeney and Luke Kuechly today, but the Patriots story interceded. You'll read about both of them next week in Monday Morning Quarterback. Sorry for putting it off.
***
Now for your email:
MAYBE I DID MISS THE POINT, BUT I DON'T THINK SO. "I think you're missing the point of the Mike Silver anonymous coach deal: that coach thought it was crazy too. He was making the point that it was absurd. Also, you are undervaluing the heart of the Te'o catfish concern. Te'o is being drafted as a first-round core of the D. Teams are handing this guy the keys and expect him to lead. They would rightly consider whether the guy had a history DUIs or abuse. But they would also rightly consider whether the guy they were going to run their D is a rube and not the leader of men he is purported to be. The scandal shows he's a gullible idiot, and he lied to protect himself. Worse still, no one from his team came to his defense. You didn't hear a peep from former players. Instead, you heard veiled comments that lead me to believe people thought Te'o was a weird and selfish guy who enjoyed the limelight. You think Marcus Lattimore's or Manziel's teammates would have hidden if this happened to him? No chance. It reflects poorly on his character anddeserves inquiry.
Teams have the responsibility to find out whether the guy who will hold their jersey up on draft night is the talented guy on the field and off-field hero the media created, or the doltish rube who's dulled veneer was only shiny because of the national Notre Dame attention and equally doltish media obsession with creating false idols. They have to find out who he is. Maybe it's not a DUI, but it ain't nothing.''
-- Alan, New York City
You're absolutely right. It's an issue. It must be explored, and not just the issue itself but whether he's too naïve to fit in with his teammates and fit as the nerve center of a defense. I took what the coach said as this: He thought a rube player who lied out of embarrassment for what had happened would have a tougher time at the combine and in getting teams to believe in him than would a serial law-breaker with substance issues.
I'VE GOT ONE. "Who do you think might be a winner of this year's 'Where the hell did he come from?' award in this year's draft - a guy from a later round who just shocks the league with what he does? Russell Wilson earned that award in 2012.''
-- Alex Vincent, Hayward, Cal.
Syracuse quarterback Ryan Nassib. Could go low second round and stun the world.
THE PLANS OF THE CHIEFS. "First off, love the column and have for a long time. Now my question: You say the Chiefs should dump Branden Albert and draft Luke Joeckel at number one (and many mocks have that as well). Let me ask you about that this way. If Luke Joeckel was currently a rookie on another team and had not played in an NFL game yet, would you trade Albert and your number one in the first for him? I can't believe anyone (especially GMs/coaches) would say 'Sure I'd make that trade!' I understand saving money, but I just don't see where it makes much sense past that in getting the most value with the pick.''
-- John Walden, Topeka, Kans.
I look at it this way: Do I want to pay Albert $10 million a year, which will be the going rate for left tackles, when I don't totally believe in him? Or do I want to pick a player I trust more at a position of vital importance, and spend the $4.5 million a year that I save in the process (the top pick in the draft will cost about $5.5 million a year) to go get another player in free agency -- maybe a safety to team with Eric Berry, someone like William Moore of the Falcons or Jairus Byrd of Buffalo?
SEE ALL OF SI.COM'S OFFSEASON PREVIEWS