With Dumervil deal, sky isn't falling in Baltimore after all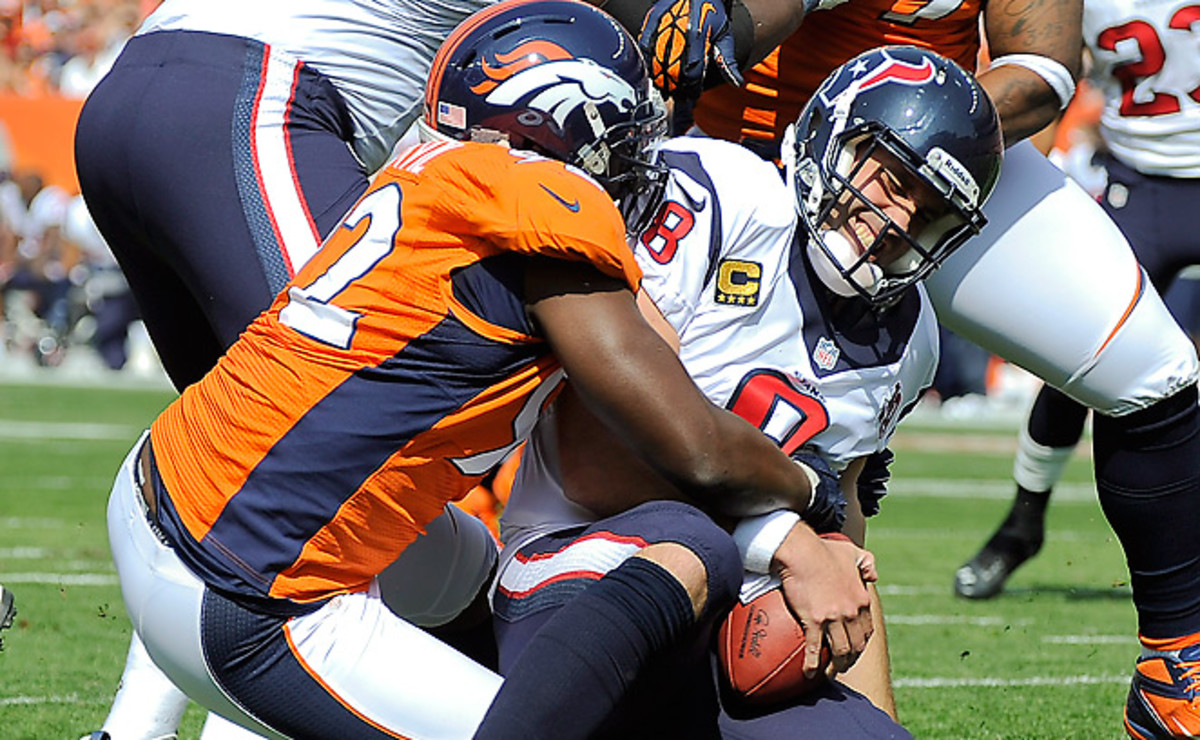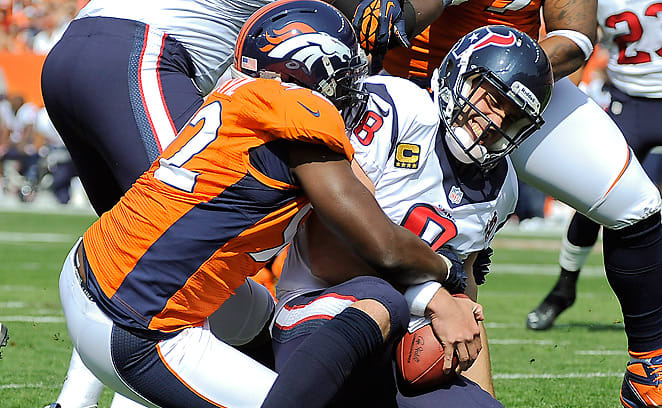 Revenge is best served cold, but this is ridiculous. It took 30 years for Baltimore to finally get revenge on John Elway.
Thirty years next month, the Baltimore Colts drafted Elway with the first pick in the NFL Draft. Elway didn't want to play for taskmaster head coach Frank Kush, and so his agent, Marvin Demoff, went about the work of trying to create an alternate market for Elway, both in baseball and in the NFL. Elway was a great baseball prospect too, having played a minor-league season with the Yankees' Rookie League team in 1982. Owner George Steinbrenner loved Elway and projected him to be a starting outfielder for the Yankees by 1985. The Colts got the message and felt the leverage. Baltimore traded Elway to Denver a week after the draft, but the eventual compensation (Mark Herrmann, Chris Hinton and Ron Solt) wasn't close to the dividends Elway paid Denver.
It's tough to equate -- no, not tough; impossible -- Baltimore losing Elway to, 30 years later, Baltimore stealing one of Denver president Elway's 10 most important players. But in 2013, to Ravens fans, it'll do. In Baltimore, Elvis is about to enter the building.
***
See? Never judge an offseason before, you know, the season.
In the seven weeks since Baltimore won the Super Bowl, that's the lesson we've learned about the defending champs. First the Ravens had the Ray Lewis retirement, then the Anquan Boldin debacle, then the loss of Paul Kruger and Dannell Ellerbe in free agency, then the staredown with -- and loss of -- Ed Reed (which they really didn't mind), then the Thursday night opener mess ... and then late Sunday afternoon, pilfering pass rusher Elvis Dumervil from Denver.
It's really been a wacky time. But let's work in reverse here.
Let's go back 10 days, to Faxgate, when Dumervil's contract with Denver was annulled because he got the reworked deal faxed back to Denver 15 minutes after the deadline for the deal. OK, if he got the deal in on time, it would have been approved. But I've thought since that day -- and it's certainly something Dumervil believed -- that if the Broncos really wanted Dumervil back, they'd have been aggressively pursuing him to get the paperwork back before the deadline, particularly when they saw the minutes ticking down to the wire. Dumervil exited that process feeling like the Broncos didn't want him, and feeling unhappy anyway because the team was cutting his 2012 pay from $12 million to $8 million.
So Dumervil switched agents from the relatively unknown Marty Magid to the power agents of the league, Creative Artists Agency, with Tom Condon, Ben Dogra and Jimmy Sexton leading the way. Dogra has an apt name. He's dogged. Condon doesn't leave money on the table. When they took over, I believe they went all out to find a team that would pay Dumervil more money in year one than Denver would. Denver, I'm told, offered Dumervil the same in total cash in 2013 as it had before the fax foulup, $8 million. So CAA went off to do better. I am also told Dumervil did not want to go back to Denver if he could find some team that would pay him more in 2013 ... even one dime more. Baltimore did it. With some of the cap savings from letting Kruger, Ellerbe and Reed walk, here's the breakdown of the deal the Ravens reached to sign Dumervil:
The deal: five years, $26 million, with a max value with incentives of $35 million.
Signing bonus: $7.5 million.
2013 salary: $1 million.
2013 total money: $8.5 million.
There you have it. Dumervil will make $500,000 more in Baltimore this year than he would have in Denver.
One more side note here: In 2009, Dumervil, under new linebacker coach Wink Martindale in Denver, played outside linebacker and had his best season as a pro, winning the NFL sack title with 17.
Dumervil's sure to play outside 'backer in Baltimore. One of the linebacker coaches with the Ravens is Wink Martindale.
Coffee tastes a little better this morning, doesn't it, Raven Nation?
BURKE: Dumervil signing another Ozzie Newsome masterstroke
***
By mid-afternoon Sunday, it wasn't looking like such a hot week for Baltimore.
According to the Elias Sports Bureau, no Super Bowl winner lost more than five starting players from its championship team the next season -- until this year. Reed leaving for Houston on Friday marked the eighth player defection, trade or retirement since the Ravens won the Lombardi Trophy. Reed didn't play like a $5 million player last season, which is what the Texans are paying him, and he'll be 35 in September. It was time to move on from Ray Lewis. The expected return of Lardarius Webb from injury negates the loss of Cary Williams at corner. And paying $9 million a year for Kruger, a good but not great pass rusher, or $8 million for Ellerbe (lifetime starts: 14) would have created potentially untenable salary problems in the future. (Don't ask me to defend not paying Boldin $6 million for one year. I can't.) I believe most of GM Ozzie Newsome's decisions, eventually, will be proven correct. Teams that don't spend in the first two weeks of free agency are never applauded.
And now the Ravens won't open the season at home, the first time in a decade the Super Bowl champ hasn't opened in its home stadium, because of a conflict with an Orioles-White Sox game at 7 p.m. that day in Oriole Park at Camden Yards, a few Joe Flacco spirals from M&T Bank Stadium, where the Ravens play. Looking at the issues involved:
The logistics don't work to play both baseball and football games in downtown Baltimore close together. I'm hearing that there was some sentiment to play the baseball game at 4 p.m. and the football game at 9, but because of shared parking lots and the amount of space needed to hold the downtown concert, the conflict would have been difficult. The city's not big enough to handle a baseball crowd exiting the area at, say, 7:15, with much of a football crowd already there, or trying to wedge in there. And a long game, rain delay or extra innings ... a nightmare.
Don't blame the Orioles. The Orioles and White Sox are scheduled to play their only series of the season in Baltimore beginning on Thursday, Sept. 5. Each team is on the road the previous night, Baltimore at Cleveland and Chicago at the Yankees. It sounds easy to say, "Make the baseball game start at noon." That's unfair to teams getting into town at 1 a.m. (or later), particularly with both teams in the midst of a six-month grind. The opening of the series falls in the middle of a 20-games-in-20-days stretch for each team. Now, the NFL proposed to the Orioles and to Major League Baseball that the Orioles and White Sox play a Saturday day-night doubleheader on Sept. 7. But what if it rained Friday or Saturday, causing a rainout, and what if either team, or both, was in a pennant race? Playing back-to-back doubleheaders then, or the White Sox having to return to Baltimore to play one or two games, was a non-starter.
Sunday night or Monday night was never an option. I'm told the league would have been amenable to the Ravens opening Sunday night or Monday night at home, but many of the same problems would have existed. The Orioles are home Sunday afternoon, and a rainout might have necessitated a doubleheader on Sunday. And the Orioles are home Monday night to the Yankees, and you can bet the Yankees would have howled about the moving of a Monday night game, for their TV audience in New York, to early Monday afternoon.
One final point that too few people don't understand when it comes to the scheduling of this game. Super Bowl champs like playing the Thursday game. It's a scheduling advantage -- a big one. Teams treat the fourth preseason game as a garbage game anyway, so after the third preseason, they're prepping for the first real game of the year. If that game happens on Thursday of Week 1, it gives teams a mini-bye before Week 2, 10 days to prepare for the second game and extra time for minor injuries to heal. The Ravens coaches clearly wanted the Thursday game on the road over a home game on Sunday or Monday of Week 1. And they're not the only ones. It was an open secret at the league meetings that New England would have favored being the Thursday night foe for Baltimore to open the season, giving the Patriots an edge headed into Week 2.
That won't happen now. So what will? Too early to call, but in order of likelihood (in no one's eyes but mine), it seems like this would be the toteboard for the Thursday night opener:
Most possible: Baltimore at Denver (rematch of the Rahim Moore Bowl, with the Dumervil drama an added twist).
Possible: Baltimore at Chicago (great city for the NFL to have the game), Baltimore at Pittsburgh (though I can tell you the Steelers would be shocked if the league sent the arch-rival Ravens to Heinz Field for the opener).
Less possible: Baltimore at Detroit (though a Flacco-Stafford matchup would be fun), Baltimore at Cincinnati (meh).
If I were Baltimore owner Steve Bisciotti, the one game I wouldn't want is the Denver rematch. Playing Peyton Manning at home in early September, in a week the weather has the best chance to be lovely and fit for a prolific passing game, and in a game the locals will be out for revenge, is not my idea of a good way to get off to a 1-0 start.
I had this thought when trying to figure out a way to solve this problem: Let the Ravens play away on the first Thursday on NBC, and let them play home on NFL Network in Week 2 on Thursday, to celebrate the Super Bowl in style at home. (It wouldn't be so unlike 2012, when the Giants played the first game at home, on a Wednesday because of the Democratic Convention, and then played in Week 3 on Thursday at Carolina.) Baltimore at Denver Week 1, Cleveland at Baltimore Week 2. Genius move! The Kissinger olive branch! Then I looked at the baseball schedule: Yankees at Orioles, Thursday, Sept. 12, 7 p.m. Curses. But I will say this: Is there any reason the fourth game of a four-game series, on getaway day for both teams, cannot be played at 1 p.m.? Other than local TV revenue lost from turning a midweek night game to day, it's a point worth considering, particularly if the NFL would reimburse the two teams for whatever loss of local TV revenue there'd be. And the Ravens wouldn't lose the edge of the mini-bye; it'd just come between Weeks 2 and 3 instead of Weeks 1 and 2.
The Ravens are upset, to put it mildly, about losing the chance to open on that Thursday at home. Any team would be. But it was apparent in reading the statements of both the Orioles and Ravens Friday that neither side wanted to start a firefight with the other. It's not deserving of a brawl, or for the fans of Baltimore to be bitter at the Orioles for not doing everything to make it happen. And if you're a Ravens fan, look on the bright side. The last time a Super Bowl champ didn't open at home was opening weekend 2003, when Tampa Bay traveled to Philadelphia on a Monday night to kick off the season -- and to play the first regular-season game in Lincoln Financial Field history. The final: Tampa Bay 17, Philadelphia 0.
Now for a tribute to two of the greats of our day.
Ed Reed left Baltimore for Houston. Brian Urlacher left Chicago, and would like to find a home so he could stick it to the Bears. But before we move on, let's remember a few things about both men.
On Reed. Games blur together over the years, but the time of Reed's life I recall distinctly is the interception streak he went on near the end of the 2008 season. You can look it up: In a seven-game span -- including the Wild Card playoff win at Miami -- Ed Reed intercepted two passes in each of five games. He had two each in four of the last six regular-season games, then two more at Miami. What's nearly as amazing is what an offensive player Reed became once he picked the ball off: He took those 10 interceptions in seven weeks back for 307 yards and two touchdowns. "Best ball-hawking safety of all time,'' Rodney Harrison is fond of calling him.
Now, at 35 he's not the player he was, but the Texans know that. In fact, he plummeted from the NFL's 12th-best safety in 2011 to 59th in 2012, according to safety rankings by ProFootballFocus.com. But Houston bought him to be Ed Reed, and to let Ed Reed rub off on good young players like J.J. Watt, Brian Cushing and Whitney Mercilus. Where I'd worry if I were the Texans: They could have kept a rising young safety, Glover Quin, if they'd committed to him instead of spending on Reed. They obviously think the intangibles of Reed's presence will help a team that's close to getting over the top. I'm not sure Reed has much left, but defensive coordinator Wade Phillips, the ultimate players' coach, will know how to get out of him what is left.
On Urlacher. Another man who will be 35 this season, and he'll have to scale down his salary demands to find a home -- or he won't play. He says he's working out and feeling better than he did last season, when a knee injury plagued him all year. I think he has a spot as a part-time playmaker on the inside, and maybe more. But he has to make financial concessions (a system of per-game roster bonuses is the smartest way to go, because you can't trust a 35-year-old linebacker to be out there every week) for anyone to trust him enough to sign him.
When I think of Urlacher, I'll always remember the 2006 Denny Green meltdown game in Arizona. You know, the "crown their ass!" game. Arizona was on the way to a major upset of the Bears on a Monday night, leading 23-3 late in the third quarter. On the next five series, Urlacher played linebacker as well as the position can be played. He stopped Cardinals back Edgerrin James for zero yards on a carry on one series, minus-one on a carry on the next series, minus-two on a carry on the next series, then stripped James on the next series, allowing Peanut Tillman to pick up the fumble and run it in for a 40-yard touchdown. That made it 23-17. Urlacher continued to stonewall James, stopping him on late carries for zero and minus-one yard, and the Bears won the game 24-23. A stunner. For the game, Urlacher had 19 tackles (five for loss), two passes deflected, a forced fumble and three quarterback hits.
These are two of the best defenders we've seen in this era. It doesn't always end well, but that shouldn't fog the vision of greatness that made them so fun to watch for a long time.
KING: Five teams, five different approaches to free agency
***
Mister Meester's got the right idea.
2000 Draft, 60th overall pick: Brad Meester, center/guard, Northern Iowa.
2000 Draft, 191st overall pick: Tom Brady, quarterback, Michigan.
Those are the only two position players from the 2000 NFL Draft still starting in the NFL as of this morning (and they haven't changed teams either), Brady at quarterback for the Patriots and Meester at center for the Jags.
Meester signed on for his 14th season in Jacksonville the other day, taking a pay cut from the $3 million he earned last year to $1.5 million in 2013. He said this about getting half of what he made last year as a starting player at 36: "No, it was not hard. That comes. That happens. I'm never going to complain about a pay cut. I have the opportunity to play the game I love, and I'm going to make a lot more money than most people out there, more than I could ever make doing whatever else. So no, I'm never going to complain about that. You've got to be thankful for what you get, and I'm very thankful for what they gave me.''
I spoke to Meester over the weekend, and asked him to explain why he is so grateful.
"We've got a new coach and new general manager,'' he said from his offseason home in Iowa. "I'm going to be 36 years old. They have decisions to make. I understand that. To offer me anything was a huge compliment. My situation is a lot different than a lot of guys who are asked to take less, so I don't sit in judgment on anyone else. For me, this is a great opportunity. I grew up on a small farm in Iowa. (In the NFL, some people make more in a year than he'd make in his lifetime working the farm.) I just think to complain about the money we make, with the economy and job market the way it is in this country, is not something I would ever do."
Watch out in Jacksonville, or there will be a run on Meester "63'' jerseys.
Quote of the Week I
"I don't think it's going to affect me at all. I rarely use the crown of my helmet. You really want to go in with your shoulder pads.''
-- Buffalo running back C.J. Spiller, talking to SiriusXM NFL Radio Sunday morning about the new rule that prohibits all players from striking opponents with the crown of their helmets outside the tackle box.
BANKS: Opponents of new helmet rule are missing the point
Quote of the Week II
"I like to think of myself as a regular guy, except I play football for a living. I try not to be an arrogant turd out there."
-- Chicago linebacker Brian Urlacher, to me, on Sept. 14, 2002, at age 24, the night before he was to face Michael Vick in a showdown in Atlanta between the hottest young linebacker in football and the most athletic young quarterback.
The Bears cut ties with Urlacher Wednesday. This era's Bears will not be the same without him. Not even close.
Quote of the Week III
"I've been real mum on talking too much about RGIII. He wants his recovery to be fairly private, but I can tell you he's way ahead of schedule. His recovery has been unbelievable so far. RGIII is one those superhumans. First patient I ever had like that was Bo Jackson. And recently I, of course, had Adrian Peterson, who is also superhuman.''
-- Dr. James Andrews, the surgeon who reconstructed Robert Griffin III's knee Jan. 9, to Stephania Bell of ESPN. I can see the Washington head coach, offensive coordinator and front office shaking its collective head over the expectations that quote will create.
Quote of the Week IV
"Jesus, what happened to you? Looking sharp, man."
-- New England coach Bill Belichick, upon seeing former Patriots beat man Ian Rapoport, now with NFL Network, at the league meetings. Rapoport was wearing his new work clothes, a gray business suit.
Quote of the Week V
"I know they got a great player. They got a great leader. They got a guy who'll be a perfect fit in their offense in a lot of ways. They'll realize that right away. He's just a strong receiver. He's a guy who's reliable, dependable. He's going to be there at every game, every practice. He's very solid. He's a playmaker."
-- Baltimore coach John Harbaugh, talking about wide receiver Anquan Boldin, who was traded by the Ravens to San Francisco for a sixth-round draft pick after being a big key to the Ravens' Super Bowl run.
Sounds like a player worth $6 million for the 2013 season, to some teams.
Stat of the Week
If the first couple of weeks of free agency have taught us anything, it's that the chalk isn't the chalk anymore. Running backs aren't getting paid. Old pass rushers aren't even getting one-year deals. Youth will be served, and it will have money thrown at it.
I'm going to show you three unexpected rich guys, and three guys who didn't make nearly what I thought they would. I'm going to show you how much these six players will earn in the first two years of their contracts -- because, after all, NFL contracts, after the guarantees are over, aren't worth the paper they're printed on.
BURKE: Smartest, stupidest contracts in free agency
Stat of the Week II
One reason women's college basketball still struggles for acceptance in the sporting society: It's just not nearly as competitive beyond the top few teams as it needs to be to get the average sports fan interested.
On Saturday and Sunday, 16 teams seeded either 1, 2, 3 or 4 in the NCAA women's tournament played. They went 16-0, by these margins: 68, 20, 17, 21, 26, 22, 14, 20, 34, 20, 16, five, 33, 16, 30 and 42.
In the first three days of the men's tournament, a 1 seed (Gonzaga), 2 seed (Georgetown), 3 seed (New Mexico) and 4 seed (Kansas State) all lost, as well as three of the four 5 seeds.
Factoid of the Week That May Interest Only Me I
According to La Nacion, an Argentinian newspaper, Pope Francis called his newspaper delivery person, Daniel Del Negro, from Rome to tell him he wouldn't be needing the paper to be delivered anymore. You know, on account of being named the pope and all.
Del Negro's father, Luis, said he put a rubber band around the future pope's newspaper and delivered it to his residence daily.
"At the end of the month,'' Luis Del Negro said, "he always brought the rubber bands back to me. All 30 of them!"
Factoid of the Week That May Interest Only Me II
When Green Bay and Chicago meet this fall, I'm looking forward to Aaron Rodgers fading back to pass, and 245-pound Packer tight end D.J. Williams jousting with 245-pound Bears linebacker D.J. Williams on a route over the middle.
Factoid of the Week That May Interest Only Me III
Why America Loves The NCAA Tournament Dept.:
On Dec. 22, before 980 spectators in Orono, Maine, with the same starting five (Fieler, McKnight, Brown, Comer, Thompson) that has shocked the world in the first weekend of the NCAA Tournament, Florida Gulf Coast fell behind by 10 points by halftime and lost to the Maine Black Bears 84-78.
Mr. Starwood Preferred Member Travel Note of the Week
More of a "Life in New York'' note than a travel note: Walking down East 51st Street Thursday, on the way to the Sports Illustrated offices in midtown, I heard a distinct whinnying sound. A loud one. So I did what most people do when they hear what appears to be a person imitating a horse behind him -- cross to the other side of the street, quickly. Once on the other side, I looked over and saw a man, maybe 25, in a business suit, galloping down the street while slapping himself on the right hip with his right hand, whinnying like a palomino. Person after person just walked on by. No moral to the story. That's just what you see once in a while living in this great city.
Tweet of the Week I
"Adios Tuck Rule.''
-- @RAIDERS, the official Twitter feed of the team that has never gotten over the most significant Tuck Rule call in NFL history in a 2001 playoff game against New England. The tweet came Wednesday, after NFL teams voted to strike down the Tuck Rule.
BURKE: What the four new rule changes mean
Tweet of the Week II
"Harvard students just stormed the particle accelerator!''
-- @RoobCSN, Reuben Frank of CSNPhilly.com, after Harvard's upset of New Mexico in the NCAA Tournament Thursday night.
Tweet of the Week III
"Fact of the Day: Mike Wallace's first name is Burnell''
-- @BenVolinPBP, Dolphins beat man Ben Volin, on the new Miami wide receiver.
Tweet of the Week IV
"Raiders give Rolando McClain's agent permission to seek a trade, apparently with a straight face''
-- @ProFootballTalk, apparently not tweeting with a straight face.
Tweet of the Week V
"If airline seats get any smaller I'll be able to audition for the Vienna Boys Choir.''
-- @nprscottsimon, and Scott, you are absolutely not alone. There are 53 million of us saying approximately the same thing --only not as eloquently.
Ten Things I Think I Think
1. I think the prohibition of players attacking other players with the crown of the helmet is a good one. Many of you disagree with that. I would ask you these questions:
a. Is the art of lowering the head and, at full speed, using the top of the helmet to pound into another player, taught at any level of football? The answer to that is no, unless the coach is a sadist.
b. Do you understand the rule? Do you understand that the rule doesn't apply to a running back grinding for an extra foot in the guard-tackle hole, in a scrum, or to a linebacker trying to hold the point of attack on 3rd-and-short? It applies to the jarring hits in the open field, when an offensive or defensive player uses the top of the helmet -- not the front of the helmet, but the crown of it -- as a battering ram.
c. Will players still be able to deliver blows to knock opponents away? Yes -- with the shoulder and the front of the helmet and the stiff arm. "We need to bring the shoulder back into the game,'' said Rams coach and Competition Committee co-chair Jeff Fisher. Just as defensive players have been taught to aim lower on defenseless receivers in the open, so too will all players be taught to use their shoulders more in delivering impact blows.
d. How many plays do you think this rule applies to? I figure, extrapolating the NFL's contention that a penalty for violating the crown-of-the-helmet hit would have been called 11 times in two weeks the NFL went back and examined last year, that this translates to the violation being flagged about once every three games. Imagine now, with teams emphasizing this new rule to the players in mini-camps and training camp this summer, the result in the number of calls. I think it will be diminished. Again, we're not talking about a wholesale change to the way running backs carry the ball in the open field, or the way safeties attack tight ends. We're talking about a slight adjustment that affects very few plays in the course of an NFL weekend.
e. Will the officials be able to call it right? You're right about that -- I'm dubious they will. But in the end, it's worth being zealous to try to prevent head and neck injuries.
2. I think the one thing I took from sitting in a group for 50 minutes and talking with Sean Payton at the league meetings is that he'll be able to put the pain of the past year behind him, because he realizes it's not going to help him win -- and it's certainly not going to help the Saints. I didn't hear him say a bitter thing in nearly an hour of reporters trying to get him to admit anger or resentment.
3. I think I still wouldn't trade Darrelle Revis if I were the Jets. And I think New York GM John Idzik will try to find a way to not trade Revis. But in the end, I believe he'll go to Tampa Bay for two high draft choices sometime before draft day.
4. I think Bruce Arians sure didn't sound like he wants to take a quarterback with the seventh pick in the first round. He's not in love with any of the quarterbacks, and it's looking more and more like Drew Stanton will have the best chance to be under center (or in the shotgun) to take the first snap for the Cards in Week 1. "I feel comfortable with Drew as our starter,'' Arians said at the league meetings.
BURKE: Starting Stanton the right move right now for Cards
5. I think eloquent linebacker Scott Fujita outdid himself Sunday in the New York Times, writing about his support for marriage quality. "Sometimes,'' Fujita wrote, "change is slow, but when we know better, we do better ... Some think football players like me should just keep our mouths shut and focus on the game. But we're people first, and football players a distant second. Football is a big part of what we do, but a very small part of who we are. And historically, sports figures like Jackie Robinson, Billie Jean King and Muhammad Ali have been powerful agents for social change. That's why the messages athletes send -- including the way they treat others and the words they use -- can influence many people, especially children. Believe it or not, conversations about issues like gay marriage take place in locker rooms every day. In many respects, the football locker room is a microcosm of society. While there is certainly an element of bravado in our sport, football players are not the meatheads many think we are. For some of my friends who raise personal objections to marriage equality, they still recognize the importance of being accepting. And many of them also recognize that regardless of what they choose to believe or practice at home or at their church, that doesn't give them the right to discriminate. I am encouraged by how I've seen such conversations evolve.'' I agree with him on the evolving acceptance of gay marriage among players I've been exposed to in recent years.
6. I think many players do this, and we don't recognize them enough for the gesture ... butEd Reed's thank-you to his fans in Baltimore in Sunday's Baltimore Sun was a gem.
7. I think with the first round of the draft one month from tonight, I am hearing doubts on Alabama cornerback Dee Milliner (could drop out of the top five), hopes about West Virginia quarterback Geno Smith (the Jags are interested, preliminarily, at No. 2), no holes on Texas A&M tackle Luke Joeckel (still the odds-on favorite to go No. 1 overall) and one very big workout and interview extravaganza coming on Wednesday: Matt Barkley, the USC quarterback, will throw in earnest for the first time in front of NFL scouts since injuring his shoulder in November. He told me at the Scouting Combine a month ago that he will throw better and harder -- which will be a major plus if true, because there were questions about his arm strength from critical scouts on campus last fall -- because of the intense rehab he's undergone to strengthen his right shoulder. He'll throw at USC's Pro Day on campus in Los Angeles. A strong workout could propel him into the top half of the first round.
BURKE: Geno's rise legit, or a smokescreen?
8. I think the Lions will have some intriguing candidates at No. 5 in the first round. If they choose to let Dee Milliner pass, which would be an upset based on the Lions' crying need at cornerback, I wouldn't be surprised to see them strongly consider one of the two tackles likely to be there then: Oklahoma's Lane Johnson or Central Michigan's Eric Fisher. Both could step in and play right tackle on day one -- if the hype is right -- and replace Gosder Cherilus, who left for Indianapolis in free agency.
BURKE: NFL Draft Big Board 4.0
9. I think the biggest bargain left in free agency is Dwight Freeney. In the right spot, he's got a 13-sack season left in him.
10. I think these are my non-football thoughts of the week:
a. I will be running Pat's Run, the 4.2-mile race to honor the memory of the late Pat Tillman and raise money for his scholarship-centric foundation, on April 20 in Tempe, Ariz. And we'll have a cool fundraiser the night before the race in the Phoenix area, the details of which I'm still working out. But it will be a Tweetup-type fundraiser that I will host, and I hope all of you either running in the race or who live in the area and like football will think about coming out. Details to come next Monday.
b. Yanks-Red Sox opener a week from today likely to have Melky Mesa and Jackie Bradley Jr., in the starting lineups. No Jeter. No Ortiz. No A-Rod. No Granderson. No Teixeira.
c. Great point by Richard Justice of mlb.com: The Yankees will have more salary on the disabled list entering the season than 12 teams spent on their entire rosters last year.
d. Jacoby Ellsbury: quite a guy. Donated $5,000 to Steve Gleason's foundation.
e. I agree with the Costa Ricans: It was ludicrous to not suspend play in the second half of the Costa Rica-United States World Cup qualifier in a snowstorm, with inches of snow on much of the field in Colorado Friday night.
f. Devils flounder for a month with Martin Brodeur out with a bad back. He returns. Allows two goals in two games. Devils win both. It's that kind of franchise.
g. My rotisserie baseball draft is Wednesday night. I have not looked at one season preview of any sort. I am concerned. I just hope I don't reflexively pick Pedro Martinez in the fourth round.
h. Proud of you, Laila King!
i. Memo from a concerned citizen to our legislators in Washington: Do not forget Aurora and Newtown. Do not let the passage of time and the ardor of some gun zealots prevent you from taking action to limit the kind of weaponry and equipment that make it possible for mass killings to happen -- and from taking action to keep guns out of the hands of the mentally unstable. We're watching.
j. Thanks for all the kind words and wishes on the new website I'm working to develop for Sports Illustrated. It's an exciting time. I'm thrilled to be able to work alongside a top editor like Mark Mravic of the magazine, with a strong staff and design team, and with new writers the caliber of Greg Bedard, who will come over from the Boston Globe, and Jenny Vrentas, who migrates across the river from the Newark Star-Ledger. I'm looking forward to sharing some of the details on the new site sometime this summer. Wish I knew myself; we're in the process of inventing the place right now. My responsibilities will shift some, but not markedly, and I'll share all of that with you when it's set.
k. But this column will remain intact, much to your relief and/or chagrin.
l. Coffeenerdness: So I go into the SI office more than I used to, and the coffee there is the Green Mountain Keurig cups, and I've taken a liking to the Dark Magic blend. One request: make it darker.
m. Beernerdness: Fitting, on Saturday, when I met the Varisco family of New Orleans at a West Village bar in Manhattan, that I had an Abita Turbo Dog. On a raw Saturday in New York, nothing like Louisiana's best black beer.
The Adieu Haiku
If Revis must go, get a one and two next year. Free advice, Idzik.