Urlacher, Lewis broke the mold for prototype inside linebackers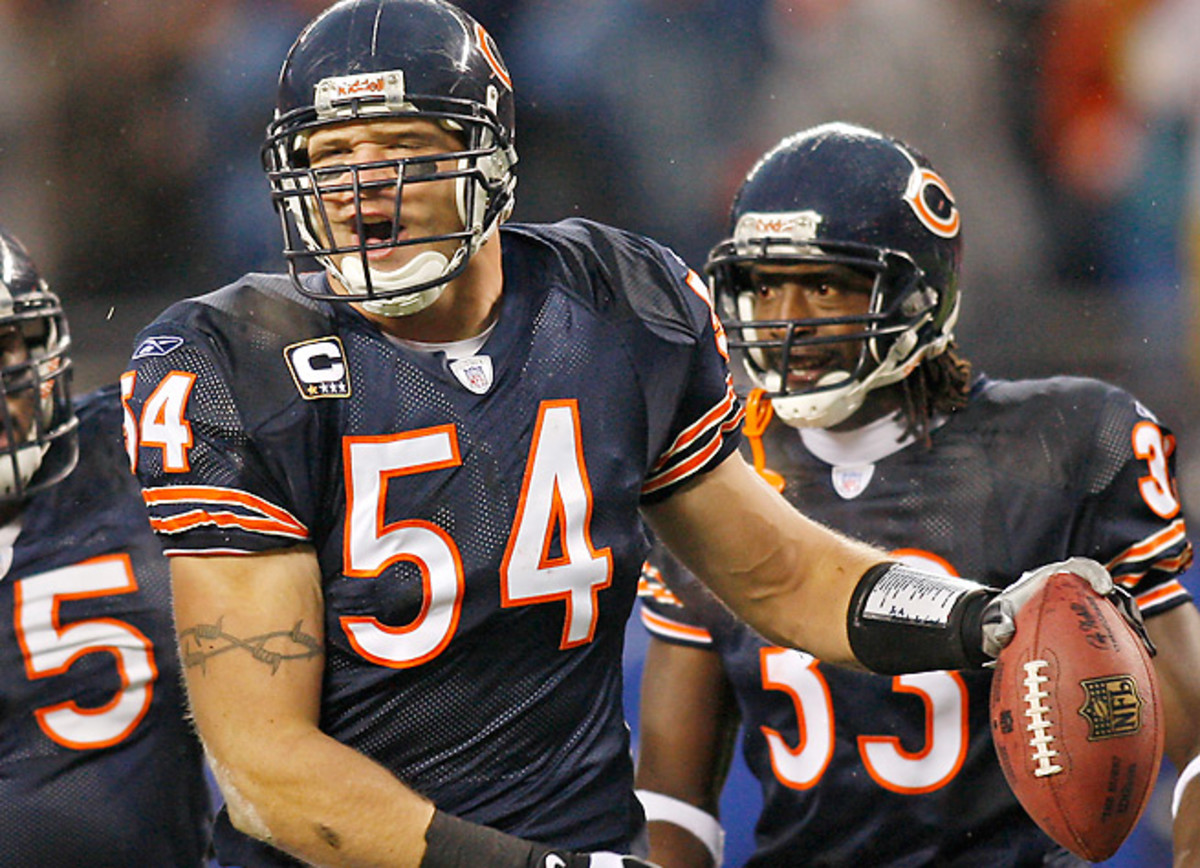 Now that Brian Urlacher and Ray Lewis have opted for retirement just months apart, maybe their defining accomplishment is that nobody personified the evolution of the middle/inside linebacker position -- with all its demands for increasing athleticism -- better than the two veterans who respectively became the familiar face of the Bears and Ravens franchises.
Measuring their impact on football starts not with the question of whether they changed the game and how middle linebackers play in today's NFL, but with the recognition that their versatile skill sets came to represent what the league required in the middle of a defense forced to compete in the pass-happy track meet that offenses have morphed into.
Both were tough enough to mete out the traditional punishment that comes with playing in the middle, handling the defensive enforcer role that has long come with the position. But Urlacher and Lewis were also athletic and savvy enough to survive and thrive in the era of prolific passing attacks and spread offenses -- at least until age and injury had taken their toll at the very end of their careers.
"Those two guys, they became the prototype that everyone in the NFL was looking for at middle linebacker,'' said former Colts and Bucs head coach Tony Dungy, now an NBC analyst. "The game did change, with teams going to so much passing and spreading the field, and they were the type of guys you needed; tough and strong enough to play against the run, but also athletic enough to handle the passing game and play all three downs. They're hard to find, but Urlacher and Lewis were what everyone was seeking.''
Though they lasted a combined 30 seasons in the NFL (Lewis 17 and Urlacher 13), there were questions about their suitability for middle/inside linebacker at the beginning. Lewis lasted until Baltimore's No. 26 pick in 1996's first round of the draft, in part because there were concerns he wasn't big enough to stand up to the pounding he would need to dish out (and receive) in the NFL. And Urlacher, who went ninth overall to Chicago in 2000, once played a hybrid strong safety-linebacker role and even returned punts and played a little receiver in college at New Mexico, prompting some to wonder if he was physical enough to take up the legacy created by feared middle linebackers Dick Butkus and Mike Singletary in Bears lore.
All these years later, those questions have been answered. Resoundingly.
"Those guys became the model, because they could run, they were athletic, they had instincts, they had ball skills, they had movement, all those things,'' Dungy said. "But they were tough enough, too. And that's what a lot of people tried to do to them, especially early on. They'd get in a two-tight end, two-back set and pound the ball at them to see if they could hold up. And they could. They could hold up well and they could play the whole game. That to me was their greatness, no matter how you attacked them they were good enough to handle it.''
Hall of Fame inside linebacker Harry Carson spent his entire 13-year NFL career with the New York Giants (1976-88), but he did not play in an era when a linebacker had to contend with the now-popular two tight end sets, try to cover a running back in pass defense, or defend against the now-almost routine use of three- and four-receiver formations. Linebackers today learn to backpedal as much as anything, and being athletic enough to play in space and hold up in pass coverage is essential.
"It means you have to have a different kind of player at inside linebacker, a guy who's able to compete in that track meet,'' said Carson, a nine-time Pro Bowl participant. "Offenses are just a whole lot more diverse now, and linebackers can't just get in there and mix it up, pick on an offensive lineman, then get to the ballcarrier and make the tackle. With all these spread offenses, you're not really asked to just stop the run between the tackles. You've got to deal with the ball being spread all over the place.''
BURKE: Urlacher retired at just the right time
Like many of his generation, Carson recalls watching Hall of Fame middle linebackers like Dick Butkus and Ray Nitschke late in their careers, when leg injuries had robbed them of much of their mobility. Even so, they were still able to compete and meet most of their responsibilities on run defense, which starkly underlines how the position has changed.
"Those guys, toward the end of their careers, they were still stopping the run, even though they were kind of hobbling around as they played,'' Carson said. "But with something like that, those guys certainly wouldn't be able to compete on the NFL level now, not being at full speed. Players are so much faster and quicker. We even saw a little bit of that same issue with Urlacher and Ray Lewis in recent years. It's a young man's position now. It's tougher to match up with these tight ends and backs when you get older. The legs start to go. In your head and heart you think you can still get there, but the body says 'Screw it.' ''
Indeed, there were times in recent seasons when Lewis and Urlacher were painfully exposed in pass coverage, with too much open space on the field to account for, and not enough speed to chase down the young and athletic skill-position weapons that enter the league every year. Legs are the indispensable part of an inside linebacker's game in today's NFL, and can't really be compensated for, at least not for long. It's one good reason we may not see the likes of Lewis and Urlacher -- and 15-year veteran Redskins inside linebacker London Fletcher -- again. Athleticism has become so essential to playing the position that longevity may become an endangered trait.
"I can make the argument that for a three- or four-year period, Urlacher was unbelievably great, because his speed and athleticism were absolutely special before he started getting older and his injuries started piling up,'' said Greg Cosell, an NFL analyst and senior producer at NFL Films. "He was a faster player than Ray Lewis, and even though we always talk about Ray Lewis playing sideline to sideline, Urlacher was the better pure athlete. But I think the issue Urlacher has with a Hall of Fame candidacy is that he really was only a great player for three or four years. To some degree after that, he lived off his reputation.
"It's not surprising to me that he retired, because the league retired him. He couldn't play any more. Obviously he's not going to say that, but it was tough to watch at the very end. He just couldn't move very well. And in his prime, Urlacher was a high-level athlete playing middle linebacker. I don't think there were a lot of guys who could run and move like Urlacher playing that position in his prime.''
Once upon a time, scouting a middle or inside linebacker meant his ability to take on and shed blocks, find the ballcarrier and tackle were prioritized. But now, it's all about his ability to play in space, drop into coverage, and run with the offensive skill players who are sent at him in waves. Athleticism and fluidity are everything, which is why Lewis and Urlacher emerged as the NFL's standard bearers at their position.
"Let's look at Manti Te'o, and how people this year in the draft scouting were questioning whether he's a three-down inside linebacker,'' said former Ravens head coach Brian Billick, now an NFL analyst for FOX and the NFL Network. "Even five years ago we may not have heard that question about him, because he's a solid player. But that's how important it is now to have a linebacker who can play third down and match up with backs coming out of the backfield, or these twin tight end looks. It has just evolved that way.
"[San Francisco inside linebacker] Patrick Willis is maybe the best linebacker in the league today. But it's likely there will come a point in his career where he won't match up well on third down. At the inside linebacker position, the type of athlete it takes to be on the field for first and second down becomes a bit prohibitive to be that same guy you want in on third down.''
Beside Willis, the other new breed inside/middle linebackers who are quickly making their mark in the NFL are talents like Carolina's Luke Keuchly, Seattle's Bobby Wagner and Dallas' Sean Lee. Kuechly won the NFL's Defensive Rookie of the Year award playing in the middle for the Panthers last year, and Wagner finished second in the voting. All are athletic enough to run and play in pass coverage, while still holding up physically against the run. St. Louis first-round draft pick Alec Olgetree is perhaps the most intriguing inside linebacker talent entering the league this year, with almost freakish athletic gifts and the ability to chase down ballcarriers from sideline to sideline.
"Keep in mind being younger at that position is at a premium now,'' Carson said. "You have to have the speed and quickness to compete right now, even if you lack the experience and the other advantages that veterans have. It's the recognition skills and the anticipation of what's going to happen out there that helped a Ray Lewis or a Brian Urlacher play as long as they did. That comes with experience, and a lot of guys who play with the speed and quickness it takes to play that position today may never really last to the point of being able to get that experience, because by the time they lose a step, someone else is coming in and taking their job.''
That's yet another reason to appreciate the long and successful careers just concluded by Urlacher and Lewis. In an era of increased and evolving demands on the inside/middle linebacker position, they were prototypes who won't be easily matched.