Do-it-all Urlacher's brilliance epitomized by one unforgettable night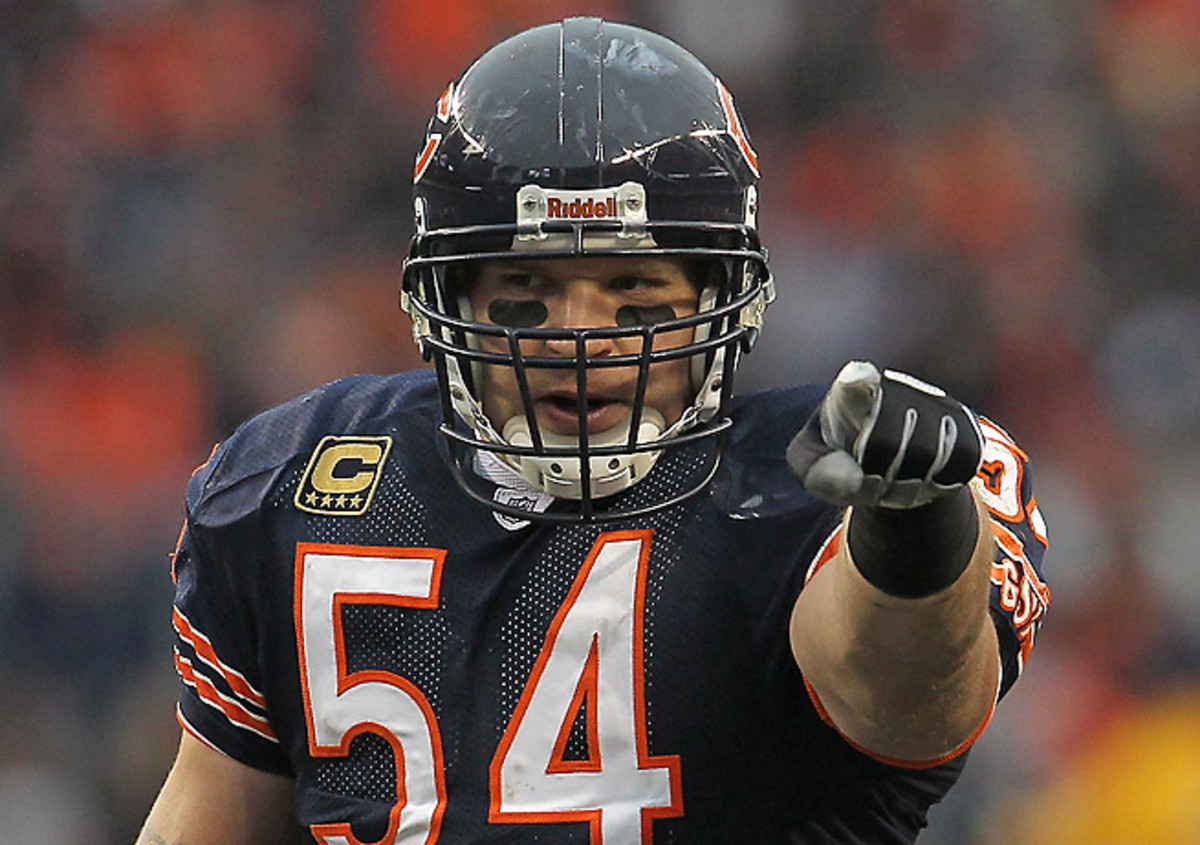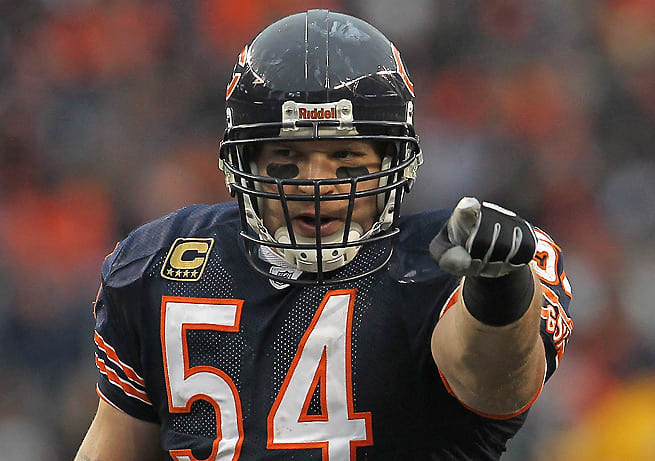 I'm going to write about Brian Urlacher today, but before I do, a note about the day. It's Memorial Day, and that's not just the first day of the beach season. It's a day we remember all those who have served in the military, and those who continue to serve today. It's also my annual survey of some of the best commencement speeches to the Class of 2013. In researching those, I found a good one, at the University of New Hampshire, from an Army lieutenant general, Mary Legere. A few of Lt. Gen. Legere's words to the graduating Wildcats:
"While you are on your road to defining who you are, I hope you will remember these ordinary citizens, some of whom were your fellow students, who ran toward danger to assist people they'd never met, saving lives, and in the process restoring our hope. I hope you will remember Victoria Soto, the beautiful 27-year-old first-grade teacher from Plaistow, N.H., who on that fateful morning of 14 December at Sandy Hook Elementary did what she was born to do, protect her 6-year-old students from a gunman, hiding seven of them so that they could live and return to their parents. In a moment of instinct, in a moment of courage, she made the difference.
"I hope you will think of Specialist Ross McGinnis, a 19-year-old from Knox, Pa., a young soldier like so many of our young soldiers, in his first assignment and deployment, who was riding in the turret position of a Humvee, when a grenade was thrown into the vehicle. Shouting a warning to his four fellow soldiers, and realizing they could not escape, he dropped down in that instant and threw himself on the grenade, sacrificing himself to save his comrades: men who today are fathers, brothers, sons, husbands. In a moment of instinct, in a moment of courage, he made the difference.
"Ralph Waldo Emerson said, 'Service is the very purpose of life. What lies behind us and what lies before us are small matters compared to what lies within us.' ''
I didn't remember the McGinnis story, though certainly I should have. We all should have. It happened in 2006, a year or so after McGinnis graduated high school in Clarion County, Pa., and pursued the life of his dreams. He wanted to be an Army man. While on patrol in Iraq, McGinnis and his men had a freak thing happen to them. From the balcony of a building in the town they were driving through, a hand grenade was thrown through the open hatch of the Humvee. McGinnis yelled a warning to the other four soldiers in the Humvee, but there was no time to get out. Realizing their fate, McGinnis lay down on his back, on top of the grenade, his elbow securing the grenade up against his body, a plate of armor in position to try to limit the damage beyond his own body.
The explosion killed McGinnis instantly; the other soldiers in the vehicle got, at worst, shrapnel wounds they all recovered from. One of the men, Army Staff Sgt. Ian Newland, told USA Today: "Why he did it? Because we were his brothers. Everyone always tells their friends, 'I'd take a bullet for you.' I've read books and seen plenty of movies about it. But to actually live through a situation like that, have someone do that, is just -- there's nothing else more courageous that a person can do in their entire life. So basically, I try not to live my life in vain for what he's done."
Good advice on a day we should never take for granted.
***
First, some football. Then, Oklahoma. Then, some more wisdom from commencements.
***
In retirement, remember Urlacher's best game.
The defensive stat line for Chicago linebacker Brian Urlacher from Week 6 of 2006 in a Monday night game at Arizona:
"That game,'' said then-Bears defensive coordinator Ron Rivera, "epitomized Brian as a football player. If anything, the numbers don't do justice to what Brian did on the field that night, especially in the second half."
I didn't want news of Urlacher's retirement (he wanted to play at least another year for the Bears, but felt lowballed, and no other team wanted him for real money) to pass without remembering the kind of player he was. Ray Lewis, justifiably, will go down in history as a better linebacker in this new era of sideline-to-sideline middle linebackers, and Lewis was feted well upon leaving the game. I felt Urlacher deserved his due, and he hasn't gotten enough of it.
BURKE: Urlacher a legend who retired at right time | Classic photos
There was a subplot to the Bears-Cards game on the night of Oct. 16, 2006. Arizona coach Dennis Green provided it. The Bears, 5-0, were already being compared to the '85 Bears around Chicagoland, and Green, in his pre-game production meeting with the ESPN Monday night crew, was incredulous. "Denny couldn't believe it,'' play-by-play man Mike Tirico told me Friday. "The Cards were 1-4, and they'd played Chicago tough in the third preseason game that year. Denny was coaching at Northwestern at the time of the '85 Bears, and he didn't think this current team compared to the '85 team. At our meeting, he said, 'People are trying to crown their ass.' He couldn't believe it."
Then the Cards, who started neophyte quarterback Matt Leinart and whose defense abused Chicago quarterback Rex Grossman, bolted to a 20-0 halftime lead. When I think of that Chicago team, I think how amazing it is that it made the Super Bowl that season with such a poor offense. That offense was in full bloom by halftime, with two Bears first downs, two Grossman interceptions and two Grossman fumbles lost. That's where I'll let Rivera take over.
"When we got into the locker room at halftime,'' said Rivera, "it was pretty chaotic. [Defensive tackles] Tommie Harris and Tank Johnson were bickering with each other about something, and there were a lot of pissed-off guys in that room. I just said, 'What we're doing is not f---ing good enough. If we're going to win this game, it's pretty obvious we're gonna have to win on the defensive side of the ball.'
"I went to Brian and told him, 'Brian, you've got to take this game over. We've got no choice. Just go do it.'
"In the second half, I'd make the playcalls, Brian would get the calls, then, before the snap, he'd make the adjustments. On the line, at linebacker, in the secondary. His instincts took over.''
Rivera was in his coaches' office in Charlotte when we spoke, and he pressed a few buttons on his computer and called up the coaches' video from that night. The Bears were down 23-3 late in the third quarter, with Arizona having a 2nd-and-10 at its 15. "Right here, he shifts he and Lance right before the snap, and Arizona shifted with them, and it left [defensive end] Mark Anderson free. I don't think Leinart saw him, from the tape. And Mark Anderson rushes off the backside and slams into Matt. There's the fumble. Mike Brown picks it up and runs it in. Now it's 23-10, and we've got a chance."
The way Urlacher played in the second half was with a special concentration on Edgerrin James. Rivera said he knew the Cards were just going to try to bleed the clock as much as possible with Leinart at quarterback, and that's what the next few series showed. "We basically were going to play an eight-man box and three-deep coverage,'' Rivera said. "And Brian had Edge." So Urlacher basically, spied James. On the series after the Brown touchdown, Urlacher stopped James for no gain at the Bears 49; after two incompletions, Arizona punted. Next series: Urlacher and Hunter Hillenmeyer stopped James for minus-one yard on first down; Urlacher forced an incompletion to Anquan Boldin on third down. Another punt. Next series: Urlacher stopped James for minus-two; another punt.
Next series: "Brian just corkscrews the ball out of Edge's hands,'' Rivera said. You can find the play on YouTube. James ran up the gut for two, and Urlacher was in the process of hog-tying him down when he jerked the ball free. "Like he was pulling a lawmower cord,'' Rivera said. Charles Tillman ran it back 40 yards for a score. Arizona, 23-17. And reeling.
Next series: James for one, tackled by Urlacher. James for minus-two, tackled by Urlacher. "On that one,'' Rivera said, "Tank gets the center and guard, and Brian was in perfect position. Just nailed him."
Punt. Devin Hester, then a rookie, returned it 83 yards for a touchdown. Bears, 24-23.
Neil Rackers missed a 40-yard field goal with 52 seconds left for Arizona. Bears win.
And you remember Green going off after the game, reprising the crown-their-ass rant for future generations to chuckle over. He was in such a state because in the last 16 minutes, Urlacher choreographed the Bears D into a scheme that led to one touchdown, had 10 tackles and two passes defensed and a forced fumble. He had five tackles of James after a one-yard gain or less.
"I don't know how you play better than Brian played that night -- in all aspects of the game,'' Rivera said.
Rivera sent Urlacher a text message when he heard about his retirement.
"Heard the news,'' he texted. "Sad for football. But honored to be able to be your coach."
Urlacher texted back: "I'm proud I got to play for you."
BANKS: Urlacher, Lewis set new standard for middle linebackers
***
Tomorrow, I'll check in with some thoughts on the Charles Woodson signing.
***
Tim Layden reports from the front line of the tornado.
I asked SI senior writer Tim Layden for his thoughts on being in Oklahoma after the tornado last week. He'll have a longer story in the magazine this week, plus some writing online at SI.com.
"Last Tuesday morning I was assigned by SI editors Chris Stone and Steve Cannella to go to Oklahoma City and seek out any ways in which sports intersected with the tornado that struck the area Monday afternoon. I wound up meeting up with Jeff Brickman, the head football coach at Southmoore High, which is located on the border of Moore, which was by far the hardest hit community with 24 deaths and more than 1,200 homes destroyed. There are 28 members of the Southmoore team that lost their homes and one young man who lost his mother. There was a time during the afternoon on Monday, May 20, when it looked like the tornado was heading directly for the school, but it eventually passed a few hundred yards to the north. I talked with about a dozen of the kids who lost their homes, possessions and pets and they told me some remarkable stories about waiting out the storm in the school and then about the terrifying moments afterward. While the storm missed the school, many of the neighborhoods it destroyed are in the Southmoore School District, so kids were hearing that their houses were gone, while knowing that other family members might have been home.
"On Thursday afternoon, I went into the storm zone with a group of players. All I can say is that despite all the television footage and still photos I had seen, I absolutely was not prepared for the scope of the destruction. There's nothing more than a few feet high except a few fireplaces and the skeletal remains of trees. And it goes on and on for miles. You could see people combing the wreckage of their homes. It was overwhelming. We stopped at one of the Southmoore players' home site. His name is Kade Foss. He just walked around with his head down and said, "I never thought this could happen.'' There's a sadness in the air that you can just feel.
"But something else is pretty amazing. On the day after the tornado, the coach, Jeff Brickman, thought his players, especially the ones who had lost homes, would want to stay as far away from football as possible. That hasn't been the case at all, and that's a big part of my story this week in SI.
"Also, there are a lot of ways to contribute to tornado relief. Southmoore football has its own website through which people can donate money to Southmoore sports families that lost homes. On Saturday morning, they distributed $10,461 in cash to 40 families, which they can use to buy clothing and food for use in the short term.''
Now for those commencement addresses.
I've picked a few that I thought had some good messages. Hope you enjoy them.
Nih Nai, valedictorian, Moore (Okla.) High School
(Nai delivered his address Saturday night, five days after the tornado destroyed much of his town, to the 412-person Moore Class of 2013.)
"We're damaged, but we survived. We're hurt, but we are resilient. We're graduating, but we are not done with our successes."
John Green, author, Butler University
"You are probably going to be a nobody for a while. You are going to make that journey from strength to weakness, and while it won't be an easy trip, it is a heroic one. For in learning how to be a nobody, you will learn how not to be a jerk. And for the rest of your life, if you are able to remember your hero's journey from college grad to underling, you will be less of a jerk. You will tip well. You will empathize. You will be a mentor, and a generous one.
"Let me submit to you that this is the actual definition of a good life. You want to be the kind of person who other people -- people who may not even be born yet -- will think about ... at their own commencements. I am going to hazard a guess that relatively few of us thought of all the work and love that Selena Gomez or Justin Bieber put into making this moment possible for us. We may be taught that the people to admire and emulate are actors and musicians and sports heroes and professionally famous people, but when we look at the people who have helped us, the people who actually change actual lives, relatively few of them are publicly celebrated. We do not think of the money they had, but of their generosity. We do not think of how beautiful or powerful they were, but how willing they were to sacrifice for us -- so willing, at times, that we might not have even noticed that they were making sacrifices."
Ben Bernanke, Federal Reserve System chairman, Bard College
"Innovation, almost by definition, involves ideas that no one has yet had, which means that forecasts of future technological change can be, and often are, wildly wrong. A safe prediction, I think, is that human innovation and creativity will continue; it is part of our very nature. Another prediction, just as safe, is that people will nevertheless continue to forecast the end of innovation. The history of technological innovation and economic development teaches us that change is the only constant. During your working lives, you will have to reinvent yourselves many times. Success and satisfaction will not come from mastering a fixed body of knowledge but from constant adaptation and creativity in a rapidly changing world."
Cal Ripken, baseball player, University of Maryland
"When my dad was in his development role in the minor leagues with the Orioles, he coined a phrase that said, 'We try to put 40-year-old heads on 20-year-old bodies. It just doesn't work.' What that meant was that dad and the other coaches tried to implant all the years of their own playing experiences into the young players' heads. But that wisdom can't be simply transferred; it also has to be experienced and earned by each individual. Sorry, folks: there are no shortcuts on this one.
"Now let me turn to what I consider the key to taking talent and skill to the highest level. It's attitude. Are you positive or negative as you approach life's challenges? When I first started playing professional baseball, I quickly dismissed all this attitude talk. I thought it was a waste of time. All that mattered to me was getting my reps in practice and how I did in the games. The games were not contests between two teams -- they were my individual exams. If I got three hits and we lost, I was happy. If we won and I went oh-for, I was mad. I was obsessed with my stats. They were my ticket to the show. I couldn't stand the umpires, because from my view, every mistake they made would cost me. I had problems with the official scorekeepers because their decisions cost me hits and added errors to my record.
"But even with this attitude, I was moving up in the organization. Then it hit me -- in fact, quite literally. I got hit with a 94 mile per hour pitch in the side of my helmet in Baltimore. I was struggling mightily in the early part of my rookie season, and I was miserable. That shot to the head knocked some sense into me. Earlier in the week, my veteran teammate and All-Star Ken Singleton had pulled me aside and showed me a tape of me throwing a helmet and just said, 'We don't do that here. That's not what it's all about. That's the wrong attitude.' So after getting beaned and while laying on the X-ray table, I started to think more about what Ken said. The conclusion I came to was that it wasn't all about me, and the world certainly was not my enemy. I realized that I was affected with a negative attitude. That ball striking me helped flip the switch, and I made a choice to have a positive attitude. My talent and skill had supported me to that point. My change in attitude helped me achieve being named Rookie of the Year that year and MVP the next. As I continued playing the game I loved, I stopped blaming. I was accountable. I was more in control. My rational mind started working instead of my reactive mind. I started finding solutions before they became issues.
"When you truly have a positive attitude, you capture that energy of what can be accomplished as opposed to why it can't be done. Your failures even become valuable experiences. Where would the world be without Thomas Edison's failures and his positive attitude in dealing with them? He himself said, 'I failed my way to success.' ''
Michelle Obama, First Lady, Bowie State (Md.) University
"When it comes to getting an education, too many of our young people just can't be bothered. Today, instead of walking miles every day to school, they're sitting on couches for hours playing video games, watching TV. Instead of dreaming of being a teacher or a lawyer or a business leader, they're fantasizing about being a baller or a rapper. Right now, one in three African American students are dropping out of high school. Only one in five African Americans between the ages of 25 and 29 has gotten a college degree. One in five. We need to once again fight to educate ourselves and our children like our lives depend on it, because they do.
"When it comes to your own kids, if you don't like what they're watching on TV, turn it off. If you don't like the video games they're playing, take them away. Take a stand against the media that elevates today's celebrity gossip instead of the serious issues of our time. Take a stand against the culture that glorifies instant gratification instead of hard work and lasting success. And as my husband has said often, please stand up and reject the slander that says a black child with a book is trying to act white. Reject that.''
Julie Andrews, actor/author, Colorado University
"I've been thinking about today, and what I could say to you. It suddenly occurred to me that one of the last speeches you will hear in college will be this one. That scared me half to death. I mean, what can I tell you? I never finished high school. I never, sadly, attended college. As a youngster, I was traveling the length and breadth of the British Isles, singing my head off in the Music Halls -- a theater brat, with a freaky four-and-a-half-octave range. You might assume that after a life in theater and film, I wouldn't be nervous in a situation like this, but I can assure you that I am or was, before your very warm welcome. Today is about celebration, but despite that, you might just also be feeling a little nervous -- and, perhaps even fearful. Believe me, feeling nervous is par for the course.
"I remember saying once to my husband, Blake, on the eve of my return to Broadway after a 35-year absence, 'You know, I'm really feeling VERY frightened about this,' and I began to tear up. He simply replied, 'Darling, did you actually expect to feel anything else?' I remembered -- yet again -- that fear is a part of life. The trick is to recognize it and then press on anyway. In fact, the real trick is to stop focusing on oneself and start focusing on others. There was a time in my late 20s when I worried all the time what audiences thought. Will they like me? Am I up to par? And it suddenly dawned on to me that everyone in the audience had paid good money to come see a show they really wanted to see, and possibly, they were there after a day of dealing with a lot of stress. Maybe it was tax time, perhaps someone had a family member who was ill, or had a fight with a loved one -- I could think of a hundred scenarios. I realized that I was in a position to brighten their day, to make a difference, to give them three hours of surcease, of transcendence, and hopefully, joy. From that moment on, I began to develop a mindset of giving. I stopped looking inward, I began to grow up and I started looking outward, with an eye toward making a difference wherever and whenever I could.
"Today, I invite you to start looking at life the same way.
"There are so many opportunities for giving in this world. Don't engage in random acts of kindness; engage in planned acts of kindness. Use your knowledge and your heart to stand up for those who can't stand. Speak for those who can't speak.''
Jon Lovett, former presidential speech writer, Pitzer (Calif.) College
"The problem I am going to describe involves a bad word. Not the worst word, but a bad word, though I've made sure that I only have to say it now and then one more time at the end. So if you want to distract any little kids for a second, please do so. One of the greatest threats we face is, simply put, bulls--t. We are drowning in it. We are drowning in partisan rhetoric that is just true enough not to be a lie; in industry-sponsored research; in social media's imitation of human connection; in legalese and corporate double-speak. It infects every facet of public life, corrupting our discourse, wrecking our trust in major institutions, lowering our standards for the truth, making it harder to achieve anything. And it wends its way into our private lives as well, changing even how we interact with one another: the way casual acquaintances will say, 'I love you;' the way we describe whatever thing as 'the best thing ever;' the way we are blurring the lines between friends and strangers. ... Life tests our willingness, in ways large and small, to tell the truth. And I believe that so much of your future and our collective future depends on your doing so. So I'm going to give you three honest, practical lessons about cutting the BS.
"Number one: Don't cover for your inexperience. You are smart, talented, educated, conscientious, untainted by the mistakes and conventional wisdom of the past. But you are also very annoying. Because there is a lot that you don't know that you don't know. Your parents are nodding. You've been annoying them for years. Why do you think they paid for college? So that you might finally, at long last, annoy someone else.
"You have to be confident in your potential, and aware of your inexperience. And that's really tough. There are moments when you'll have a different point of view because you're a fresh set of eyes, because you don't care how it's been done before, because you're sharp and creative, because there is another way, a better way. But there will also be moments when you have a different point of view because you're wrong, because you're 23 and you should shut up and listen to somebody who's been around the block. It's hard to tell the difference. Me, I love getting this one wrong. I got it wrong a ton when I started out as a speechwriter to Hillary Clinton. I got it wrong again when I became a presidential speechwriter.
"But there is another side to this coin, which brings me to lesson number two: Sometimes you're going to be inexperienced, naïve, untested and totally right. And then, in those moments, you have to make a choice: is this a time to speak up, or hang back? I worked for then-Senator Clinton during her campaign for president -- and I believed in her, still do. But I vividly remember feeling like things weren't right in that campaign; a lot of the young staffers felt that way. It wasn't a secret that there were problems in how the campaign was run. The campaign pollster for example, rolled out so many slogans it was impossible to keep track. Here's a sample:
Let the Conversation BeginReady for Change, Ready to LeadWorking for Change, Working for You
"... And then, my favorite: Big Challenges, Real Solutions: Time to Pick a President. Which he had printed on the side of a bus, but it was basically too small to read.
"So, I'm putting these slogans into speeches and I look over at an Obama campaign rally on cable news and they have one slogan. It's just the word CHANGE in big letters. That seemed better. But I was timid; and a lot of us just assumed, or wanted to assume, that more experienced people must know what they're doing. But that wasn't true. So the campaign ended, my candidate lost, and I ended up as a presidential speechwriter anyway, which was cool. But the lesson I drew from that campaign, other than the fact that it's always a mistake to run against Barack Obama, is the subway rule: 'If you see something, say something.' And I've tried to honor that ever since.''
Bud Selig, commissioner of baseball, St. Norbert (Wisc.) College
"The Braves moved to Atlanta after the 1965 season, leaving many heartbroken fans in Milwaukee behind. I shared the sadness that swept our community. But I have never been one to sit back and wallow instead of searching for a solution, and the disappointment I once felt gave way to a sense of determination. While I was only 30 years old and the odds were tremendously stacked against us, I decided to do what I could to bring a big league club back to my hometown. My dream was to make Milwaukee and Wisconsin feel Major League once again. Trying and failing was one thing; quitting, however, was unacceptable. There were many disappointments along the way, but there was never defeat. All of our efforts became worthwhile on the night of March 31, 1970, when the American League's Milwaukee Brewers were born. One of my most prized mementos that crystallized this long effort came from a man who made his name right here, the great Green Bay Packers coach Vince Lombardi. He sent the first telegram I received on the morning of April 1st, 1970, that to this day is framed and hanging in my office, which said, 'Congratulations on finally obtaining the team after so many years. I wish you great success.' With this example in mind, I urge each of you to chase your dreams. ... You have the ability to be a force for change.''
Brian Williams, anchor/managing editor, NBC Nightly News, Elon University
"Break the cycle of entitlement and expectations. [Applause.] Hear that applause? Those are older people. And here's this generational shift that led to this groundswell of applause. All the people that applauded, we were basically under the assumption we were losers unless proven otherwise in this country. It was just a grinding existence as we were coming up. You guys came along a little different. 'Hey Mom and Dad, I breathed today!' And we would order the ice cream cake. That's just a generational mindset shift. It wasn't your fault. We did it because we just felt, 'We can't let them fail at anything.' So our educational system and the self-esteem and self-celebration created by a generation not your own, let's just check it and be aware of it as we go forth into the social realm and jobs. Same with the use of first person. I know it is the basis of social media. My worst fear is that selflessness is perhaps what made us better in the past. I'm genuinely sorry that the focus on self has meant haters in your life that we've all had to deal with, with no barrier to entry. You are the first generation for which hate via a send button is assumed, it's ubiquitous, it's expected and its corrosive effects are baked into you. That's not fair.
"You are the first generation with the kind of routine obsession of pouring over imagery, pictures of yourself. Hundreds perhaps. Thousands of them that you feel best represent you to the outside world. Where do you look the best? Where do you look even better? What's any of that going to mean long term? We have changed. We have gone off on our own with our devices. In just the course of one generation, and we haven't put our arms around what this change means yet. We call our online world a community, but that just makes us feel better. It's not. This is: people to your left and right with hopes and dreams and fears. You may enter into a family with anyone here. You may fight a war with anyone here. That is a definition of a community. So, stop yourself before you say something to your followers. Consider being a leader instead.''
Dalai Lama, Tibetan promoter of world peace, Tulane University
"I've had no modern education, so my knowledge compared to yours amounts to zero, but I have observed that many of the problems we face today are of our own creation. Because we created them, we must also have the ability to reduce or overcome them. You young people are educated, fresh and bright; you have the future in front of you. My generation belongs to the 20th century and our century is over, we are almost ready to say goodbye. The 20th century saw many great achievements, but it was also an era of bloodshed. The world did not become a better place as a result of that violence. Those of you who are less than 30 years old, who truly belong to the 21st century, please think on a more global level. Try to create a more peaceful, more compassionate world by taking into account the welfare of others."
Enda Kenny, prime minister of Ireland, Boston College.
"Graduates, this is your time. Be not afraid. Today, then, you have reached what we call in Irish Ceann Scríbe. Turas amháin déanta, turas eile ás bhúr gcomhair amach. One journey completed, another directly ahead.
"Today then: Let go, let fly, forget. You've listened long enough. Now strike your note."
Quote of the Week I
"I love the head coach. I mean, I love the head coach. He already has this team wrapped around his finger."
-- Arizona quarterback Carson Palmer, to Mike Silver of Yahoo! Sports, on new coach Bruce Arians.
BANKS: Which new regimes can bring a quick turnaround?
Quote of the Week II
"You don't know how they do what they do. It seems undoable."
-- San Francisco coach Jim Harbaugh, at a pre-Indy 500 press conference Saturday. Harbaugh, who loves racing and has a financial stake in two cars, drove the pace car at the storied race Sunday.
Quote of the Week III
"You've just got to take your time. He's a great player and I'm sure he's going to work hard to get back and listen to all the people that he's got to listen to. But it's difficult at first, because it took a while for me to be able to do anything. You know, I had to wear a boot for six to eight weeks, and I couldn't do anything but upper body stuff. Once I got it off, I still had to take time, because it's a serious injury, and you don't want to take it too fast."
-- Denver wideout Demaryius Thomas, who tore his Achilles in early February 2011, on the recovery process facing Michael Crabtree, who tore his Achilles last week during 49ers workouts. Thomas played his first game eight-and-a-half months after his injury.
BURKE: Crabtree injury looms large in NFC West
Quote of the Week IV
"It's going to be interesting to see if this style of offense projects to the NFL. I'm going to say no. I just don't see NFL passing concepts in this offense. It's a movement offense by the quarterback, off the run-action, off the read-action. A lot of short, quick passes, dart routes, bubble screens. Very few plays down the field with NFL passing concepts."
-- Ron Jaworski, on coach Chip Kelly's new offense with the Eagles, to radio station 97.5 The Fanatic in Philadelphia.
Stat of the Week
Four non-kickers/punters in the 93-year history of the National Football League have played 100 games with two different franchises.
McDole might be the most interesting player on the list, and not only because of his nickname. Buffalo and Washington were his third and fourth teams. As a 21-year-old defensive end out of Nebraska in 1961 -- during the war between the NFL and AFL over signing players -- McDole was the 25th overall pick in the 1961 AFL draft (by the Denver Broncos) and the 50th overall pick in the 1961 NFL draft (by the St. Louis Cardinals). He signed with the Cardinals and played one season. Then he signed with the Houston Oilers of the AFL and played one season there. Then he signed with Buffalo, playing well enough to be a second-team all-time AFL player. When George Allen got the Redskins coaching job, he filled his roster with veterans, and in came McDole ... for eight more seasons. In his final NFL game, he tackled Walter Payton, who was 6 when McDole was drafted into pro football.
Great answer to an NFL trivia question: Who holds the NFL record for interceptions by a defensive lineman? It's McDole, with 12, including three after his 38th birthday. (That's right. McDole played every game for Washington at ages 38 and 39, picking off three passes over those two seasons.)
About that nickname: Early in his Washington days, a few of the fellows went out to a Georgetown nightclub one evening, and McDole went out on the dance floor. "He looks like a dancing bear!'' Sonny Jurgensen said. A bear was born.
Factoid of the Week That May Interest Only Me I
In the wake of the Achilles tear to wide receiver Michael Crabtree (he had surgery last week; rehab is expected to put him back on the field in six to eight months, meaning he could play the last six or seven weeks of the regular season -- emphasis on could), I ask this question: Is it now possible that Anquan Boldin could contribute more to the 49ers' offense in 2013 than Percy Harvin will contribute to Seattle's?
Unlikely, certainly. With the compensation paid for both in 2013 offseason trades, it'll be amazing if Boldin's production is competitive with Harvin's.
Seattle paid three picks over two drafts (a one, three and seven) for Harvin. Let's say, for the sake of this example, that Seattle has the same draft place in 2014 as it did in 2013. That would mean Seattle surrendered, over two drafts, the 25th, 87th and 214th picks for Harvin, plus a six-year deal averaging $11.2 millon a year.
The 49ers traded the 199th pick in the 2013 draft (a late sixth-round pick) to Baltimore to acquire Boldin. He'll make $6 million this year, the last year of his Ravens contract.
But Boldin is coming off an ironman season for Baltimore (19 games, 58 snaps a game), while Harvin missed eight games due to injury last year, including the Vikings' wild-card round loss to the Packers.
Harvin turns 25 tomorrow. Boldin is 32.
They are different receivers, Harvin a smurfy, make-'em-miss, speed type, and Boldin a physical possession guy with deceiving downfield ability.
There's no doubt anyone would want Harvin for the long haul. But with Crabtree likely out for much of the season (and who knows how healthy he'll be, trying to return from an Achilles injury in midseason), it's going to be very interesting to see which receiver shines brightest for the full season this year.
BURKE: Who will have a better season -- Harvin or Cobb?
Factoid of the Week That May Interest Only Me II
I wrote on SI.com last Tuesday about my feeling that the league was making a mistake in moving the draft back three weeks, into mid-May, next year. More chance for the hype machine to pump out more coverage of what is already the most over-covered event on the football calendar, the draft, I contend, and less time for the scouts, coaches and football people to live normal offseason lives.
I wrote: "How much hype is enough? How big does the league need the golden goose to get? Silly question. We see it answered every day by an insatiable league.''
Beneath that was a link to SI.com's Chris Burke's 2014 mock draft.
BANKS: Teams not buying Easter bunny excuse for moving draft
Mr. Starwood Preferred Member Travel Note of the Week
In northern California for a few days. Family vaca of sorts. In a Starbucks an hour north of San Francisco Sunday, I was amazed at Giants fever. Woman with a Brian Wilson jersey walked in. Guy with a Giants hoodie looked up and said: "How 'bout that game! What a finish!'' Talking about the walkoff, inside-the-park home run by Angel Pagan that won the game Saturday.
Another woman, not in Giants gear, walked out of the store a few minutes later and said to a guy with a Giants World Series t-shirt reading the San Francisco Chronicle at a table near the door: "Think Cain can win it today?'' Matt Cain, she meant.
Driving through the Giants-garbed city Saturday and listening to the chatter an hour away on Sunday, I thought: Hard to imagine a region in the country right now more excited about its baseball team.
Tweet of the Week I
"You were who we thought you were. Congrats. RT @burlacher54: It was an honor to play my entire career for the @chicagobears.''
-- @AZCardinals, the day Urlacher announced his retirement.
Great tweet. I sense the fingerprints of @CardsMarkD on that one.
Tweet of the Week II
"Any regret on Rutgers, Big Ten?''
-- @Eric_Edholm, contributor to the Wall Street Journal and former Pro Football Weekly editor, after the explosive Newark Star-Ledger story on the ugly past of the new athletic director hired to clean up a tarnished department. Writer Craig Wolff reported there was a revolt by the players when Julie Hermann coached volleyball at Tennessee, quoting a letter from the team saying,"The mental cruelty that we as a team have suffered is unbearable,'' with players saying Hermann referred to them as "whores, alcoholics and learning disabled."
Why, oh why, can't Rutgers get the athletic department right?
Tweet of the Week III
"George Hill on LeBron: 'There's only one person who's scarier, and that's God.' ''
-- @rachel_nichols, quoting the Indianapolis guard after Game 2 of Pacers-Heat.
Ten Things I Think I Think
1. I think I like the NFL continuing to press the issue of no HGH testing. As NFL.com reported, the league sent a new proposal to the union April 24 to adopt a testing plan. As any dimwit can see, it's patently absurd that professional football does not test for human growth hormone. It's obviously an unfair advantage to use it. Even baseball and basketball, with testing programs part of their protocols, see the importance of it. There's no excuse, none whatsoever, for the 2013 season to be played without players being tested for HGH.
2. I think I would ask the Jets this question after reading ESPN New York's excellent summary of the incredibly troubled adult (that may be using the adjective loosely) life and times of free agent running back Mike Goodson, who, according to a police affidavit, was found on May 17 "incoherent, slobbering and vomited all over himself" in a car stopped in the middle lane of a New Jersey interstate with a bag of marijuana in his pocket and a handgun with hollow-point bullets found in the glove compartment: Did you know all of what ESPN uncovered? And if so, how can you defend hiring Goodson at all, never mind handing him a $1 million signing bonus?
BURKE: Ten players going through the worst offseasons
3. I think the Cardinals were probably fair to both sides -- themselves and highly risky third-round defensive back Tyrann Mathieu -- by tying 60 percent of his signing bonus to roster bonuses over the life of his four-year contract. This way, if Mathieu has a rerun of his myriad off-field problems at LSU, the Cardinals will be protected in not having to pay the pro-rated portion of his bonus in the final three years of the deal.
4. I think I just saw the Bears were planning to retire Mike Ditka's number (89) on Dec. 9 against Dallas ... and my first reaction was, "You mean, Ditka's number -- or his coaching sweater -- hasn't already been retired?'' Come on! He's the Bears.
5. I think the best thing on TV last week had to be Mark Mulder of ESPN's Baseball Tonight breaking down the mechanics of Seattleite John Clayton throwing out the first pitch Friday night at Safeco Field. It was, well, not in any way a debacle. But Clayton could have used a pitching coach prior to his 58-foot moonball. "He needs to figure out you can't step towards first base,'' Mulder advised. "He needs to step towards home. That'll keep the front side closed.'' Mulder also criticized the Mariners for giving him a jersey that was too tight. "You cannot give him a schmedium,'' Mulder said.
6. I think quite a few of you (who can research, apparently) got the answer to my Twitter quiz pretty quickly on Saturday. I asked: Who threw the first NFL pass that was intercepted by Charles Woodson?'' Answer: Dallas coach Jason Garrett (no -- he wasn't the Dallas coach then!), who got picked by Woodson in 1998, allowing the Raiders to hang on for a 13-12 win over the Cowboys.
7. I think my biggest problem with the NFL moving the 2014 draft back three weeks was verbalized by one owner in a phone call to me Friday: "I just think it shows a lack of respect for the football people. They make good money. Nobody's feeling sorry for them. But tell their families there's going to be three more weeks of draft prep, which is absolutely not needed, cutting into an already busy offseason and see what they say. It's just wrong."
BURKE: True/False -- how the draft's move impacts the offseason
8. I think the best news for Brandon Weeden's future -- he views himself as maximizing his ability only when he can throw regularly downfield -- is what Josh Gordon told the Akron Beacon Journal: "Defenses will be shocked to say the least with how much we're running downfield. I've never ran this much as a wide receiver ever in my life."
BURKE: Scouting the Browns' QB battle
9. I think it's not a good idea for Reggie Bush to return punts in Detroit. He'd be electric, to be sure, but the man has X number of touches a year in him at this point of his career, in my opinion, with X being no more than about 250. Especially on the turf of Ford Field, I'm not pressing my luck by subjecting him to the punishment of punt returns.
10. I think these are my non-football thoughts of the week:
a. Man, if you can figure out the story behind Jesus Montero's failure, please illuminate me. It's the mystery of sport why he isn't the starting American League All-Star catcher, but rather the starter for the Triple-A Tacoma Rainiers.
b. I really feel for Pierre McGuire, the on-ice reporter for NBC, when he has the Rangers. New York coach John Tortorella is unstable. The guy is nuts. I'd worry about him if I were the Rangers.
c. Talk about time healing all wounds: Cleveland is having a bobblehead night Saturday against the Tampa Bay Rays. Albert Belle bobbleheads will be given away. Didn't it end a little bit, uh -- or more than a little bit -- ugly for Belle in Cleveland? And now he's bobble-ized?
d. So odd to see Albert Pujols be mortal.
e. Good luck in your new gig with FOX Sports, Mike Garafolo. You have some great reporters and writers to look up to there.
f. Good Dogs of the Week: What? Prejudice against German shepherds? I love German shepherds! Who doesn't love German shepherds! The New York Times reported one Manhattan apartment building allows many breeds of dogs, but not seven breeds, including possible descendents of Rin Tin Tin. Too threatening, apparently. The paper also reported one co-op mandates doggie interviews. Said Steven Wagner, a real estate lawyer on the board of the building that requires said interviews: "It's a funny rule. I'm never sure what to ask. I just say: 'Nice doggy,' and I pet the dog. And then I say, 'I have no more questions.' No dog has bitten me yet. I think that would be a problem."
g. Coffeenerdness: I urge you, Peet's -- move east. Rapidly. Great, great coffee.
h. Beernerdness: Best label design in beerdom: Alaskan White, with the noble polar bear on the bottle. Second-best white beer I've had (next to Allagash). No phony name either. Brewed in Juneau, with water from the Juneau Ice Fields, whatever that is. But it sounds good, and tastes good.
i. I think Julia Louis-Dreyfus is better in Veep than she was in Seinfeld.
j. How do you not admire the Pacers? What a game Friday night. What an incredible game.
k. If you'd have told me on April Fools' Day that the Red Sox would have been 30-20 after 50 games, with more wins than all but three teams in baseball, well, I'd have signed for that right there.
The Adieu Haiku
No Crabtree 'til Nov.? Huge injury, we all think. Jim Harbaugh shruggeth.