Broncos looking positively Super after crucial win; more Snaps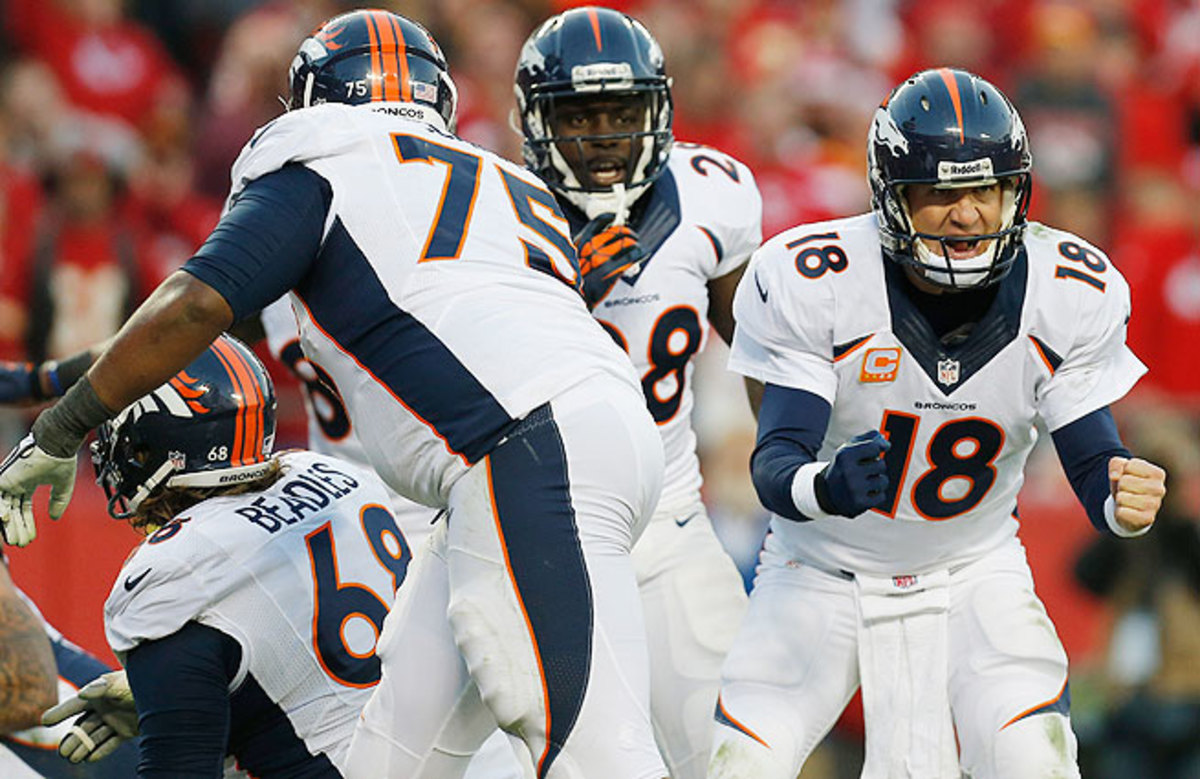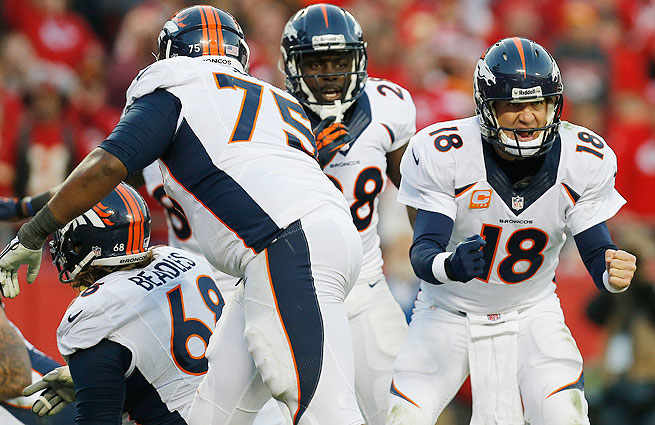 • After beating Chicago 23-20 in overtime, Minnesota owns three wins this season, with backup quarterback Matt Cassel having had plenty to do with two of them. Cassel started and won in Week 4 against Pittsburgh in London, and he was one of stars of the Vikings' comeback against the Bears, helping Minnesota overcome a 10-point deficit in the fourth quarter after he relieved the concussed Christian Ponder just before halftime.
Tell me again why the Vikings haven't turned to Cassel a little more this season and went down the Josh Freeman road to nowhere in October?
Playing a little more than one half, Cassel completed 20 of his 33 passes against the Bears, for 243 yards with one touchdown and one interception that wasn't his fault after it went off Rhett Ellison's hands. He completed a clutch 4th-and-11 pass for 20 yards to Jerome Simpson that kept Minnesota's game-tying 79-yard field goal drive alive late in regulation, and found Greg Jennings from eight yards out midway through the fourth quarter, cutting the Bears' lead to three points.
Cassel is never going to look spectacular, but he has clearly been the Vikings' most consistent quarterback this season, despite his limited and sporadic playing time. With Minnesota (3-8-1) going a very competitive 2-1-1 in its past four games, in an apparent bid to help save head coach Leslie Frazier's job, I know who I would choose to start in next week's game at Baltimore.
• And do the Bears have something to think about at the quarterback position going forward as well? If nothing else, Josh McCown's continued strong play gives Chicago a comfort level in regards to Jay Cutler being 100 percent healthy before he returns to the lineup. And maybe, just maybe, McCown changes the level of urgency or the dynamics of the looming decision the team faces in regards to Cutler's expiring contract.
I'm not suggesting Chicago would choose to go forward with McCown over Cutler. But perhaps McCown's play has made it easier for the Bears to franchise Cutler and buy themselves an extra year to make a long-term decision on him. Or perhaps McCown gives Chicago just a little more leverage in contract talks with Cutler, helping the Bears get a more club-friendly deal if both sides are interested and motivated to continue the marriage.
While the Bears have now lost on the road to NFC last-place teams in the past two weeks -- at St. Louis and Minnesota -- McCown threw for 355 yards with a pair of touchdowns and a 114.9 passer rating against the Vikings. It's not his fault Chicago's playoff hopes are floundering at 6-6 after the Bears opened the season 3-0.
• The Bears run defense continues to be abysmal, with or without the newly acquired Jeremiah Ratliff added to the mix on the defensive line. Minnesota's Adrian Peterson gouged Chicago for a season-high 211 yards rushing, and the Vikings averaged 6.2 yards on 40 carries, gaining 246 yards overall.
Did you ever think you'd see the day when a Bears defense gets overwhelmed against the run? Chicago gave up 258 yards on the ground last week in the loss to the Rams, and have now allowed 504 yards rushing in two games. And Sunday made it seven consecutive games in which Chicago's opponents have rushed for at least 120 yards.
• On the plus side for Chicago, Bears second-year receiver Alshon Jeffery has developed into a full-scale beast, pulling down 12 receptions for 249 yards and a pair of big-play touchdowns against the Vikings. It was Jeffery's second 200-yard effort of the season, and stands as the greatest game ever by a Bears receiver in terms of yardage, breaking his own record of 218 yards set against New Orleans in a Week 5 loss.
Taking away Brandon Marshall should no longer be job No. 1 for a defense facing Chicago. Jeffery and Marshall make for the game's most explosive receiving tandem, with their blend of size and speed and playmaking skills. What Jeffery did to Vikings cornerback Chris Cook on his two scoring plays on Sunday almost registered as abuse and inspired pity for the Minnesota defensive back.
After simply running away from Cook on an 80-yard touchdown pass early in the third quarter, Jeffery out-did himself later in the quarter, soaring high over Cook to grab a 46-yard bomb from McCown at about the Vikings' 3, displaying superb body control and hands as he tapped his feet in bounds and protected the football as he went to the turf for the score.
Cook was so frustrated -- and overmatched -- that he wound up getting ejected from the game for putting his hands on the side judge.
FARRAR: Jeffery breaks own receiving record in loss to Vikings
• One last Bears observation: I know Chicago's Robbie Gould is one of the best kickers in NFL history, but what was Bears first-year head coach Marc Trestman thinking in having him try a potential game-winning 47-yard overtime field goal on second down? As good as the science of kicking has become in the NFL, a 47-yarder, even in a dome, is no sure thing. Gould missed, wide right, and the game continued, long enough for Minnesota to win on Blair Walsh's 34-yard field goal.
"We were definitely in range and I didn't want to risk a possible penalty that would set us back ... or a fumble of [some] kind, something unique,'' Trestman said of his call to have Gould kick on second down, with 4:12 left in overtime. "I felt we were clearly within range and could get the game over with at that time.''
He may never admit it, but Trestman wishes he had that one to do over again. Call safe plays if you must, but at least use second and third down to get as close as possible. If the Bears miss the playoffs by one game, and they're in essence two games behind NFC North-leading Detroit (7-5) once you factor in the Lions' head-to-head tie-breaking advantage, the near-miss against Minnesota is going to linger in memory as the game that might have decided Chicago's season.
• About the Mike Tomlin misstep on Thanksgiving night in Baltimore: a league-issued fine for his mistake or act of gamesmanship seems entirely appropriate. He needs to be aware of where he is on the sideline, and can't come anywhere near anyone in play, whether he's just distracted or devious.
But a forfeited draft pick for what Tomlin did? That strikes me as the mother of all NFL overreactions. I can't seriously believe the league would need to send that strong of a message to get its point across to the coaches and other club personnel on the sideline.
BURKE: Could NFL really dock Steelers a draft pick?
It's important to remember that the league hasn't taken any action yet, and these days it makes headlines when a response is even reportedly contemplated, let alone announced. But if the NFL really is thinking about the forfeiture of a draft pick by Pittsburgh, that's an obvious loss of perspective when it comes to the punishment fitting the crime. Tomlin didn't trip anybody and I still think Baltimore's Jacoby Jones made only the slightest adjustment back to his right to avoid the Steelers head coach. Every time I watch the play, I still come away thinking Jones was soon going to be tackled from behind with or without Tomlin's presence.
• I imagine the Jets and their fans are pining for the season's first 10 weeks or so, when at least they won every other game. Sure, it was maddening. But that beats their current state of affairs. After falling 23-3 at home to the Dolphins, New York (5-7) is on a three-game losing streak, all but dead in the AFC wild-card chase, and looks as if it couldn't win a game if it was spotted a 20-point lead.
And whether it be overmatched rookie Geno Smith, the untested Matt Simms or the long-dormant David Garrard, the Jets have no real answer at quarterback. Smith has been so bad for weeks now that nothing can be assumed in terms of his future in New York. In his past five games, he has thrown eight interceptions and zero touchdowns, and he's completed at least 50 percent of his passes once.
He's probably among the potential starting options next season, but has 23 turnovers (a league-high 19 interceptions and four fumbles lost) in the first 11.5 games of his NFL career, and if New York is OK with that kind of performance, it might as well have kept Mark Sanchez as its franchise quarterback and opted to bypass Smith in the draft.
BURKE: Jets bench Geno Smith amid boos from home crowd
• The Carolina Panthers used to routinely lose close, agonizing games. Now they win boring, and that's an indication of how far they've come over the course of their league-best, franchise-record eight-game winning streak.
Carolina's 27-6 dispatching of red-hot Tampa Bay, which entered with a three-game winning streak, was fairly workmanlike. The Panthers played without sack leader Charles Johnson (knee) and leading rusher DeAngelo Williams (quad) and yet their defense and running game did not suffer for it.
Carolina's defense limited the Bucs to just two field goals and sacked Tampa Bay quarterback Mike Glennon five times, and the Panthers offense ran for 163 yards, with Mike Tolbert, Jonathan Stewart and quarterback Cam Newton all producing on the ground.
We'll reserve judgment until we see how Monday night's showdown in Seattle between the Saints (9-2) and Seahawks (10-1) plays out, but it's hard to not see the NFC's Super Bowl chase being a three-team battle at the moment. The Panthers, who play the Saints twice in the coming three weeks, will have a major say in how the NFC is won.
• The 49ers and Ravens both won huge home games in Week 13 and now last year's Super Bowl combatants -- coached by those tightly-wound Harbaugh brothers -- both have a grip on the No. 6 seed in their respective conferences. San Francisco has a stronger hold on a potential playoff spot after beating visiting St. Louis 23-13, moving the 8-4 49ers a full game ahead of Arizona and Philadelphia (both 7-5) in the NFC wild-card race.
Baltimore's 22-20 defeat of Pittsburgh on Thursday night put the Ravens (6-6) in the AFC's No. 6 spot, and then nearly everything broke right for them on Sunday, with the Jets, Chargers and Titans losing to fall to 5-7, a game off the pace. Only Miami, which beat the Jets, is on the Ravens' heels at 6-6, with Baltimore holding the tiebreaker via a Week 5 win against the Dolphins.
It was another positive step forward for 49ers quarterback Colin Kaepernick against the Rams. After picking apart the Redskins on Monday night, Kaepernick continued his resurgence by throwing for 275 yards with one touchdown and no interceptions against St. Louis. Kaepernick has spread the ball around effectively the past two weeks, and newly returned receiver Michael Crabtree even contributed on Sunday, with two catches for 68 yards in his first game back since May surgery for a torn Achilles.
• Trent Richardson benched by the Colts and playing behind Donald Brown in the Indy backfield? What took so long? I mean, other than pride and the unwillingness to admit the ex-Brown hasn't been remotely worth the first-round pick surrendered for him?
Then again, actions do speak louder than words. On that front, the Colts finally communicated the inevitable message in Week 13.
And the headline about Richardson's benching makes you realize anew how great Cleveland made out in that deal. But that's not even the best move of the season by the Browns. Their finest work was not shipping out receiver Josh Gordon at the trade deadline in October.
Gordon racked up another 261 yards receiving in a loss to Jacksonville and has now become the first pass-catcher to ever post consecutive 200-yard games in the regular season. His 14-catch, 237-yard showing in a loss to Pittsburgh last week set the franchise record for receiving yardage, but he bested that with Sunday's effort, on 10 catches.
Sometimes the best deals are indeed the ones you don't make. But any way you cut it, the Browns went a spectacular 2-for-2 on the Richardson and Gordon decisions.
BURKE: Browns' Gordon sets NFL record with second straight 200-yard game
• Indy's eight-point win at home against Tennessee and Cincinnati's seven-point win at San Diego tamped down the case of nerves their fans had to be experiencing in recent weeks, as their teams' division leads dwindled. But I'm not convinced either team exited Week 13 looking like most of their problems were solved.
Perhaps we'll find out who solved more of them next week, when the Colts (8-4) travel the short distance to Cincinnati (8-4), in a battle of somewhat shaky first-place teams.
• Believe it or not, once upon a time this season, Houston was 2-0, Cleveland was 3-2 and Jacksonville was an 0-8 laughingstock. But times change.
Fast forward to today: The Jaguars win 32-28 at Cleveland, while Houston finds a way to blow another fourth-quarter lead and lose 34-31 to visiting New England. If I were doing power rankings for the bottom tier of the league, I'd have Jacksonville (3-9) ahead of Cleveland (4-8) and Houston (2-10), and it wouldn't even be close. The Jaguars just beat the Browns and Texans on the road in the past two weeks.
It's another reminder that it's a long season in the NFL, and early-year perceptions can look laughably wrong come December.
• This might sound like an odd time to ask, given that he threw for 370 yards with three touchdowns against the Jaguars, but is Brandon Weeden in line for the Tim Tebow treatment at this point? Will he even be in the NFL next season? Weeden has started five games for Cleveland this season, and the Browns have gone 0-5 in those games. Would anyone even value him as a backup option at this point? Especially since he's just hit 30 and has had virtually no success in the league?
He has shown flashes of potential, but they have been painfully brief. It's pretty clear his future is not in Cleveland, and there may not be a second chance in the NFL for the 2012 first-round pick. Weeden had a 94.8 passer rating on Sunday, but he also had three turnovers against the Jaguars in the span of 2:30 in the second quarter.