NFC North preview: Healthy Rodgers makes Packers a Super Bowl threat
NFL divisions may not carry the same shared pride that college conferences do -- you won't hear Bears fans shouting "N-F-C North!" when the Packers win a playoff game the way an "S-E-C!" chant might break out on a random Saturday.
Cover-Two: Players we can't wait to watch in the regular season
That said, the NFC North took one on the collective chin last season. Green Bay was the only team to finish above the .500 mark, needing a Week 17 victory over Chicago to get to 8-7-1. Remarkably, that was enough for a division crown, as the Bears settled in at 8-8, the Lions faceplanted en route to 7-9 and Minnesota brought up the rear at 5-10-1.
The 2014 forecast calls for sunnier skies. Aaron Rodgers and Jay Cutler are no longer dinged up, for one. Every team in the division also improved at key spots, with the moves of Jared Allen (Minnesota to Chicago) and Julius Peppers (Chicago to Green Bay) no doubt attracting the most attention from NFC North fans.
DIVISION PREVIEWS: NFC: East | West | North | South
                                       AFC: East | North | South | West
An eight-win season will not get the job done this year. Here's what to expect from the NFC North in 2014:
The favorite: Green Bay Packers
As soon as the calendar flipped over to 2011, the Packers took a stranglehold on the NFC North. Green Bay knocked off Chicago on Jan. 2, 2011 to claim a wild-card berth, beat the Bears again three weeks later in the conference championship and went on to win the Super Bowl. Counting those victories over Chicago, the Packers have posted a 17-3-1 record versus their divisional foes over the past three-plus seasons.
Audibles Podcast: Buy or sell preseason performances, and more
Oh, and they also are the three-time reigning division champs, keeping that streak alive in 2013 despite winning just eight games and splitting seven starts between Matt Flynn, Scott Tolzien and Seneca Wallace.
How exactly did they pull that off? Well, sorcery would be the first guess. Beyond that, give a hefty portion of the credit to Offensive Rookie of the Year Eddie Lacy, who topped 1,400 total yards. Backup quarterback Matt Flynn gets some praise, too, particularly for engineering a dramatic 37-36 comeback win at Dallas that bought Green Bay just enough time for Rodgers to return in Week 17 and beat the Bears (again).
MMQB: Green Bay's big gamble in moving Julius Peppers to linebacker
If no one managed to topple Green Bay last season, how can anyone other than the Packers be considered the front-runners in the North now that Rodgers is 100 percent and their defense has been upgraded by the likes of Julius Peppers and rookie safety Ha Ha Clinton-Dix? Rodgers also has Lacy behind him again, Randall Cobb and the dynamic Jordy Nelson at receiver, plus what head coach Mike McCarthy says could be an unparalleled offensive line.
Forbes names Green Bay Packers fans best in NFL
"This offensive line, in my opinion, in my time here, has the chance to be the best offensive line that we've had," McCarthy said at the start of training camp. (Green Bay has since lost versatile backup Don Barclay to a knee injury.) "I'm excited about that group."
The biggest challenge to Green Bay's divisional superiority may come from its oldest rival: Chicago. If not for a humiliating 43-point loss at Philadelphia and that Week 17 heartbreaker at home against Green Bay, the Bears would have stolen the division last season. Thanks to the innovative offensive mind of head coach Marc Trestman, Chicago finished second in the league in points scored -- Josh McCown's incredible run in place of Jay Cutler helped fuel the fire.
Trestman's 30th-ranked defense (and league-worst run defense) received several boosts this offseason, too, notably from Allen, ex-Raider Lamarr Houston and rookie cornerback Kyle Fuller.
Circle the Sept. 28 and Nov. 9 matchups between Green Bay and Chicago on your calendar. They might decide this division.
Dark horse: Detroit Lions
The general consensus is that in 2013 the Lions missed their best chance to snap a division title drought that is now 21 years long. They posted a season sweep of the Bears, the Packers were without Rodgers for most of the second half and all the Lions needed down the stretch was a 3-4 record ... yet they finished 1-6 to cough away the North.
What if another golden opportunity awaits?
Any pro-Lions argument starts on offense, where the best receiver in football resides. There is more to the attack than Calvin Johnson, though -- even more so this season now that Golden Tate and rookie tight end Eric Ebron have joined Reggie Bush, Joique Bell, Joseph Fauria and other weapons in the Motor City. Detroit's offensive line dominated at times in 2013, as well, propelled by a sensational debut campaign from guard Larry Warford.
Fantasy football 2014 draft preview: Rankings, projections and more
Consistency often deserted Detroit's offense last season, in spite of Matthew Stafford's collection of playmaking toys. New offensive coordinator Joe Lombardi, in from New Orleans, has everything he needs to move this team from 13th in points scored in 2013 into the top five this year.
A bump like that would take some heat off the (often unfairly) much-maligned defense. The D failed to come up with key stops when the Lions needed them, like in tough losses at Pittsburgh and Philadelphia. The group still finished 15th in points allowed and 16th in yards, far more respectable rankings than its reputation would have you believe.
There are clear spots of potential trouble -- the secondary, for starters, as well as a defensive line that has plenty to prove. That said, if the offense excels as head coach Jim Caldwell believes it can, anything shy of an implosion from the defense should be enough to keep the Lions competitive -- perhaps even competitive enough to steal the NFC North from Green Bay and Chicago.
2014 Fantasy Football Sleepers Vol. 2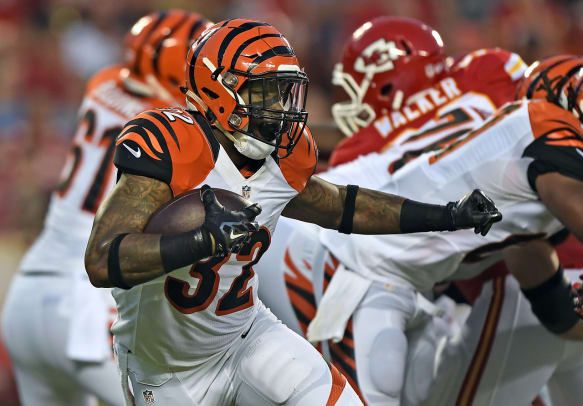 Most important player: Aaron Rodgers, QB, Green Bay Packers
Every team in this division has at least one elite offensive talent it can ill-afford to lose: Stafford and Johnson in Detroit, Matt Forte and Brandon Marshall in Chicago, Adrian Peterson in Minnesota. Although he missed nearly every game of the Packers' late-season push for the division in 2013, Rodgers sits atop the list of essentials.
​Rodgers might be the best player in football, period. We had him No. 1 in our quarterback rankings earlier this offseason, ahead of Peyton Manning, Drew Brees and any other obvious contender. Rodgers has earned that level of respect by constantly dicing up defenses in a variety of ways, from the expected to the improvisational. He has produced regardless of which receivers are in the lineup and with varying degrees of help from Green Bay's run game and offensive line.
Fantasy football debate: Is Aaron Rodgers or Peyton Manning top QB?
Somehow, he landed only at No. 11 on the NFL Network's player-voted list of the "Top 100 Players of 2014," perhaps hindered by the collarbone injury that limited his regular season to nine games. Rodgers' numbers stretched out over 16 games would have topped 4,000 yards with 30-plus touchdowns for the third straight season. (He would have hit those marks in 2010, too, had he not missed a game with a concussion.)
Assuming he stays on the field in 2014, the Packers are not only the NFC North favorites but one of the league's more certain Super Bowl contenders.
Rookie to watch:Teddy Bridgewater, QB, Minnesota Vikings
The quarterback battle in Cleveland between Johnny Manziel and Brian Hoyer has stolen most of the headlines, but the Bridgewater-Matt Cassel duel in Minnesota has been a more entertaining, more competent fight thus far. Both quarterbacks were sharp in a win over Arizona last weekend, with Bridgewater connecting on 16-of-20 passes for 177 yards and two touchdowns in a comeback victory. Cassel still holds the No. 1 job for the moment and has done nothing to give it away, but Bridgewater keeps charging.
First Down/Fourth Down: Bridgewater impresses in Vikings comeback
"I do not know when [he will start], but I am ecstatic to have him," said Vikings head coach Mike Zimmer of Bridgewater, per the Star-Tribune. "I love his personality. I was teasing him this morning about some stuff. He has a good head on his shoulders and is a good kid.
"The Vikings fans will be proud to have Teddy Bridgewater with us for a long, long time."
He should have a shot sooner rather than later. Cassel is now four years removed from posting a 10-5 record as the Chiefs' starter in 2010, although he did show decently well last season for Minnesota. More than all that, he is a 32-year-old veteran with limited upside.
Bridgewater, on the other hand, represents the Vikings' future. It is a bright one, with explosive receiver Cordarrelle Patterson and irreplaceable running back Adrian Peterson already in the starting lineup; the defensive-minded Zimmer will improve a team that finished dead last in points allowed last season.
Minnesota is biding its time with Cassel, giving Bridgewater a chance to develop at his own pace. Don't be surprised if he pushes the Vikings over the top once he arrives.