'I Desperately Want to be Coached'
A need to avoid turnovers has been drilled into Aaron Rodgers dating back to a quarterback competition in eighth grade. Now, a lack of turnover among the Packers' coaching staff has helped build him into football's most efficient quarterback
GREEN BAY, Wis. — You get bombarded by a lot of statistics this time of year. Make time for one important one, about Aaron Rodgers:
Rodgers threw 520 passes last season. Five were intercepted. Of those five, four deflected off a receiver's hands. Bacarri Rambo of the Buffalo Bills did what no other opposing defensive player, over 16 regular-season games covering 519 other throws, could do: He intercepted a poorly thrown ball by Rodgers.
You also get bombarded by a lot of quotes from players and coaches. Take time for one important one, from Rodgers:
"I desperately want to be coached."
* * *
This is a story on the art of not throwing interceptions, which is a difficult approach for a quarterback. You don't say to a great shooter at the end of a basketball game, Don't miss that shot! You don't say to a hitter, Don't swing and miss!
We'll get to the numbing numbers in a moment (like Rodgers' 11 interceptions over the last two years, covering 810 throws). But first, step into a room just off the Packers' locker room at Lambeau Field, sit down to watch tape, and experience Rodgers explaining the whys of his worst moments—throwing picks.
Rodgers is not like other quarterbacks, statistically or mentally. When we sat down during training camp to watch an interception from a game, just so he could tell me what went wrong and how he failed so I could understand his thought process, he was painfully honest about how nerves and his own shortcomings played into it. Most players don't admit they're nervous, and don't admit a fear of injury. While this doesn't hang over Rodgers at all times, it did on this snowy afternoon at Soldier Field two years ago.
You might recall the interception. It happened in the last game of the 2013 season, Green Bay at Chicago, Rodgers' first game back after missing seven with a broken collarbone. Rodgers rolled to his right and saw wideout Jarrett Boykin open by a sliver in the back of the end zone.
As the play begins, Rodgers narrates, commentates and self-analyzes:
"I was nervous about taking the first shot out on the field and I was definitely more nervous than I normally am. I am usually more confident but I hadn't been out there in so long and the game had a lot of importance so I didn't want to screw it up. But also I wanted to make sure that I was smart about not taking any unnecessary shots because… we were hopeful that I wasn't going to re-break it and have to get some titanium in there, which is a bad thing for the collarbone.
"It was actually a pretty good throw to Jarrett Boykin in the back of the end zone, but I didn't see [safety] Chris Conte there. Usually they are bringing one too many guys here so I was trying to buy a little time here as I rolled out. Chris was guarding Andrew Quarless. A lot of times, we get outside the pocket and we say, you need to O-I-O, which means you look outside, then you look inside and then you come back outside. You check to make sure no one is falling off on the guy you want to throw to, but also double check to see if there is anybody inside who is a better option to throw to. In that case, I just went outside, outside, outside, and I threw a good ball to Jarrett but it was intercepted by Conte there. I didn't look inside."
Conte at the last moment, just as Rodgers released the throw, came off Quarless and made a diving interception.
"It's bad enough to throw an interception but when you throw an interception in the red zone, you are taking points off the board," Rodgers said. "Important game for us. That was for a division title. Just a silly mistake, it's something that we drill a lot, just extending plays and making the right decision. Sometimes it's throwing it to the tuba player, as [quarterback coach] Alex Van Pelt says, in the stands, and sometimes it's being able to make the right throw and you can really help yourself out using your eyes to look up or using the pump fake in that case, it's a full-speed roll there. It's a case where you can't make a blind throw. It wasn't necessarily a typical blind throw.
"There's three senses as a quarterback we talk about.
"One: No premeditated decisions.
"Two: Don't make a blind throw. And that was a blind throw, meaning I didn't look inside to see where the next coverage element was—that will get you sometimes. It got me against Conte.
"Three: Don't throw it late down the middle."
He has abided by those tenets well. In his career, including postseason, Rodgers has thrown six red zone interceptions on 561 pass attempts. Compared to the best quarterbacks of his era, he's almost lapping them in pick-efficiency, as this list shows. Since 2011, how he compares to some of the game's best during the regular season:
| | | | |
| --- | --- | --- | --- |
| Since 2011 | Games | Interceptions | Games per INT |
| Aaron Rodgers | 56 | 25 | 2.24 |
| Tom Brady | 64 | 40 | 1.60 |
| Ben Roethlisberger | 60 | 45 | 1.33 |
| Peyton Manning | 48 | 36 | 1.33 |
| Tony Romo | 62 | 48 | 1.29 |
| Drew Brees | 64 | 62 | 1.03 |
| Philip Rivers | 64 | 64 | 1.00 |
* * *
So much has to do with Rodgers himself, and having learned in quarterback competitions—as early as eighth grade, he says—that he won't play if he errs. That puts him in great company with his coach, Mike McCarthy.
"I've been doing the Packers' preseason games for 10 years," says Rich Gannon, the former MVP quarterback. "And I can tell you that when their quarterbacks throw interceptions, every one of them is gone over so thoroughly it's like a crime scene investigation."
McCarthy preaches continuity to his players and his staff. It's vital to Rodgers, who has had one coaching staff, in effect, for the past nine years. But it goes back further than that.
Follow this trail of McCarthy, his staff and his quarterback:
In 1989, McCarthy took over as Pitt's quarterback coach. Alex Van Pelt was his quarterback, and they worked together for all of Van Pelt's four seasons. Van Pelt is now Rodgers' position coach.
In 1995, McCarthy took over as the Kansas City Chiefs' quarterback coach. Gannon was in his first year with the Chiefs then, and in one of the first practices McCarthy had with Gannon, he threw an interception. That caused coach Marty Schottenheimer to say to Gannon, "If you don't take care of the ball, you won't play here." Gannon soon learned that Schottenheimer meant he wouldn't be on the team, not just that he wouldn't start. McCarthy soaked that in. During McCarthy's four years in Kansas City, Chiefs quarterbacks threw an AFC-low 52 interceptions. "The sanctity of ball security," Gannon said. "That's where it really got pounded into Mike."
When McCarthy took Green Bay's head-coaching job in 2006, Tom Clements joined him as quarterbacks coach. Clements was promoted to offensive coordinator when Joe Philbin left for Miami in 2012. Entering his 10th season under McCarthy, Clements is so joined at the hip with his boss and his quarterback that McCarthy, after making the offensive play calls for nine years, this year will cede play-calling to Clements. "It's something I almost did back in 2012, but that's when Joe [Philbin] left to coach the Dolphins," McCarthy said. "I would have been comfortable doing it then. Now, with Tom and with Aaron being so advanced in the system, it just makes sense. It's time. I think it's going to help us, and help them."
Said Rodgers: "I really don't think a lot will change. Tom is a close friend and I worked with him as quarterbacks coach for six years, so we have a great relationship. You've seen it in the West Coast offenses over the years—Bill Walsh, Mike Holmgren giving up play calling, Mike Sherman giving up play calling. This is a natural progression I think, and for Mike [McCarthy], this is an opportunity to get closer to other areas of our team, defense and special teams, which he is more than capable of helping out with. I think it has helped the total football IQ on our team. When you have a guy who has been around so much offensive football go from our side of the ball to the other side, it's been interesting to see the IQ on that side really raise up. They are disguising better, their route reading is better, they're getting off on the snap count better. We like to say that the practices are slanted to the defense now because Mike is giving all of our secrets away. We are having to reinvent ourselves now, but I think that is a good thing. Anytime you are raising your team's intelligence level, you're going to be able to be a more well-rounded football team."
• PETER KING'S PICK IS PACKERS VS. RAVENS:  The Ravens and Packers came close last season, blowing late leads in their respective playoff losses. Here's why they'll finish the job and get to Super Bowl 50.
McCarthy made one other change this year: He combined the quarterback and receivers coaching jobs into one, and gave it to Van Pelt. Now the quarterbacks and receivers have more meetings in common. "If you look at our room now, it's the quarterbacks and receivers room," Rodgers said. "We've had some great conversations. We have more meetings together. We have always watched film together but now we are installing some stuff together now. They can hear my voice more on the installs, when it used to be just the quarterbacks."
The Packers led the NFL in scoring last year, so you wonder if all this change is smart. But the rationale is that McCarthy coached his QBs coach in college—Van Pelt is using the lessons he began learning from McCarthy 26 years ago at Pitt. McCarthy has worked with his new offensive play-caller for nine years—Clements is ready to call plays. And McCarthy has coached his quarterback for nine years—Rodgers is the classic coach-on-the-field and the league's most efficient quarterback.
"Aaron is master of his domain," said Gannon. "I am convinced one of the big reasons is that he has not changed systems or anything significant about his approach for 10 straight seasons. For a quarterback, that's huge. Just look at Alex Smith. Six different systems in his first seven years. And you wonder why he got off to such a bad start in his career?"
"I believe in a consistent approach. I think it helps you win," said McCarthy. "And Aaron is a really good student. He wants to be coached, and he likes to be coached hard."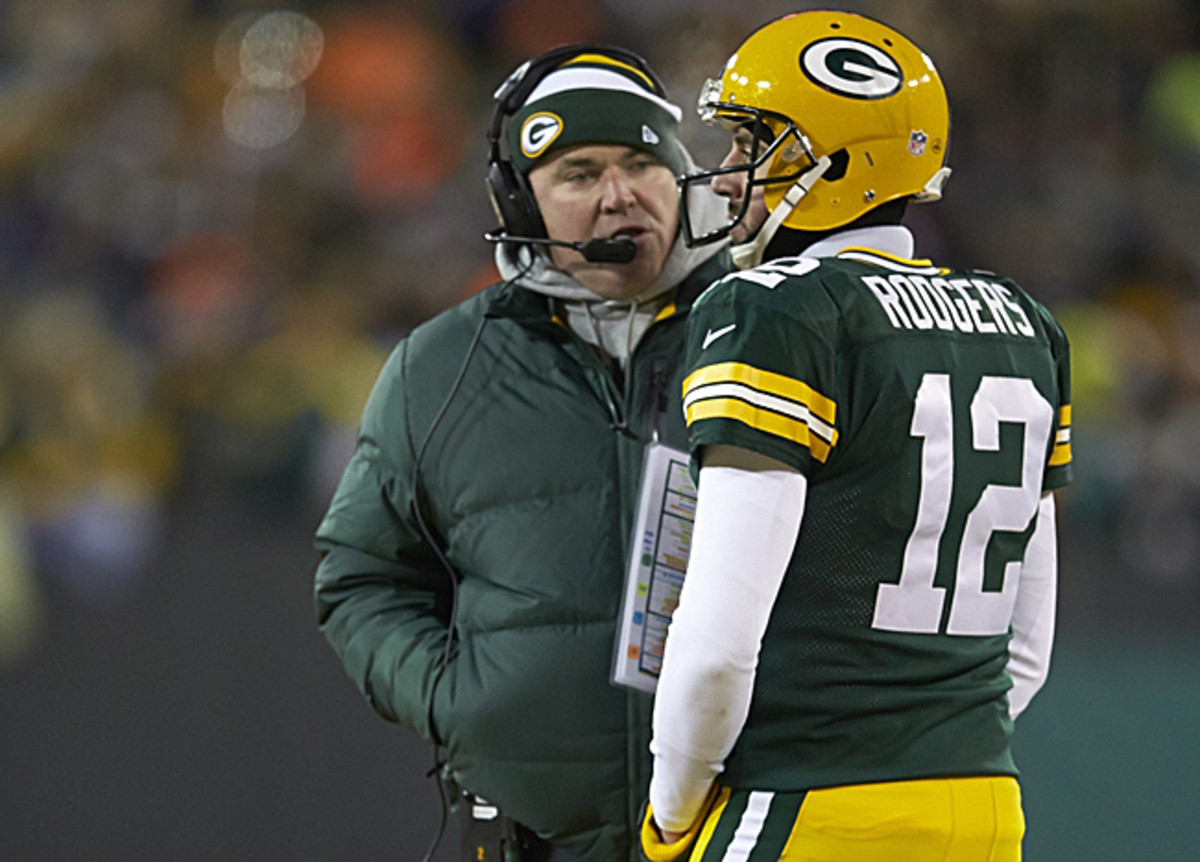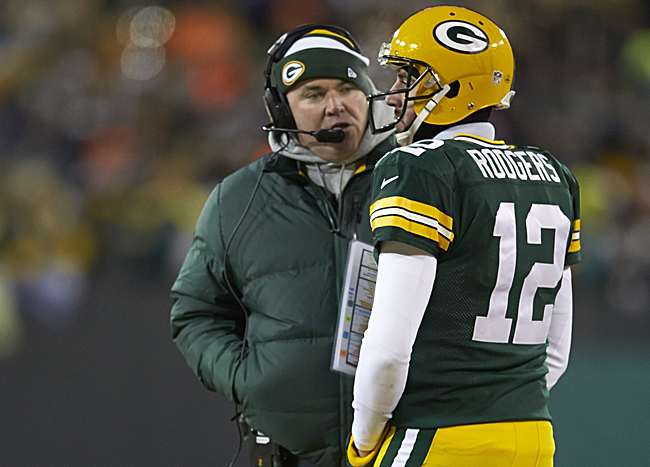 * * *
Don't think this all started for Rodgers when McCarthy got hired in 2006.
"I was always pretty good with the football," Rodgers said. "My touchdown to interception ratio, I think, was 24-to-8 my junior year at Cal, 19-to-5 my sophomore year. And I was 28-to-4 at Butte College. I don't remember what I was in high school but I was probably about 2-to-1.
"I knew that from eighth grade, when I started playing football, and on, the only way I was going to be able to stay on the field was if I made good decisions and didn't turn the ball over. I was in a three-way quarterback competition as an eighth-grader and I got the job in the third week. I threw an interception on the first drive, but was able to hold on to the job somehow. I was in a quarterback competition at Butte Junior College and a quarterback competition at Cal and I knew decision-making was the way I was going to be able to stay out on the field. It's about calculated risks.
"Here, I think the structure of the offense helps. With the West Coast offense, there is an answer for every defense and it's about finding the highest percentage throw on each play. That's why we don't have one go-to guy. We had two guys with 90-plus catches last year but we don't have a go-to guy. We might have a go-to guy on plays, but it's all about matchups and finding the high-percentage pass on that play. It might not be a pass to a guy who is necessarily open, but it could be the highest percentage pass based on the coverage and that is what the West Coast offense allows you to do. A lot of time here is a conceptual to one side, and then there is an option on the backside—it could be a go route or a double move. And you always have your check downs involved as well. We've just learned that over the years in this system that in order to get to where we want to go, you need to find where that highest percentage option is before that play."
• PACKERS 2015 DEEP DIVE PREVIEW:  Playing it safe doomed the Packers in last season's NFC Championship Game. Will they dial up the pressure in 2015?
I talked to Rodgers before Jordy Nelson was lost for the season with a torn ACL. That's a big blow, obviously, and I will make no attempt to minimize the loss of a receiver who is as adept running a deep go as he making a physical play to convert a third-and-8. Along with Randall Cobb, Rodgers will have to count on his young receivers—Davante Adams, rookie Ty Montgomery and second-year man Jeff Janis—to make big plays, beginning in Chicago on Sunday.
Rodgers may not be able to keep up his ridiculous ratio of the past four years—139 touchdowns, 25 interceptions—but that will be his aim.
"Throwing six interceptions in a season, throwing five interceptions in a season and both years, over 38 touchdown passes, that is pretty hard to do," he said. "But a lot of that comes back to the guys coaching you, too. Jeff Tedford in college, Mike and Joe and Tom and Alex… like I said, I love being coached. I love talking football with smart coaches. I love the input, the dialogue, the conversation. I love feeling like I need to play well for my coach, like he is expecting me to play well. It's fun to be able to make all those coaches proud."
After visiting the Packers, you walk away thinking: How could any team be in better shape at quarterback for the next five years than Green Bay?