The Case for Adam Gase
He has succeeded with Tebow, Manning and Cutler. Why one of the sharpest young offensive minds in football will top head-coaching wish lists this winter
The Bears have been out of the postseason conversation for a few weeks now. This has been chalked up as a year in transition. But the team's record (6-9) masks the fact that something pretty significant has happened in Chicago this season.
Jay Cutler is taking care of the football.
For most of his career, the quarterback has been a maddening enigma, his talent offset by his turning over the football just as much as offensive coordinators. Last season, the one in which he was benched for Jimmy Clausen in Week 16, Cutler tied for the league lead with 18 interceptions. At season's end, his future with the Bears was uncertain.
2015 has been a 180-degree turnaround. Cutler has zero games with multiple interceptions—of the 26 quarterbacks who have made at least 10 starts, he's the only one who can say that—and has lost the ball only 13 times (eight interceptions, five lost fumbles) in 14 starts. His passer rating of 92.8 is a career-high, despite his intended top four targets combining to miss 31 games this season due to injury. Cutler's improved play can be traced back to a new play-caller in Chicago, a man who is about to become a hot commodity on the head-coaching market.
Adam Gase, the Bears' offensive coordinator, has aced the Jay Cutler reclamation project, building an offensive system that keeps the quarterback in check with good coaching and smart play-calling; by doing that, he's expanded his coordinator résumé beyond Peyton Manning, the future Hall of Famer many assume operates as his own OC.
A couple Fridays ago, Gase agreed to talk about his partnership with Cutler and why it has worked this season, and he gives pretty much all of the credit to the quarterback and his position coach, Dowell Loggains. Gase firmly believes that Cutler doesn't get enough credit for the things he does to lead the team, like missing just one game with a severe hamstring strain and returning to pick apart the Raiders defense in a Week 4 win.
What Gase won't say: He has been at the wheel as Cutler has turned it around from potential $16.5 million liability to an asset. The ability to work with players at all wavelengths of the quarterback spectrum—Gase was Tim Tebow's quarterbacks coach when Tebowmania reached the second round of the playoffs, and Manning's offensive coordinator for the best statistical season an NFL quarterback has ever had—will be an attractive quality for when teams begin head-coaching searches next week.
• THE HIRING LIST: The MMQB's list of the 10 hottest head-coaching candidates in football.
But first, let's talk about Gase's work with Cutler. Gase called Cutler in early January, before he interviewed for the Bears head coach opening, to make sure that Cutler would be comfortable working with him if he got the job. The two men had some history: In 2006, when Cutler was entering the draft out of Vanderbilt, the Lions didn't have a quarterbacks coach and so Gase was the offensive quality-control coach assigned to vet Cutler. The Lions ended up drafting linebacker Ernie Sims with the No. 9 pick. But they had considered taking a quarterback to develop behind Jon Kitna, and Gase really liked Cutler (who went to Denver with the 11th pick). Three years later, Gase was hired by the Broncos to be their receivers coach, and in the spring of 2009, before Cutler was traded to Chicago, the quarterback would stop in Gase's office daily after meeting with head coach Josh McDaniels. They'd often spend an hour chatting, about on and off-the-field topics.
Gase's arrival in Chicago didn't go as originally planned when he called Cutler last winter. He was passed over for the head-coaching job in favor of his boss in Denver, John Fox. Gase, who also interviewed for the head jobs in San Francisco, Buffalo and Atlanta, then followed Fox from Denver to Chicago as his offensive coordinator. The trust had already been established between Gase and Cutler, and Gase felt he could "get him back on track."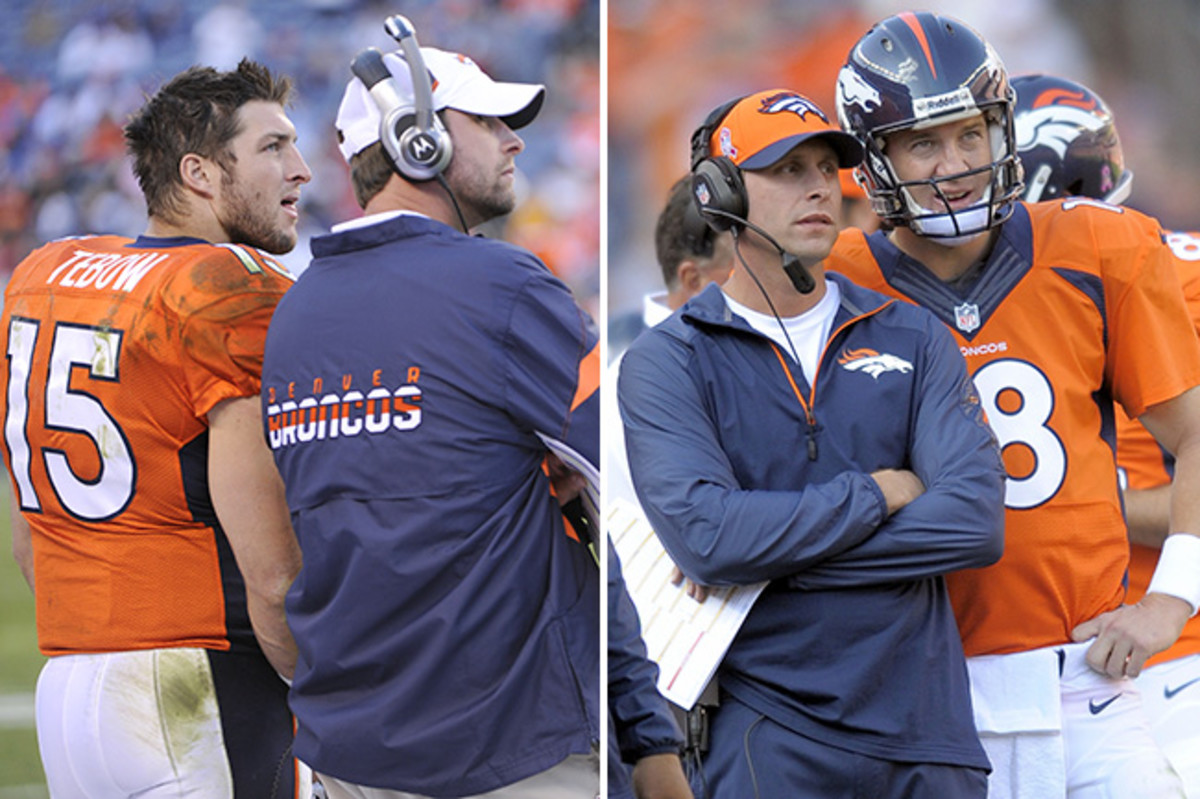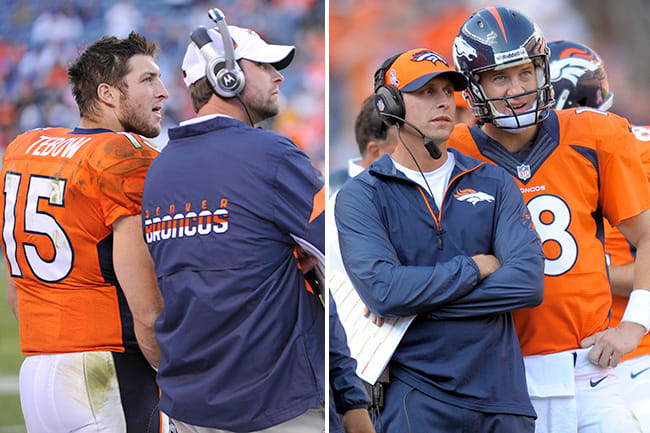 Gase and Loggains started in the offseason by rewinding Cutler's Bears film five years back to the 2010 season, when Mike Martz was Cutler's coordinator. Gase worked under Martz for three seasons, two in Detroit and one in San Francisco, so he had a thorough understanding of the Don Coryell-based digits system Martz ran, and the decisions Cutler was making in that offense. From 2013-14, former Bears head coach Marc Trestman and quarterbacks coach Matt Cavanaugh employed West Coast concepts, another system Gase learned during his first NFL job under Steve Mariucci in Detroit, from 2003-05.
"The starting point was trying to find ways to help him in the pocket when things aren't going well," Gase says. "What can we do to help him either create, or protect him? Whether it be a play call, or just working on drills that if he has to move and there are a lot of bodies around him, what's the best way to do that?"
Cutler has praised Gase many times at his weekly press conferences (a team spokesman said the quarterback would not be available for a one-on-one interview). On his reduction in turnovers, Cutler said recently, "It goes back to the scheme and the way Adam calls plays and designs stuff, and the coaching. There is always an emphasis of knowing where everyone is at and not forcing balls."
Loggains created drills to run with Cutler during the individual portion of practices, in which he throws beanbags at the quarterback or makes him move with heavy traffic around him, so he's aware of how he's holding the football. And Gase has designed pass concepts that have created discipline in Cutler's game, putting him in the shotgun and having him get the ball out quickly.
"A lot of that is that Indy influence, that's the Peyton Manning part of what this offense was," Gase says. "He didn't waste time and once he saw what he needed, the ball would come out. There's just not a lot of holding on to the ball. Jay has been getting the ball out quickly, and making quick decisions, and he has been right a lot this year."
That speaks to another key aspect of the work Gase has done in Chicago this season: His ability to pull from so many different systems to accentuate the strengths of his quarterback. He's been uniquely schooled in the game, and he's open-minded, something that served him well in Denver. Serving as Tebow's quarterbacks coach in 2011, he was looking for things the limited passer could do well. He watched a lot of college film, phoned Urban Meyer and contacts in the college ranks, and solicited ideas from players like Demaryius Thomas, who'd played in a triple-option offense at Georgia Tech.
•  THE CHIP KELLY FIRING: Peter King on why the Eagles missed out on a big opportunity.
Gase's first opportunity as an offensive coordinator came in 2013, after Mike McCoy left to become the Chargers head coach. That was Manning's second season in Denver, and with McCoy coaching elsewhere in the division, they decided to re-make the offense so he wouldn't know everything they were doing. The starting point was Manning's old playbook from Indianapolis, and he and Gase built the offense out from there, creating a new identity from that foundation.
"The most important thing that I have learned in this whole experience since 2011 is every guy is different and you need to adjust your offense to who you have," Gase says. "Every team is functioning around the quarterback."
It's a simple adage, but one that isn't always followed in the NFL. If Manning and Tebow are at opposite ends of the quarterback spectrum, Cutler is somewhere in the middle, a veteran pocket passer with the athleticism to create positive plays with his legs. Watching the Bears offense at work this season, you can see the variety of influences: the West Coast quick, horizontal throws; Mike Martz deep vertical shots; read-option runs left over from the Tebow years (Gase, whether you believe it or not, actually used some of this in Denver with Manning, often in the red zone, but they had a strict no-keeper policy for the elder QB).
Gase got used to Manning's no-huddle preference, so he's been getting the plays in quickly, giving Cutler maximum time at the line of scrimmage to survey the defense and have an idea where he's going to go with the football. And from his first two years in Denver, working under McDaniels, Gase picked up the tactic of mixing the pace—going up-tempo sometimes, and making sure the opposing defense must always be on guard in case you do—and also being a chameleon on offense, changing how it looks week to week.
"There are so many different offenses mixed in here," Gase says. "We are like a—I don't know the best way to say it…"
A mutt? A melting pot?
"Yeah, that's basically what we are," he says. "We try to do what's best for us that week. It can be hard to tell what we are doing because we could be a different offense every week. At least that's how I try to make it feel for defenses."
• MIKE DITKA'S KICK-ASS COACHING TREE: Unlike the followers of cerebral football strategists like Sid Gilman and Bill Walsh, Da Coach's acolytes—including Ron Rivera, Jeff Fisher and Sean Payton—are guys who played under him.
Success in the NFL starts at the quarterback position, and that's why Gase, McDaniels (now in his second run as Patriots offensive coordinator) and Cincinnati offensive coordinator Hue Jackson will be on most teams' interview lists starting next week. Gase's track record with three different quarterbacks as different as they come, and his modesty to be able to borrow ideas from other coaches and his own players to make an offense work, will play well with teams looking to solve their own quarterback questions, whether it's grooming a young signal caller or trying to jumpstart an underachieving veteran.
And most teams hiring this offseason have a quarterback question. For instance, the three current openings: In Tennessee, they're trying to figure out how to best develop Marcus Mariota; in Miami, they must get the most out of the struggling Ryan Tannehill; and in Philadelphia, where Sam Bradford may or may not be retained, getting anything out of a quarterback spot that's been problematic for the last two seasons, is the priority.
Gase politely demurs from talking about the opportunities that may be waiting on the other side of Week 17, wanting to keep the focus on the job he has. But Cutler has publicly stumped for him, saying Gase is ready for the opportunity and that he'd be "ecstatic" if Gase got a head-coaching job (he also says the Bears have a backup plan in place, and it stands to reason that plan would be promoting Loggains to OC). Cutler has also demonstrated his appreciation for Gase privately. On a recent Friday, he told Gase to be in the lobby of Halas Hall at 1:30 p.m. Waiting there was a tailor, hired by Cutler to make Gase a custom suit for Christmas.
Perhaps Gase can wear the suit on his upcoming interviews. The biggest jump in the NFL coaching ranks is from coordinator to head coach, and Gase will have to demonstrate to teams why he's more than just a smart X's and O's schemer. His humility with Manning, and his ability to earn the trust of a player with a mercurial reputation like Cutler, are selling points for his ability to manage people.
After interviewing with four teams last season, including a second interview with San Francisco before talks broke down, Gase said he got a lot of honest feedback from colleagues in the business. At age 37, he admittedly has a lot to learn about that part of the business.
"In this business, you usually don't get sugarcoating. Guys will tell you, You should say this different; watch how you say this," Gase says, though he declined to name specific feedback. "Like anything else, once you have done something one time, the second time you know what to anticipate and you have a better feel for what people are looking for and how to approach some of the situations. I'm sure if I do interview, it won't feel the same as the anxiety of that first time interviewing for a head-coaching job. I just think it will feel different, probably."
He'll find out soon enough. Cutler might soon be losing another offensive coordinator, but this time it's because things went well.