Still standing: Sebastian Janikowski's unlikely path to Raiders royalty
As a controversial first-round draft pick with a long list of legal run-ins, he took criticism from all sides. Now Sebastian Janikowski is a walking, talking (and kicking) Raiders institution.
Your teams. Your favorite writers. Wherever you want them. Personalize SI with our new App. Install on iOS or Android. 
OAKLAND — You hear him coming down the hall before you see him, and by the time he breezes into the room and slowly slides himself into a chair, you're already starting to get why everybody here in Raiders country seems to adore Sebastian Janikowski.
He wears a perpetual bemused smile and a cap turned backwards in his trademark fashion, the look of a guy who hasn't had a real worry in years. At 38, and entering his 17th season as an NFL kicker, there are, to be sure, a few lines on his round, jowly face these days. But he laughs easily and often, and appears quite comfortable in his weathered skin. With more than a hint of his thick Polish accent still present, a playful manner that never goes out of style, and that Hall of Fame nickname, the man they affectionately call "Seabass" is regarded as royalty around the Raiders' complex. He's a walking, talking (and kicking) Oakland institution.
"He's one of my favorite teammates I've ever had, he really is," Raiders third-year quarterback Derek Carr says. "He's got such a good heart. I talk to him every morning, and he sits behind me at every team meeting. He means the world to me."
"He's the guy around here," says Oakland fullback Marcel Reece, a teammate of Janikowski's since 2008. "We treat him like he's one of one. An original. A living legend. He's been here so long he's like a statue in front of the building. But he's one of the greatest people I've met in football, and he's a warrior."
Adds veteran Raiders offensive tackle Donald Penn: "Who doesn't love Seabass? He's like a fixture here. I would love to give him a fairy tale ending, to see him go out with the Raiders on top. But knowing Seabass, he's probably still got at least three more years in him."
The mind boggles at the thought, but it's been 16-plus years since strong-willed Raiders owner Al Davis stunned the NFL world and elicited howls of derision by taking Janikowski 17th overall out of Florida State in the 2000 draft, the first kicker selected in the first round of a non-supplemental draft since the Saints' failed Russell Erxleben experiment in 1979. But who's laughing now, with the colorful and cannon-legged Janikowski about to give Oakland a 17th season of production in return for that gutsy No. 17 pick? How many clubs ever realize that rich of a return on a draft investment?
"I think it's a hell of a return," says Janikowski, as blunt as ever. "I'm still going strong. I don't know how many guys are even still playing from the Class of 2000 draft. I think I'm the only one." (Well, there is that Tom Brady character, too, along with Janikowski's old teammate Shane Lechler.) "Everybody was like, 'What's Al Davis doing?' But hey, 17 years later and I'm still kicking, so they did something right."
Not only is he still kicking, but for the majority of his first 16 seasons as a Raider, Janikowski was arguably Oakland's best player and only real star attraction, a beacon of steady production amid the franchise's long, painful stretch of ineptitude. And yet after all these years, how is it that we hear so little about Janikowski, maybe the most underappreciated great player in recent NFL history? Chalk it up perhaps to Oakland's desultory decade-plus of putrid play.
After reaching the playoffs in each of Janikowski's first three seasons, capped by that Super Bowl trip at the end of the 2002 season, the Raiders are mired in a 13-year postseason drought that trails only Buffalo's 16-year odyssey of frustration. In 10 of those seasons, Oakland mustered five or fewer wins, topping out at 8–8 in both '10 and '11. Unless No. 11 was taking the field to bang home another long-distance kick, the Silver and Black have rarely been worth watching.
"We've lost some games, that's true," Janikowski says. "After my first three years, when we went to the playoffs and the Super Bowl, in my mind, it was like, that's how it works. Every year, playoffs. Then 13 years later, still no playoffs, and suddenly you're in the desert. You're at home watching the damn playoffs and everybody else is playing in them. You're like, 'Man, we should be in it. We should be out there.' But I think that's going to change soon."
• Why Raiders should contend in 2016 | MMQB: Cutler's make-or-break year
There is finally legitimate hope in Oakland after last season's four-game improvement to 7–9, and Janikowski is dying to kick for a winner again. His 252 career games are more than any other Raider has ever appeared in, and his powerful left leg is the stuff of legend, responsible for 385 field goals in 480 career tries (80.2%) and NFL records like longest overtime field goal (57 yards in 2008), most 50-yard-plus field goals in a game (three in '11), and most 60-yard-plus field goals in a career (two, tying him with Morten Andersen).
All that he lacks at this point is that amplifying blast of late-career glory that would come with team success, giving even greater meaning to his impressive statistical accomplishment and his revered status as the Raiders' long-time survivor, the sole remaining link to Oakland's last Super Bowl team.
It's easy to forget from the vantage point of 2016, now that he's a solid citizen and beloved member of the organization and Oakland community, but there were times early on when Janikowski's career seemed to be going off the rails, destined to end almost before it began.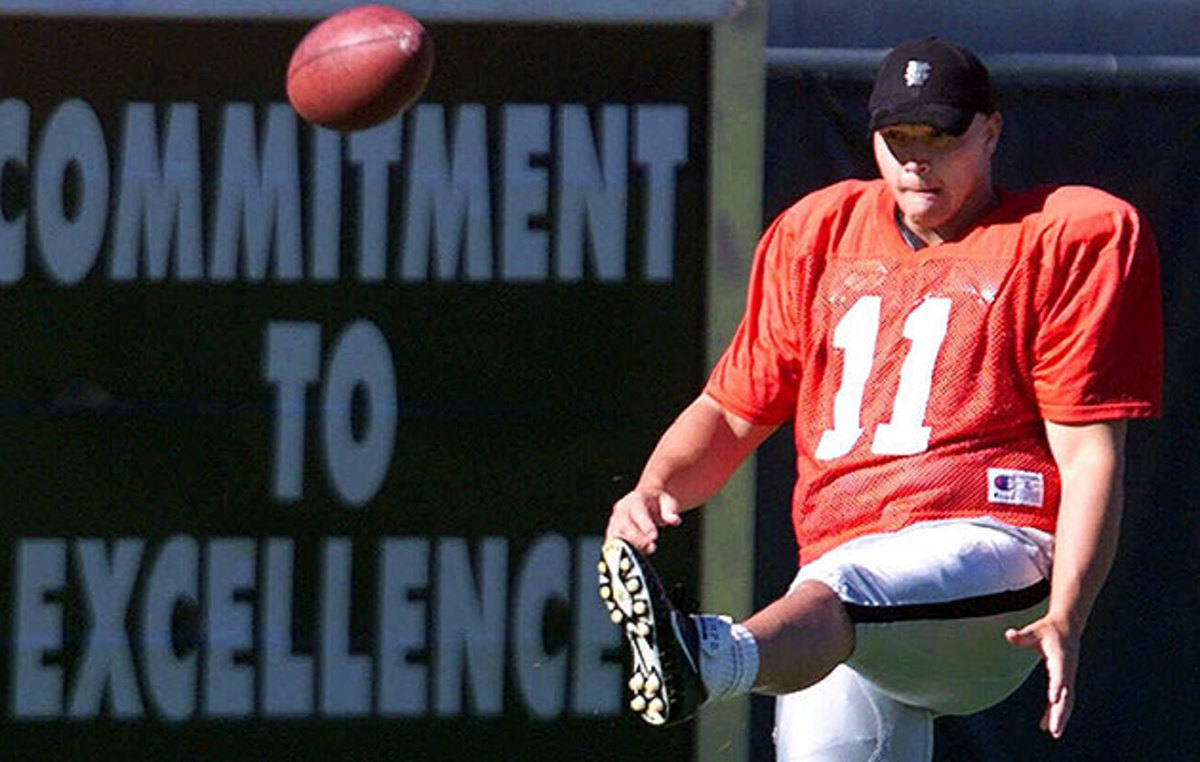 "No way he was going to make it this long"
Back in 2000 and '01, Janikowski's catchy nickname was more likely to elicit eye rolls than smiles, especially for then Raiders coach Jon Gruden, who grew exasperated with his kicker's inconsistency and his insatiable love of the party scene.
With that gaudy first-round target on his back, Janikowski was supposed to come in and immediately shore up Oakland's bedeviled kicking game, which in 1999 saw free-agent signee Michael Husted struggle mightily before being released after 13 games. Davis is said to have pinpointed a half-dozen games in '99 that were lost in part due to kicking failures (Oakland finished 8–8), and thus decided to go big and bold in the 2000 draft, selecting both Janikowski and Lechler, the big-legged Texas A&M punter who went in the fifth round.
But the pressure of kicking in the NFL nearly broke Janikowski, a two-time All-America selection at Florida State. He was just 22 of 32 in field goals that season (68.8%), and struggles with injuries (a case of cellulitis cost him two games) and his shaky transition to the longer pro season made his debut an endurance test he nearly flunked. He missed seven of his first 13 field goal tries in 2000.
"It was rough, the whole season," Janikowski says. "I was nervous as hell. I didn't know what to expect. And because I was a first-round pick, the spotlight is on you. You want to show the guys you were worth that pick, but you've got to be perfect. I was a young guy coming out and dealing with a lot of problems. I had off-field issues in college and all that stuff, and there's so much pressure on you that sometimes you think maybe I should have just gone in the fourth round."
Those "off-field issues" at FSU, including a pair of bar fights, followed Janikowski to the NFL, where a string of incidents highlighted his immaturity and obvious issues with drugs and alcohol. Early in his Raiders career, Janikowski's behavior was erratic enough to pose a serious public relations problem for the organization, the type rarely caused by kickers. Two months after being drafted, he was arrested on suspicion of felony possession of the date-rape drug GHB (he was later found not guilty), and in October 2001 he needed to be taken to the hospital to close a cut on his face after passing out in a San Francisco nightclub where some witnesses had said they saw him take the drug. In June 2002, he was charged with reckless driving in Tallahassee, and he was arrested in October of that year on a drunken driving charge, serving three years of probation after pleading no contest.
Still months shy of his 25th birthday, Janikowski was already at a crossroads in his career, which was beginning to be defined by his off-field problems. He has credited that drunk driving arrest in 2002 as being the impetus he needed to make real changes in his behavior, and his career began to flourish after he got his drinking under control.
"I definitely went through some stuff," Janikowski says. "I stuck with the Raiders and they stuck with me. My life now is not what it used to be back in the day. I mellowed a long time ago. I've got family, my kids [twin girls], they're going to be four in September. You grow up, you move on. I still have fun, but now it's with my kids. Back in the day, I'd be out somewhere on the street."
• 2017 NFL draft first impressions: Study up on these prospects
Back in the day, Raiders Hall of Fame receiver Tim Brown didn't give Janikowski much of a chance of making it to year seven in the NFL, let alone year 17. He marvels at Janikowski's ability to re-write the narrative of his career.
"I'm shocked that he's made it this far, because I thought there was no way he was going to make it this long in the league," says Brown, who played with the kicker from 2000 to '03. "It's always amazing when I see Seabass now and see how much of a gentleman he is and how he talks about his wife and kids. My first reaction was, 'Oh, my God, his poor wife.' But I realize he's a different man, he's a changed man. He had a lot of pressure on him when he first got to Oakland, and I don't think he was handling it very well. And his way of handling things was to go out and do more of what he had been doing the night before. That was the big issue."
Because his teammates were well aware of his partying lifestyle, Janikowski often didn't receive the benefit of the doubt if he missed a kick or struggled through an off day.
"When mistakes happen, and everybody knows you've been out partying all night and you've been out doing all this crazy stuff, then people are not going to believe you're taking this thing seriously," Brown says. "I know there were several times when he missed field goals in games, and you heard guys wondering on the sideline, 'Well, yeah, he shouldn't have been out last night or Friday night, whatever.'
"I just think he was so talented as a kicker, he always felt like he was going to be O.K. He didn't believe in that karma thing. For a few years he just had a reputation that he just didn't care much about what was going on. Now, he would tell you he cared, and it's not like he didn't work hard in practice. But at the same time, he was working just as hard off the field on all that other stuff."
Lechler, now entering his fourth season with the Texans, was Janikowski's running partner early on, and he has seen the full arc of his friend and ex-teammate's journey from near calamity to respectability. To be young with too much disposable income and time on your hands in the NFL has long been a recipe for trouble, and Janikowski consistently found it.
"Bass came a long way, and everybody knows the Florida State stories, how [coach Bobby Bowden] treated him and gave him a long leash down there," says Lechler, who held for Janikowski at the 2000 NFL scouting combine and then throughout their 13 seasons together in Oakland. "But once we got to the NFL, and I even lived with him my first two years, I mean, we had some moments where you'd wake up the next morning like, 'Man, we've gotta quit this, you know? We've got to start focusing just on football.' Thank God there wasn't a whole lot of social media at the time and stuff like that."
In those days, Janikowski the partier was every bit as adept as Janikowski the kicker, Lechler recalls. Not that it was a sustainable career trajectory.
"It wasn't like we were out raising hell every night, but we had our times," Lechler says. "I get asked the question all the time: 'I bet that was crazy running with Seabass,' and I'm always like, 'Yeah, it was crazy, maybe like three nights a month. The rest of the time he was fine, just normal stuff. But we had a good time, and Bass of all people, he can have just as good a time as anybody you can find in this world. He can be a blast."
• 10 juicy preseason storylines | Life in a post-Megatron world for Lions
Janikowski has almost started to look like the old pirate in the Raiders' logo over the years–—sans eye patch—but he's a 6' 1", 265-pound softie at heart, according to Lechler.
"He's a guy I would say that 90% of NFL fans would love to hang out with," Lechler says. "And I wish they all could, because for one it would get the bad reputation out of people's heads. He'll go and have a few beers with you, and he'll maybe miss a curfew now and then. But if you get to know deep down what the guy's like, he's a guy you'll want to be your friend, I promise you."
"There was nobody in the game better, and we knew it"
About the nickname: Janikowski came into the league with several monikers, but Seabass is the one that endured. He can tell you the wonderfully straightforward story behind it.
"Seabass is the best nickname, and it's stuck since [former FSU star receiver] Peter Warrick back in college," Janikowski says. "He said Sebastian was so long for him that he didn't want to say it. So he started calling me Seabass at Florida State and it stuck with me. That's all I'm ever called. I should [trademark] it."
If Janikowski does have a trademark of sorts, it's for playing with the psyche of the opposing team in pregame warmups. His booming left leg was always his trump card.
"This is how we approached every pregame warmup: No matter what, wherever their kicker kicked a field goal from, we went five yards further than them and kicked," Lechler says. "If we were in Denver, with that light air, we'd get back in the 68-69-70-yard range just to kind of get the upper edge in the mind games. I never even had to ask him, 'Where do you want to kick the next one from?' I just went five yards further than where the opposing kicker just kicked from, and that's where we lined up."
When it calls for classic Seabass stories, the ones that show him at his most colorful and quirkiest, Lechler is a human Wikipedia page. They didn't just live together those first two years in the NFL, they were practically inseparable as friends and fellow elite kickers. They were very, very good for a team that was usually very, very bad, and they shared that bond proudly.
"There was a stretch of four or five years there where there was nobody in the game better, and we knew it," says Lechler, who went to seven Pro Bowls in his Oakland tenure. "We kind of had the same, I guess you'd say, attitude about toward the game. There was just a chemistry and approach to football that we shared. And we are both competitive as hell."
Not that there weren't annoying little differences between them that cropped up at regular intervals. Like on their rides together to Raiders home games, when Janikowski always insisted upon driving.
"I rode with Bass in his car to every home game we ever played together, and his music that he likes is way different than mine," Lechler says. "He's a big techno guy and I'm straight country. When we were riding, I'd get at least one of my songs in, but he'd never listen to one of mine as we were actually pulling into the stadium parking lot. Never once. It had to be his music."
• 12 QBs with the most to prove in 2016 | Head coaches under pressure
Kickers can be somewhat eccentric by nature, of course, and Janikowski developed more than a few idiosyncrasies, some of which drove his punter a little nuts.
"He had two things that bothered me," Lechler says. "One, he wrote his number, No. 11, on his hat 11 times. It made every hat look awful. It just ruined every hat. I'd be like, 'They just gave you that thing.' I don't why, but I like hats and that bugged me that he did that same thing every time. And it was No. 11, so it looked just like tally marks all over the hat. I'd be like, 'What are you doing, man?'
"Then the other thing was no matter what kind of shape the kicking balls were in that day, he yelled at the ballboys. I actually told the ballboys, 'Hey, listen, this is part of his routine. Those balls are probably the best balls I've kicked in five years, but he's going to yell at you. I don't care what you throw out there.' It's just what he does."
As it turns out, Janikowski and Lechler don't even agree when it comes to picking the biggest or best kick of Seabass's storied career. Janikowski goes with his 57-yard game-winner in overtime to beat Brett Favre and the visiting Jets in October 2008, the longest OT field goal in NFL history.
"[Raiders coach Tom Cable] looked at me and said 'Go win it,' like he really believed in me," Janikowski says. "But if I don't make that field goal, they were in such good field position that they could have made one play and they win it."
Lechler has a different perspective. He's convinced the 61-yarder that Janikowski somehow nailed in terrible conditions in Cleveland in December 2009 was his finest moment, even if it came in a 23–9 Raiders loss.
"The Jets kick was a big-time kick, but the 61-yarder in Cleveland in the snow, that was the best kick of his NFL career," Lechler says. "I mean, the wind's blowing and it's kind of snowy mix, and it cold and miserable, just typical Cleveland in December. It's one of the only times I ever jogged out there and thought, 'He ain't got a chance to make this one.' But I put it down and he split the uprights, and I'm like, 'Holy s---.' "
Going unselected by both, curiously, was the league-record-tying 63-yarder Janikowski converted at the end of the first half on a Monday night in Denver in September 2011, a mark since broken by the Broncos' Matt Prater, who hit a 64-yarder in '13.
"He couldn't pick that one, because he mishit the 63-yarder in Denver," Lechler said. "He didn't even get it good."
Adds Janikowski: "I didn't even really hit it hard, because in Denver with the elevation, you don't have to. I can't even imagine what the record might be if I got to play my whole career in Denver. Seventy yards? I think so, I mean, I've got to say it."
But perhaps the quintessential Janikowski highlight, the one that captures him in all his one-of-a-kind glory, took place in Kansas City's Arrowhead Stadium on Christmas Eve 2011. The Chiefs and Raiders were tied 13–13 in overtime, but Oakland was driving for the game-winning field goal try. Then a Chiefs fan unwisely tried to get into Janikowski's head. Or thereabouts.
"We're warming up on the sideline, and in Kansas City the stands are like right on top of the visiting sideline, and there's really no room to warm up," Lechler says. "All of a sudden this big dude throws like a chili cheese nacho and hits Seabass pretty much right in the numbers. And we're in our white road jerseys. It's like right on his stomach. Now, he's not a fat guy, but to have chili and cheese on you in a white uniform, when you're built like that, it's not a good look.
"So now he stopped warming up because he was pissed off at the guy, and I'm like, 'Great, now he's mad at this guy and distracted, we're not going to make this kick.' He's got the trainers trying to get all that s--- off him and they're spraying water on it. So now we go out there, and it's not a deep kick [36 yards], and boom, he kicked it, gives me a quick high five, and then sprints right back to the warmup spot, right to that guy. I don't know what he said over there but I can imagine what he said. I didn't see him again until the locker room. That was a great moment right there. That was a fun one."
"I wouldn't want to be the next first-round kicker"
Sixteen years after the Raiders rolled the dice on Janikowski in the first round, there was an echo of their bold pick when the Buccaneers chose another Florida State kicker, Roberto Aguayo, in the second round with pick No. 59. That's the highest selection used on a kicker since the Jets took Ohio State's Mike Nugent in the second round in 2005 at No. 47. In the selection of Aguayo, the Bucs seemingly gave a vindicating nod to Seabass's long and prolific career.
"Yeah, I'm still doing it, and if the Bucs get what the Raiders got out of me, that's a great pick," Janikowski says. "I still watch Florida State a lot, and he's going to turn out to be one of the greatest kickers. I think he's going to have a hell of a career, but I know how much pressure he's under."
Though Oakland once again has Italian-born kicker Giorgio Tavecchio on the roster and slated to compete with Janikowski in camp, there's no sense that Seabass is in any real roster jeopardy, even with his pricey-for-a-kicker $3.96 million salary cap number and two years left on his contract. Janikowski seems energized by the Raiders' return to competitiveness, and for the past two years he has taken part in Oakland's off-season program at coach Jack Del Rio's behest, rather than stay home in Florida until training camp, as was his custom.
He paces himself now, and tries to be smarter about his conditioning and kicking load, but he talks openly about his desire to kick into his mid-40s, as legendary kickers such as Jan Stenerud, Morten Andersen, Gary Anderson and Adam Vinatieri have done.
"I'm not even close to being done, the way I feel," Janikowski said. "I have always believed I have the potential to kick as long as I want to kick. I still feel good, and I still love running out there on the field and being under pressure, hearing the fans. Whether they're booing you or screaming for you, I just love it."
• Marshawn Lynch opens up like never before in SI/60 Minutes interview
Just ahead on his career radar screen is the NFL record for most 50-yard-plus field goals, which he currently holds along with longtime Lions kicker Jason Hanson. Janikowski has made 52 such kicks, on a whopping 92 attempts, and he did it without ever playing in a climate-controlled dome, as Hanson did for his entire career in Detroit. Remember that when his Hall of Fame candidacy is being bantered about.
"Keep in mind, he's been kicking for 16 years outdoors in a stadium that's below sea level, and playing up to four home games a year on a field that still has infield dirt with the A's playing there," says Lechler, who is still punting as he approaches 40 in August. "And he's still top five in the game. He's done it at a high level in a place where it's not groomed for success. To hold on for all that time in Oakland, my hat's off to him. Could anybody else have done that? I don't know."
Those who know him best say Janikowski is fiercely proud, still driven by any slight, both real and imagined, and after being burned by friends as far back as his college days, he has always had difficulty trusting others. He may still be wary, but he's not wearied. And toward the end of his long, sometimes strange trip in the NFL, Seabass has become both a mainstay and an unlikely icon in Oakland, as admired for his perseverance as he is for his production as a Raider.
He revels in being Seabass, and it's not hard to notice that just being in his company puts the people around him in a good mood. If there's a gravitational center in the Oakland locker room, it's wherever No. 11 happens to be standing. In uniform, he's as relaxed and comfortable as an old shoe. Providing it's on his left foot, and laced up tight for kicking.
"We love the guy around here," Penn says. "And I know this, I wouldn't want to be the next first-round kicker to come into this league. Because that guy's got a lot to live up to after Seabass."